Modern SDcard comes with a lockswitch on the left edge. When this lock switch is turned on by sliding it down,users is restricted from modifying or deleting data stored in the SD card. Thisdesign is useful for protecting data indeed, but sometimes it makes it tricky tounlock the SD card while one is in urgent need of accessing the data.
If you arestruggling to recover photos from a locked SD card, know that you are notalone. There are scores of people out there stuck trying to recoverphotos/files from locked SD cards as well. Fortunately, this article walks you throughsome of the best ways to unlock your SD card and recover your photos and files.
Part 1: How to Unlock SD Card
Solution 1: Unlock SD Card Manually
Firstly youcan try to unlock an SD card by manual means. As many SD cards come with lockingbuttons on their left edges, make sure you slide the button up to change thelock position. If the switch is slid downwards, the SD card is locked. Don'tconfuse the two.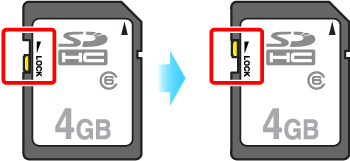 Solution 2: Unlock SD Card With CMD in Windows 11/10/8/7
If yourphone or camera displays the message warning that the disk is write protected,you need to unblock it with the help of CMD. This method works well for annoyinglocked SD card issues.
Step 1. First, insert your blocked SD cardinto a suitable card reader and then connect it to your computer.
Step 2. Now press the combination of Windowskey and R to open the Run box. On this dialog box, select or enter "CMDcommand" and press "OK" to open the administrator CMDcommand prompt.
If you areusing Windows 8, you will have to press the Windows key plus S and then enterthe "CMD command" in the dialog box. Right-click on the result and choose "Runas admin".
Step 3. When the CMD opens, first type theword "diskpart" and press Enter. Again enter the command "listdisk" and press Enter. You should then see the disks available on yourcomputer listed alongside information like disk number, size, and free space.
Step 4. Now enter the command "selectdisk @" where @ stands for the disk number. Press the Enter key. Finally,enter the command "attributes disk clear readonly" and pressEnter to clear disk attributes and unlock the SD card.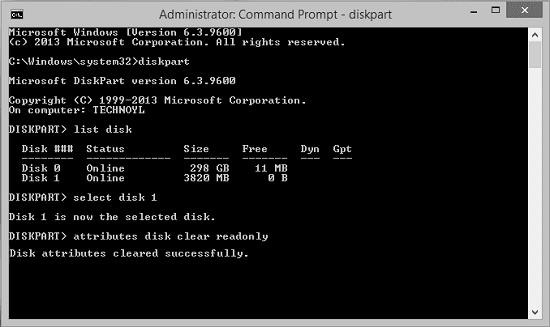 Solution 3: Unlock SD Card on Mac
If you areusing Mac, you can first check the SD card information in order toremove the restriction. Make sure that the permission is not chosen as "Read only". If so,remember to change it to "Read & Write".
If otherwise there is nothing wrong with the SD card's read and writepermission, then it is locked probably due to some error. In the case, we canfix the issue with Disk Utility.
Step 1. Navigate to the Spotlight. Enter the word "DiskUtility" in this search bar and then double-click to open it.
Step 2. Here, select the SD card and thenclick the "First Aid" button at the top. Follow the on-screeninstructions to complete the error fixing process.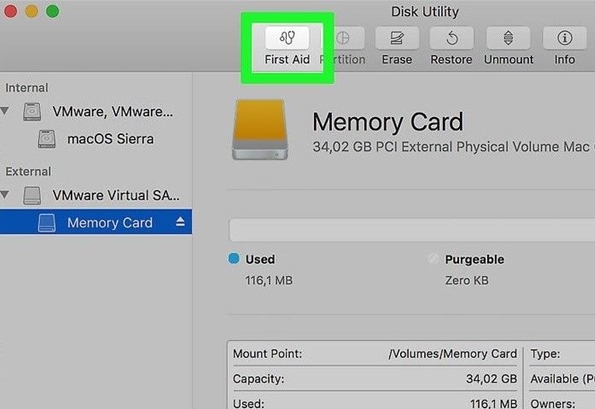 Part 2: Recover Photos/Files From Locked SD Card
If your SD card is locked, you might getextremely worried about the data stored it. Don't worry though, you can make itwith help of a perfect data recovery tool - AnyRecover. Thisgreat file recovery program allows users to retrieve over 1000 different kindsof files across diverse media, including a locked SD card.

2,061,704 Downloads
Features of AnyRecover
Recover photos or any other lost files from any storage device irrespective of the data loss situation.

High recovery rate and fast scanning speed ensure smooth performance.

Preview and selective recovery function are well-supported for convenient use.

Recover your data without overwriting the original data. It's 100% safe to use.

Super easy operating steps. Only a few simple clicks is needed.

Free trial is available and every user can scan, preview and recover 8 files for free.
Steps to recover photos/files from a locked SD card usingAnyRecover
Step 1. First, open AnyRecover on your computer and insert the SD card that you want to retrieve photos/files from, then select it and click "Start".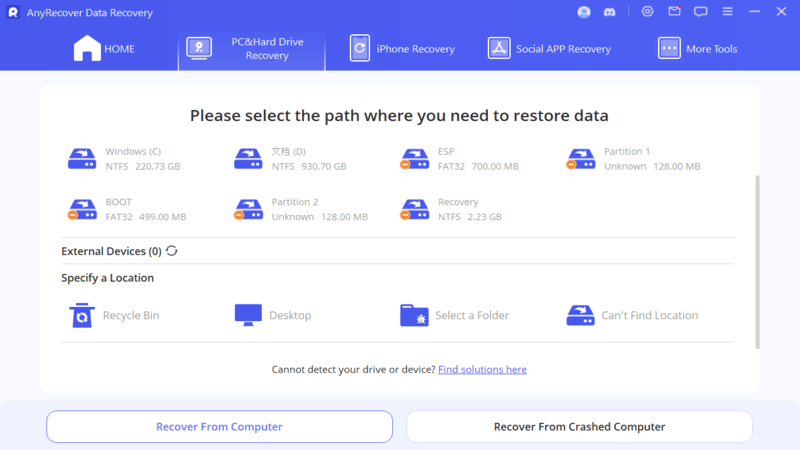 Step 2. The program will immediately commence scanning your SD card for files. With the deep and all-around scan, the target photos/files will be displayed in their respective file type categories when it is completed.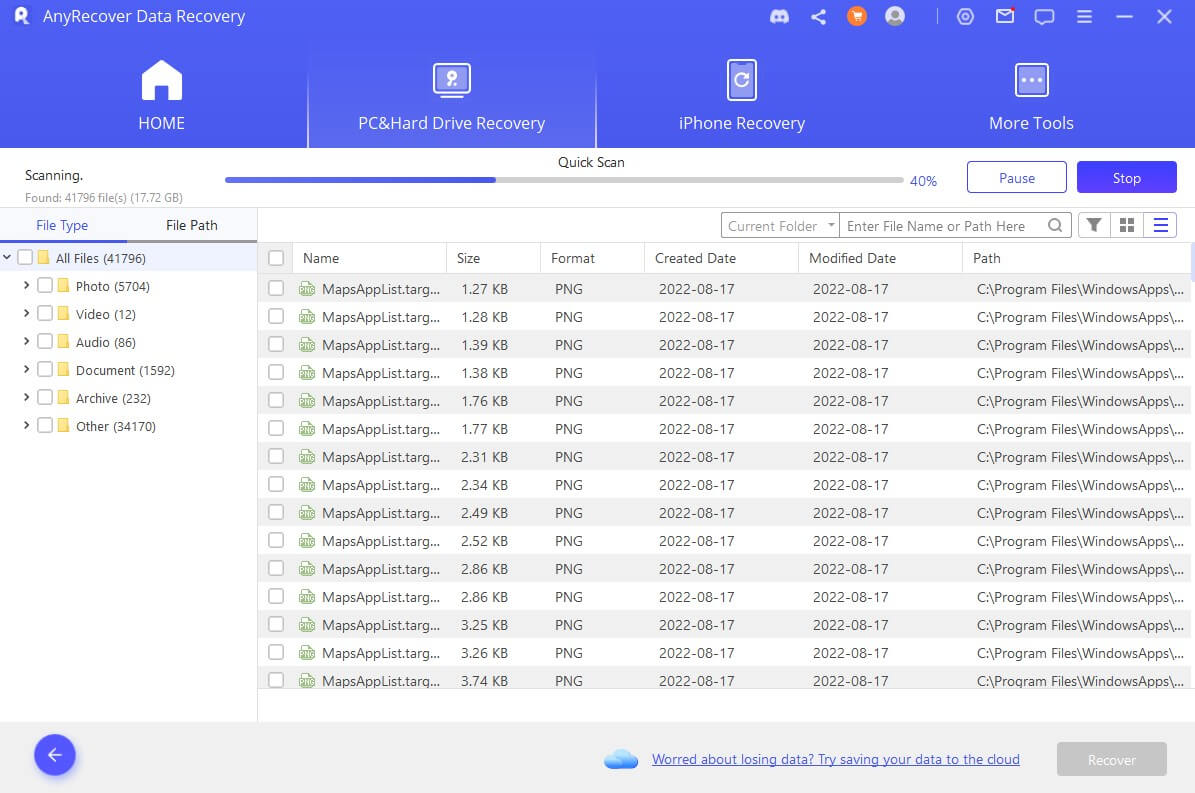 Step 3. Preview the photos/files and choose what you need to recover.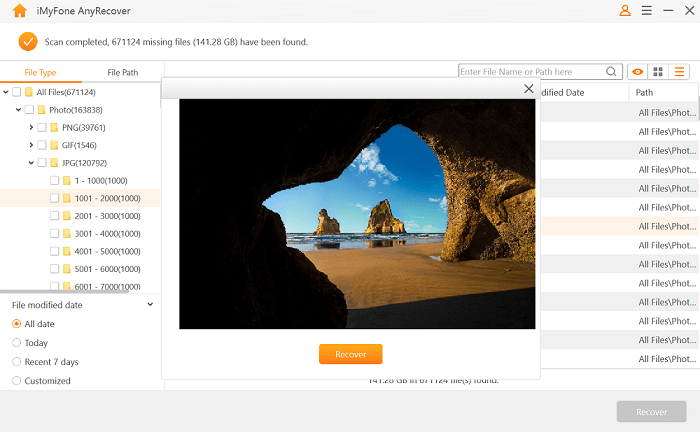 Part 3. Frequently Asked Questions
1. How can I recover my photos from SD card after accidental formatting?
When youaccidentally format your SD card, there are still chances to get the data back.All you simply need is a suitable file recovery tool. The best of this kind isAnyRecover due to its powerful function, high recovery rate, fast speed, and easeof use.
2. How to unlock memory card in Android with password?
If you usedan Android phone to lock your SD card before, you need to decrypt it to unlock it. Itis important to note that it is impossible to decrypt the SD card on anotherphone because encryption algorithms vary with phones. If you used one Androidphone to encrypt the SD card, then you have to use the same phone to decryptit.
In most cases, simplyinsert the SD card into the Android phone, go to the settings tab, findthe option concerning decrypting SD card, andenter the password if prompted.
Conclusion
This article has showered you with plenty of plausible ways to recover photos/filesfrom a locked SD card, and it is time to put locked SD card recovery issues torest. You might need to try a suitable method based on your own issue because not all thesemethods would work for you. However, one thing is for sure - AnyRecover is a universally applicableoption and will never let any user down.