There are lots of data recovery tools you can make use of today in order to ensure that you explore your lost files once again. iBoysoft tool is known to be one of the best on the internet. In case you are wondering how, ensure to read the details of this post from start to finish.
This is because it will be revealing some facts about iBoysoft Data Recovery tool.  Have you ever imagined that with a single click, all of your lost files can be recovered? You will soon find out how.
1
iBoysoft Data Recovery Review
There is no doubt that iBoysoft recovery tool is making the most impact on its users. There are very few tools out there that can guarantee complete recovery of your lost files. The good part is that you have one within your reach today.
1

Performance:

iBoysoft Data Recovery tool is very powerful and such wouldn't have been possible without some highly advanced features. These are listed below:

Features:
File systems such as FAT32, exFAT and NTFS are supported.

Data can be easily recovered from both external and internal drive. These could be flash drives, hard drives, SD cards and more.

Data can be recovered from deleted, RAW, formatted partition.

Any kind of files can be recovered on Windows.

Data recovery process is safe.
2

How to Use iBoysoft Data Recovery Tool

You only require 3 steps to get back your lost files through iBoysoft Data Recovery tool. These are:

Step 1. Get the software downloaded, installed and launched on your system.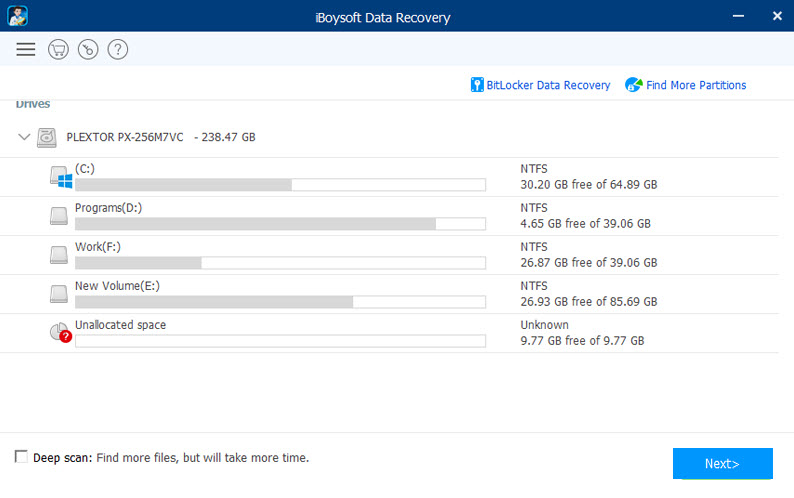 Step 2. Get the disk/partition selected after which you will then have "Next" clicked on. This will commence the scanning process.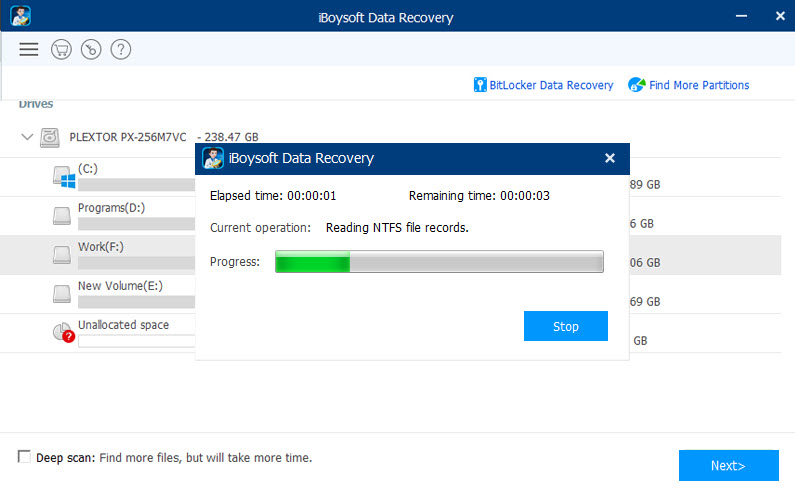 Step 3. After that, files which have been scanned can be previewed before you will click on "Recover" button.
3

Pros and Cons

Just like most data recovery tool out there, iBoysoft has got its pros and cons which you must consider before making a decision to use it long term. Some of these will be highlighted below:

Pros:
Any type of files can be recovered on Windows.

File recovery process is safe and fast.

It has a deep scan feature where files will be easily recovered.
Cons:
Although it is easy to make use of, you will need to take time and master its interface for smooth usage. This means you may find it difficult using it during a time of emergency.
2
Editor's Recommendation for Data Recovery - iMyFone AnyRecover
Although iBoysoft is a great data recovery tool that you can make use of, there is no doubt that its downside explained above will prevent lots of users from exploring its features. This is where you will need a tool such as AnyRecover which has proven to meet the needs of various categories of mobile device users over the years.
AnyRecover is a top data recovery tool that you can make use of in place of iBoysoft Data Recovery Tool. Its features are super-friendly to explore. Some of them are: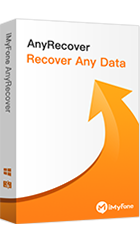 1,000,000 + Downloads
Features of iMyFone AnyRecover:        
Any kind of lost data can be recovered such as formatted hard drive, lost partition, deletion by accident, virus attack, damaged drive and others.
Data can be recovered from any device like SD card, camcorder, memory card, digital camera, hard drive, and others.
File formats that can be recovered are over 1000.
The data recovery process is very safe thereby ensuring that your files are secured.
Featuring a deep-scan algorithm to retrieve inaccessible data.
100% user-friendly interface.
Reasons for Recommendation
AnyRecover is recommended for usage due to two major reasons which will be explained below in clear details:
It has proven to be very versatile. This is evident in the types of files which it can recover when used. Over 1000 files are supported which gives users like you lots of options.

Secondly, it is more user-friendly than iBoysoft data recovery tool. Although both tools involve 3 steps for data to be recovered, AnyRecover's processes seem to be more straightforward.
3
Comparison of iBoysoft Data Recovery and AnyRecover
It can be seen that both tools are slightly similar given their features as explained above. For instance, AnyRecover can help you recover data lost in any kind of scenario. These could be system crash, power failure, virus attack, accidental deletion and others. iBoysoft data recovery tool has also been built to do the same. However, iBoysoft is not so user-friendly as AnyRecover.
Also, both have got free versions. AnyRecover free trial version allows you to deeply scan your lost files and recover 3 files for free; while iBoysoft requires a key in order to perform the recovery, it is only free to download.
Conclusion
There are lots of viable options you can choose from when it comes to data recovery. For instance, you can either choose between iBoysoft Data Recovery tool and iMyFone AnyRecover. It is important that you choose the latter though given its versatile and flexible nature.