"My Dell laptop is going in loop and I can't access it, I thought I should format it but don't know how to do. Can anyone help me?"
If you encounter the same situation, you're in the right place.  In this article, we are going to share some ways in which you can securely format your dell laptop. Let's dive into the details.
Part 1: 3 Best Ways to Format a Dell Laptop
There are three major ways in which you can erase and reinstall windows on a dell computer. You can use dell repair drive, or windows reset settings or a windows installation disc.
Note
No matter which way you try to format your dell laptop, everything on your laptop will be erased. You should back up important files before formatting.
How to Backup Files Before Formatting a Dell Laptop
AnyRecover is a sophisticated data recovery software which can backup important files on any internal or external storage devices. It can also recover lost, deleted or formatted data no matter how you lost it. The most important, it is straight forward to use without any technical skills required.

2,061,704 Downloads
Key Features of AnyRecover:
It can be used to backup your important files before you format your laptop or want to clean it for sell.

Using this software, you can backup/recover more than 1000 file types: audios, videos, archives, emails, pictures, etc.

You can backup data from any storage media or PC such as mobile phones, Laptops, Digital Cameras, Hard drives, XD/CF/SD cards, Video player, USB Flash Drive, SSD, and much more.

It can also recover your data in any data loss scenario: accidental deletion, trash emptied, partition lost, system crash and so on.

The software is 100% secure to use as it does not overwrite the original data.

Your personal data is safe as only you can access the files.
Steps to Backup Files with AnyRecover
Step 1: Download and install the software on your pc, Mac, or laptop.
Step 2: Run the software and select the location that you want to backup data from.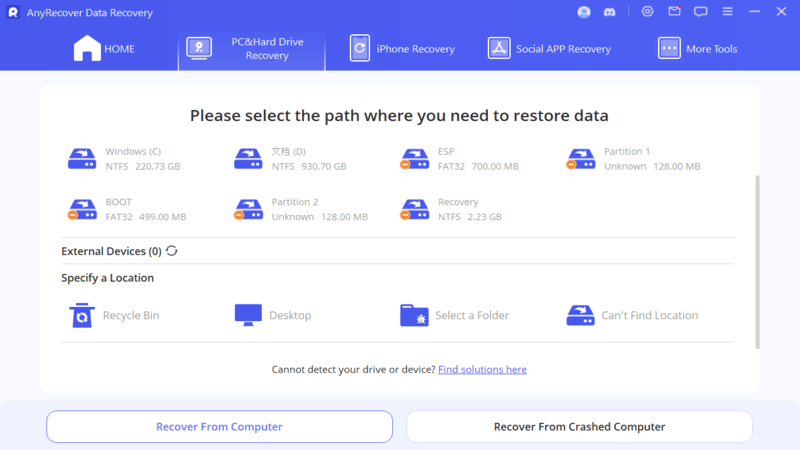 Step 3: Then, click on the "Start" button, AnyRecover will scan your selected location. You can pause to locate the files you want or stop it during the scanning.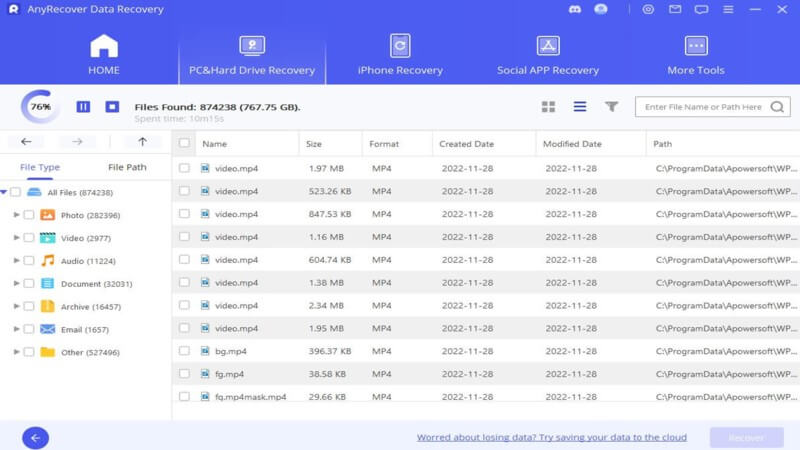 Step 4: Once complete, you can click to preview the files before clicking on "Recover" button.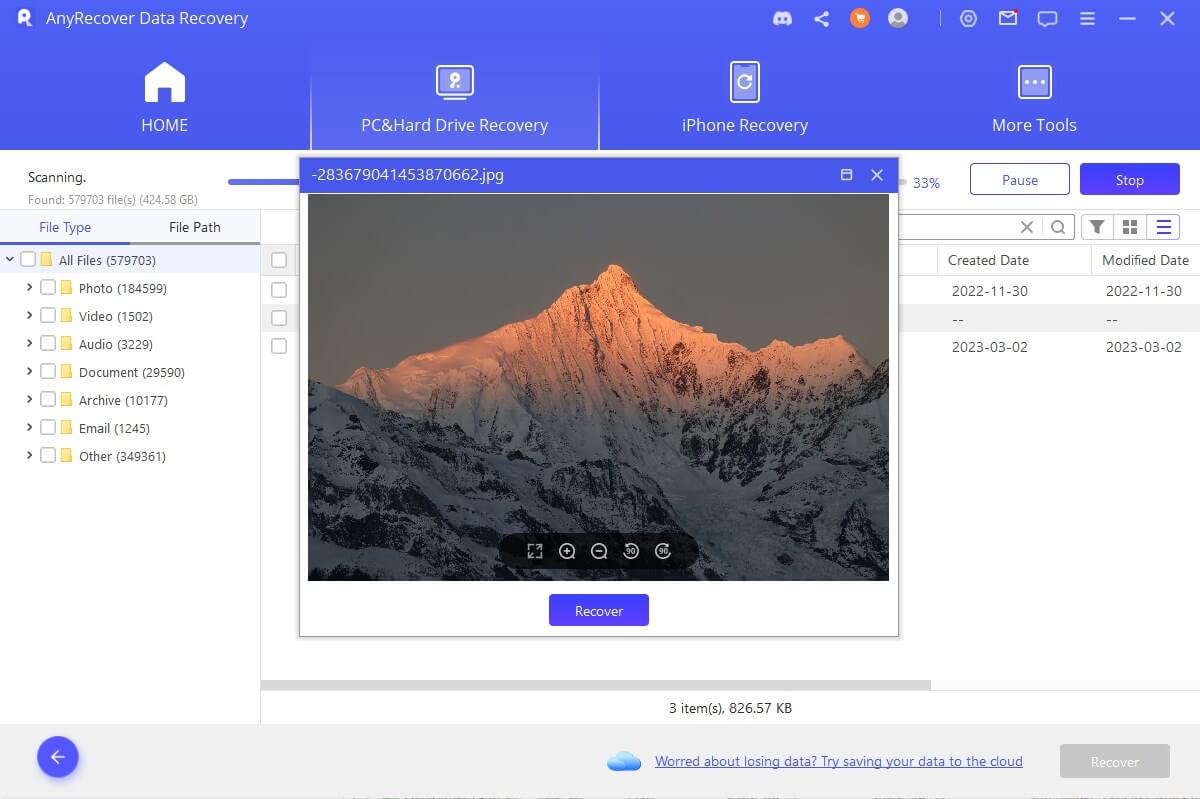 1

Format Dell Laptop Using Windows Reset

After backing up your files with AnyRecover, you can directly format your Dell laptop now. The first method you can try is using Windows reset. This way, all other files will be removed from your computer.

Steps to Follow:

Step 1: Click the Windows logo to open the start menu.

Step 2: You will see a gear icon on the lower-left side.

Step 3: After that, click "Update and Security".

Step 4: On the left side of the window, there will see a recovery tab.

Step 5: You will see "Get Started" heading on top of the page.

Step 6: When prompted, choose "Remove Everything".

Step 7: Another option "Remove Files and Clean the Drive". It will delete all the data on the drive and will reinstall the window.

Step 8: Click "Reset" to begin resetting your Windows.

Step 9: When your computer is reset, click on "Continue".

Step 10: After that, follow the on-screen prompt to choose the language, connect to WiFi and other tasks for window installation.
2

Format Dell Laptop Using Recovery Disk

You can use the Dell OS Recovery Tool to create an image of your computer. You can use this image to restore your computer. For making an image, you need the service tag and a USB flash with 16 GB of space. Open the Dell OS recovery tool and click on get started. Select the operating system and the drive you want to create an image, follow the prompt to create your installation media.
Steps to Format the Laptop with Recovery Disk
When you want to format your Dell computer, insert the USB drive and restart your PC. After that, follow these steps:
Step 1: After seeing the Windows logo, press the F12 key until you see the words Preparing One-Time Boot Menu.
Step 2: You need to select the USB drive from the boot menu.
Step 3: Select "Troubleshoot" and click "Recover" from a drive.
Step 4: Remember that it will delete all the data from your hard drive.
Step 5: Follow the steps on the screen to complete the installation.
Step 6: The process takes some time, and your computer will restart multiple times.
3

Use a Windows Installation Disk to Format Dell Laptop

If you have a Windows installation disk, then you can use it to format and reinstall the Windows. You need to select the disk drive instead of a hard drive in the boot menu. If you do not have an installation disk, then you can make it on from the Windows 11/10 installation tool ISO.

Follow These Steps:

Step 1: First, you need to insert the disc in the DVD tray.

Step 2: Restart your computer and go to the boot menu.

Step 3: You will see "Press any key to boot from disc" on the screen. If it does not show then, you need to change the boot order in bios.

Step 4: Press any key when you see the message.

Step 5: After that, select a language and hit Next.

Step 6: Accept the terms and conditions and click Next.

Step 7: On the next menu, select custom in the middle of the window.

Step 8: After that, select any drive and click "Format".

Step 9: Click next or continue to complete the formatting process.

Step 10: Now you can follow the on-screen instruction to reinstall the Windows.
Part 2: What Should You Do After Reset a Dell Laptop?
After formatting and reinstalling the window, you need to get your computer back to normal functioning conditions. First, apply any new updates that your OS requires. You can do this by going to update and security settings. If there are any updates available, download and install them.
You also need to check for your laptop manufacturer updates. You can visit the drivers and downloads website of the Dell and enter your service tag. It will show you the list of drivers available. Download all the drivers and install them on your computer.
After that, you need to restore your applications and files.
Step 1: Open Control Panel.
Step 2: Then go to system and maintenance and then Restore Centre.
Step 3: It will give you some options, choose Advanced Restore.
Step 4: Browse the backup you have created and then start the restore process.
Step 5: If you have backed up your files, you can get them back now.
Conclusion
Formatting any Dell laptop is not rocket science. It would be best if you kept in mind that formatting will erase all of your data. So, it is essential to make a backup of all the important files before formatting. You can choose any way to clean your drive that you think is easy for you. But if you accidentally lost your data, then do not worry as you can use AnyRecover software to recover your lost files and folder from any media source.