Your hard drive is an important part of your computer system. It holds all the information you need for your day to day operations and so needless to say any damage to your hard drive sets you back in a major way. Good thing is that the data in a hard drive can be recovered under most circumstances, but people often hesitate with the hard drive recovery cost.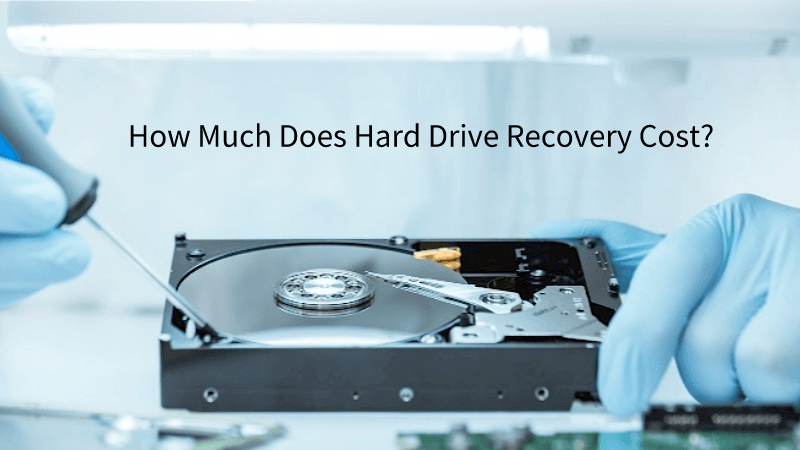 Part 1. How Much Does Hard Drive Recovery Cost-Software
Although hard drive recovery could be a tricky process, with the right tools you could accomplish anything. Anyrecover is one such software that is designed to help you recover your precious data from your Windows/Mac internal drives and external hard drives. The software has unique scanning algorithms that scans and recovers your files quickly. What's more, this software is far more cheaper than a local data recovery service.
Right now, AnyRecover is offering a free trial version where you can make use of unlimited free deep scans, preview as many files as you want.

AnyRecover Key features include:
Regardless of the type of hard drive you have, you can easily recover it with the software once you install it on your computer.
It supports over 1000 different kind of file formats, so no matter what kind of file that you have lost, stay assured that you will easily recover it using AnyRecover.
It supports both windows and mac OS and can recover files in both of them quickly.
Support all hard drive top brands, including Western Digital, Seagate, HGST, Hitachi, and more.
Hard Drive Recovery Cost with AnyRecover
Hard drive recovery cost with AnyRecover: unlimited scans and preview) or $59.99 (recover unlimited files).

You do not have to pay for the software right away, it gives access to a free trial to its users so that people can judge the software by its performance and then make a decision for themselves.
You also do not have to worry about your data being overwritten while it is being recovered. Although it may be an issue with other recovery software, AnyRecover takes care of the problem specifically and ensures that it does not occur.
So, to recover your precious data follow the below steps:
Step 1. First, you open the software and then select your hard drive.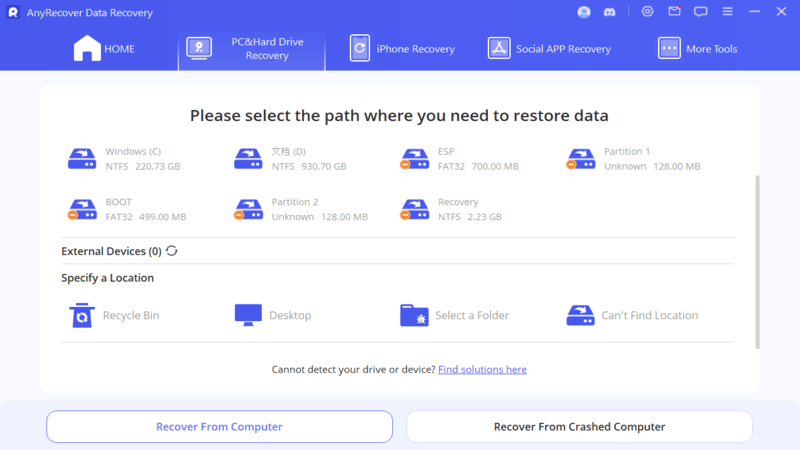 Step 2. To start the scan, select the location and file type, then click on the 'Start' option.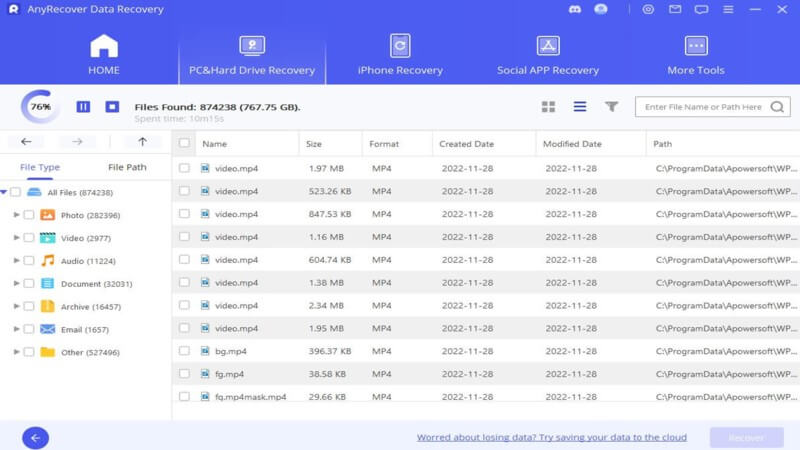 Step 3. You can then preview the files and select the ones you want to recover.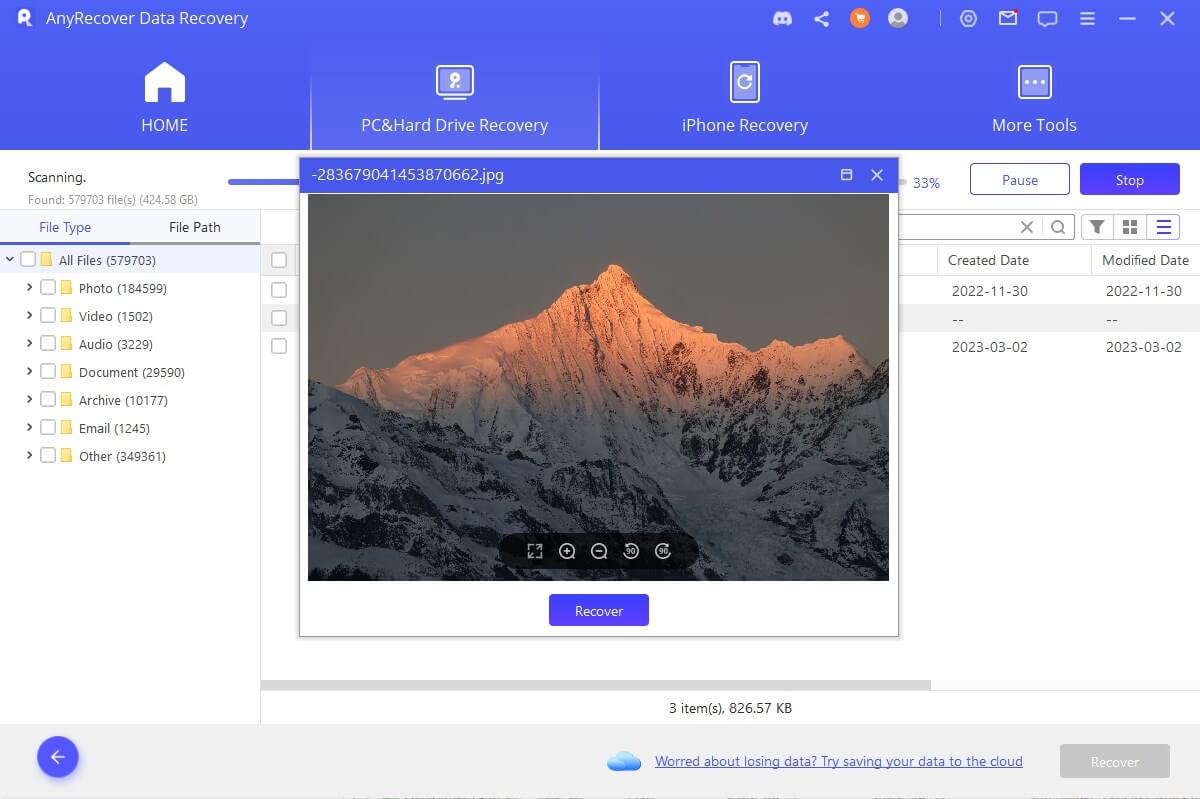 Video guide on how to recover files from formatted hard drive
AnyRecover can recover files in common data loss scenarios. However, if your hard drive is physically damaged, it's better to seek help from a professional hard drive recovery service.
Part 2. How Much Does Hard Drive Recovery Service Cost?
Manual hard drive restoration centers which comprise a group of professionals expert in the service of data recovery, are hard to come by. The process is usually labor intensive and requires a certain amount of skill to pull off. These centers could be very expensive too.

According to a survey by a popular offline data recovery company which is based in the United States, a typical hard drive recovery service could take around $100 to $1500. The huge gap is usually dependant on the amount of time that is spent to recover it and also the volume of data (either in GBs or TBs that you want to recover). Higher the volume, higher the price.
Factors that Affects the Hard Drive Data Recovery Cost
There are various factors that affect the hard drive data recovery price, some of them are listed below:
Depends on what kind of drive you are using- There are various kinds of storage media out there, SDD, HDD, SSHD etc. Each kind of a media requires a unique kind of handling process and hence the charges to recover data from them are different too.

Depends on the damage sustained- A hard drive can suffer from various kinds of damages, logical issues, firmware damages, even damages may occur due to water and fire.

Depends on the time taken to fix the issues- The logical issues take less time to get fixed, generally around one or two days, the hardware issues generally take around 5 days to get fixed and the physical damages if any take around 10 days to get fixed. The prices vary for all the three processes according to their duration.
There are also some other objective factors:
The people have the skill to actually recover your data are few in number.

The cost of facilities and machinery that are used to operate data recovery is very high.

There is the added cost of keeping your information safe and secure.

If they replace parts from your drive which are physically damaged, the hard drive recovery cost will be more expensive.
Pros of Local Hard Drive Recovery Service
When your hard drive is physically damaged or logically damaged, there are high chances of recovery from a manual hard drive restoration center.

Barring few severe cases, most of the times you could be assured that you'd be able to recover your precious data.
Cons of Local Hard Drive Recovery Service
The hard drive recovery cost is quite expensive and obviously you'd require a highly skilled workforce to do the job for you.

Most cities are lack of such professional hard drive recovery service.
Part 3. Compare the Cost of Hard Drive Recovery Between Software and services
| | AnyRecover Data Recovery Software | Hard Drive Recovery Service |
| --- | --- | --- |
| Operation Type | DIY | Professional Lab |
| Cost | $59.99 | Over $100 |
| Possibility of successful Recovery | Moderate to high | High |
| Speed | Several minutes to hours | 24 hours or more |
| Privacy | High | Low |
Conclusion
Data and privacy are extremely sought after things in today's world. It is meant to be safe and secure from all the threats that are out there. Anyrecover is a tool that helps you gain access to your data without risking it to be breached and keeps it safe for your use. So, use AnyRecover for a smart, efficient and cost effective data recovery ensuring that you don't lose files important to you.