Today, many businesses store a significant amount of their critical information on hard drives or cloud backup services, which exposes them more to cyber-attack. On the other hand, you can have everything routinely saved to a USB stick or an external hard drive. However, none of the backup plans guarantee the safety of your data. So, you must always be prepared for the worst in the event of a hard drive crash or a corrupted drive. Of course, no one expects the worst, but it's safe to know the variety of free hard drive recovery software that can make the process of data recovery relatively simple and easy to complete.
We're going to introduce the free hard drive recovery software in today's post. It's definitely helpful to anyone who's looking to recover lost data from hard drives. As we'll list all the pros and cons of each software, you can choose any one of them based on your needs. And please bear in mind that not all the software are totally free, but the free trail versions are all available.
What Is Free Hard Drive Recovery Software?
To begin with, what is Data recovery software? Typically, data recovery software is used to recover data that has been deleted, corrupted, or is otherwise inaccessible from a storage device. This software examines, scans, identifies, extracts, and copies data from deleted, corrupted, and formatted sectors or from a specified location on a disk. Isn't it such a wonderful thing to know that there are free hard drive recovery programs? Exciting! Let's look at the best free hard drive recovery software in the following section.
Top 6 Free Hard Drive Recovery Software
1. AnyRecover
Let's begin with the best hard drive recovery software. AnyRecover offers the recovery of your lost data in an exquisite, easy-to-understand fashion. It works on both Windows PCs and Mac computers. Any data loss due to accidental deletion, emptying the recycle bin, formatting a hard drive, device damage, loss of partition, system crash, virus attack, and other causes are all recoverable using AnyRecover. The sound of the word "AnyRecover" is what the software exactly does. It can recover more than 1000 different types of files such as photos, videos, audio files, documents, archives, and many other data types. AnyRecover has undoubtedly proven to be the best hard drive recovery software out there. Below are the pros and cons of AnyRecover software:
Pros
Work well on both Windows and Mac Computers.
Support various file systems like FAT16, FAT32, exFAT, NTFS, ReFS and HFS+.
Recover over 1000 different file formats, including photos, videos, documents, emails, audios, and many more.
User-friendly interface and extremely high success rate.
Up to 8 files can be recovered for free, no size limit.
Cons
Premium version is needed if the amount of free recovery exceeds.
To recover your data from hard drives with AnyRecover, you can follow these simple steps:
Launch AnyRecover and select your location under Hard Disk Drives or External Removable Devices section after connecting the drive to the computer. Then, click Start.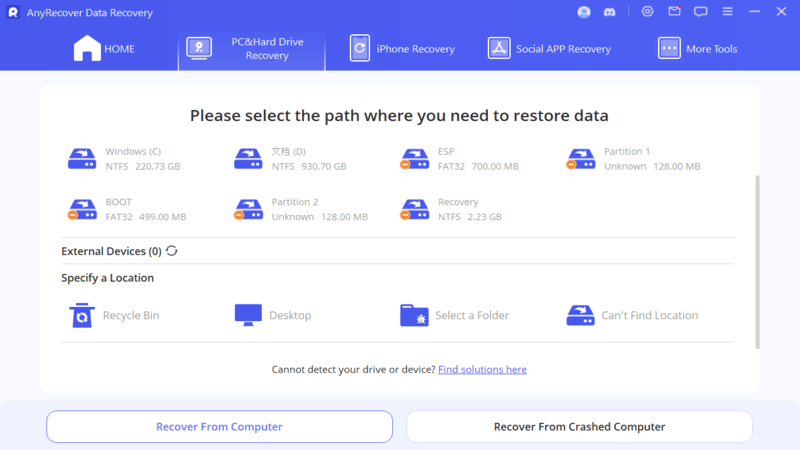 AnyRecover will initiate a deep scan of the location you chose and display the results in real time. You can pause or stop the scanning at any time and carry out the accurate search if you know where the files you are searching locate exactly.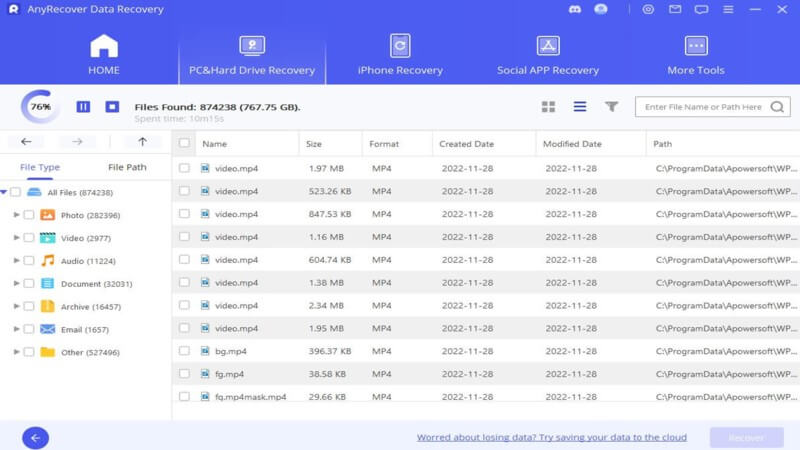 After the scanning, double-click the files to preview and click on Recover to retrieve all lost data.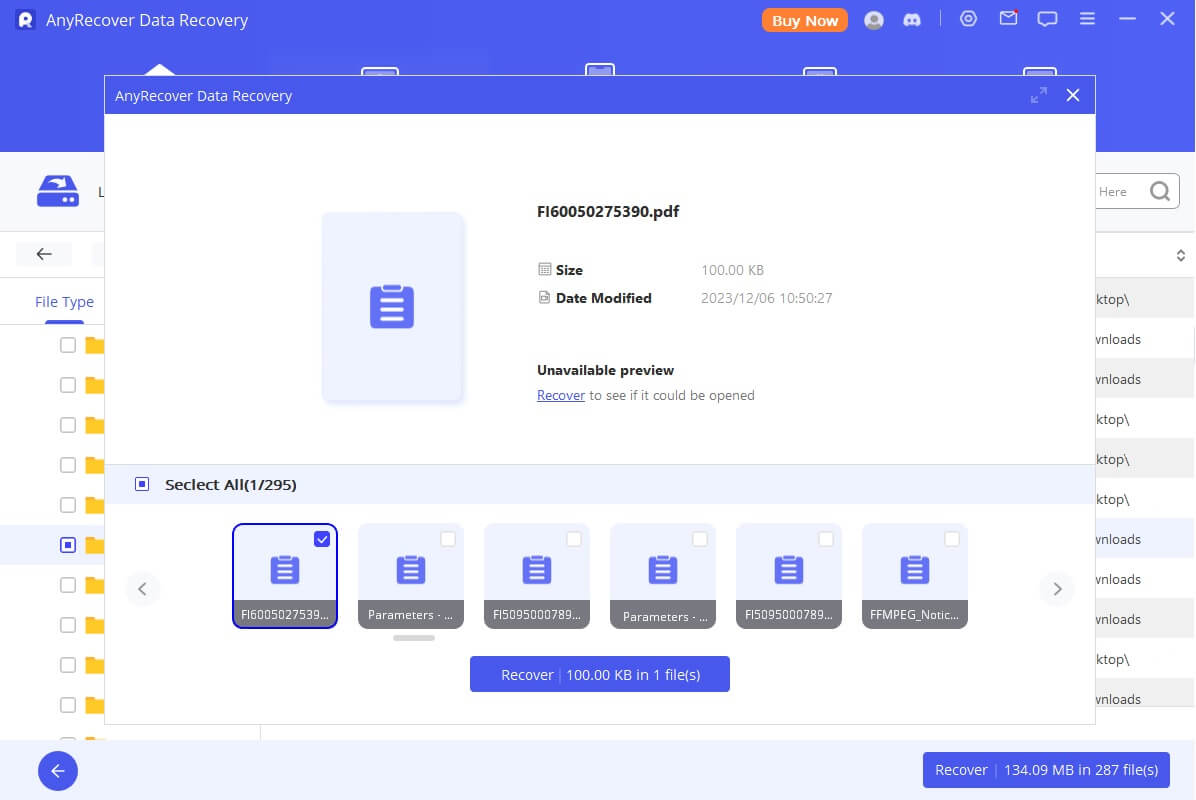 2. Recuva
Recuva is another free hard drive recovery software. It's also an effective recovery software for hard drive. The father company of this product has accumulated much experience in data recovery field, which enables it to recover data from various storage devices easily. However, the quality or recovered files are not always satisfying. Besides, the software only works on Windows, so the Mac users have no luck to try it. Alternatively, only $19.9 are required for a premium subscription. So Recuva may be exactly what you've been searching for if you don't want to spend a lot of money and don't mind the relatively poor quality of recovered files.
Pros
Free version available and premium version is affordable
Users can see the file state in colored icon and preview the file before recovery.
Support various storage devices like hard drives, SD cards, cameras, flash drives and so on.
Cons
Only support Windows computer.
Quality of recovered files is not satisfying.
Error like "Unable to determine file system type" happens frequently.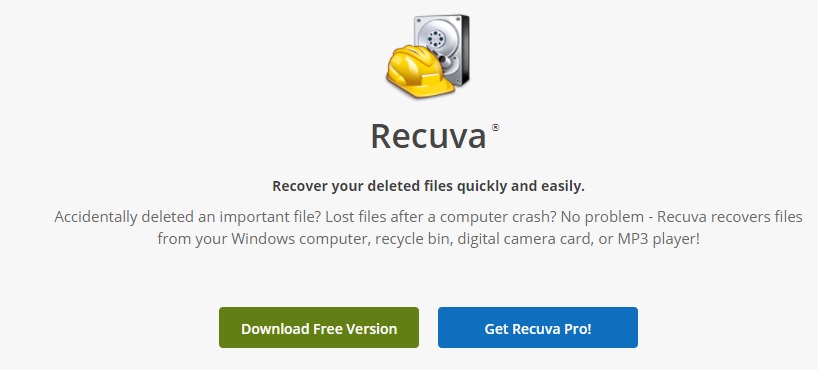 3. EaseUs Data Recovery Wizard
EaseUS data recovery is also another recommended free hard drive recovery software. Using EaseUS Data Recovery is very straightforward. The majority of the tasks can be completed with only three clicks. This means that you can start the scan, check to see which files you want to recover, and then recover those files from your computer. Furthermore, you don't have to sit waiting for the recovery process to complete; everything is handled in the background by the application. However, the free version of its data recovery software allows you to recover only 500MB of data at a time. So if your demand exceeds the set data size, you might have to upgrade to the premium version.
Pros
Recover files from almost all storage devices including hard drives.
Compatible with both Windows and Mac computers.
Able to reload the results of last scanning when reopening the software.
Cons
The premium version is quite expensive, up to 69.95USD.
Only 500MB of data can be recovered for free.
Possibility to ignore some files that can be easily scanned by other tools.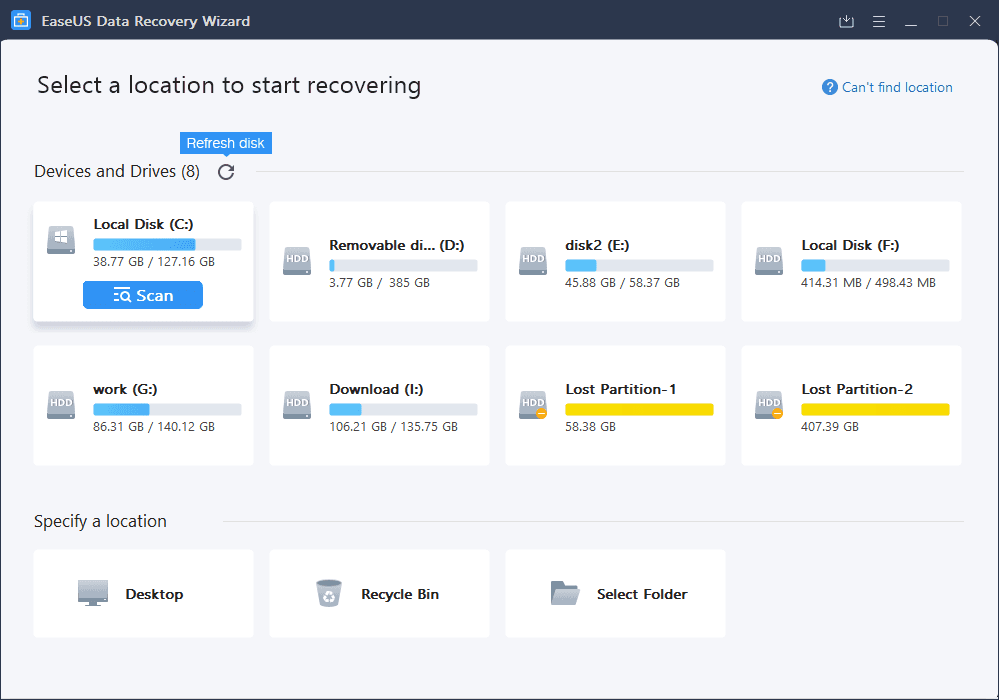 4. TestDisk
TestDisk is a cross-platform, free hard drive recovery software that comes pre-installed on many Linux distribution live CDs, including Debian and Ubuntu. It has various useful features, such as restoring DE-type partitions, which is particularly useful for Dell computers. It does not require installation and is, in general, extremely powerful. On the downside, it does not have a graphical user interface and is intended for more experienced users. And as an open-source tool, it may bring virus or malware attack to your operating system and the existing data may be exposed to the risk.
Pros
Totally free hard drive recovery software.
No installation is required in some operating systems.
Support all the operating system like Windows, macOS, Linux and so on.
Cons
Not user-friendly because of the non-graphical interface.
Possibility of virus/malware attack as well as the data loss.
5. FreeUndelete
FreeUndelete is the next free hard drive recovery software, which has the feature of previewing files before recovery to reduce the amount of time it takes. One of the advantages of FreeUndelete is that the core functionality is provided for free. However, it only applies for personal use, and if you are going to use it for business, then the version will be obtained through fee payment. Besides, it only works on the Windows system, so Mac users can not enjoy its free recovery.
Pros
Free for personal use.
Preview function is enabled before recovery.
Easy to use, no special user skills required.
Cons
Only available on Windows system.
Business version is costly, up to 69USD.
Outdated user interface and low scanning speed.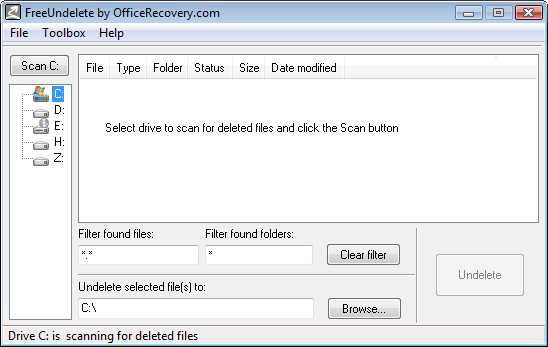 6. Minitool Data Recovery
Minitool data recovery software is designed to recover lost data from any source under any circumstances. It aims to recover data from any difficult source, such as corrupted hard drives, corrupted CDs and DVDs, and broken digital media. Recovering lost data can be a simple process with MiniTool Power Data Recovery. Sadly, this software is also not compatible with Mac computers.
Pros
Recover data regardless of the lost scenarios.
Support quick and specific location recovery.
Free version is available for recovering 1GB of file.
Cons
The scanning speed is somewhat slow.
Not compatible with Mac computers.
Recovery rate is relatively low compared with other tools.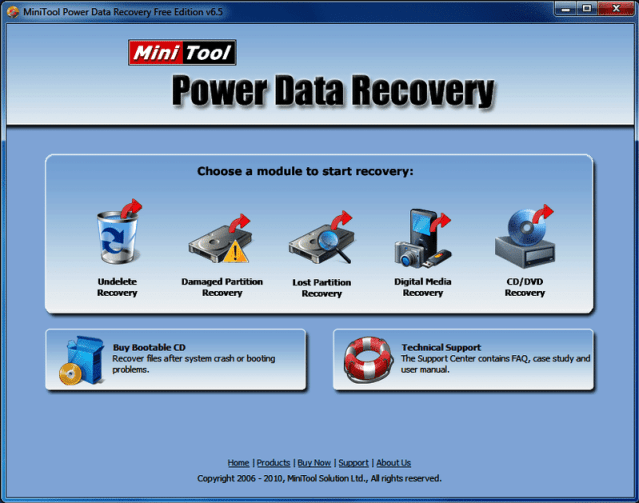 Conclusion
All the software discussed above are free hard drive recovery software to recover your lost files or data. You can choose one of them based on your needs and download them for a try! However, AnyRecover is the best among all. AnyRecover allows you to recover lost files of different formats in just 3 simple steps; it is the most powerful hard drive recovery software any tech guru can recommend hard. Just download the free trial version to try its powerful functions!