As the PS4 internal hard drive has limited storage, users would like to connect an external device to a PS4 to store more games in the console. However, it can be annoying if your PlayStation 4 does not identify the external hard drive.
In some cases, when there is an issue with PS4 external hard drive not being recognized, the customer gets an alert message saying that the USB storage device is not connected, but there are also cases when there is no warning at all. Whether the external hard drive stops working on PS4 from the very beginning or it stops working suddenly, there are corresponding solutions. Just read on to know why PS4 extended storage is not working and how to fix it.
How to Fix PS4 External Hard Drive Not Working/Recognized Issue
First of all, it is important to find out when your external hard drive has stopped working or showing up, then you may try the appropriate solution for your problem as listed in this article.
Scenario 1. PS4 External Hard Drive Is Not Working All the Time
If you PS4 doesn't support or recognize the external hard drive from the beginning, ensure to check the following possible reasons and you may fix the PS4 extended storage not working issue by yourself.
It is important that the external hard drive is not damaged. For this, connect it to your PC and see if the computer is recognizing it or not. If it is working there fine, check the other points.

Check if your external hard drive is compatible with PS4 standards. You can get the information on PS4 official website.

The PS4 external hard drive must have a wired connection, as wireless external hard drives won't be supported by the PS4 system.

Ensure that the external hard drive is connected directly to the PS4 through one of its USB ports.

Check if the PS4 system software is up-to-date. If you are using an older version, then update it to its latest version.

The PS4 allows only one storage device at a time. Therefore, make sure that the drive was not previously formatted for external storage.
Once you find the solution to your problem, your external hard drive will start working fine. If after all this, your external hard drive is still not working, then go ahead to consult a technical person.
Scenario 2. PS4 External Hard Drive Suddenly Stops Working
If your external hard drive was working perfectly before and it is only recently that it has stopped working, then you need to find out whether it is defective. For this, connect the drive to a computer or another PS4 and if it is that the ps4 external hard drive not recognized then you will need to use a new one. However, if the external hard drive is recognized on other devices, then the problem is with your PS4. Try the fixes below to solve the ps4 external hard drive is not recognized problem.
1

Solution 1. Restart your PS4

Now, this is the easiest solution to fix this issue.

Turn off your PS4 and also switch off electricity for a while.

Unplug the external hard drive and then you can turn on the PS4.

After some time, turn off your PS4 and connect the external HDD.

Now, turn on the PS4 and see if the external HDD is recognized.

If this does not work, you can try one of the methods given below.
2

Solution 2. Rebuild the PS4 database

Rebuilding the PS4 database involves a defragmenting to the PS4, which not only helps to make sure that it keeps working at the optimum capacity, but also solves various other issues and frees up space. The below process will help you to rebuild the PS4 database.

Power off your PS4 using the power button.

Holding down the power button until you hear two beeps.

Connect your PS4 controller via USB cable and press the PS button. The safe mode is activated, you'll now be presented with some options.

Choose the 'Rebuild Database' option and press 'X' to initialize the process.

A dialog box will open. Click Ok.

The database is being built and your screen will go black for a few hours.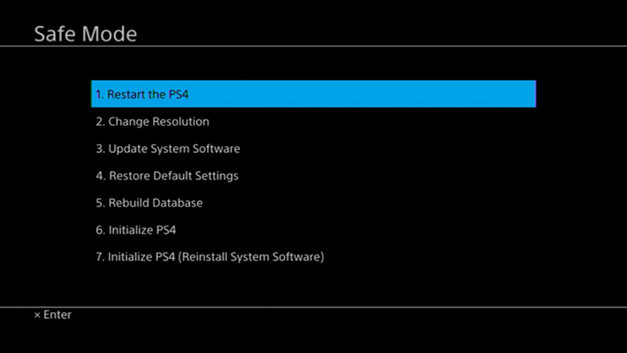 When the process is completed, reconnect the external hard drive and check it is recognized by PS4 properly now.
3

Solution 3. Initializing the PS4 Console

Before we start, it should be noted that the initialization of your PS4 removes all of the data contained in your PS4 system storage. Therefore, in case of any issue, it should be your last resort when a software glitch stops your PlayStation 4 dead in its tracks. Moreover, if you have any important data like images and videos that you don't want to lose, you should save it to the cloud or on an external device.

To start the Initializing of PS4, follow the steps given below:

Power off your PS4 using the power button. Once the PS4 is off, release the button after two beeps. This will turn the PS4 into safe mode.

Connect the DualShock®4 controller with the USB cable and press the PS button.

Now, select Option 7 - Initialize PS4 (Reinstall System Software), and then wait for the process to complete.

After the initialization process is complete, update to the latest PS4 system software version. After this, connect the external HDD to PS4 and check whether ps4 extended storage is working or not.
Bonus. How to Recover Lost Data from PS4 External Hard Drive? (Windows 11 & Mac Supported)
After your PS4 External Hard Drive is fixed, there are chances that there might have been some data loss, which is never a good thing and can leave you feeling upset. However, the good thing is that AnyRecover is here to make things easy for you, as the software works as a one-point solution for the recovery of all types of data from various devices. It is the most trusted all-in-one data recovery software and is 100% safe.

Key Features of AnyRecover Data Recovery Software
Recover lost Steam game files, PS4 games files and other game data in just three steps and the recovery rate is high.
You can recover deleted/lost files for any storage medium, including XD/CF card, USB flash drives, SD card, external hard drives, etc.
No matter what type of file got deleted, it can be rescued, like, office documents, videos, photos, audios, archives, emails, etc.
AnyRecover can restore data lost due to hard disk failure, OS crash, virus attack, lost partition, and some other scenarios.
Conclusion
In the end, it can be concluded that ps4 extended storage not working or ps4 external hard drive not recognized are not such big issues as there are several methods that can ensure that your external HDD is fixed in no time. However, in case of data loss while fixing your external hard drive, then iMyFone AnyRecover is the most convenient and straightforward software to recover the lost data on Windows 11/10/8/7 or Mac.