When it comes to email, there are a number of great choices out there, but one of the best still remains the best in terms of service. Microsoft Outlook is known for excellent service, as well as high security and many other useful features. Outlook stores emails, contacts, RSS feeds, contacts etc. by creating PST files.
However, as with all applications, errors do occur from time to time, often in the form of corrupted or missing PST files, this can cause your emails, contacts or other data to be deleted. In this article, we'll show you how to retrieve deleted drafts in outlook.
1
Best Way to Recover Deleted Draft from Outlook
While there are a couple of ways to recover deleted drafts in outlook, as well as an inbuilt application in Outlook itself, your best bet itself is to use iMyFone ScanOutlook, a complete Outlook recovery tool.
iMyFone ScanOutlook is a professional tool capable of recover items from Outlook OST and PST files. No matter how you lost your items, it can always get them back!
Features of iMyFone ScanOutlook
Easily recover permanently deleted drafts from Outlook data files (.pst & .ost)

Best Free tool to repair corrupted/damaged Outlook data files

Can also recovery emails, contacts, attachments, calendars, notes, journals and more

Preview all the items from the recovered files.

Allow you to export your outlook data in various forms: PST,  EML, MSG, PDF, HTML  and RTF
Steps to Recover  Deleted Outlook Email Draft
To get started, just download and install ScanOutlook on your PC and follow the steps outlined below to retrieve your valuable data.
Step 1: Select Files You Wish to Recover
Once you launch ScanOutlook on your computer, the first thing you want to do is choose the files you want to recover or repair. In the file selection dialogue, you'll see three different options,
1. Select Default PST/OST: After launching ScanOutlook, the Outlook data files in the default location are loaded. If this is where your file is located, just select that particular file

2. Select PST/OST file Manually: if you now exactly where your PST/OST file is located, just click the browse button to navigate to that location and select that file manually

3. Search for PST/OST file: If you don't know the exact location however, this would search all through the folder or volume for all the Outlook data files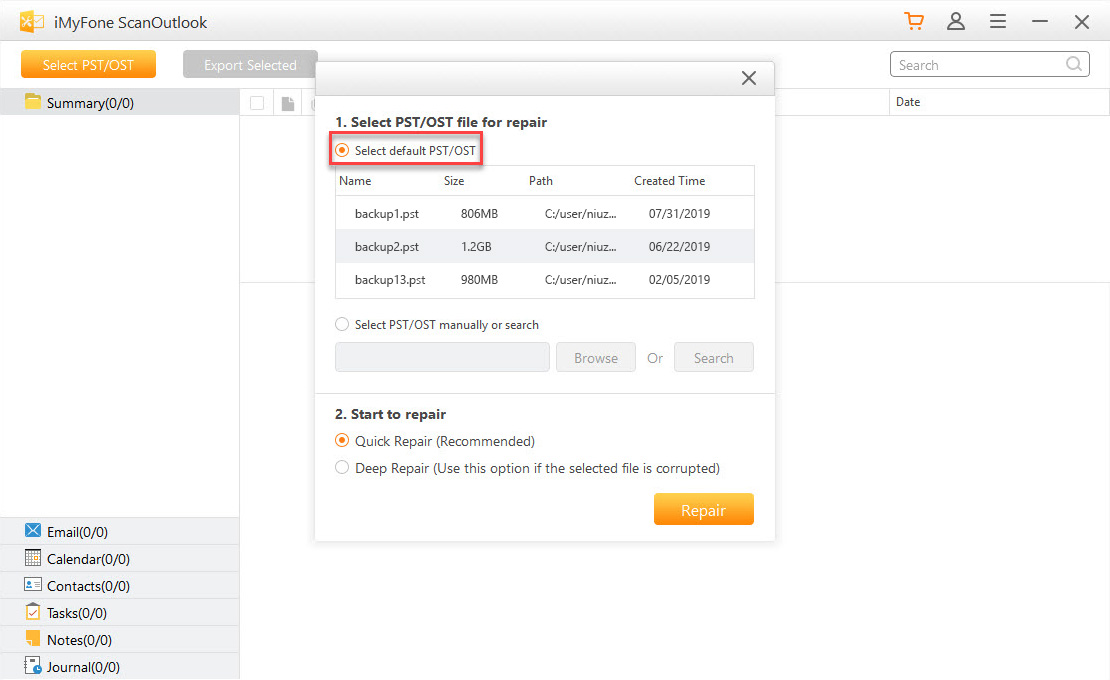 Step 2: Start to Repair
Once the file has been selected, click the repair button to begin the process.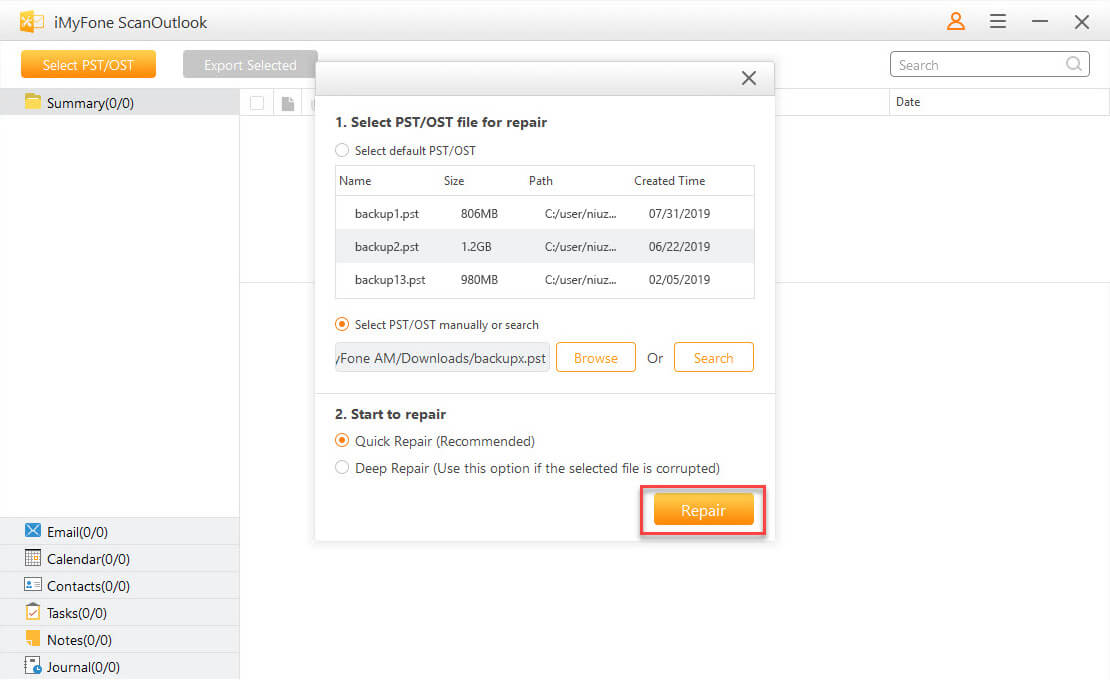 Step 3:  Preview Recovered Files
Once the repair is completed, all the Outlook files that have been recovered would be displayed at the left panel. Including your deleted drafts. You can open each individual folder to view the files in them.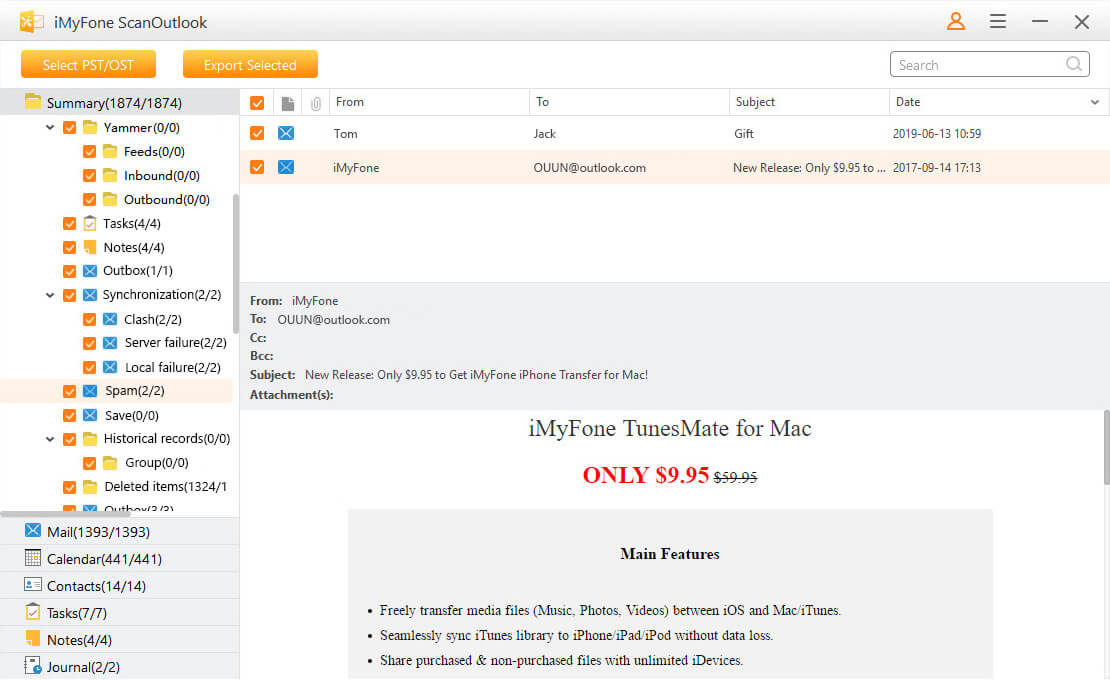 Step 4: Export the Recovered Files
Next, select the recovered files you wish to keep and click on the "Export Selected." Choose a format and select a location where the data would be saved. Finally, click on export to begin.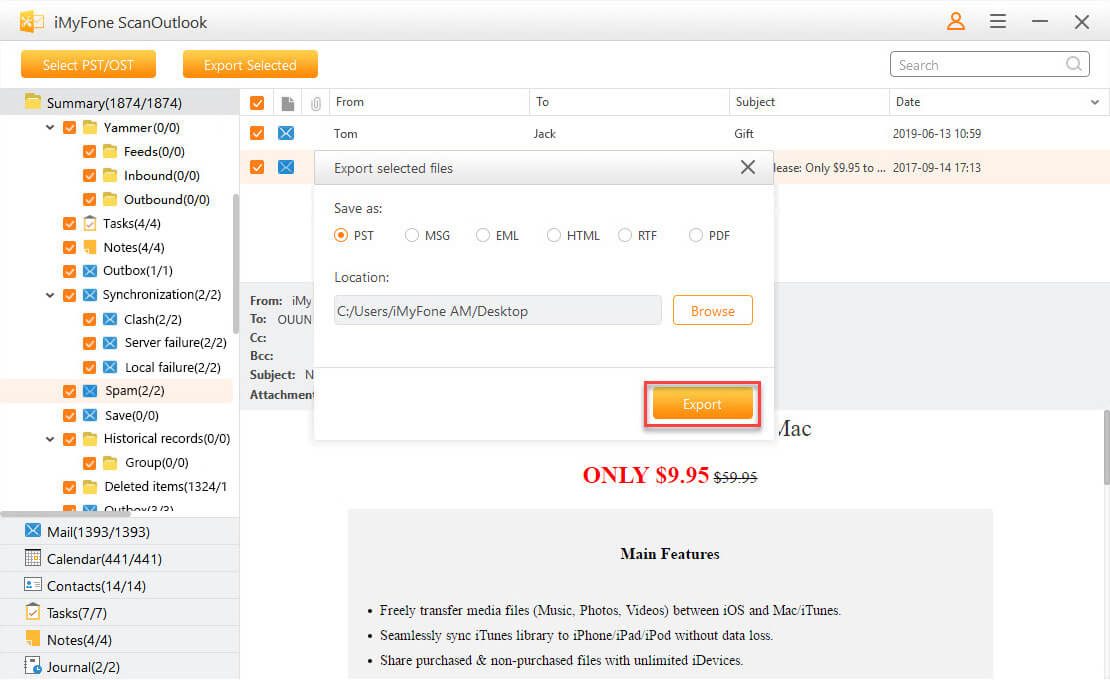 The exporting might take a few minutes, please be patient. After exporting, the files would be saved to the location you chose. Then open the pst file in Outlook, you'll find your draft be there!
2
Recover Discarded/Deleted Drafts in Outlook with Inbox Repair Tool
As good as Microsoft Outlook is, it isn't without errors and bugs. Often times, PST and OST files get corrupted and important files can be lost. Luckily, Outlook comes with an inbuilt repair tool.
Steps to Recover Discarded Drafts from Outlook
Step 1. Open Inbox Repair Tool
To find the Inbox repair tool, Open Task manager on your PC, then find Outlook under the processes tab, then left-click and click open file location. Locate Scanpst.exe in the folder and launch it.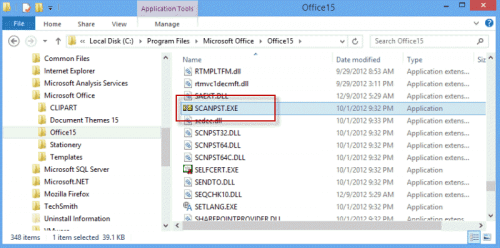 This application allows you to repair and stabilize PST that are damaged.
Step 2. Start to Repair
To use the Inbox Repair Tool, you need to locate the damaged pst-file, the error message would most times show the location of the damaged file. Once the file has been found, click start.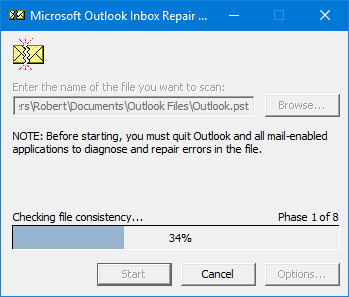 This will initiate a scan of the pst file to determine the level of corruption. Once analysis is completed, a report is generated and an option to repair would be shown.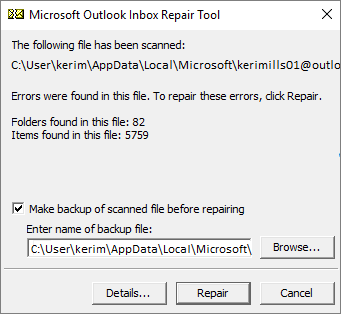 Click "Repair" button and the tool would attempt to repair the file. If successful, you'll get a "repair complete" response.
Using scanpst.exe to recover your deleted drafts seems to be easier. However, there are numerous limitations to it:
First, larger files are usually the cause of the error, and if scanpst.exe can't fix it, it simply deletes the contents.  These can mean that valuable data can be lost.

If the content is also password protected, scanpst.exe may be unable to retrieve the PST file.



This is why iMyFone ScanOutlook is your best bet. It's easy to use, has 100% security, and even has a free trial along with a 30-day money back guarantee.