When I opened Outlook I saw that some calendar items were missing. Is there anything I can do to recover deleted calendar items Outlook?
This is a relatively common problem that Outlook users face, but it is still one that they unsurprisingly find frustrating. What can those users do to fix it? Here are the best ways to recover deleted calendar items from Outlook.
Part 1. Reasons Why Calendar Items Are Lost
By knowing why your calendar items are lost on Outlook, you might be able to recover them without any additional help. Here are the most common reasons:
Corrupt PST File Header. Corrupt headers can make calendar items unreadable, therefore the email client likely deleted the corrupt item.

Viruses. Viruses wreak havoc so if your computer is infected, your Outlook files could also be infected. Your antivirus protection may then delete the infected files.

User Error. Simple user error could be the culprit for your missing calendar items. You may have deleted them without realizing or shut down Outlook abruptly.
Why your Outlook items are missing is irrelevant, though useful to know, because all of the solutions we're about to show you apply to any circumstances.
Part 2. How to Recover Deleted Calendar Items from Outlook 2019/2016/2013/2010
1

Recover Deleted Calendar Items with Anyrecover

To effectively recover deleted calendar items in Outlook, AnyRecover is exactly the tool you need to use.

The main features that the tool's users get to enjoy include:
The tool supports more than 1000 file formats, including emails, videos, images, documents, etc.
You can use AnyRecover to recover your files from all storage devices, including hard drive, digital cameras, memory cards, virtual drives, etc.
It is capable of recovering data lost via other means, including virus attack, formatted device or hard drive, lost partition, OS crash, emptied recycle bin, damaged hard drive, etc.
Performs well on almost all versions of Windows (including the latest Windows 11) and Mac OS.
Provides free trial for every user.
Go ahead and download Anyrecover and we guarantee you won't be disappointed by the results! After you install it, here's how to use it for recovering Outlook calendar items.
Step 1. Open AnyRecover on your PC, select the location where you deleted calendar items.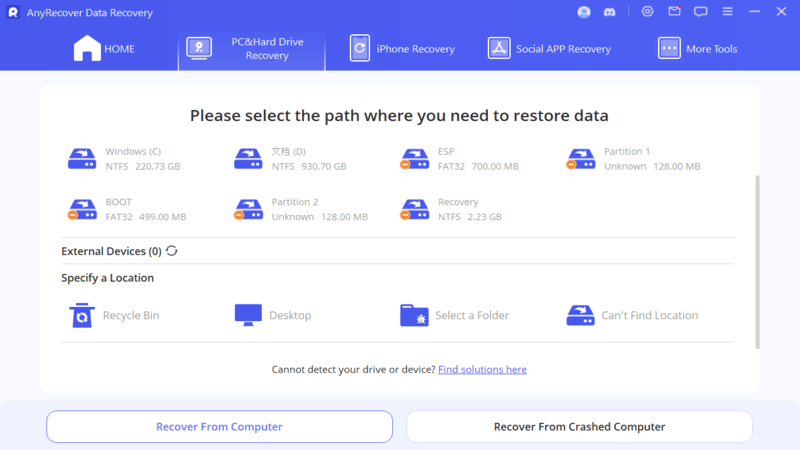 Step 2. After selecting the location, hit Start button to start scanning.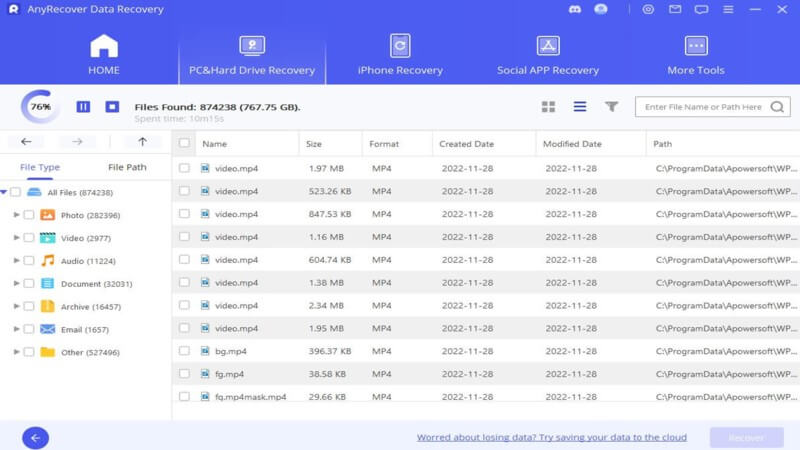 Step 3. Your deleted calendar items will be displayed after the scanning. Preview the displayed files and choose the ones you would like to recover. Click Recover button to get the files back.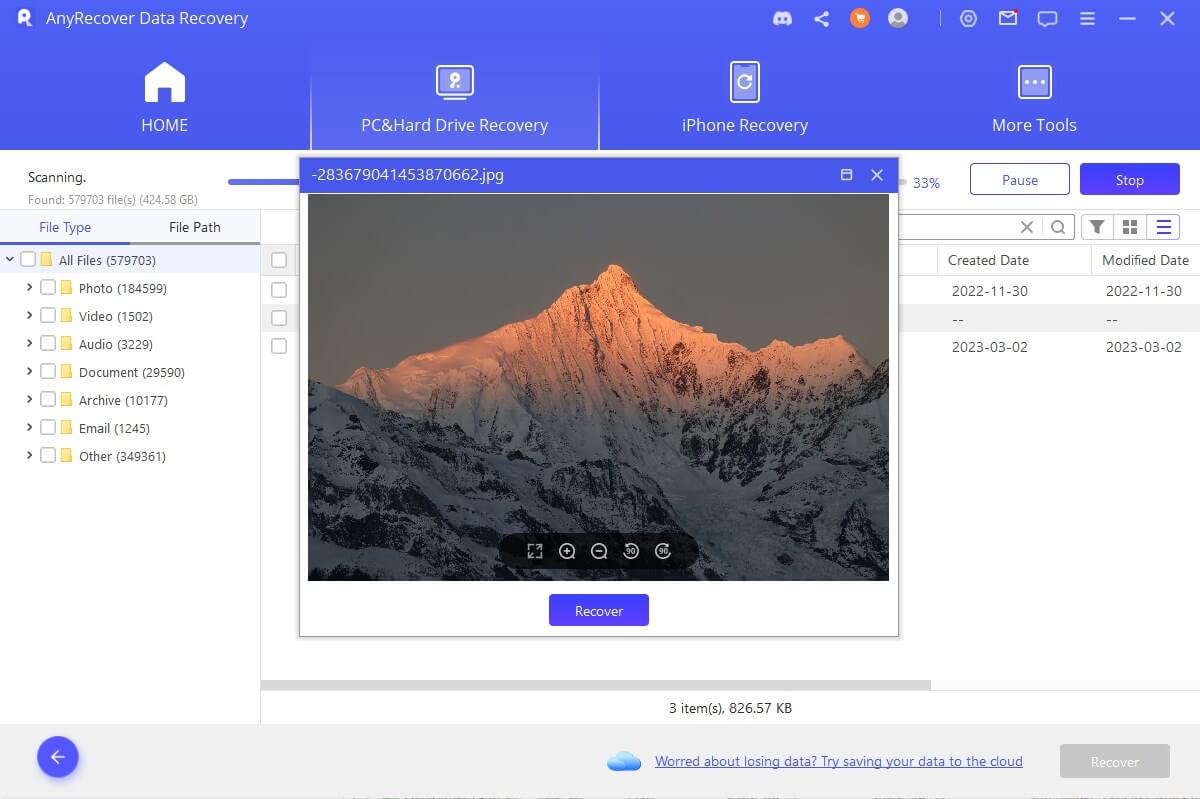 Any corrupt or deleted Outlook data will be stored in that file. All you have to do now is import the PST file in Outlook and you'll have access to it!
To do this, open Outlook and go to File > Import and Export > Import from another program and file. Follow the rest of the instructions on your screen and you'll have no problems at all.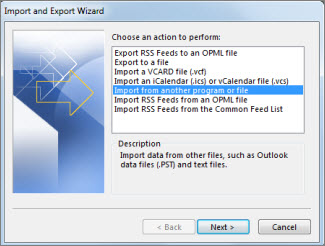 2

Recover from Deleted Items or Trash Folder

If corruption or data loss is not the reason you need to recover deleted calendar items from Outlook, it's most likely that human error is why. In that case, all you have to do is check your Deleted Items or Trash folders.

Whether you see a Trash or Deleted Items folder will depend on your specific email account.

Step 1. Open Outlook and navigate to the folders.

Step 2. Click on either Deleted Items or Trash to display the contents.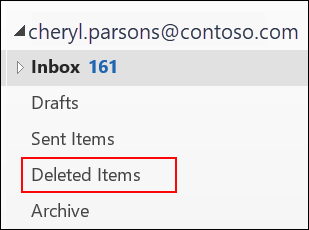 Step 3.   Locate the item that you want to restore.
Step 4. Right-click the item and select Move > Different Folder.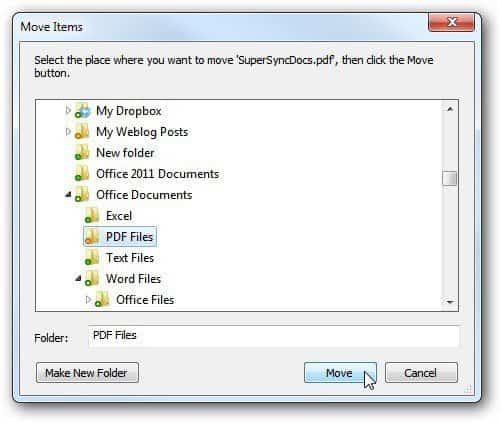 Move all of the missing items back to an alternate folder and you'll be able to view the calendar items again.
3

Recover Deleted Calendar Items from Server

Were you unable to find the deleted item using the previous guide? Not to worry, you can attempt to find the calendar item by recovering from the server. This feature is only available for certain account types so be aware that this may not be available to you.

Step 1. Open Outlook and click the Home tab at the top of the window and press Recover Deleted Items From Server.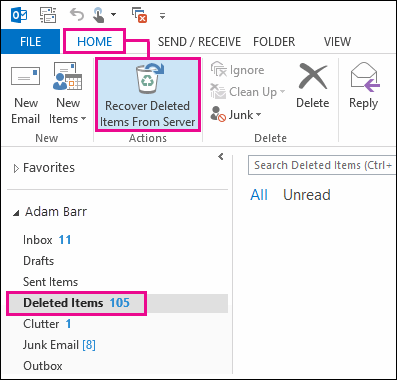 Step 2. A list of the deleted items will now appear on your screen. Select whichever ones you lost.
Step 3. After you select the lost calendar items, check the Restore Selected Items option and click the Ok button.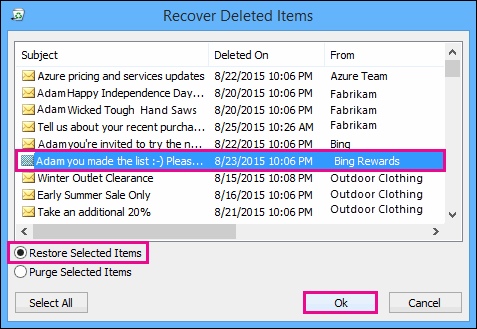 Step 4. If you now go back to your calendar you should see the missing items restored.
So, if you deleted an item and you couldn't find it in your Deleted Items folder, this should get better results when you restore deleted Outlook calendar items.
Conclusion
Having a detailed calendar that outlines what you need to do each day can be useful. If something goes wrong and Outlook loses your Calendar items, or if they corrupt, then this can be a huge inconvenience. With the methods above you can recover deleted calendar items from Outlook and avoid having to recreate the items manually.