Exceptional picture quality, affordable price, breath-taking shots, and many others are among the distinctive attributes of the Canon camera. Most people use this popular device to record their lives and wonderful moments. However, despite all these, you can lose all your videos in a sweep from your digital camera either by deleting them mistakenly or through any other error.
If you ever find yourself in such a position, there's no reason to panic because you can now recover deleted videos from canon camera by trying some free methods or using the professional data recovery software.
As you read on, you'll discover how to recover your deleted videos from your canon camera and access them every time you need to.
Can I Recover Deleted Photos/Videos from Canon Camera?
Sure, you can recover videos/photos from your Canon camera. The moment you notice that you've deleted the video or photo intentionally or accidentally, the first thing to do is to turn off your Canon camera. It will prevent overwriting data on the deleted one, and when you avoid taking more video/photos it will hasten the recovery process.
How to Recover Deleted Videos from Canon Camera
Video Guide about how to recover deleted data from Canon camera
If you ever lose your videos while using your canon camera, here are the best ways to recover them back.
1. Recover Deleted Canon Videos from Backup File
If you have your videos or pictures backed up to other computers or removable disks, here is an easy step on how to recover deleted videos from canon camera for free. For instance, if you need to recover your videos from a Windows backup, here's what you can do:
Select the Start button on your Windows PC and search for Control Panel.

Click on Control Panel and choose Backup and Restore from the list of other options

Find and click on Select another backup to restore files from and you'll be able to choose your backup.

Select Next and follow the prompts till you see the display that tells you the recovery is complete.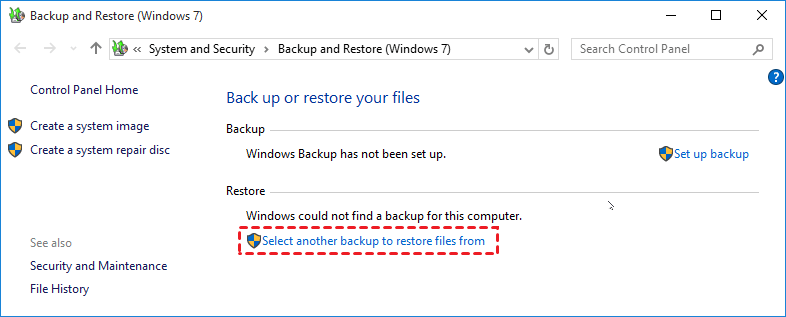 Once these steps are completed, your deleted canon camera videos will be recovered for free. Or if you use an external device to backup the file, you can simply connect the device to the PC and then locate the lost video. After that, copy them to the local and enjoy them again.
2. Recover Deleted Canon Videos Using CMD
In a situation where you do not have a backup of your videos, and they are missing from your SD card, you can try Command Prompt(CMD). This feature can help you recover your data from your external storage device(e.g. SD card) if the files are hidden and not get permanently deleted. Follow the steps below to do it.
Connect the SD card to your computer with a card reader. Press Win + R key to open Run dialogue, then type CMD. Click the Enter key on your PC to open the Command-line window.

Type chkdsk E: / f and then press the Enter button. (You'll need to replace E with the drive letter of the SD card/device manually).

When that is done, type Y and then click on the Enter button again to proceed.

Next, Type E: then select Enter.(Again, remember to replace E with the drive letter of the SD card/device before you select the Enter button)

In the final stage, you'll need Type /f- -> attrib -h -r -s G:\*.*/s /d and select the Enter key.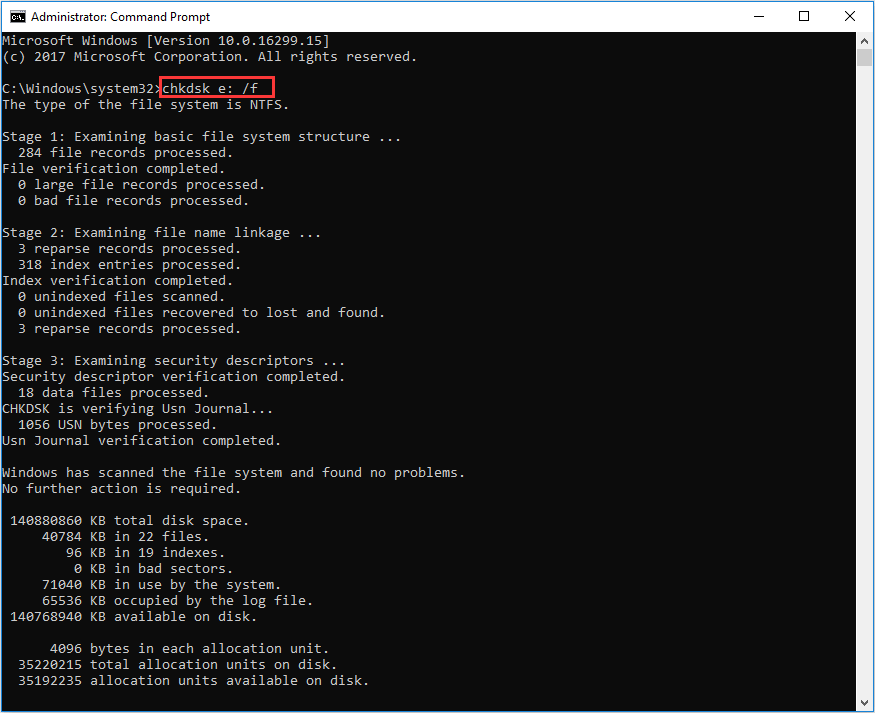 After you have completed these five steps, a new folder consisting of all recovered videos will be created within your Canon SD card. You can then proceed and save them in your preferred location.
3. Recover Deleted Canon Videos Using AnyRecover
Video Recovery using CMD doesn't look like an easy process at all and a single mistake during the process can lead to more problems.
To be on the safe side, a reliable data recovery like AnyRecover is a better option. It can help recover and retrieve lost or deleted videos and other files effectively and without stress. It is a versatile recovery tool and a professional data recovery software capable of recovering deleted, lost or formatted files from all types of internal and external hard drives like SD cards, flash drives, SSDs, and more.
If you want to know how to recover deleted videos from canon camera using AnyRecover, all you need to do is to follow these simple steps:
Step 1. Launch AnyRecover, connect the SD card to your PC and select the location detected to begin the scanning.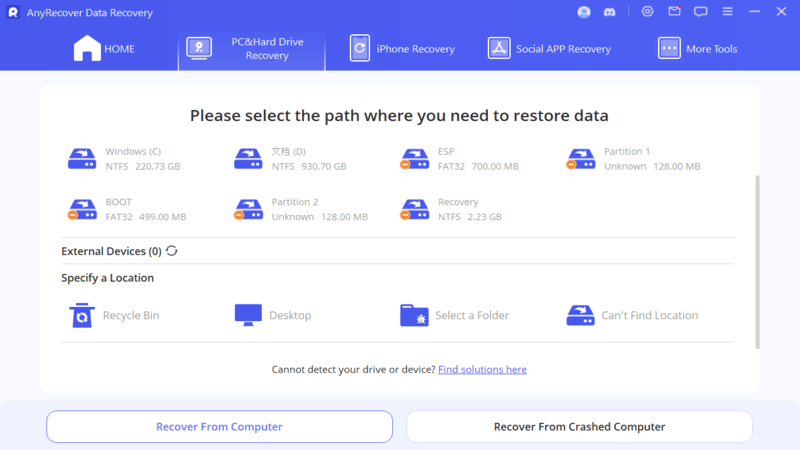 Step 2. The software will carry out a deep and wide scan of the location you selected and display the results. You can view these files by the type or location, and you can pause or stop the process at any time you want.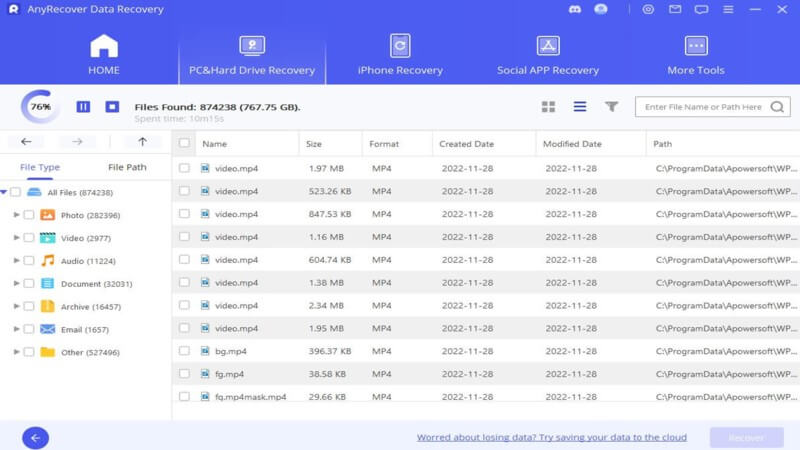 Step 3. Preview the files by double-clicking on them. Next, select Recover and you'll be able to retrieve all the data you lost.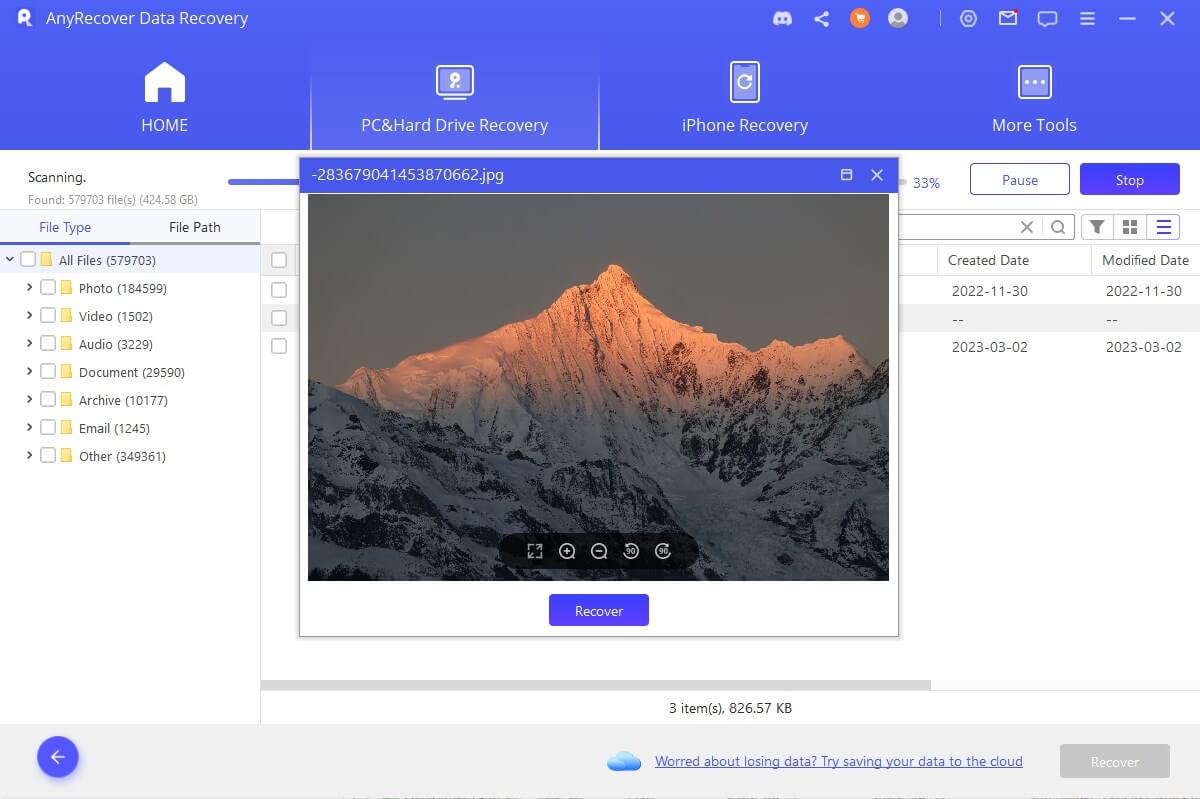 Conclusion
There are more than one ways to recover your videos from your canon camera as we have showed above. However, when you need a reliable and secure option, your best bet is to use AnyRecover. This easy-to-use recovery software is versatile and can recover any lost videos from your canon camera and all other cameras. It does exactly what it says!
Just download and give it a try!