McAfee is the only antivirus I use on my Windows computer running Windows 11. There is a problem when I complete the scanning of Trojan, malware or, another virus, which makes me feel uncomfortable, and this morning, I deleted a crucial document that I intended not to. Still, I care a lot, is there any way that can help recover my files deleted by McAfee quarantine mistakenly? I sincerely appreciate your help!
What Does McAfee Quarantine Do?
What is McAfee Quarantine?
McAfee is one of the most popular antivirus programs that aim to protect the computer from attacks by malicious software, Trojan, or terrible viruses. It blocks most of the external intrusion; however, sometimes, it exceeds its work by eliminating everything it considers "dangerous." That's why many people ask for a powerful data recovery program to recover files deleted by McAfee.
How Does It Work?
When an item is detected as a possible security threat in an analysis, you are asked to delete it, quarantine it, or classify it as a trusted element. When McAfee quarantines items, it encrypts and insulates them in a folder to prevent files, programs, or cookies from damaging the computer. McAfee has a list of trusted or quarantined items that you can check for detailed information. Use these lists to remove items permanently, send them to McAfee for analysis and restore those that you know for sure are safe.
How to Recover Files Quarantined by McAfee?
In most cases, McAfee quarantine Active Protection acts in time to quarantine items that do not seem safe. Sometimes, a safe item may be quarantined by mistake. You can restore these items with an all-inclusive data recovery software - AnyRecover.

1,000,000 + Downloads
Features ofAnyRecover:
Capable of recovering accidentally deleted files quarantined by McAfee.
Allows you to recover lost files from various storage media: PC, hard drive, SSD, camera, music player, memory card, etc.
Different file types including photos, audios, videos, emails and many others are recoverable.
Its deep scan feature can find all hidden files no matter where they are.
Enhanced recovery rate and 100% security.
Support all Windows and macOS versions including the Windows 11.
How to Use AnyRecover for File Recovery
Step 1. Open AnyRecover on your PC and choose "Deleted Files Recovery".Next, choose the directory from which you wish to restore the data and hit "Next". This location could be external or internal drives, removable or non-removable device.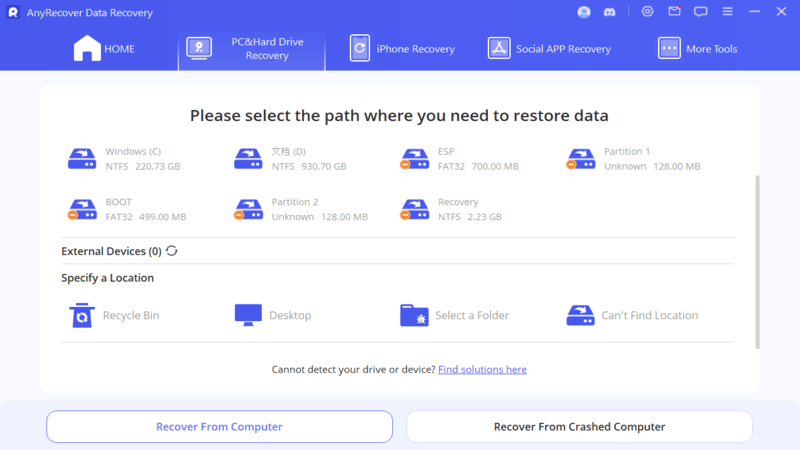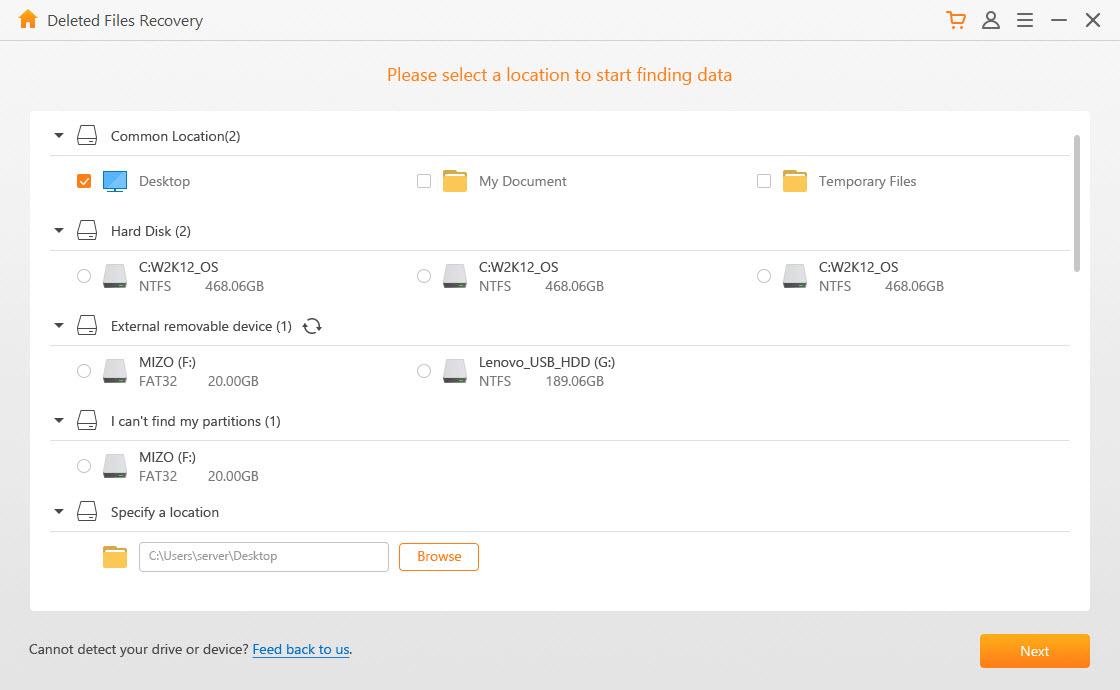 Step 2. After selecting the source location, choose the file types for recovery by checking all that apply. Click "Scan" to begin the procedure.Following the scanning, all the results of recoverable items will be listed on your screen.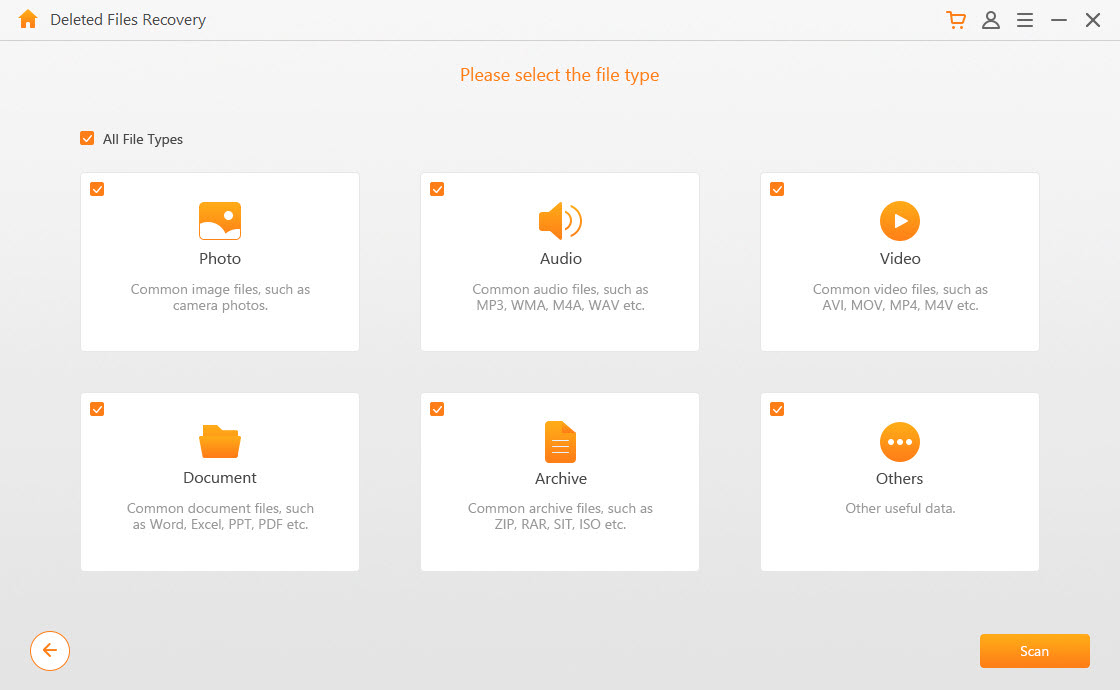 Step 3. If you want, you can preview the files in the list before recovering them, so that you are sure of which is which. Finally, select the files you want to get back and hit "Recover".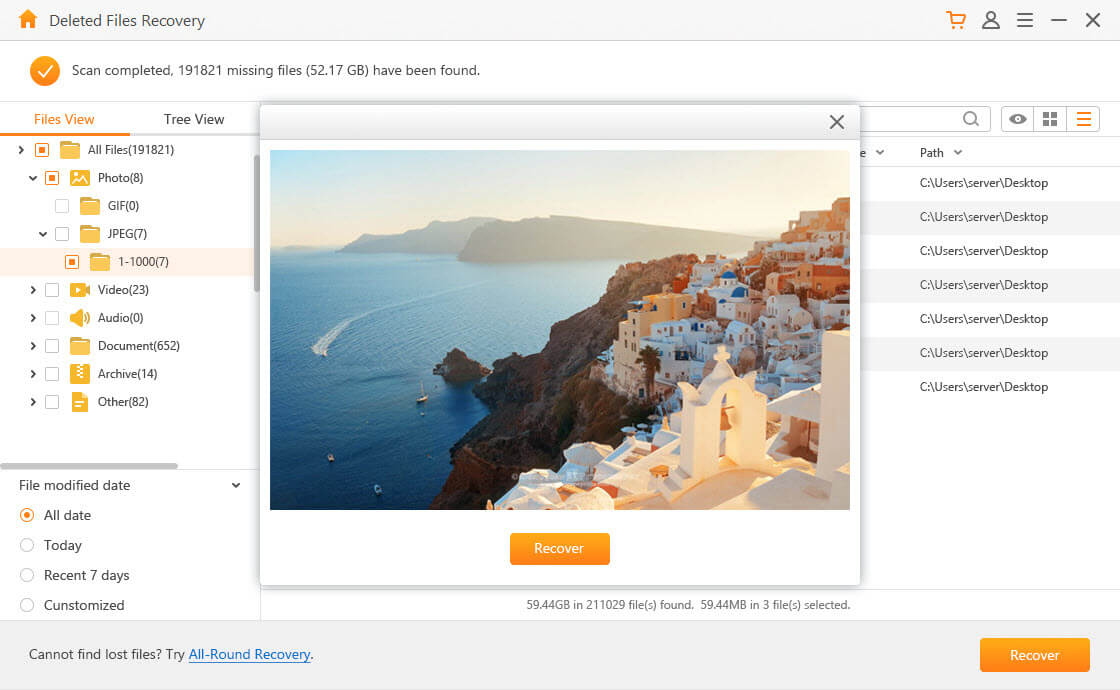 In a couple of minutes, you will have your files back. If the process does not work, please return to step one, but this time, select the "All-Round Recovery" mode for a deeper scan.
What If You Are Unable to Restore Quarantined Files?
Security suites for Windows, such as LiveSafe or Total Protection, can quarantine files that appear to contain viruses or other threats. If you think a file has been quarantined by mistake, you can restore it to its original location. But, when you try to restore a file, you can encounter one of the cases below.
Problem 1
When the operation fails and returns the error: "Unable to Restore".
Solution
This problem can occur when the original folder from which the file was quarantined no longer exists in that location. It usually means that you may have deleted the folder after the file was quarantined. To repair this issue, follow the steps below:
Step 1. Open the "Quarantined items" window in the McAfee product.
Step 2. When the window opens, search for what you want to recover.
Step 3. To view more details about the item, click the arrow on the left of the item.
Step 4. Re-create the path you see in the details. To do this, navigate to the location and create the missing folders till you get that path.
Step 5. Finally, after recreating the path and folder, select the file from the window and hit "Restore".
Problem 2
In the course of using the McAfee product, you discover that the "Select all", "Restore", and "Delete" buttons are missing. The absence of these buttons mean that the files cannot be recovered or even quarantined.
Solution
This issue usually implies that you do not have sufficient rights. You might have logged into the PC as a limited or standard user. To fix this challenge, sign out of Windows and sign in with an Administrator account.
Conclusion
McAfee quarantine can delete your files without asking for permission, first check the recycle bin, and they may be there. If files are not found, it is advisable to use a professional third-party data recovery software such as AnyRecover that allows you to recover files deleted by antivirus there are cases where your option might be to locate the directory and replace it in order to recover your files.
Give Anyrecover a try and see if it is right for you!