Outlook is one of the top email platforms used by several organizations. The use of Outlook revolves around PST and OST files. Sometimes, users face an issue of corrupted or lost OST files which is not only annoying but it can also lead to data loss. Fortunately, OST recovery tools exist and they can help you repair/recover corrupted OST files.
Top 5 Microsoft Outlook OST Recovery/Repair Tools
1

Best OST Recovery/Repair Tool ScanOutlook

ScanOutlook is the best OST recovery tool thanks to its amazing features and different modes that can help users quickly and easily repair damaged or corrupted Outlook OST and PST files. Using ScanOutlook, you can recover wide variety of data from damaged/corrupted OST files. The user-friendly interface of this tool makes repairing/recovering OST files as easy as 1-2-3.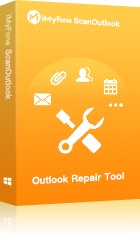 Features of ScanOutlook
Easily repair corrupted/damaged Outlook OST and PST files for FREE.

Recover important data from corrupted OST files and save it to a new, healthy PST file.

Preview and recover all the items of OST files, including attachments, emails, calendar, notes, journals, and more.

Export data recovered from OST files in various formats e.g. PST, MSG, EML, HTML, PDF, and RFT.

All Windows versions are supported, even the newest Windows 11.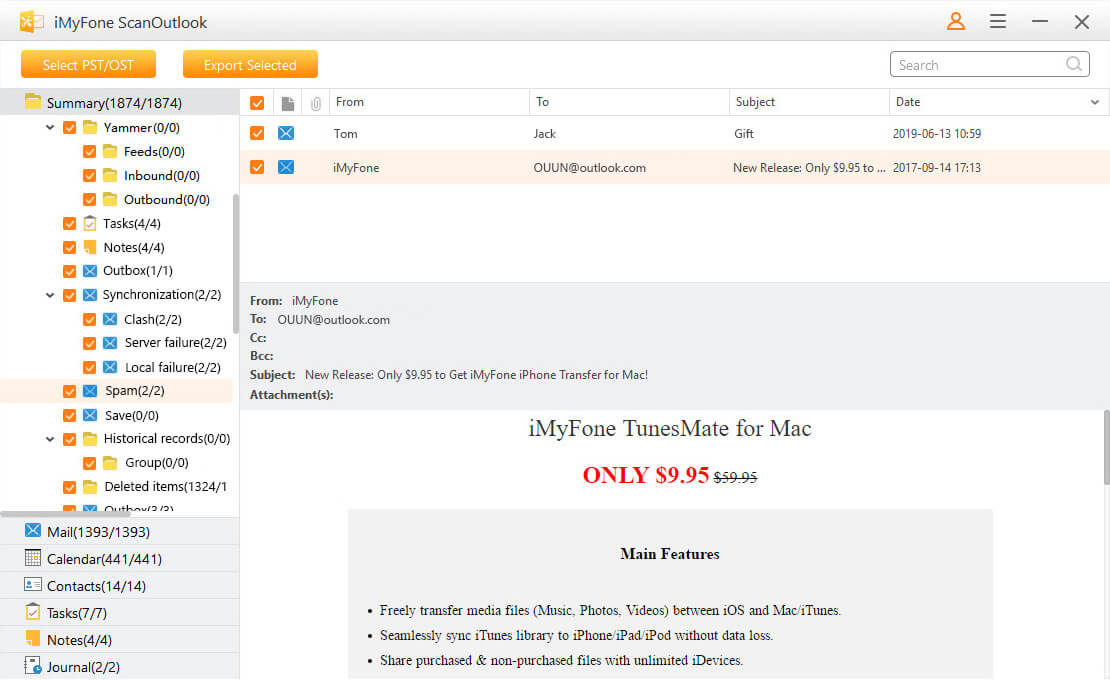 2

PCVITA OST Recovery Software

PCVITA OST Recovery is another powerful OST file recovery tool that is equipped with lots of high quality features to allow users to access and recover OST as well as PST files with ease. This software is highly efficient when it comes to repairing/recovering oversized or corrupted OST files.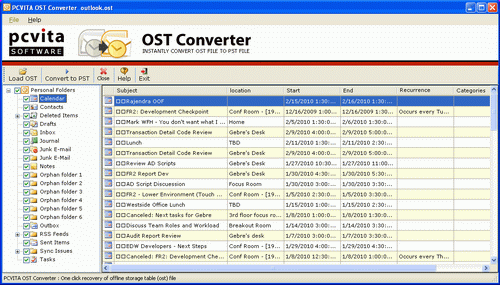 Features

Disadvantages

Repair and recover Outlook PST and OST files with ease.

Recover important data from damaged OST files, such as tasks, calendars, contacts, emails, etc.

Repair corrupted OST files and recreate them in various formats e.g. MSG, EML, PDF, PST, and HTML.

Decrypt encrypted PST and OST files without providing any password.

Preview OST emails before recovery.

The recovery process is slower than usual at times.

Interface is not user-friendly. New users may face some difficulty when trying to recover their PST or OST files.

Lack of reliable customer support.
3

MagicSoft Outlook OST Recovery Tool

MagicSoft OST Recovery can help you recover your deleted or corrupted OST files as well as convert email data into various file formats. The tool provides excellent data recovery solutions using advanced algorithms to offer the users the maximum results. You can use this tool to recover missing or permanently deleted OST files and save their data into new, healthy files in your preferred format.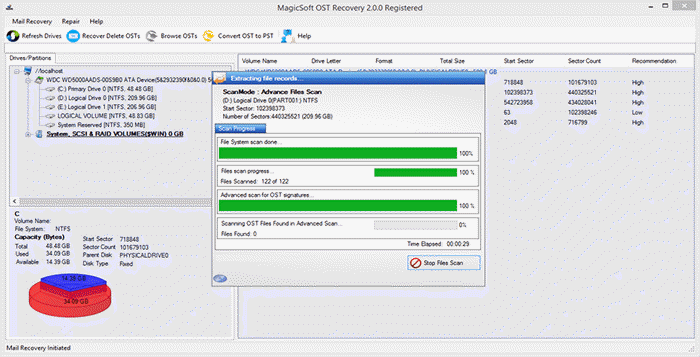 Features

Disadvantages

Scan and recover permanently deleted OST files, even from a formatted drive.

Recover all important data from corrupted PST and OST files e.g. calendars, contacts, emails, etc. even if the Deleted Items folder is empty.

Repair and convert damaged OST files in your preferred format.

Maintain email metadata while repairing and restoring OST files.

You will need to get familiar with some technical stuff before you can fully take advantage of the tool.

Not compatible with Outlook for Mac OS, Outlook for iOS, and Outlook for Office 365.

The software is too costly as compared to other OST recovery tools.
4

eSoftTools OST Recovery Software

eSoftTools OST Recovery Software is another reliable tool that assists users to recover emails from offline PST and OST files with attachments. After successful recovery, you can use the tool to convert the file into the format of your choice. Supported file conversions include OST to PST, EMLX, vCard, HTML, MSG, and EML file.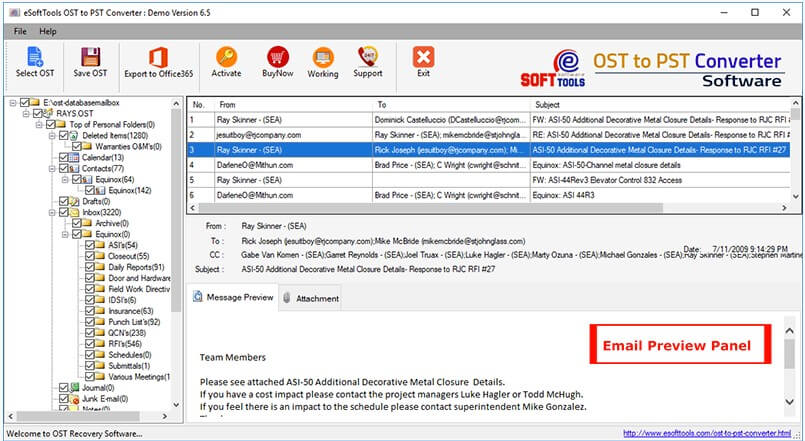 Features

Disadvantages

Recover OST and PST file emails along with attachments, journals, tasks, notes, calendar, contacts, and more.

After OST recovery and conversion, the tool ensures that the metadata of the files is kept intact.

See live preview of recovered items from the corrupted OST file.

Compatible with most Outlook versions.

Cannot export contact groups.

No search filters to facilitate selective items recovery.

The software can sometimes glitch, causing the user to return to recovered items.
5

Aryson OST Recovery

Aryson OST Recovery is a highly efficient OST recovery tool that is capable of recovering data from corrupted/damaged OST files. Although the software's user-interface is not very sleek, the overall recovery process is pretty fast and can help you recover the items you need from any corrupted OST file.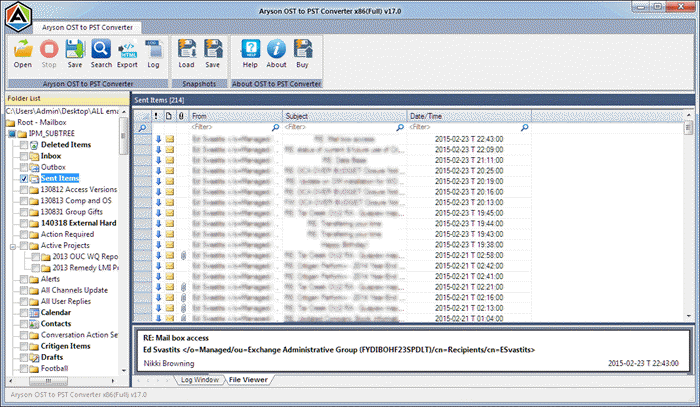 Features

Disadvantages

Repair/recover corrupted or damaged OST files and export their data in other file formats such as PST, MBOX, EML, MSG, etc.

You can recover virtually all kinds of items from the corrupted OST file e.g. contacts, calendar, task, attachments, etc.

Three powerful recovery modes so chances of successful recovery are very high.

Outlook encryption is also supported.

Supports all editions of Outlook.

Recovery process can take a long time to complete, especially if the OST file is large.

User interface is not optimized and needs improvements.