When data loss occurs, whether it be due to an accidental deletion on your part or it be a result of a power-outage you could not control, it's very easy to panic and think that all of your photos, videos, documents are lost forever. However, you can recover lost data files by using a computer data recovery tool that specializes in retrieving lost, damaged, or corrupted files. In this article, we are going to review iCare Data Recovery and provide its best alternative on the market.
Part 1: A Full Review of iCare Data Recovery
1.1 An Introduction to iCare Data Recovery
For those who have lost or deleted files, iCare Data Recovery is a third-party program that can help you retrieve files that seem inaccessible. It specializes in recovering permanently deleted or erased files from Windows computers and works with Windows 11/10/8/7/Vista and XP.
The program is extremely small in size, only requiring a hard disk space of 1 gigabyte and only 100 megabytes of free space. Unlike other data recovery programs, iCare data recovery free has no limit on the data recovery amount allowing you to recover an unlimited amount of lost data.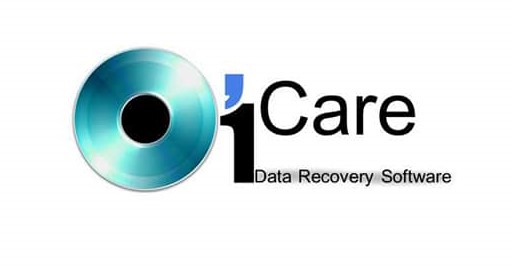 What Data Loss Scenarios Does It Work with and What Can it Recover?
The iCare data recovery covers a large range of data loss scenarios including accidental deletion, unreadable digital drives or devices, damaged or corrupted devices, reformatted partitions and external disks and memory cards, raw file systems, and data loss due to virus or malware attacks.
The program can recover over 600+ file types like music, audio, and documents from many types of storage mediums including personal hard drives, camera storage devices, flash drives, music media devices, and external hard drives.
1.2 Is iCare Data Recovery Free?
It has the free and pro version. The pro version costs $69.99 yet with a only 1GB data recovery. While the Pro Technician will be charged at the price of $289.
iCare Data Recovery Free can help users recover files for free, but there are many noticeable drawbacks. For example, you cannot perform a data recovery under some scenarios like lost partition, formatting and virus attack.
1.3 What Are the Differences Between iCare Data Recovery Free & Pro Versions?
Other than the price being a defining factor, both the iCare Data Recovery Free and the iCare Data Recovery Pro versions are very similar in the user interface that you will see and in the features that are available to you. While the free version does not allow you to use it for commercial purposes, the pro version is going to provide you with more modules to use for data recovery and the ability to do exhaustive or "deep dive" scans. The main differences are the following.
iCare Data Recovery Free
The first available module you will see allows you to recover deleted files that have been accidentally deleted through your recycle bin or have been wiped out or erased unexpectedly.
The second available module you will have access to is their advanced recovery option which allows you to search through your digital devices for data that has been lost.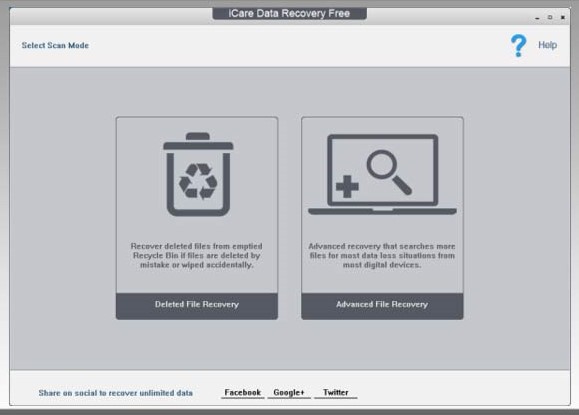 iCare Data Recovery Pro
The first module you will see with the iCare Data Recovery Pro is the deleted file recovery option. This is the same as the free version, which allows you to recover deleted files from your recycle bin or files that have been wiped unexpectedly.
The second module is a deep scan recovery option and while similar to the advanced recovery option in the free version, this one is used for data that is lost due to reformatting errors, raw drives, and unformatted disks.
The third module is a lost partition recovery option which allows you to retrieve files from deleted, unrecognized, or corrupted partitions due to software failures or partition errors.
1.4 Is iCare Data Recovery Safe to Use?
When I downloaded the free version of the iCare Data Recovery program onto my Windows 11 custom built desktop and ran an antivirus check on the software, it came back completely negative for any malware, viruses, or spyware.In using the software, there have been no flags or warnings about malicious intent and the program shows as safe to use through my antivirus security software, Bitdefender Antivirus Plus.
In addition to this, I ran the executable file through VirusTotal, an online virus scanner, before going through the installation process to be sure that file comes back with no detected threats. So, in short, yes, it is safe to use and should not harm your computer in any way.
1.5 How Do I Use iCare Data Recovery Pro?
Next, here is about how to use iCare Data Recovery. The steps for free and pro version are nearly similar. You could check the general operating steps of this software below.
Step 1: Open the software and choose the recovery mode shown on the screen. Then choose the drive where data is lost. Click "Next" button to start scanning.
Step 2: After scanning finishes, the files lost will be shown on the interface, You could preview them and then select the ones you would like to recover.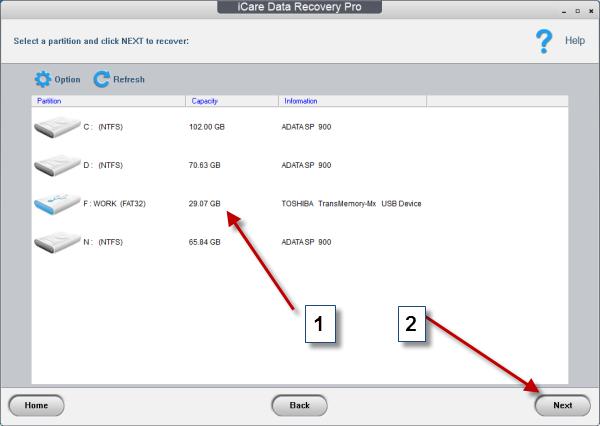 1.6 Pros and Cons of iCare Data Recovery
To make you better understand the iCare Data Recovery if you would like to use it, we list several most conspicuous advantages and disadvantages that you might be concerned about.
Pros
user-friendly interface and easy to use.
The free version can recover some files.
Complete hardware raid support.
Cons
The data scanning process takes much longer.
Hard drive recovery and specific file formats recovery are limited.
There is no Mac version.
No lifetime upgrade and customer support.
Part 2: The Best Alternative to iCare Data Recovery -- AnyRecover
Although iCare Data Recovery is a good choice, yet there are still some unavoidable drawbacks as listed above. Don't worry! Here we recommend you the best alternative to iCare Data Recovery -- AnyRecover, which is available on both Windows and Mac computers. With a 98% recoverability rate, 100% safety rate and the fastest files scanning rate, AnyRecover allows you to retrieve lost, deleted, corrupted files from all types of storage mediums and can restore over 1000 file types.

2,061,704 Downloads
Other Features of AnyRecover:
All data loss scenarios are covered including system crashes, power-outages, partition issues, and deleted files.

You can recover files from USB flash drives, micro-SD cards, internal and external hard-drives, memory cards, music players, camcorders, laptops, digital cameras, and SSDs.

Can recover audio, text, video, documents, HTML files, archives, emails, EXE files and more.

No files are overwritten during the recovery process, so your data is 100% protected.

AnyRecover offers a free trial that enables user to perform a deep scan, preview and recover.

Support all Windows and macOS versions, including the Windows 11.

How to Recover Data with AnyRecover
Step 1 Download the program from the main website and launch it once installation is done. You will be met with a launch window that has numerous recovery locations. Choose the one that best suits your needs. Here we take Recycle Bin as an example.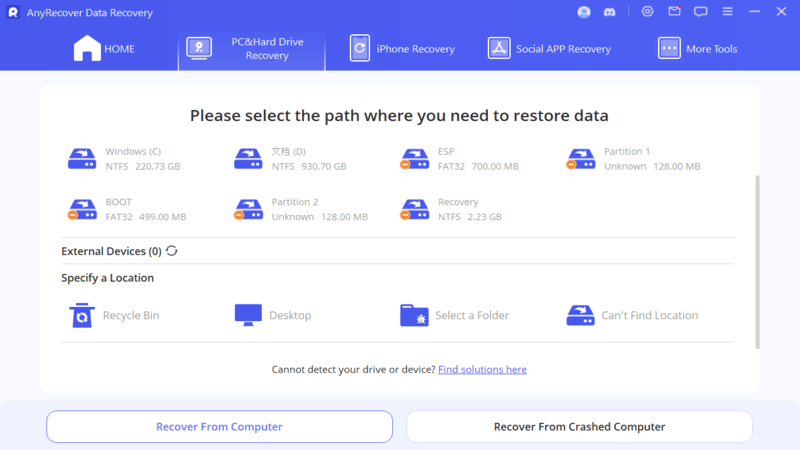 Step 2 After clicking the start button, the program will scan the selected location. Please wait for a few minutes.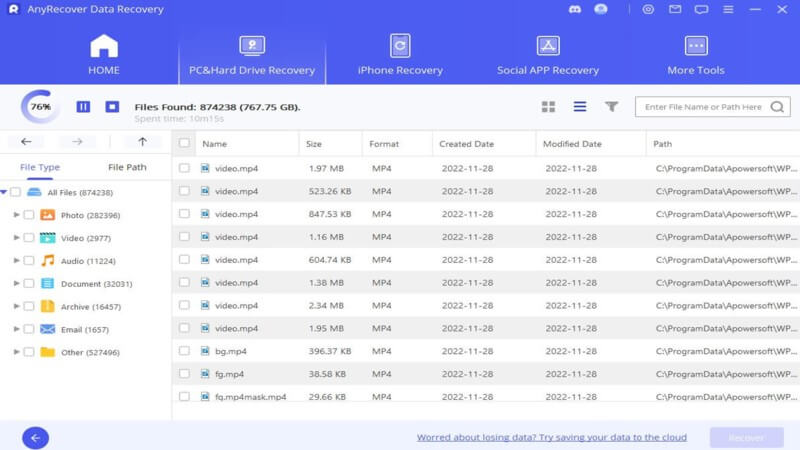 Step 3 Wait for the scanning process to be done and watch as a list is compiled of your lost data. Peruse the list and preview the files. Choose which ones you want to recover from the list and hit the "recover" button.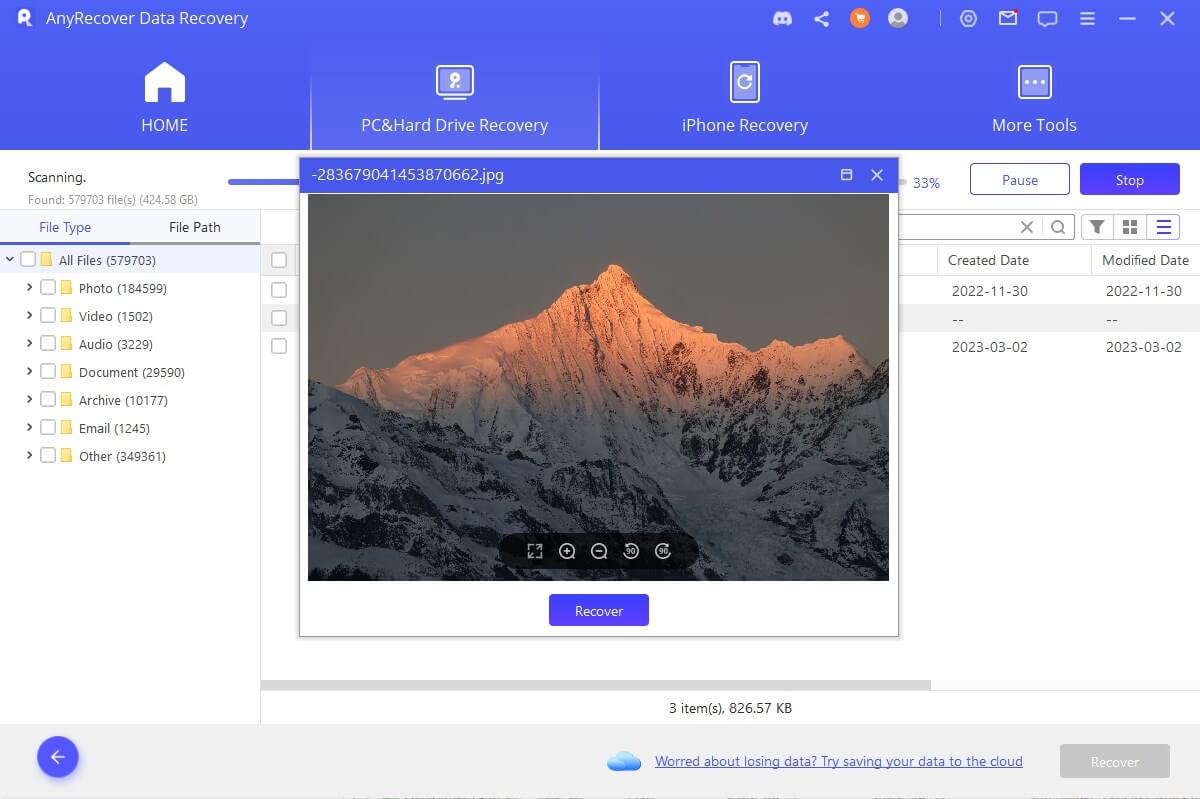 Part 3: Comparison Between iCare Data Recovery & AnyRecover
| iCare Data Recovery Software | |
| --- | --- |
| Available only for Windows 10/9/7/Vista/XP | Available for all Windows & Mac Computers |
| No Recoverability Rate Disclosed | Has a 98% Recoverability Rate. |
| Only Recover 600+ File Types | Recover Over 1000+ File Types. |
| Provides Recovery for Common Scenarios | Provides Recovery for All Data Loss Scenarios |
| Customer Support Only for Paid Members | Customer Support Offered for Free & Full Version |
| 1GB Data Recovery Limit on iCare Free Pro Trial | No Limit on Data Recovery |
| iCare Data Recovery Pro Price $69.00 or $89.00 for Workstation | AnyRecover Price $69.95 Lifetime* |
Conclusion
With the ability to provide data loss recovery for all data loss scenarios, a lifetime membership option, and over 1000 file types supported, AnyRecover Data Recovery Software outweighs iCare Data Recovery Software in the market. Beyond this, AnyRecover has a 98% recoverability rate and provides free customer support for both the trial and full versions and Mac users do not need to go without.
Start a deep scan for free right now!