Do you fear losing your precious data due to accidental deletion or corruption? Don't worry, with software solutions like Puran File Recovery, data recovery has become a breeze even for the most novice computer users. In this comprehensive review, we'll evaluate Puran File Recovery, highlighting its pros and cons, and also explore an alternative data recovery tool that can come to your rescue in case of any data loss emergencies. Stay tuned to learn how you can safeguard your valuable data and recover lost files with ease!
1
Puran File Recovery Review
Puran provides a number of different utilities. To name a few: Disk Check, Duplicate File Finder, Delete Empty Folder and Wipe Disk, but the one we're interested in today is Puran File Recovery.
Although the program comes across as old, it's still able to recover any files you lose due to accidental deletion, corruption or virus attack.
1

How to Use Puran File Recovery

The specific steps to use Puran File Recovery are listed below and it's not difficult to recover your data as long as you follow the instructions.

Step 1. Download, install and launch the Puran program, then choose File Recovery mode and click Open App.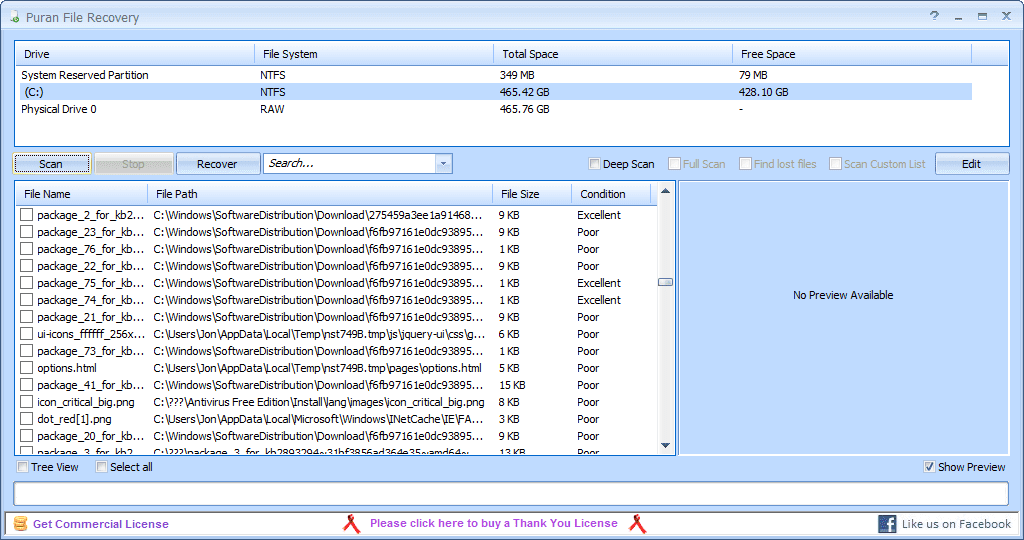 Step 2. After that, choose the drive that you want to recover data from, and click Scan. Wait till the process completes, then all your data will be shown in the following chart.
Step 3. Choose the files you want and click Recover. There are three ways of recovery but just choose one according to your own needs.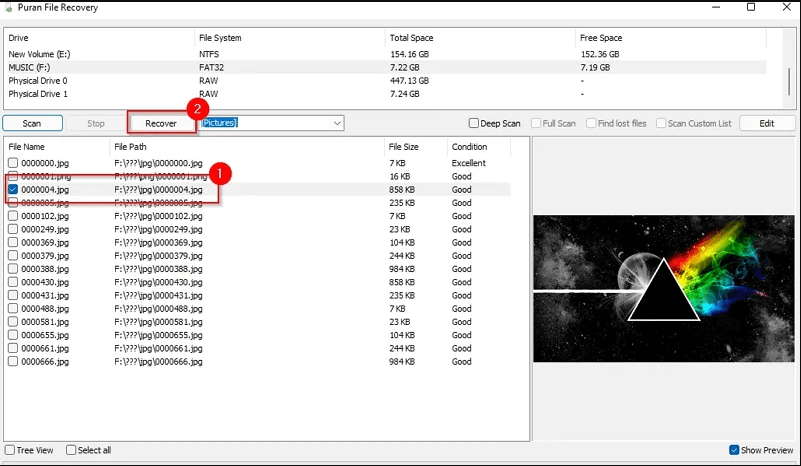 Step 4. Finally just designate a location and then the files will be accessible again.
Before you start a file recovery scan you can think over how the scan will be run. Puran File Recovery provides scanning only for lost files,deep scan, and creating custom scan lists. If you wanted, you're even able to select every file discovered by the scan (not advisable if you scan a hard drive though!).
2

Pros & Cons of Puran File Recovery

Now you must have some words about Puran File Recovery since you have tried it. Puran Data Recovery does work and it's really safe, but still, certain questions might arise when you are using it. We have made a conclusion about the pros and cons of Puran File Recovery, so you can refer to the following chart and think it over whether Puran File Recovery is actually the software you need or not.
Advantages

Disadvantages

Simple interface with all main features easily accessible

Decide between a regular scan or an intense deep scan

Choose individual hard drives to scan for lost files, rather than all hard drives

Search the scan results to check if a specific lost file was found

Selectively restore files without recovering everything detected by the scan

Compatible with over 50 file formats

Outdated and unattractive user interface

Deep scanning usually doesn't detect more data than the regular scan

Deep scanning takes significantly longer than the regular scan

Recovering lost data leads to recovering unwanted files

Only available to Windows computer users

Hasn't had any updates in a long time so the recovery technology is outdated and could be ineffective
2
Best Alternative to Puran File Recovery
Due to the cons of Puran, you might feel tempted to try an alternative, so here we strongly recommend AnyRecover, which is a modern solution for data recovery. With many shining points,AnyRecover could be the best alternative to Puran File alternative.

1,000,000+ Downloads
Features of AnyRecover
User-Friendly: AnyRecover provides a sleek interface that is easy to navigate.

High Recovery Rate: Quick scan and deep scan go automatically and successively thus AnyRecover has a high rate of restoring data.

Fast Scanning Speed: Lightning-fast scanning speed allows you to find your lost files without any hassle.

Widely Applicable: Available on both Windows and Mac OS, even the newest Windows 11. it supports for over 1000 file formats recovery, including documents, pictures, videos, emails.

Excellent Safety: It is 100% secure to your data and system without any virus or malware.

Free Trial Version Available: AnyRecover offers a free trial that enables user to perform a deep scan, preview and recover!
Steps to Recover Files with AnyRecover
Step 1. Open AnyRecover and select the location where your files got lost, then click Start to scan.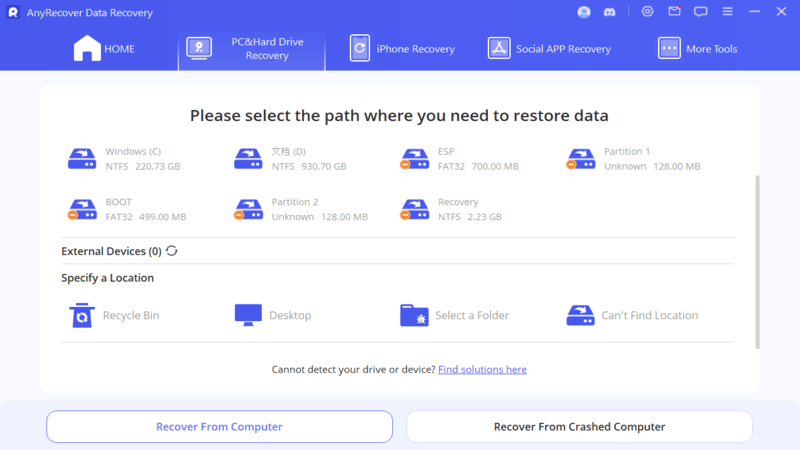 Step 2. It takes a little time to scan the drive. When the scan finishes, you can preview all the files found by AnyRecover.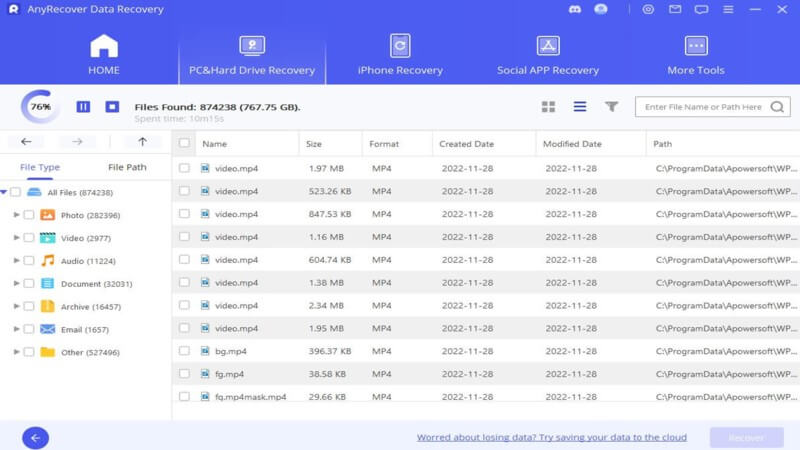 Step 3. After that choose the files you want to find back and select a location to save them, click Recover.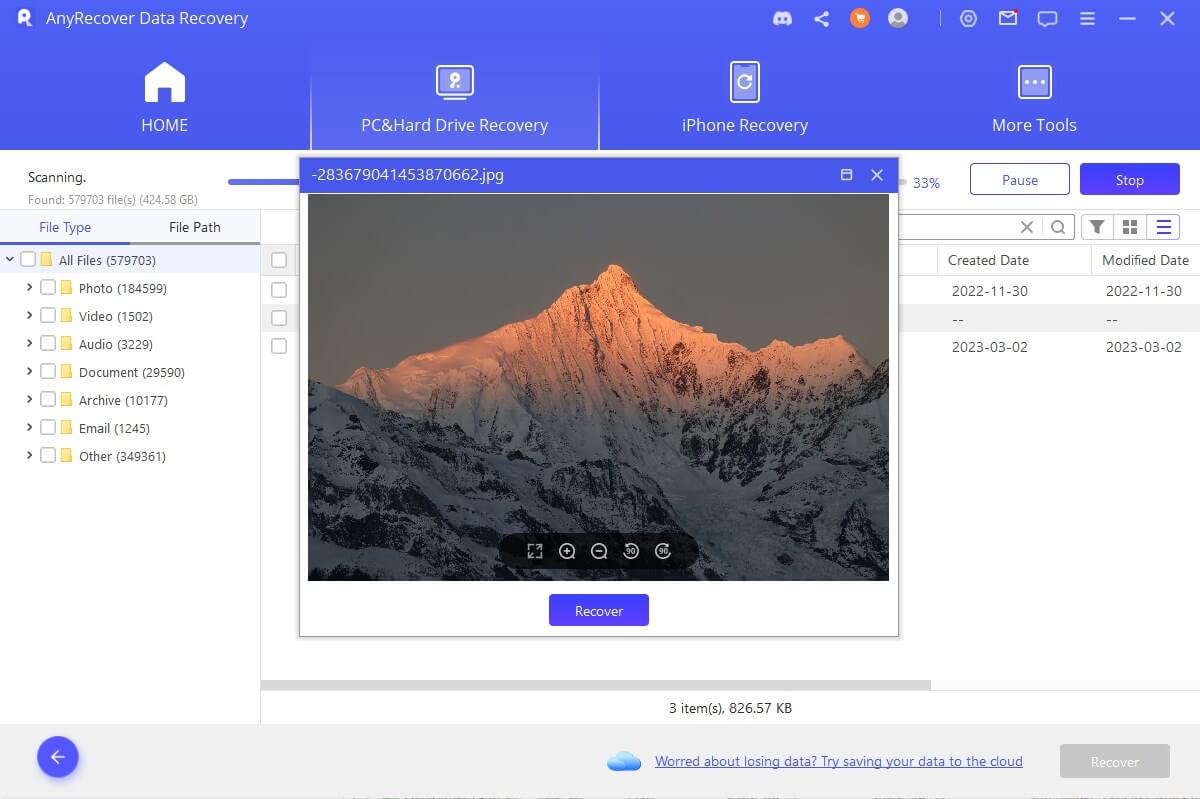 After these steps you'll find that all your precious data has been successfully recovered!
3
Tips to Avoid Data Loss
Data loss usually happens in your Windows 10/11/Mac OS computers or any other devices. Softwares such as Puran and AnyRecover are certainly guarantee to recover your lost data, but it is still important to prevent data loss in your life. Here some tips to help are provided.
Frequently Take Backups: Backing up anything that's important to you is genuinely the best thing you can do to avoid data loss. Photos, business forms, school work, even music files, if you don't want to lose them, back them up.

Store Those Backups Properly: Moreover, you need to store your backups in a safe place. If you keep backups on your main hard drive and that drive fails, the backups are inaccessible. Consider an external hard drive or cloud storage service.

Keep Your Software Updated. Not updating Windows/Mac OS or your anti-virus program is a big mistake. Updates contain crucial security and bug fixes that patch issues which may result in corrupt files.

Take Care of Your Computer. As silly as it sounds, you must take care of your computer. Clean dust out of it to prevent overheating, install virus and malware protection, and protect password so that it wouldn't go amiss.

Conclusion
Hopefully, this review will inform you enough to decide if Puran File Recovery is the ideal data recovery solution or if an alternative like AnyRecover is superior. Our recommendation is AnyRecover which, as you can tell from above, has plenty of features to offer and effectively recovers lost data in any situations.
Start a deep scan for free right now!