"Last week, some precious pictures and videos of my family have been deleted accidentally. No backup for my data. And I have tried many Android SD card recovery solutions. How do I recover deleted files from my Android SD card?"
When this similar situation happens, the first question you will ask yourself is whether there is a way to perform an SD card recovery for Android. The good news is that you can restore lost data from your Android SD card. This article is dedicated to showing you how to make it possible. Before that, let's see some data loss reasons on SD cards.
1
Common Situations for Losing Data/Files from SD Card
1. Accidental Deletion
2. Formatted SD Card
3. Damaged/Corrupted SD Card
4. Virus Infection
5. Power Failure
6. Others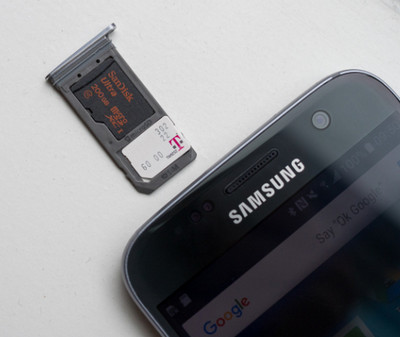 2
Is SD Card Recovery for Android Possible?
When you delete files on Android device, it doesn't mean it has been deleted from it forever. Deleting a file simply tells your device to ignore it, which means you are not able to access data on an Android device. The pointers allocating to its memory have been reassigned. Before they are overwritten by other data, you can perform SD card data recovery for android.
However, we need to use SD card recovery software for Android to retrieve lost files. The software can would scan your memory card and rapidly find lost or deleted files on your Android device. You need to take actions promptly as soon as possible and stop using the SD card to keep lost data from being overwritten.
3
Best Way to Recover Deleted Files from SD Card - AnyRecover
AnyRecover SD Card Recovery is a perfect tool when it comes to recovering data from all storage devices. It works with mobile phones, SD cards, hard drives, Flash Drives, Camcorders, etc. The tool has the highest data recovery rate. When you use AnyRecover to perform an SD card recovery for Android, you will not overwrite the currently available data. This means that your data will be safe.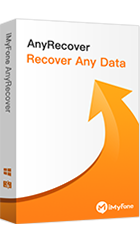 1,000,000 + Downloads
Key Features of Data Recovery Software - AnyRecover
AnyRecover can recognize any SD card and support all file types lost on the memory card, including photos, videos, music, documents, and more.

Preview the recovered data by double-clicking and you can selectively restore it.

AnyRecover works with SD cards, hard drives, Windows PC/Mac, and more. It works with all the storage media you know.

A reliable memory card recovery software that can help you fully restore your deleted/lost files from android SD card as well as internal memory.
Simply follow these steps to learn how to recover deleted files from SD Card in Android:
Video Tutorial:
Step 1. Run AnyRecover on your PC. Remove the SD card from your mobile phone and put it into a card reader. Then connect it to your computer. When it is detected, select the SD card under "External Removable Devices" tab.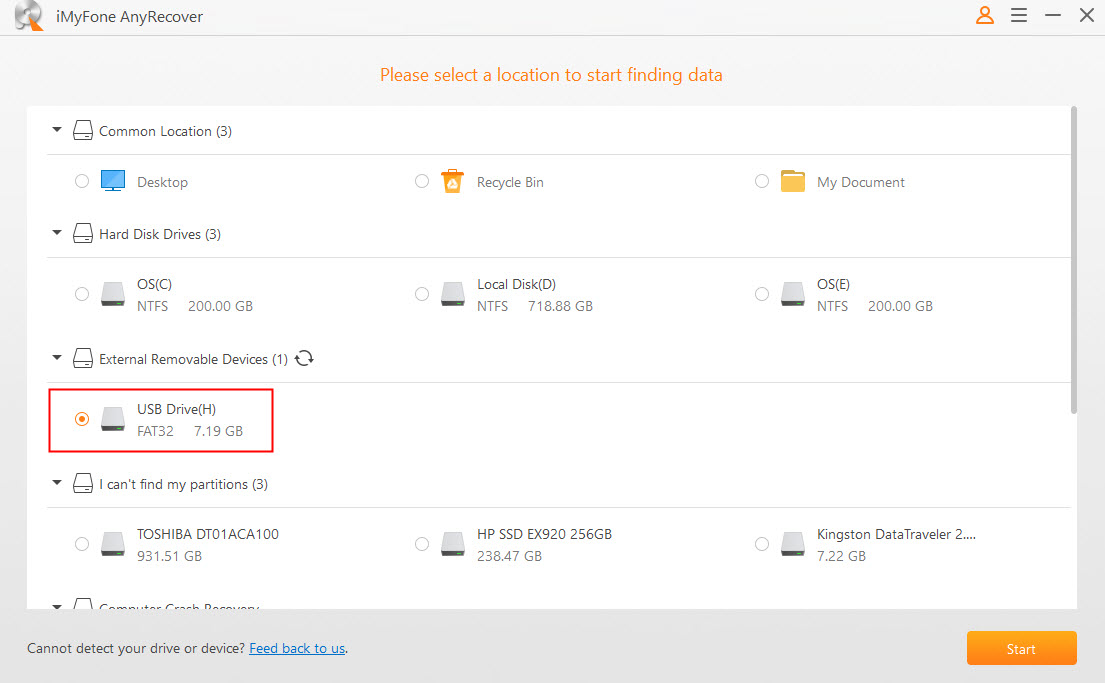 Step 2. After selecting the location, hit "Start" button to start scanning.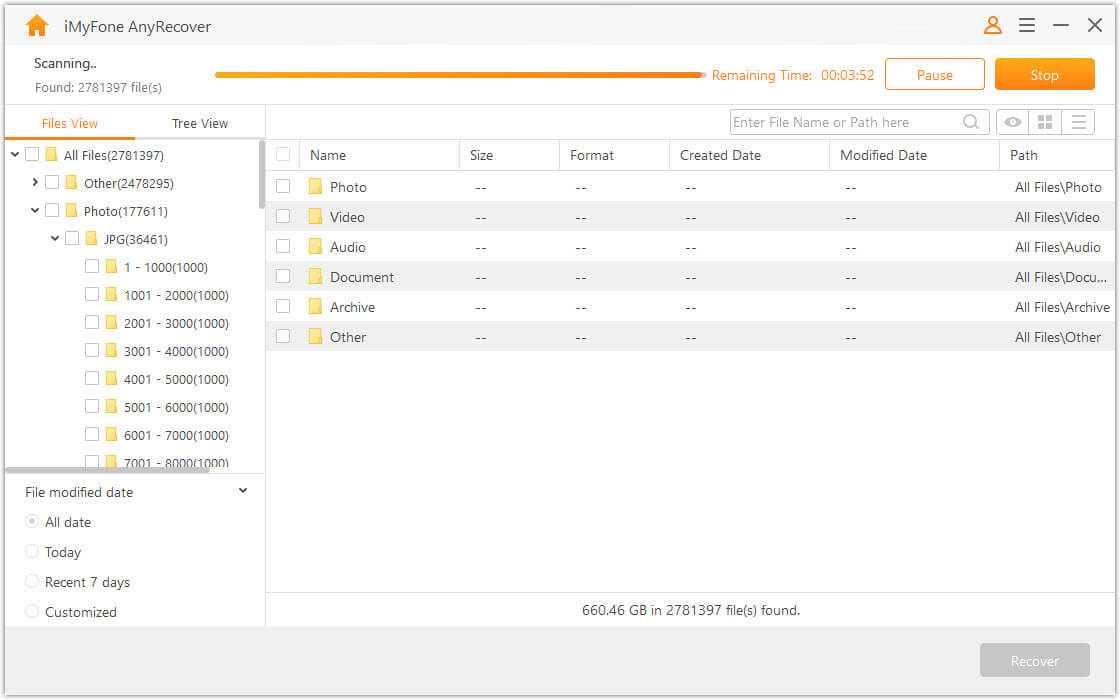 Step 3. When it completes scanning, your deleted photos will be displayed. Preview these photos and select the ones you would like to recover. Click "Recover" to get your pictures back.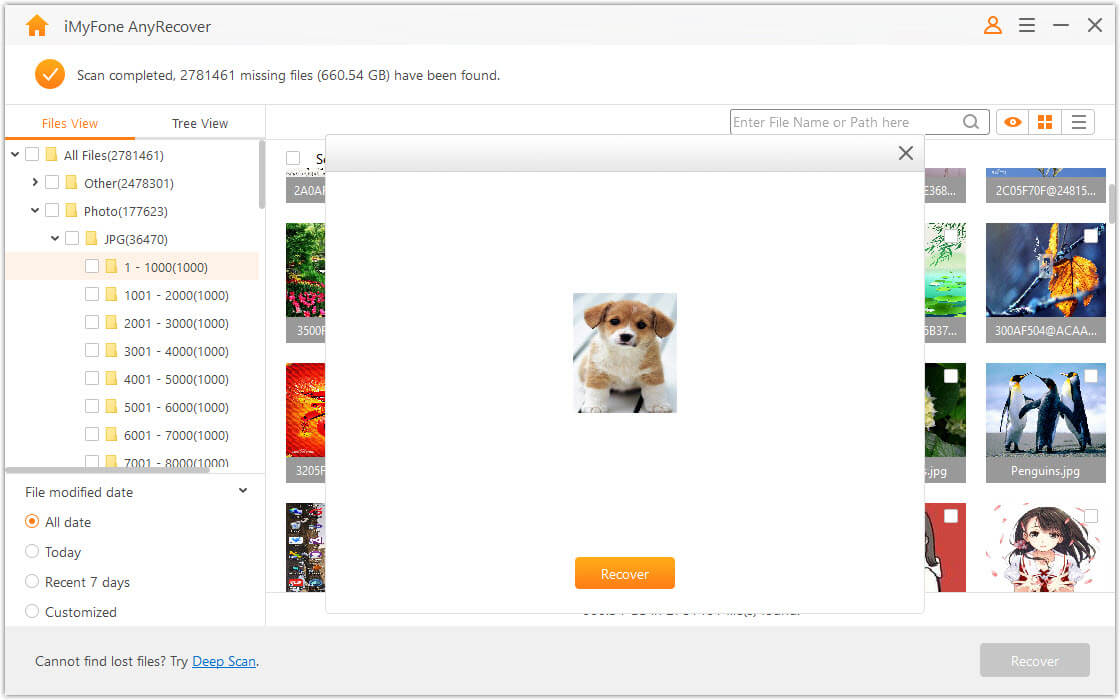 If the data you would like to recover from your SD card is already overwritten, there is no guarantee that you will be able to recover it. Data gets overwritten when you continue using your SD card after losing the data. Check out the tips below to help increase chances of SD card recovery for Android.
3
Tips for SD Card Recovery for Android
Avoid Storing Any New Data
When you store new data after losing data on an SD card, it will overwrite the lost data. This will make the lost data irrecoverable.
Do Not Format the SD Card
Formatting your SD card will destroy important information that a recovery tool will need when recovering your data. This will make your data hard to get back. The data may become irrecoverable.
Avoid Using Apps in the Play Store
When you use Apps in the Play Store, you will be reducing the chances of SD card recovery for Android. This is because using the apps will create new data on the SD card. This may increase the chance to overwrite the lost data.
4
Bonus: A Special Gift for You - 20% Off Coupon Code
In order to express our thanks to all of you - our prospective and esteemed customers, we prepared a 20% coupon code which works with any type of AnyRecover serial license. You're gonna get the AnyRecover serial license at the lowest price in the market by using the coupon code.
Here is Your 20% off Coupon Code:
Follow the simple steps to use AnyRecover 20% off coupon code:
Step 1: Copy the coupon code "ANY-ART-D20".
Step 2: Visit official AnyRecover purchase page: for Win or for Mac. Choose the license you desire and add it to cart. Take 1 Month License of Windows Version as an example: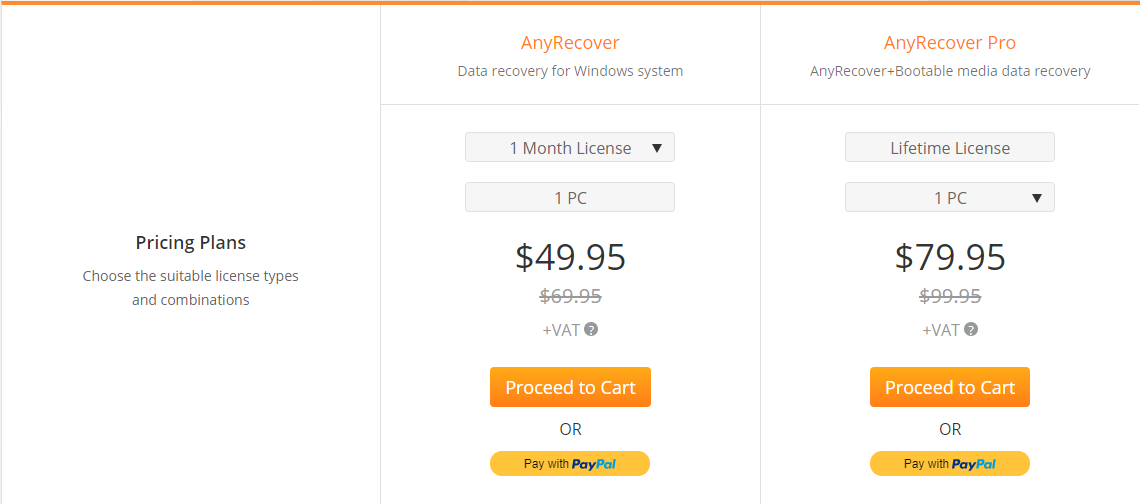 Step 3: Tick the "Redeem Coupon Code" and then paste the following code into the box: ANY-ART-D20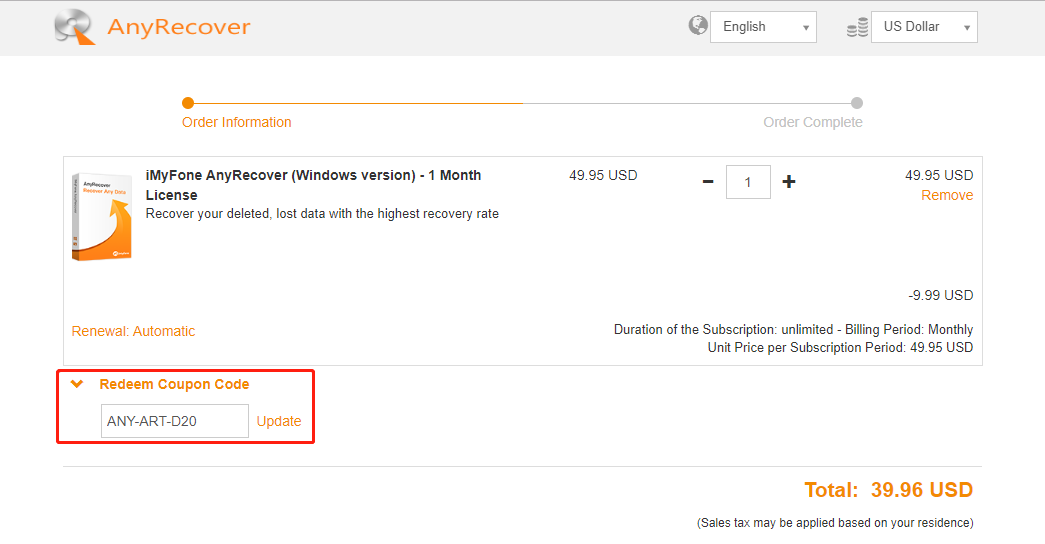 Step 4: Click on "Update" and then wait for the page to refresh. Congratulations, you've just saved 20% on the best android sd card recovery tool on the market! What you need to do next is filling out your information so as to complete the process.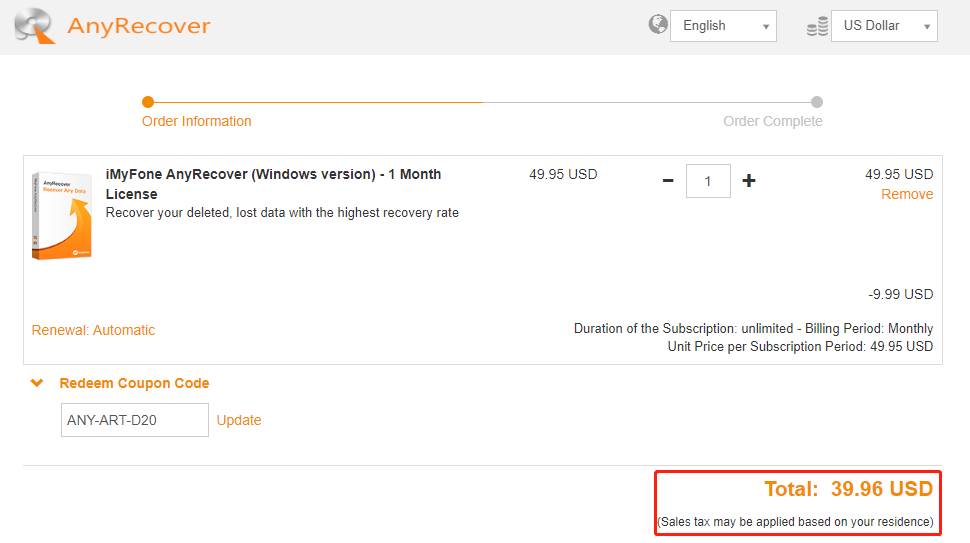 Do not hesitate to get AnyRecover with 20% off. With the help of this tool, you are going to recover your lost files irrespective of how it was lost.
Conclusion:
Losing data can be stressful. You can avoid the stress by having a data recovery tool that works with all storage devices. The best tool to have is
AnyRecover
. This tool will help you perform SD card recovery for Android quickly and easily. AnyRecover can help you recover your data irrespective how this data got lost. You do not have to pay for AnyRecover before you confirm that it works. Try the free trial version now.