Whenever you delete files on your Mac, they are not directly deleted. Instead, they go to the Trash in case you delete it just accidentally and want to recover it later. However, if you have emptied the trash, but afterwards really need to access the files stored in it again, things would be not that easy.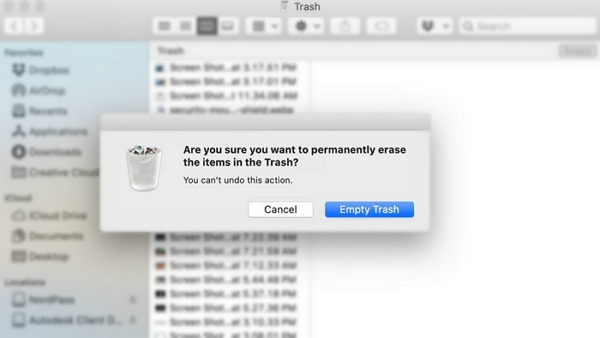 Part 1. Can You Recover Deleted Files from Emptied Trash on Mac?
A quick and short answer would be YES. To understand the answer thoroughly, however, you need to understand how deleting a file works.
On your Mac, when you first delete a file, it goes to the Trash. And one can easily recover it buy the "Put Back" option within the Trash. Then, once you have emptied the Trash for some reason, the file gets removed permanently – at least it seems like that. In reality, the file is indeed removed from the directory so that you cannot access it, but it still remains on your physical storage drive, in small fragments. And as long as these fragments have not been overwritten, they can be recovered.
Part 2. How to Recover Emptied Trash on Mac
2.1. Recover Emptied Trash on Mac with Time Machine
If you have backed up the lost files before deleting them with Time Machine - the built-in backup feature of your Mac, then you can restore them with the backup. Follow the steps below:
Step 1: Connect your storage device containing the backup, which should also contain the file(s) you need.
Step 2: Open the Trash and then click the icon on your menu bar and choose "Enter Time Machine".
If you know that the file you deleted was previously-stored elsewhere on your drive (such as in the Downloads folder), the same can be done but by opening Time Machine once you have opened the Downloads folder. This can be easier to do especially if you emptied the Trash quickly after deleting the file from its original directory.
Step 3: In Time Machine, you will see a list of available backups to restore from. Select the one you need and restore from it.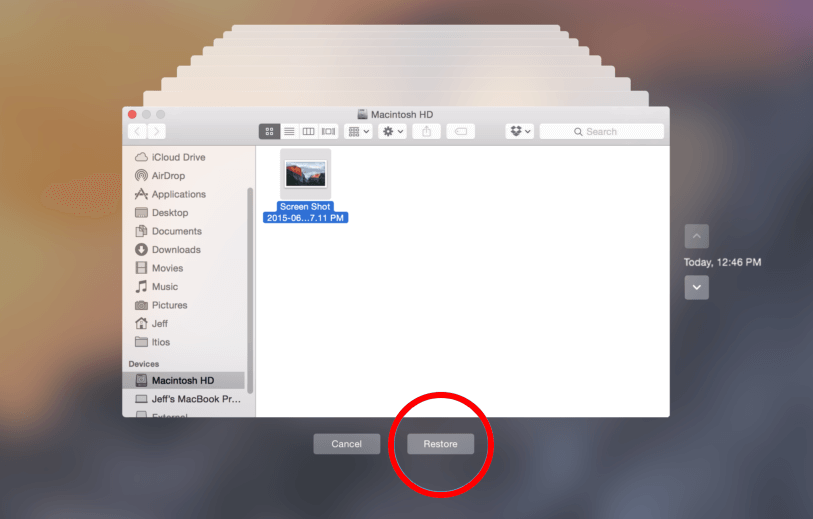 2.2. Recover Emptied Trash on Mac with AnyRecover
If you do not have any backup that contains the file you want to recover, then this Time Machine method will not work. If this is the case, check how AnyRecover can help retrieve lost data without backup.
AnyRecover for Mac is a powerful tool popular with a great number of users around the world and as its name suggests, it can help you recover any deleted files on your Mac. With over a million downloads, this is a tool you can always trust in any kind of data loss situations. To know more about this tool, check the main features listed below:

Features of AnyRecover:
High recovery rate supported by all-round and deep scan feature.
Unique algorithms helps it perform fast scanning.
All kinds of files including photos, videos and documents can be found back in various scenarios.
Easy opearting steps and only 3 steps are required.
Keeps the data 100% safe and no back up is required.
Provides file preview when recovering data and you can selectively recover the files you exactly need.
Free trial is offered to recover 8 files without size limitation.
To undo empty Trash on Mac with AnyRecover, download and install this software on your Mac first.
Step 1.

Select a Location

Launch the software and click on the Trash option from all the locations shown.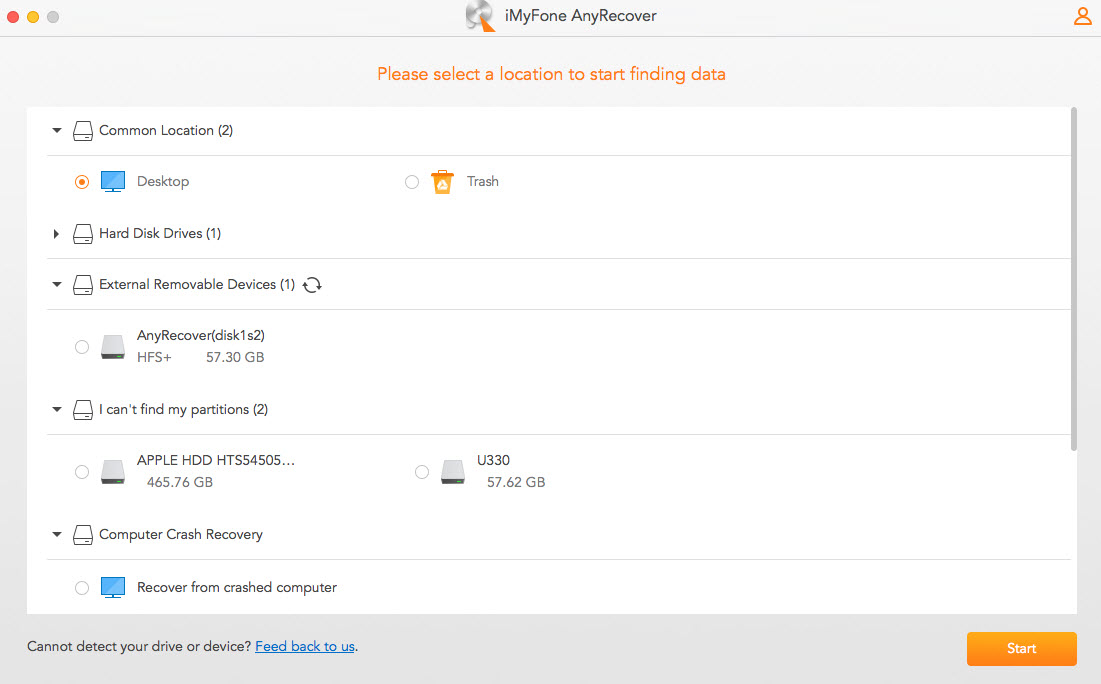 Step 2.

Scan the Trash

Click on "Start" and wait for the program to scan this directory. Once the scan is completed, a list of all recoverable files will be displayed.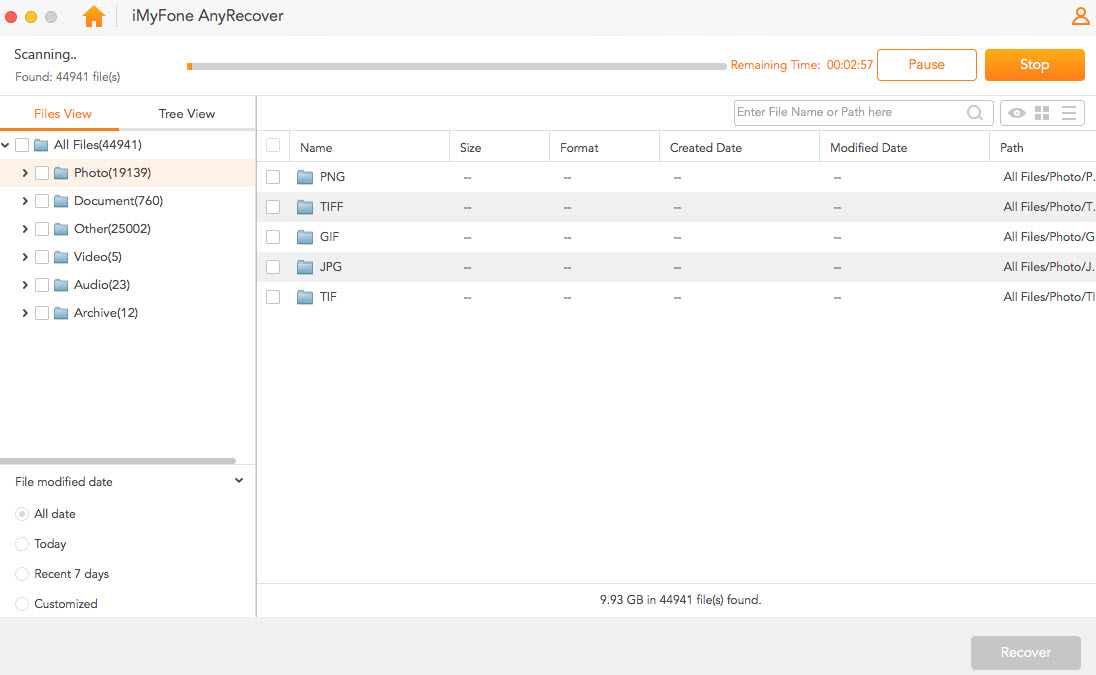 Step 3.

Preview and Recover

Double-click on the files to preview, then select what you want to get back and click "Recover".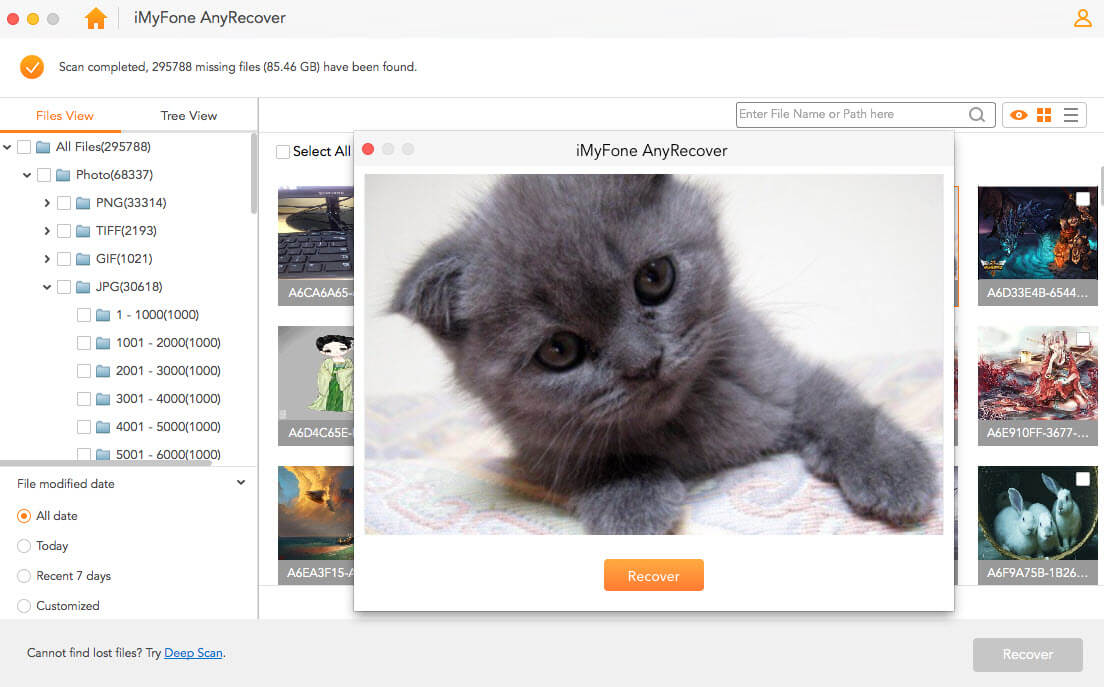 Part 3. Can Deleted Files Be Recovered from Emptied Trash via Terminal?
Like Command Prompt in Windows, Terminal in macOS allows you to execute commands using lines of codes. More specifically, it uses the Unix command line and sometimes these commands can be used to recover deleted files. Because of that, many Mac users hold that to recover files deleted from Trash, Terminal can also help. Is it true? Next let's check how Terminal works to recover deleted files first.
Step 1: Open Terminal by searching for it in Spotlight.
Step 2: Enter the following commands and press return after each line of command. (Enter the next command once the previous one has completely executed)
cd. Trash
mv FILENAME/ (where FILENAME should be replaced by the name of your file)
quit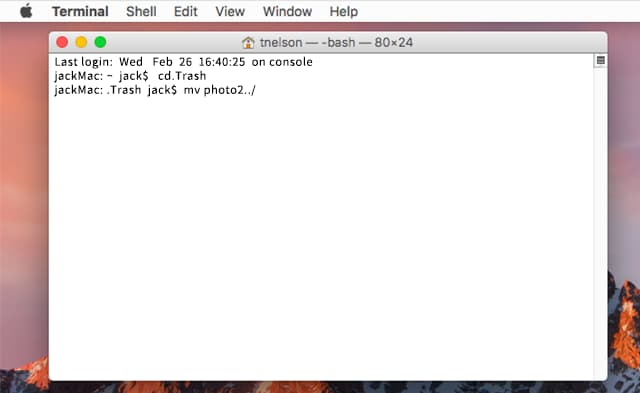 Step 3: Go to Finder and then search for this file, since Terminal will have restored it to an alternative location.
Step 4: Copy and paste the file to another location, such as your desktop.
As we can see, Mac Terminal recovers deleted files using "cd .Trash" command to invoke Trash and "mv xxx ../" command to move the deleted file from Trash. But the situation we are talking about right now is the files that have already been removed from the Trash. Therefore, Terminal won't work as for recovering deleted files from an emptied Trash on Mac. Try AnyRecover or Time Machine instead if you still want to undo empty Trash on Mac.
Part 4. Frequently Asked Questions
Q1. How to recover a file from the Trash?
This is quite simple. All you need to do is open your Trash and then click on the file you wish to recover once. Then, right-click on it and click on "Put Back". This will return the file to the location from which it was originally deleted.
Q2: How can I prevent such issue from happening again in the future?
Some steps you can take to prevent this issue are:
Step 1. Check all files within the Trash before emptying it. It may sound obvious but often we delete a file and forget we need it. We only realize that a while after clearing the trash. You should regularly check through the Trash folder for any files you might need, especially before emptying your trash.
Step 2. Create regular backups of your Mac using Time Machine for future use.
Q3: Is there Trash on external drives?
External drives also do have Trash. However, it is usually a hidden folder. To access this folder, you will first need to enable viewing hidden folders in the settings of your Finder. Once that is done, you can then go to the root directory of your external drive. You will see a folder called ".Trash" within it. This is where your trash on the external drive is sent to.
To Conclude
In this article, we've introduced several ways to recover emptied Trash, among which AnyRecover for Mac provides the most perfect solution to recover lost data. As a real expert, you can rely on it to address any problem related to data loss in various scenarios such as Trash emptied, drive formatted, and system crash/reinstall.