Do you have the experience of losing some important APFS file? Are you caught between a rock and a hard place looking over the Internet for the best way to do APFS file recovery?
APFS is definitely a great file system for Apple users. However, there are myriads of things that can go wrong leading to data loss on your APFS drives. In such a situation, you have to find an appropriate way to recover APFS file and you may waste a lot of time and energy if you are not experienced. But don't worry, this article is here for you. This detailed guide will help you with APFS file recovery.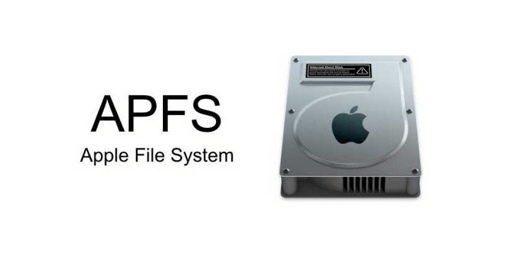 Part 1. What Is APFS on Mac?
APFS is an acronym for Apple File System. This file system debuted with macOS High Sierra back in 2017 and is expected to fully replace HFS+ in all Apple products soon. Unlike the Hierarchical File System (HFS), APFS offers better data handling, faster speed, and improved optimization. Compared to Mac OS Extended, the APFS significantly strengthen file security and reduce file corruption possibility. If you are using an APFS drive, you will realize that copying and pasting files is almost instant.  
Part 2. In What Situations Will You Need APFS File Recovery?
When handling with APFS drives, it is not surprising to lose data. When this tragedy strikes, you need to do APFS file recovery as soon as possible. Well, there are several scenarios/situations of APFS data loss that calls for APFS file recovery. Some of these common situations include:
Deleted/Lost APFS Partition
When you partition your APSF drive, you can keep different data in different partitions. However, it is possible to delete/lose a partition accidentally. And when this happens, you should do APFS file recovery to retrieve your lost/deleted partitions containing your files.
Unmountable APFS External Drives
When an external drive is mounted on a computer, it is accessible and can be read by that computer. However, just like any other external storage drive, an APFS drive can fail to mount on a Mac. This problem can be triggered by improper cable connections, file corruption, or a faulty Thunderbolt or USB port. When you have a disk that fails to unmount or otherwise is an unmountable disk, then you risk losing your data. Here, the ideal remedy is to recover your data from the unmountable APFS external drive.
Unreadable/Inaccessible APFS Drives
Sometimes your Mac may fail to read or access the content stored in the drives, caused by malware attacks or corrupted files/drives. If this is the case, then you need to recognize, scan the data inside the inaccessible APFS drives and recover it.
Formatted APFS Drives
When you format an APFS drive in macOS/Catalina/Mojave/High Sierra for some reason, you technically lose everything there especially personal files. The only way to salvage the situation is to run a drive data recovery.
Part 3. What Is the Best APFS Data Recovery Software?
When it comes to APFS file recovery, AnyRecover for Mac is the best APFS recovery tool in the market. This top-rated program supports the recovery of data lost in any situation ranging from emptied trash, lost partition and unmounted drive to software or hardware failure and system crash. With AnyRecover, you can recover data from any device from any internal or external storage.

1,000,000 + Downloads
High recovery rate ensured by all-round and deep scan feature; fast scanning speed empowered by unique algorithms.
Allows users to preview files and selectively recover data.
Support 1000+ file types: emails,photos, audios, videos, documents, etc.
Really simple operating steps, getting back lost data in just a few clicks.
Fully compatible with all Mac systems to enable you recover lost APFS file effectively.
Perform APFS File Recovery With AnyRecover:
Step 1: Download, install and run AnyRecover software on your working Mac. Choose a location to recover lost/encrypted APFS files and click "Start".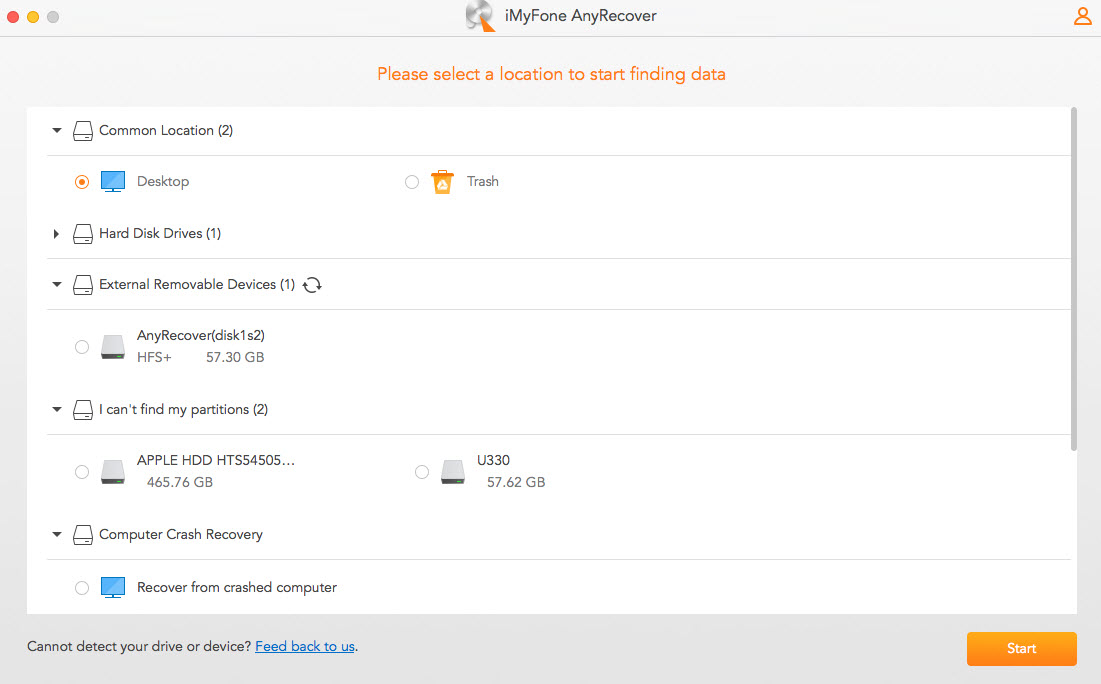 Step 2: Wait for the program to finish the scanning process.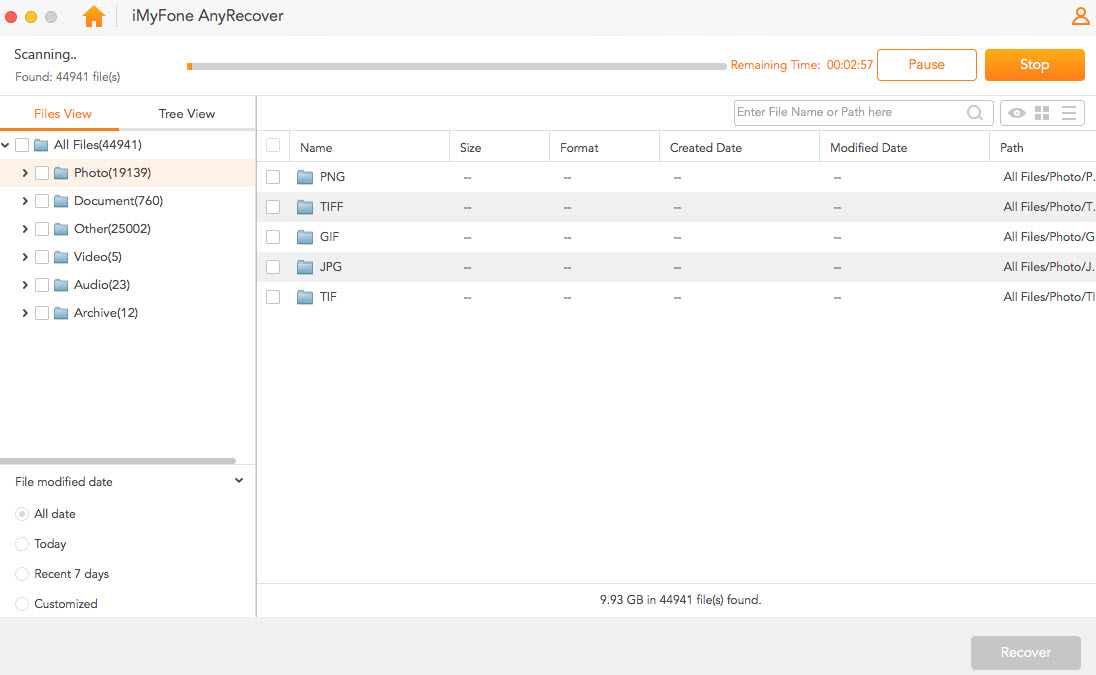 Step 3: Preview the files, choose what to recover and click the "Recover" button.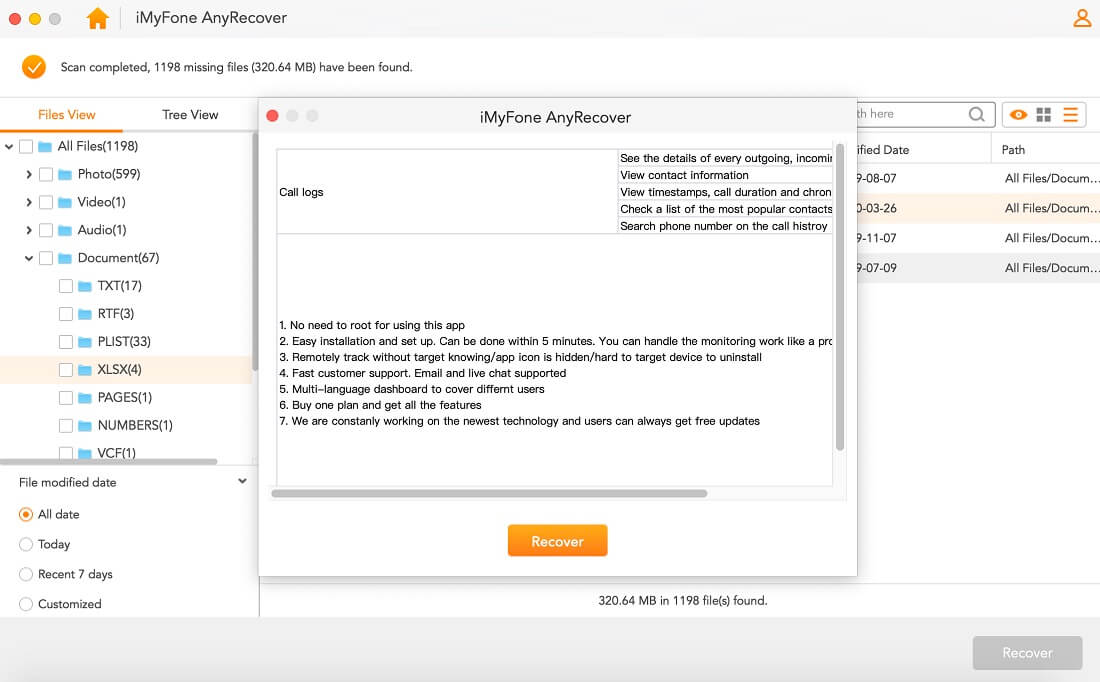 Part 4. Frequently Asked Questions
1. What is better: APFS or Mac OS Extended?
Mac OS Extended is an old file system for older Mac versions. In 2017,  APFS was rolled out and was expected to replace Mac OS Extended. It is used in Mac 10.13 High Sierra and later versions. Depending on your need, you can decide between APFS and Mac OS Extended.
APFS is great for newer drives while Mac OS Extended is good for older drives.  APFS outshines Mac OS Extended in speed, optimization improvements, and data handling. For instance, APFS significantly reduces the chances of file corruption than Mac OS Extended. Even copying and pasting are instant because metadata handling is much improved.
The downside of APFS is that it can't read, write, or access drives with older Mac versions. Also, if you backed your Mac using Time Machine, then you can't use APFS either. So if you are using old Mac systems then Mac OS Extended is a good choice. But for newer Mac versions and drives, APFS should be your No.1 choice. 
2. How to convert to APFS on Mac?
The following steps illustrate how to convert an external drive to APFS format.
Step 1. Boot the Mac into Recovery Mode by pressing the Command and R keys. Then open Disk Utility.
Step 2. Select your boot volume. Choose Edit> Convert to APFS.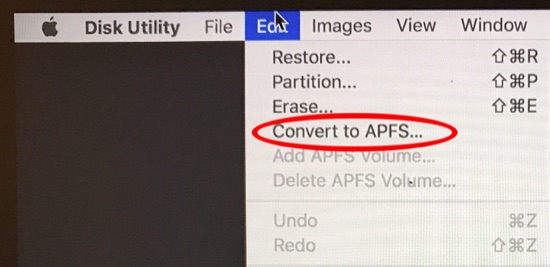 Step 3. Confirm the conversion and click "Done" when completed.
Conclusion
The above content has no doubt given you the best guide on APSF file recovery. From now onwards, you don't have to worry any more about APFS file recovery problems. Simply try the best file recovery tool AnyRecover for Mac and bury any data loss issues for good.