It can be annoying to lose vital files from your computer, even more so when you have deleted the .bak file which could help you recover a copy of the data you lost. In this post, we'll teach you how to recover bak files deleted or lost easily.
Part 1: What You Should Know About BAK File
What Is a .BAK File?
It is not unusual to see a file with a ".bak" extension on your computer. This file may seem inaccessible, or you may wonder what kind of file it is. A .BAK file is basically a backup copy of a file commonly known with the ".bak" extension. Different applications often make a copy of a file, with ".bak" appended to the filename for backup purposes.
In most cases, .BAK files are created automatically by software of all types that needs backup - for example, a browser needing backup for bookmarks, or an application requiring periodical backup. But still, sometimes .BAK files are created manually for either backup or safekeeping purpose, as .BAK files cannot be edited casually.
Can .BAK File Be Deleted?
Normally, .BAK files can be deleted safely as it won't affect files saved on your computer - after all, they are just backup files. However, we recommend you don't delete BAK files as you may need them to recover your data in the future, except you are sure the master copies would not be lost.
How Do I Open a .Bak File?
As we have mentioned before, most of time .BAK files are created and stored automatically by the corresponding software, so actually there is no single app capable of reading all the .BAK files, just like the way some media player can play all types of audios or videos.
Therefore, to open a .BAK file, the first thing is to figure out the context. To be more specific, for what program are the .BAK files created? Once you find out the exact program responsible for the .BAK file, then it's not difficult to open the file with the program. If you are still not sure about that, resort to trial and error. If you found a .BAK file in a music folder, then try to open it with a music player. Or you can try to rename the file with other file extensions such as ".mp3" and ".wav", then check if it can be played.
Part 2: How to Recover Deleted/Lost .BAK File?
1. The Best .BAK File Recovery Software - AnyRecover
AnyRecover is a top data recovery tool that can restore almost all kinds of deleted or lost files, from any storage device. This best .BAK file recovery software is absolutely capable of recovering deleted or lost .BAK files without much difficulty. Everyone can restore the valuable .BAK files in an easy while effective way. Check the key features below to know more about AnyRecover.

2,061,704 Downloads
Recover lost data from various devices: PC, internal hard drive, SD/SDHC/CF cards, flash drive, etc.

Support more than 1000 file types, including images, office documents, videos, archives, and emails.

Guarantee 100% data safety. No overwriting will happen.

Restore .BAK files with just 3 simple steps. No technical knowledge is required.

Perfectly compatible with various Windows (including the latest Windows 11) and Mac OS.

Offer a free trial that enables user to perform a deep scan, preview and recover.
How to Recover Deleted BAK File With AnyRecover?
Step 1: Launch AnyRecover on your computer and select the location where you have lost the .BAK file. Click on the "Start" button to start the scan.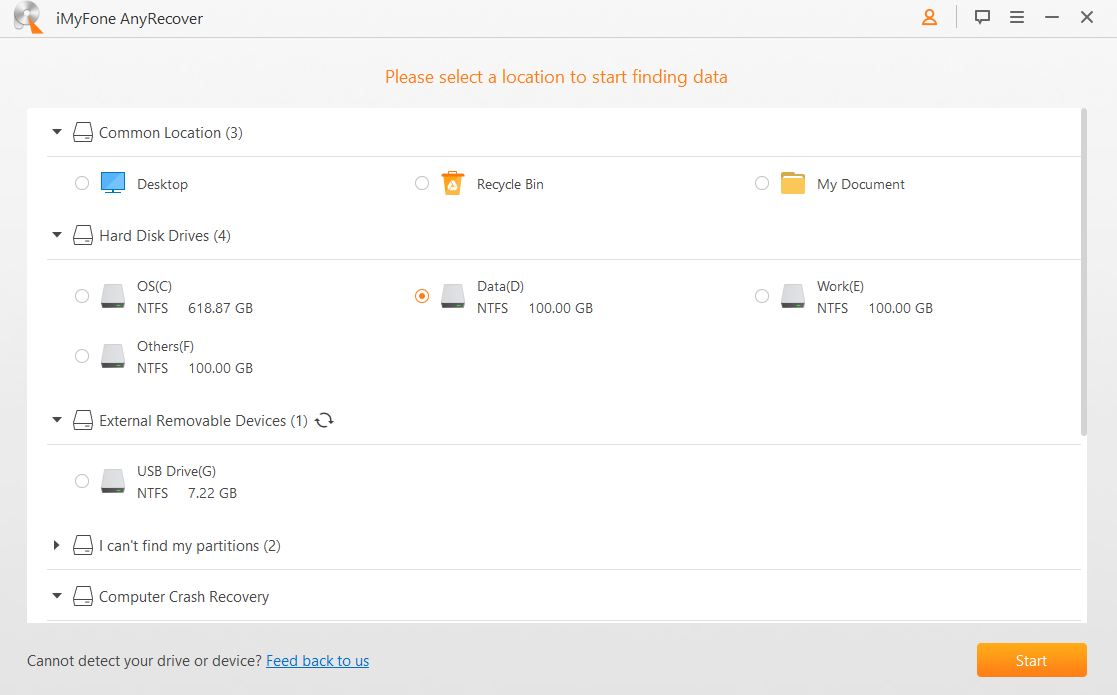 Step 2: AnyRecover will start to scan, and the deleted files will be displayed when finished.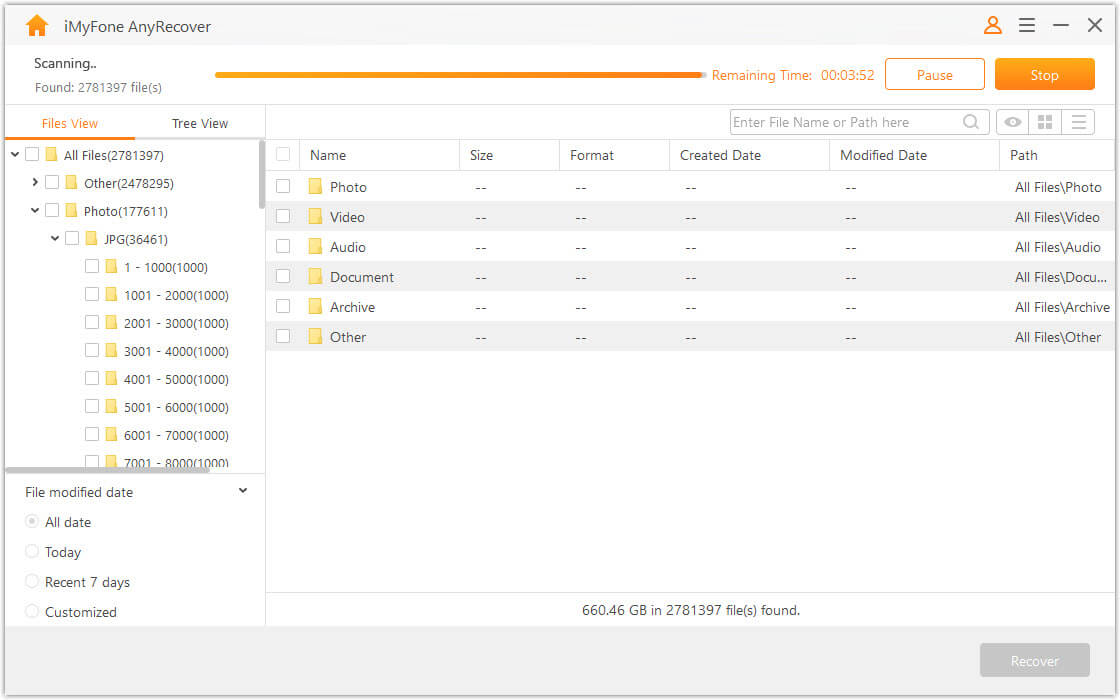 Step 3: Preview and select the files you need to recover, then click "Recover".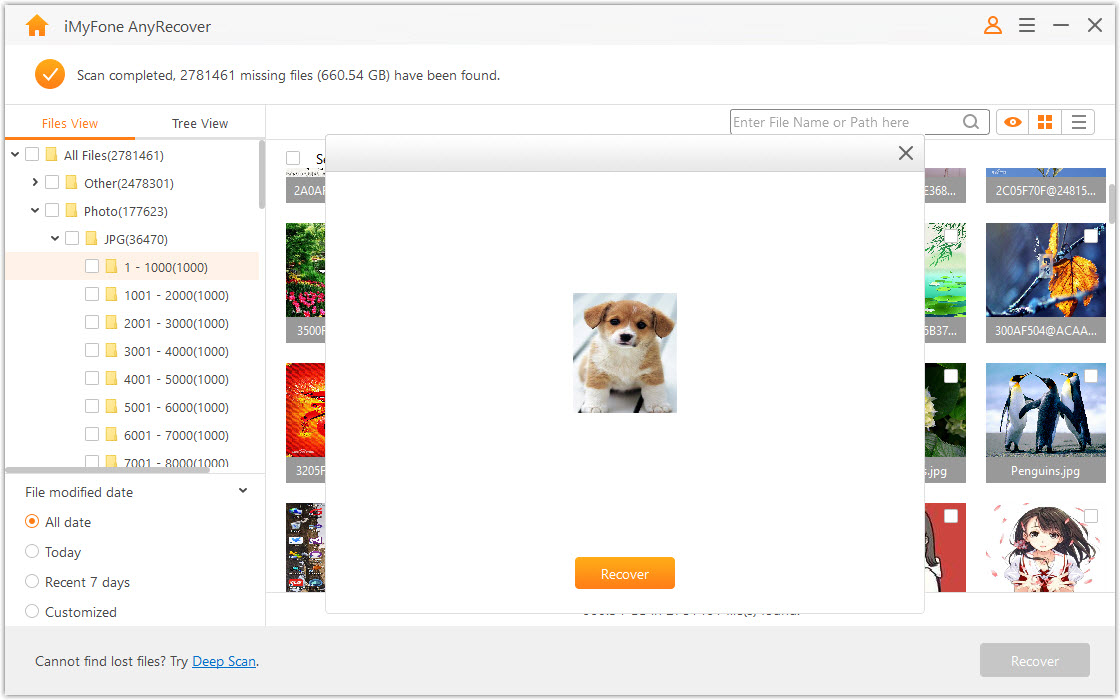 2. Restore Deleted/Lost BAK File With Remo File Recover Software
Another piece of .BAK file recovery software you can use to recover deleted /lost bak files is Remo file recovery software. It can restore deleted or lost data from several storage devices like hard drives, pen drives, SD card, and more. This software can restore all your data on Windows 10, 8, 7, Vista, XP, server 2003, 2008 and 2003.
Steps for Use
Step 1: Download and install Remo file Recovery Software on your computer.
Step 2: Launch the software and select "Recover Files" from the main interface.
Step 3: Select either "Recover Deleted Files" or "Recover Lost Files" option.
Step 4: Now, you will see all the available drives, select the drive where the BAK file is to be recovered and click "Next".
Step 5: After the scanning, you can preview the restored files and save.
Pros
It can recover thousands of deleted files.
Very user-friendly with step-by-step instructions.
Very good in recovering .jpg files.
You can pause the recovery process to resume later.
Cons
It can be difficult to locate a specific file when scanning a large drive.
Works well at only small-volume drives.
Scanning may take long time.
3. Recover Corrupted BAK Files Using Stellar Toolkit for MS SQL
Before starting the SQL backup file recovery, you should first check:
MS SQL is installed and launched.

Services of MS SQL are running.

Remember to save the recovered BAK files in MSSQL (MDF) CSV, HTML, and XLS format.
Below are steps for using this tool:
Step 1: Download, install and run Stellar Toolkit for MS SQL on your computer. Click on the "SQL backup recovery" icon.
Step 2: From the available software, click on the select file and provide the location and name of the BAK file you want to recover if you don't know the location and name of the BAK file, click on the search folder and click search file and all BAK extension will be displayed.
Step 3: Select the BAK file you need to recover, then click on the "Scan" button.
Step 4: Select "Backup set", then choose the right backup set, then hit "Next".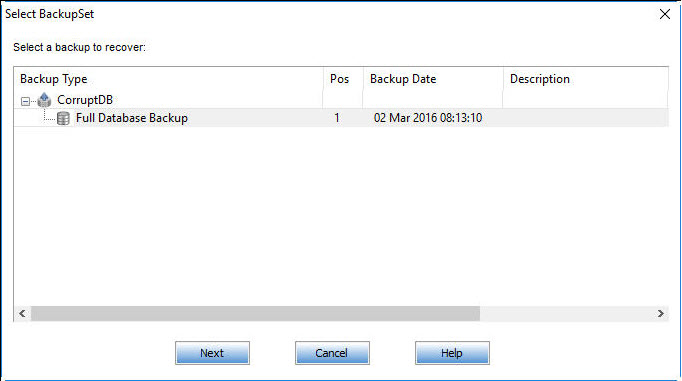 Step 5: Go to the main tab, then click on the "Save" button, check box for MS SQL select the destination path and "OK".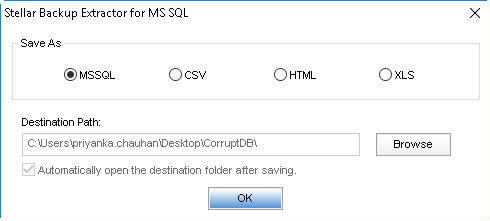 Step 6: Select the option to save the recovered SQL database from backup. Select "New Database".
Step 7: In connect to server option, select serve/instance name and choose destination to save the database file and click "Connect".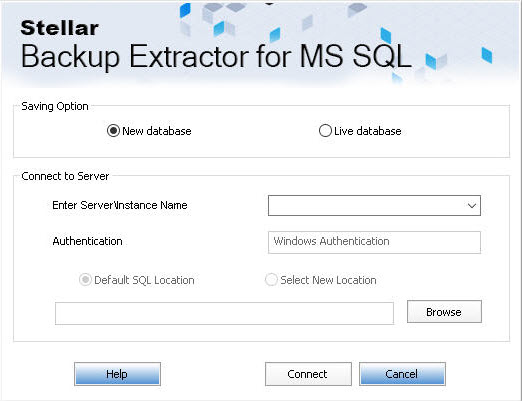 Step 8: The BAK file is saved.
Pros
It allows you to select damaged files to be recovered.
You can save data in several formats.
Cons
Using process is not so simple.
It is not a very safe recovery software as users can access it via multiple user passwords.
Conclusion
There is no need to worry about losing your backup files now. Recovering BAK files lost or deleted can quickly be done without any hassle if you use one of the aforementioned recovery tools. Of all these tools mentioned, AnyRecover proves to be the best as it can recover any lost files from any storage media.
Do not hesitate to try it free and get your lost data back immediately.