Question:
I shift deleted one of my important files. Later I went to the 'Recycle Bin' and wanted to retrieve it back, but it was not there. Is it possible to recover shift delete files? How can I recover the shift deleted files?
Accidentally deleting a file by using "Shift + Delete" in Windows can be a frustrating experience. However, there are several methods available to recover shift deleted files in Windows. In this guide, we will discuss some of the most effective methods to recover deleted files and retrieve important data.
Let's start!
Part 1.

Is It Possible to Recover Shift Delete Files
When files are deleted using the 'Shift+Delete' options, the deleted files are not moved to Recycle Bin. However, these files are still existing on the storage media, just hidden from the operating system running on the pc. When files are shift deleted, the only information deleted technically is the location of the file. As such, bits and bytes of the file still remain on the hard disk.
Given the discussion above, it is POSSIBLE to recover the shift deleted files. However, one thing that needs to be paid attention is, the recovery can only be successfully completed before the data is overwritten. That means, you are supposed to recover the files as soon as possible and stop any computing operation that might overwrite the data immediately.
If you want the quick Shift Deleted Files recovery, you may directly click here:
Part 2:

How to Recover Shift Deleted Files in Windows 11/10/8/7
Recover Shift Deleted Files by Using Command Prompt
Command prompt will troubleshoot many problems related to Windows including hard drive recovery, flash drive recovery, and memory card recovery. It is the most powerful inbuilt utility, which helps Windows users to retrieve lost files.
We will introduce as below a step-by-step guide to recover shift deleted files using command prompt in Windows 11/10 OS. Just follow the instructions:
Step 1 Press 'Windows key+R' and then type 'CMD' in the pop-up box.
Step 2 In the command prompt window, type 'chkdsk drive letter: /f' and then press 'Enter'. For instance, 'chkdsk D: /f'.
Step 3 Press 'Y' and wait till the command lines start again.
Step 4 After that, you have to type the drive letter again and then hit 'Enter'.
Step 5 Type, 'drive letter:\ >attrib -h -r -s /s /d *.*'.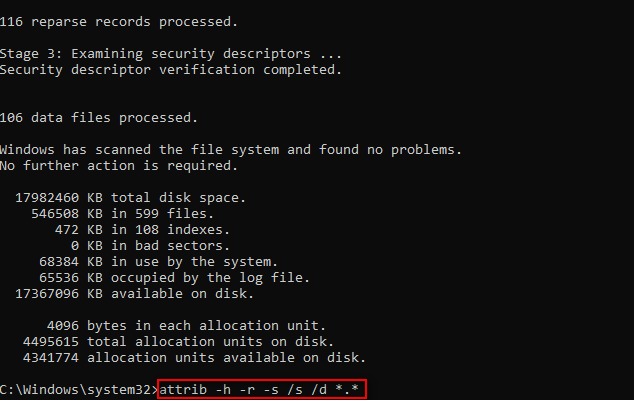 Step 6 This command will recover all the files present in the storage drive (attrib -r -s drive:\path\foldername).
After the completion of the process, a new folder will be created on your drive. All the recovered files will be present in that drive. The recovered files will be present in '.chk' format, so you have to change the format first and then save the files at the desired locations.
Note
At times, it becomes very difficult for normal users to perform these steps without having good technical knowledge. If a single step is performed incorrectly, then it may lead to data loss. Thereby, to prevent data loss it is always recommended to opt another reliable and efficient solution.
Recover Shift Deleted Files by Using 'Restore Previous Versions' Feature
Windows has developed an inbuilt feature called 'Restore Previous Feature', which can help Windows users to find their files back due to accidental deletion or any other situations. Here is a simple guide to recover shift deleted files by 'Restoring Previous Versions' from File History. Let's check out the step by step procedure.
Step 1 Select your desired folder.
Step 2 Right-click/control-click on it.
Step 3 Select the 'Restore Previous Versions' option.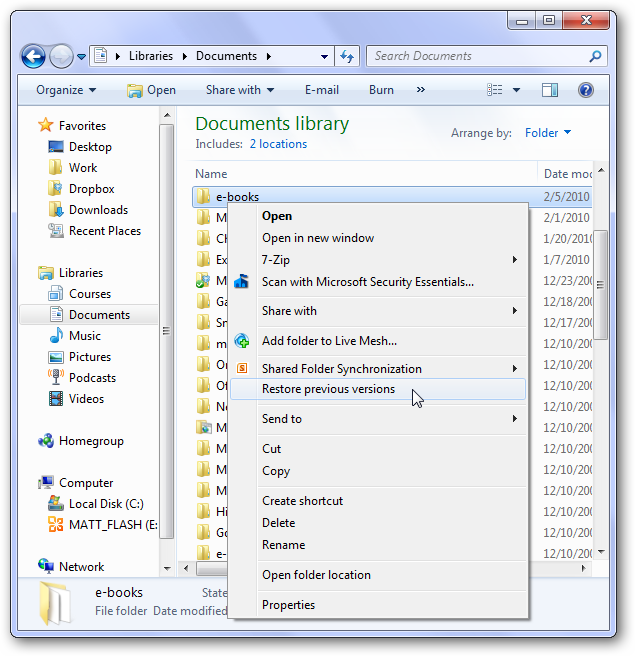 Step 4 Windows will now list the previous versions of the shift deleted files or folders with data and time.
Step 5 Select the the version you want. Simply click 'Restore'.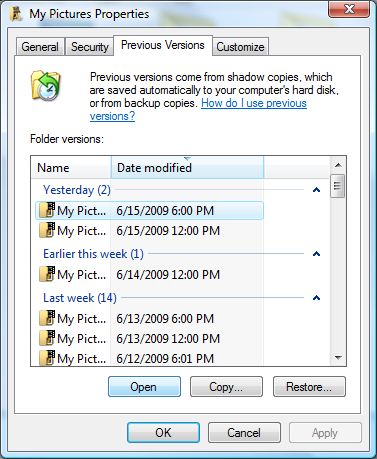 Note
To apply this method, you should have enabled the "Restore Previous Versions" feature in advance before shift deleting your files.
Recover Shift Deleted Files With professional Software AnyRecover (Windows 11 Supported)
Both two ways of recovering shift deleted files without software require preconditions. Therefore, you might find it difficult to recover that files on your Windows PC successfully. Many people are not willing to use a third-part tool to recover the shift deleted files. However, a third-party tool sometimes can provide the help indeed.
AnyRecover is the mentioned professional data recovery tool that you can turn to help if you cannot find the shift deleted back. It enables you to recover files with all file extensions. No matter how you lost them, it provides an easy and quick recovery for you.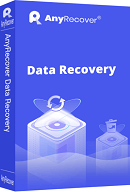 Key Features:
AnyRecover can easily recover your shift deleted files in Windows 11/10/8/7 and Mac.
Whatever you want to recover, photos, documents, audios or videos regardless of the storage device involved from SD cards, xD cards, SATA hard drives to IDE hard drives, AnyRecover can help with a seamless and complete recovery.
AnyRecover makes file recovery very easy and fast. Users don't need any tech knowledge to run it.
AnyRecover now is providing free trial recovery for 200Mb files and limited scans and previews. You can test it first before upgrading.
To use AnyRecover to recover the shift deleted files, see the step-by-step guide below.
Step 1 Choose the location of your drive where you intend to recover your lost data. Click 'Start' to continue.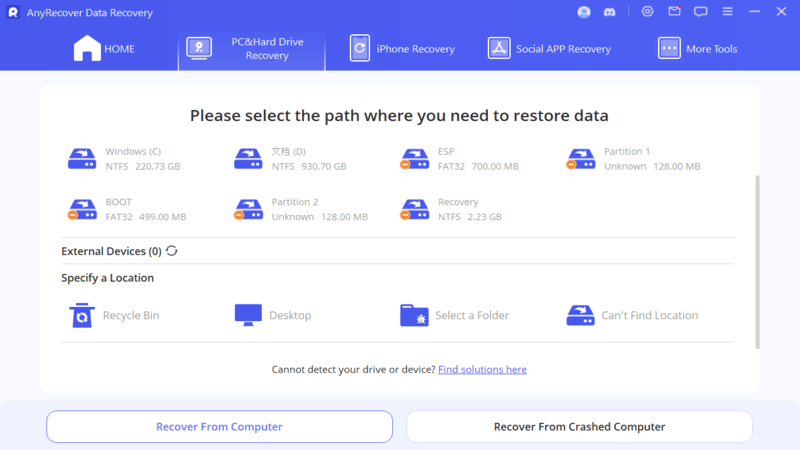 Step 2 Whichever device or drive selected will be scanned meticulously for your missing files. In the scan process, you can pause or stop at any time you want to preview the scan result.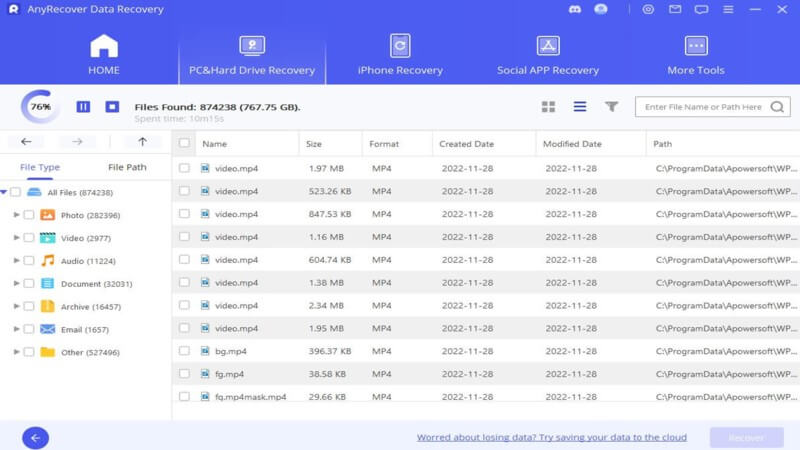 Step 3 Check the boxed before your wanted files, and then click the 'Recover' botton to recover them. The recovered files will be saved in a new-created folder.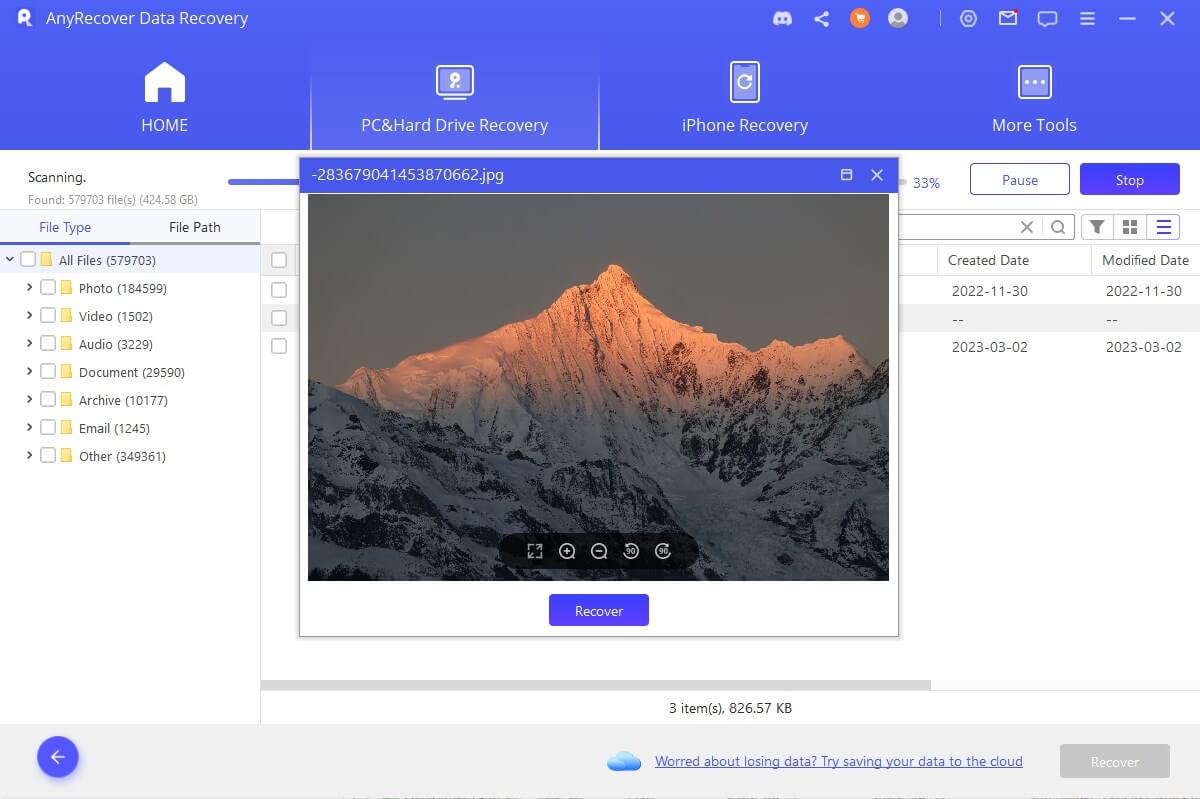 Note
Do not choose to save files to the location where they went lost.
That's it!
Conclusion
No matter you choose to recover your shift deleted files without software or with software, either will be fine as long as it can help you out. While AnyRecover possesses so many features to ensure a seamless and simple data recovery process for clients. It is definitely worthy of trying!
Download AnyRecover today and enjoy your free trial to get back your previous files!