I was transferring a series of files from my PC to my phone's SD card, but then I forgot about the transfer and ejected my SD card. Now, I have a folder called LOST.DIR on my phone and can't find the series I was transferring.
Normally, you could recover all of these files manually one by one. But it gets trickier when you have tons of files. If you are in such a situation, then this post is all you need to understand this LOST.DIR issue and be able to fix it and recover files that are stored there.
1
iMyFone AnyRecover - the Easiest Solution to LOST.DIR File Recovery
Introducing the various solutions to LOST.DIR File Recovery, we will begin with the easiest option - "iMyFone AnyRecover". It is a superb PC application that helps you recover pictures, videos, zips, apks, etc. that are inaccessible due to all kinds of errors, as well as some deleted files, allowing you carry out recovery operations fast, easily, and effectively.

1,000,000 + Downloads
Features of iMyFone AnyRecover
Recover lost files on various kinds of storage devices like memory card, external hard drive, flash drive, etc.
Support more than 1000 different kinds of file types: pictures, images, videos, documents, audios, emails and so on.
All-inclusive recovery for data loss no matter these files were mistakenly deleted, emptied in recycle bin, or formatted in an external device.
Work well on Windows 11/10/8.1/8/7/XP, macOS 11.0/10.15/10.14/10.13/10.12 and Mac OS X 10.11 ~ 10.10.
No tech skills or any other specific skill required to use this program.
Your 20% Off Coupon Code for AnyRecover:ANY-ART-D20
Don't know kow to apply the coupon code, check the instructions and details in the following guide:
How to Recover LOST.DIR File with iMyFone AnyRecover?
Step 1. Open the program and choose a location where you lost your files.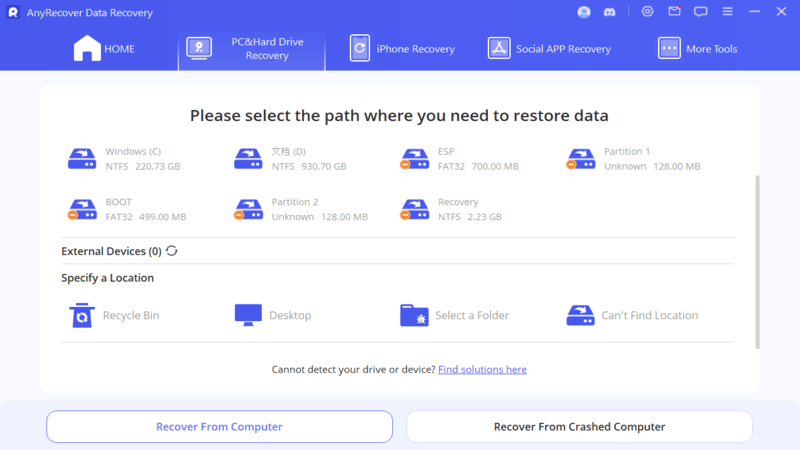 Step 2. After selecting the location, hit "Start" button to start scanning.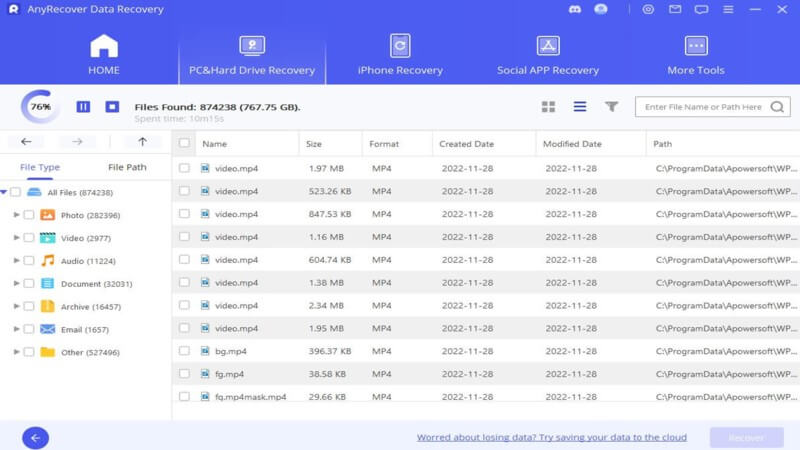 Step 3. After the scanning, all the matching files will be displayed on the screen that also shows their containing folders. You can preview these files from here before recovery. Click "Recover" to get your files back after selecting these that you want to retrieve. After a while, your lost files would be recovered successfully.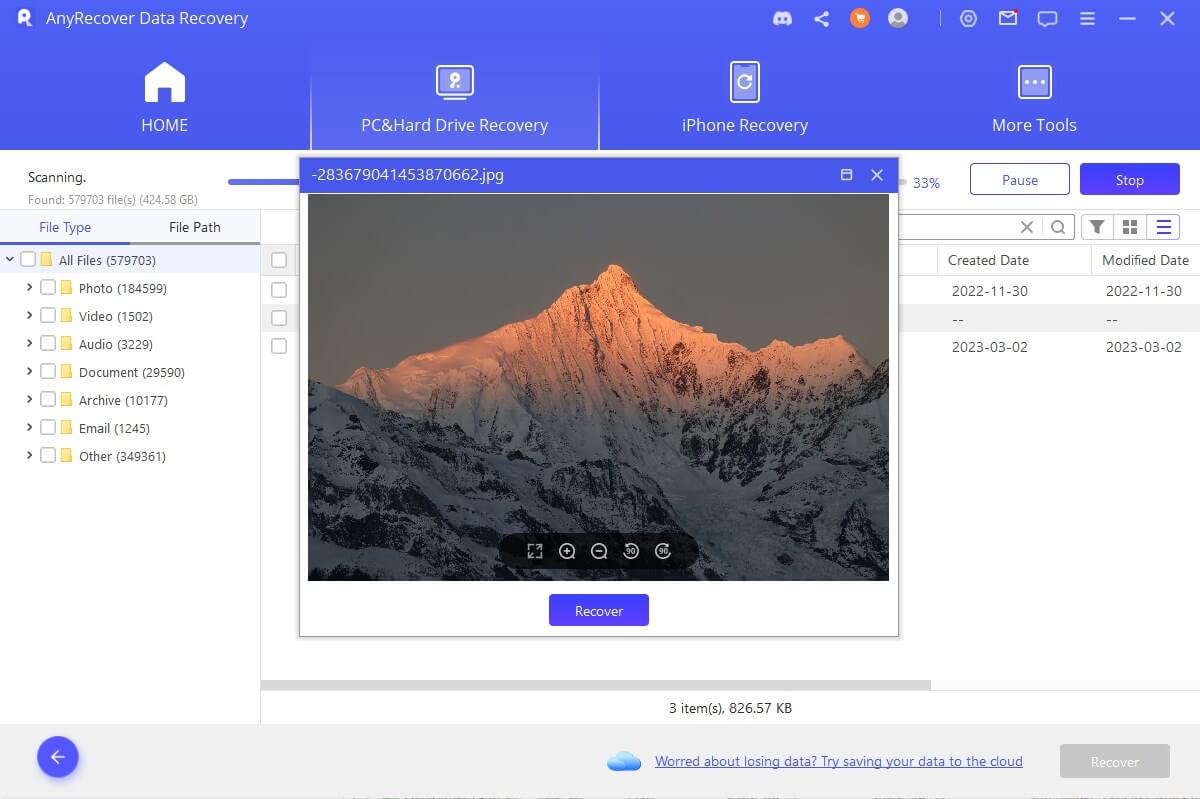 NOTE
If the program is not able to recover your file, or you do not find the file type you wish to recover, you might as well try the "All-Around Recovery" mode or "Raw Scanning".
2
What You Should Know about LOST.DIR
1

What is LOST.DIR?

LOST.DIR is not a virus as many think, but it is a folder your Android system creates to save files that the operating system recovers while booting. Android stores these files in the LOST.DIR folder for recovery.

A scenario is when you plugged in your phone to a PC and were copying files between them. While copying the files, if the phone somehow gets disconnected from the PC, the LOST.DIR folder will be formed to store the unsaved files for recovery.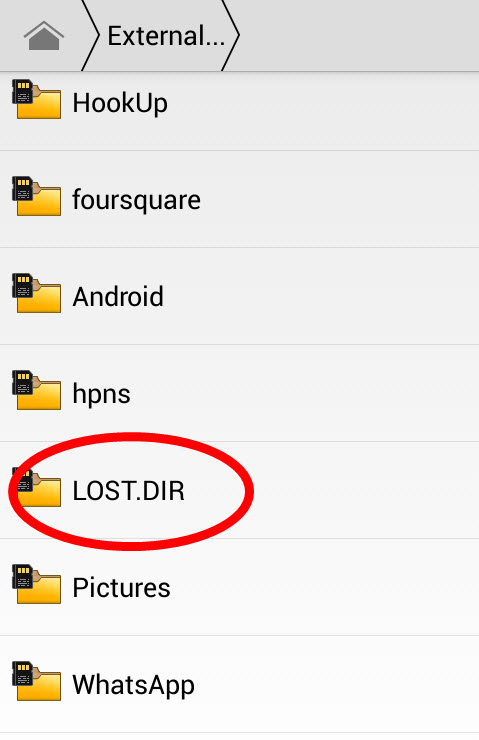 2

What Does LOST.DIR Contain?

This LOST.DIR folder works just like the Recycle Bin in Windows, but this one contains files that Android did not yet save properly before going off. The folder is created while the device boots up. The folder is usually empty in many scenarios, however.
3
Can LOST.DIR Folder be Deleted
Yes, you can delete the LOST.DIR folder. However, next time you reboot your Android device, the folder will show up again. You know the prompt you get when booting your device that says "Preparing external SD card?" this message simply means that the system is checking the files contained in the LOST.DIR folder. If it does not find the folder, it creates another while booting up.
Tips to Remember about LOST.DIR
We have shared some tips about this folder and errors associated with it. There are still some vital things you must know about this LOST.DIR folder. You already know that you can delete the folder; however, before doing this, make sure that you have first copied out the content from the folder.
To avoid this issue, always try to properly eject your Android device from a PC before you disconnect it, especially after transferring media. Apart from that, your files can get into the LOST.DIR folder due to the following factors:
You shut down your device when transferring files to/from a computer.
Interrupted downloads also are stored in the LOST.DIR folder.
Android phone freezing randomly.
Abrupt pulling out of SD card from your device.
Conclusion
Whenever you find yourself in certain situations such as trying to recover files from the LOST.DIR directory, you do not need to worry about do it one by one with the help of iMyFone AnyRecover. What's more, you now know what exactly the error means and ways to prevent it.