Deleted an important Dropbox file? Fear not, Dropbox maintains any of your deleted personal files for 30 days. Business customers enjoy a 120 day respite. Maybe you didn't delete the file but made some crazy changes late one night that you now regret. Dropbox saves your version history so you can go back to a specific time and place. Now where else can you do that without a time machine?
While there are those you nervously dialing the support line, slow down, and calmly go to www.Dropbox.com and let's step through this the old fashioned way to recover deleted Dropbox files.
Part 1: How Long Does Dropbox Keep Deleted Files?
The first time you delete a file, it's not really deleted. Your file goes into a queue and waits an appropriate amount of time to get deleted. You'll be able to recover your deleted Dropbox files during the process of queuing.
This process of queuing files allows Dropbox to offer features like version history and file recovery. The length of time your files are queued depends on the type of Dropbox account you have. See graphic below.
| Account Type | Days in Queue |
| --- | --- |
| Basic and Plus Members | Files queued for 30 days. |
| Professional and Business | Files queued for 120 days. |
| Plus with Extended Service Recovery | Files queued for 1 year. |
Permanently deleting a file means just that, it is permanently deleted and neither you nor Dropbox can recover the file. This is the same result if you leave queued files longer than the appropriate que period for your account type.
Part 2: How to Recover Deleted Files from Dropbox?
So you got a little over zealous cleaning out your Dropbox files and now you have regrets. It's ok. It happens to all of us. No worries, with Dropbox you can recover those files within a certain amount of time. Restoring a deleted Dropbox file has never been easier.
Steps to Recover Deleted Dropbox Files
Step 1. Sign-in to Dropbox.
Step 2. Click the Recycle bin icon on the top menu of the screen to show the deleted files.
Step 3. Then choose the files or folders you want to restore.
Step 4. Finally press Restore.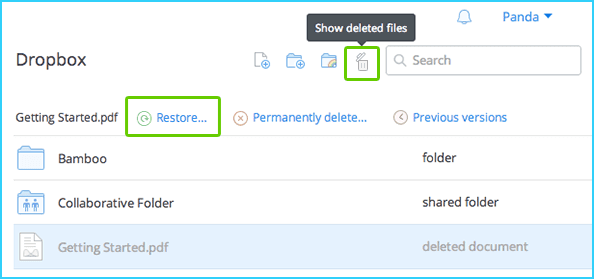 Please note that you are only able to restore deleted Dropbox files to which you had edit access. If you only have view access, you cannot restore them.
What if I deleted a Shared folder?
Don't worry. The folder isn't gone. You have simply deleted your share to the folder. The folder remains but it is no longer shared with you. The other members of the group have rights to the folder and it is still shared with them. You can add the folder back to your account at any time.
One caveat is that if you delete files within the red folder, those files will be deleted from everyone's view.
Part 3: How to Recover Deleted Dropbox Files after 30 Days?
In order to recover deleted files after 30 days you need to have a Plus account with Extended Version History or a Professional Account. Please see the detailed graphic above for file restoration limitations.
File recovery from Dropbox is very easy and user-friendly. Don't stress. Just follow the steps and you will have your files or photos back in no time.
Dropbox notifies the owner of a document every time a team member makes a change or deletes a file. You get a notice, so you can go in and recover it if an error was made.
Part 4: Recover Your Deleted Files without Limitations with AnyRecover
Have you ever just deleted a file while daydreaming and thought Oh My God!!!! It's gone! Now what do you do? The answer is simple. You download AnyRecover and go through the Deleted Files Recovery process to recover your deleted files.
AnyRecover is an easy to use file recovery software system that pounds the competition into the dirt! No matter the cause of the file deletion, AnyRecover provides the platform that allows you to get your files back from a variety of storage devices like hard drives (both internal and external), digital media devices, and any manner of USB storage device! Simply follow the outlined steps below to success!

AnyRecover Key features include:
AnyRecover is specially designed to recover over 1000 different file formats of photos, videos, documents and emails, etc.
AnyRecover offers a free trial that enables user to perform a deep scan, preview and recover.
This software is developed to recover all the data in its original form without overwriting it.
It is 100% safe and easy to use.
Supports Windows 11/10/8/7/XP and MacOS.
Step 1. Download & install AnyRecover. Launch the program.Select a location (this is where you lost the files from.)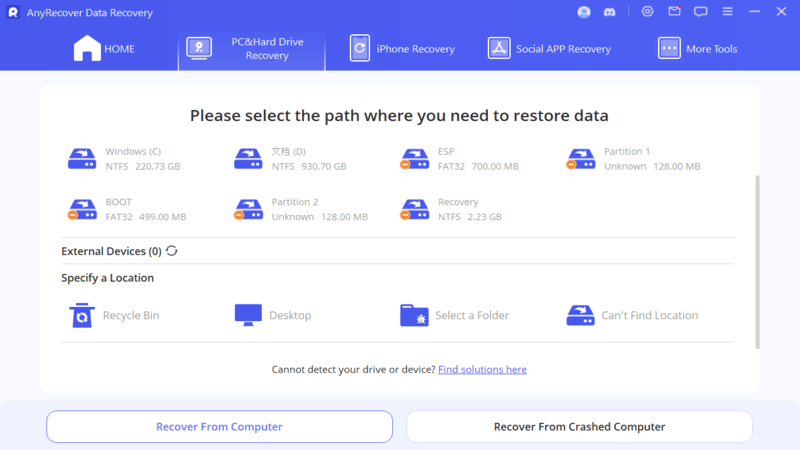 Step 2. After selecting the location you want to recover lost data, hit "Start" button to start an all-round scan on your selected location.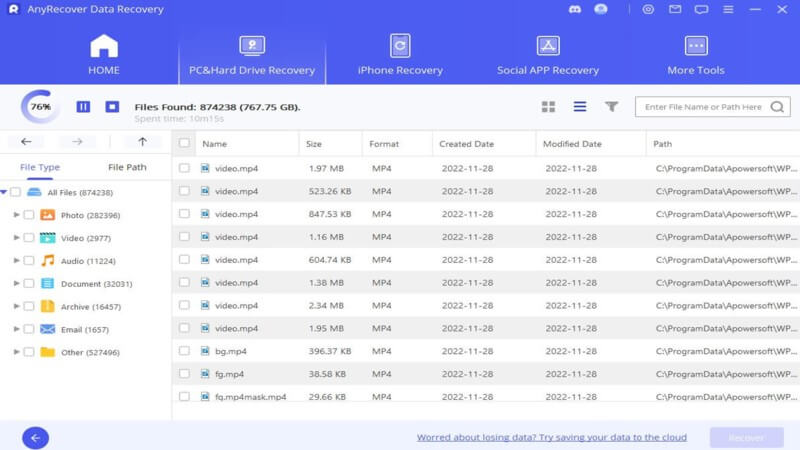 Step 3. Select the files to preview and then choose Recover to get them back! It's that easy!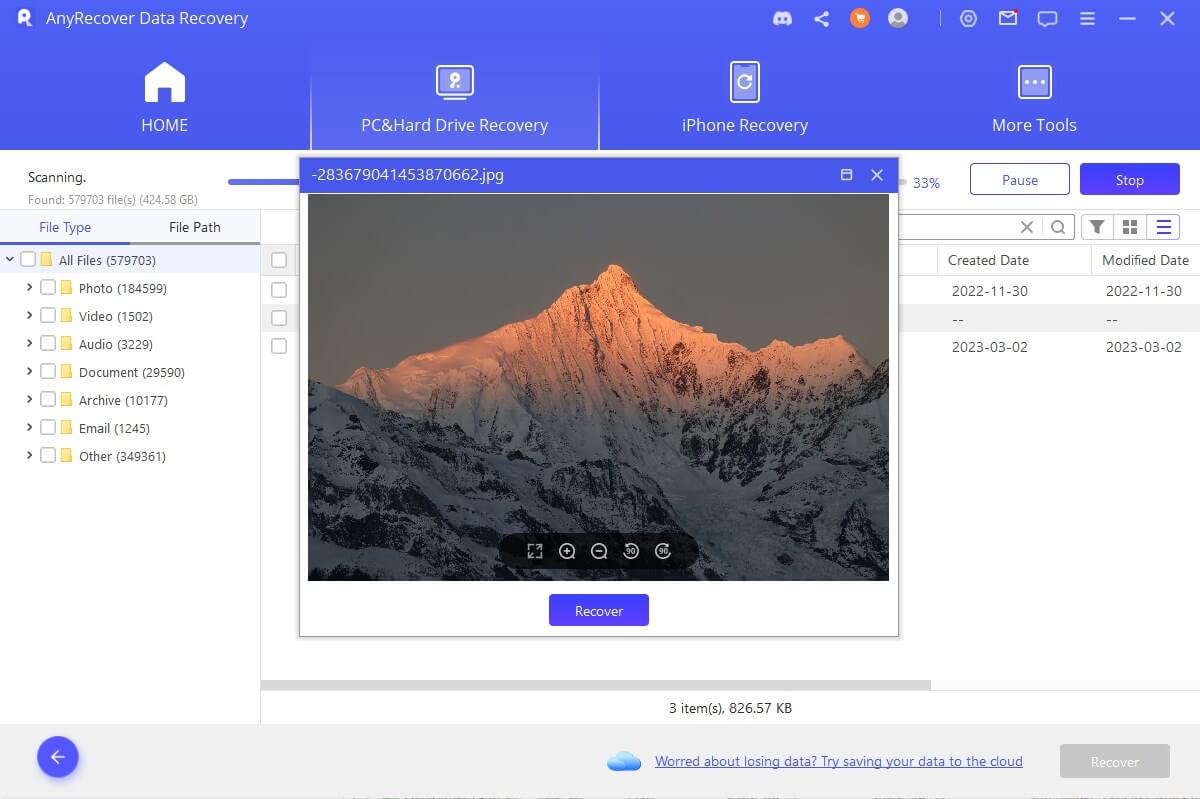 Conclusion
This article shows you how to recover deleted Dropbox Files easily. If you have cleaned out your Dropbox files permanently, free download AnyRecover to solve it. It is equipped with a high recovery rate and is a perfect tool for personal use. With this tool and simple steps, you will easily recover your files on Dropbox.
Start a deep scan for free right now!