A few days ago, I was going through an online forum about data recovery, where I read the following query:
"I have lost all the important files on my Mac. I need them urgently, and I don't know how to recover them. I once used Recuva to recover my lost files on Windows, but it seems that Recuva is not available for my Mac. Is there any Recuva Mac alternative?"
Admittedly, one of the most catastrophic and annoying situations for a computer user is the loss of data. We all have been to this unfortunate point where we accidentally lost our data. As to a Windows user, various data recovery software such as Recuva could save you from losing precious data. While if you are using a Mac, which is incompatible with much software (including Recuva), how can you recover the lost files?
Don't worry - everything has a solution. Even if Recuva is not available for mac, there are still alternatives that you can turn to for help.
Part 1: Recuva Mac Alternatives
iCloud
Mac OS has provided much built-in software to help you protect precious data. Among them, iCloud is the one that you can use to automatically backup your personal data including everything from photos to calenders. It provides 5GB storage spece but charges certain fee for larger, so some users may not subscribe. If you have subscribed it, iCloud could be the great Recuva Mac alternative to help you recover the lost data. Steps to restore lost data from iCloud are listed below.
Step 1 Go to iCloud.com in a web browser and sign in.
Step 2 Choose the category that your lost data belongs to. For example, choose 'Photos' if you want to restore a photo.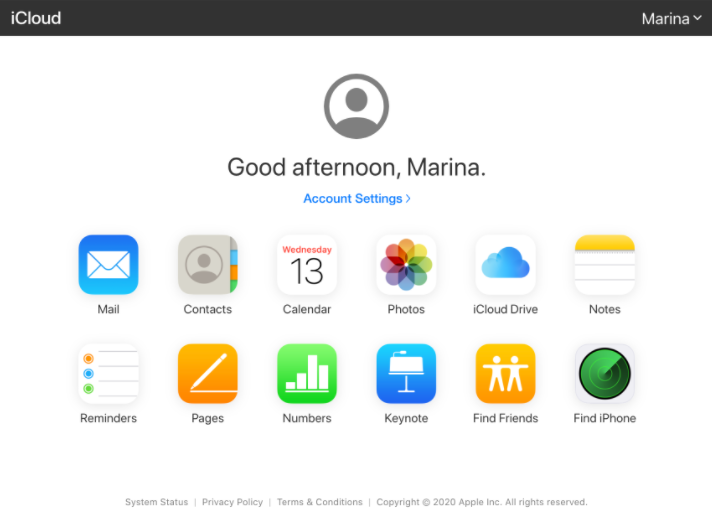 Step 3 Choose the files you want and then click 'Recover'.
Time Machine
Another program that could be the Recuva Mac Alternative is Time Machine. There is a possibility that your Mac has been making Time Machine backups automatically in the background. If that is the case, you can recover the lost files from one of the Time Machine backups. Here are the steps to recover lost files through Time Machine backups.
Step 1 Firstly, click on 'System Preferences' to open Time Machine on your Mac.

Step 2 The current finder window will be shown with its multiple backups. Just go back in time to choose the files you want.
Step 3 Click in the timeline on the right side of the screen to go to a specific date, or click the up arrow to go back until you see the files you're looking for, then click 'Restore'.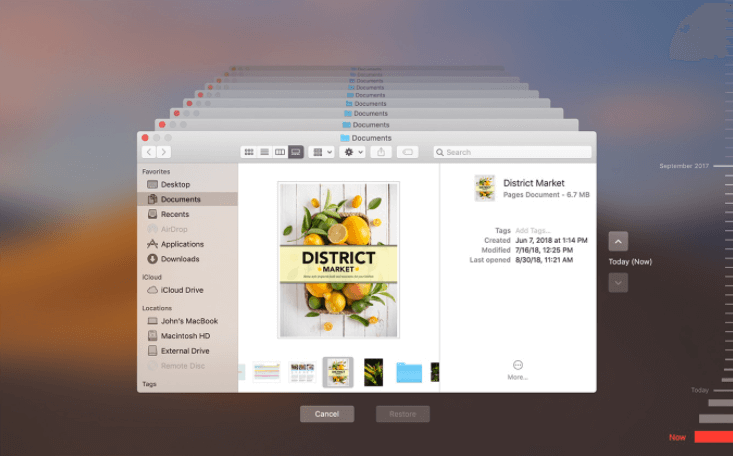 VirtualLab
VirtualLab is another great Recuva Mac alternative. It is a simple program that allows you to conveniently recover deleted files on your Mac. With VirtualLab Data Recovery, you can recover formatted disks, partitions, deleted files, RAID and photos as well as recover data from iPod. To know how to recover data using VirtualLab:
Step 1 Choose the module to recover and click 'Continue'. 'Deleted Files' for example.
Step 2 Choose the drive to scan and click 'Continue'.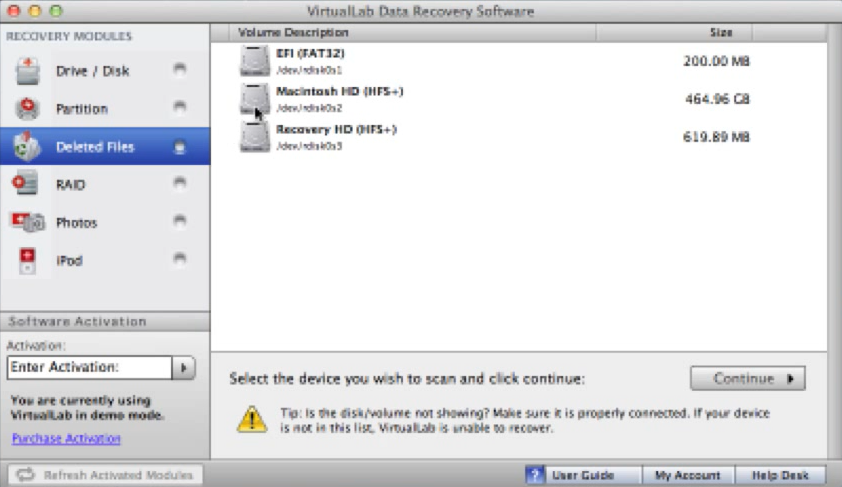 Step 3 Select the file types to scan for and set the maximum file size to recover. After that click 'OK'.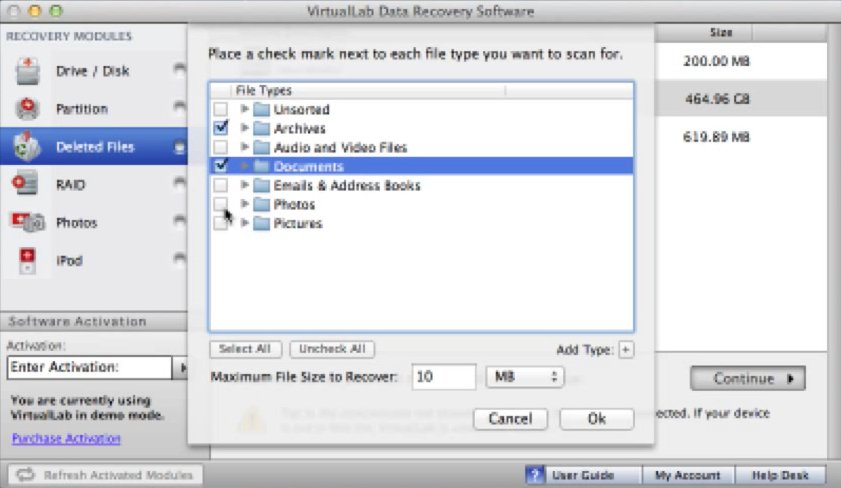 Step 4 Select the files from the list to recover and click 'Save Selected Files'.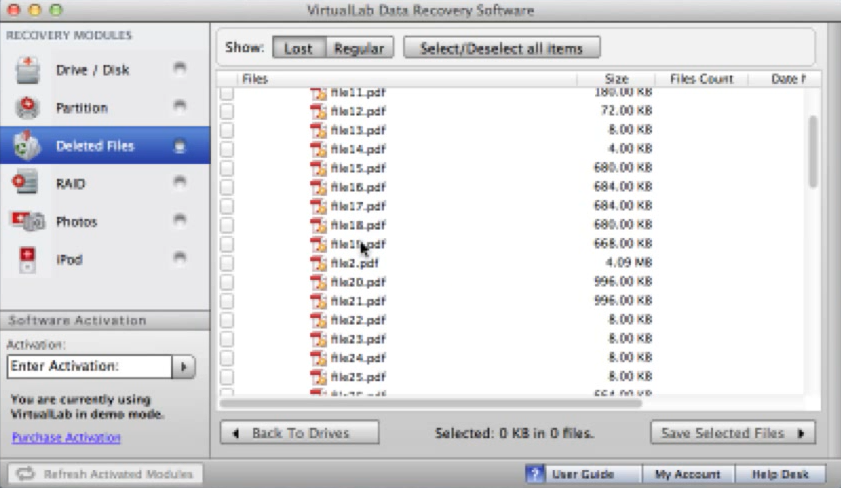 AnyRecover
You can't use Recuva for Mac, but we've found a better Recuva alternative that can effciently recover all your Mac files. iMyFone AnyRecover for Mac is a powerful data recovery tool that can retrieve all your deleted or lost files with just one click. It is compatible with Mac operating system 10.10-11.0 and supports more than 1000+ file types. You don't need to look for any backups because this software can directly scan the drive location to find your deleted data.

1,000,000+ Downloads
Features of AnyRecover
Available on both Windows and Mac OS, it supports for over 1000 file formats recovery in any storage media.

Quick scan and deep scan go automatically and successively thus AnyRecover has a high rate of restoring data compared to other data recovery tools on Mac.

100% secure to your data and system, it won't overwrite your data nor carry any virus or malware.

AnyRecover provides a simple and clean user interface. You can recover your data with just one click and there is no hidden technique needed.

AnyRecover now is provideing free recovery for 8 files without size limit!
Then how to use AnyRecover to get your files back?
Step 1 Launch the program, then select a location to start finding data by clicking 'Start'.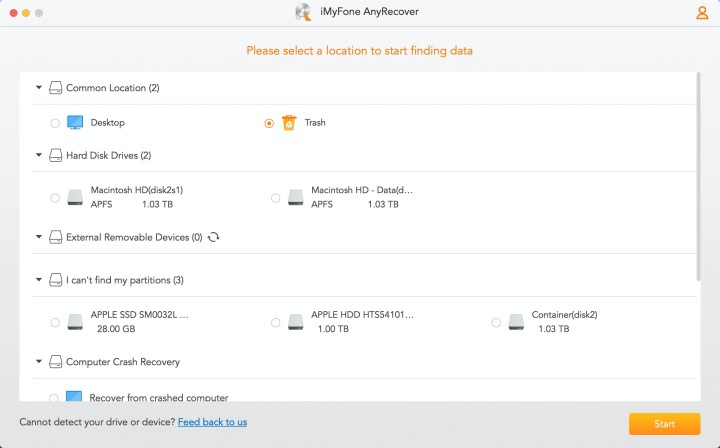 Step 2 The scanning process will start. You can pause or stop at any time you want during the process.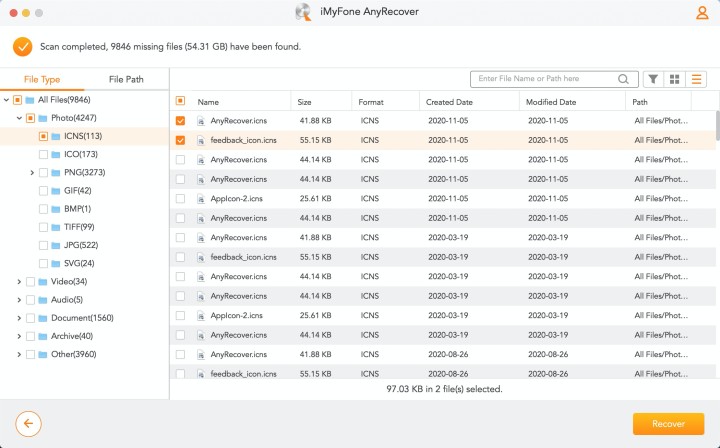 Step 3 Preview the scan result, check the boxes before the files you want and click 'Recover'.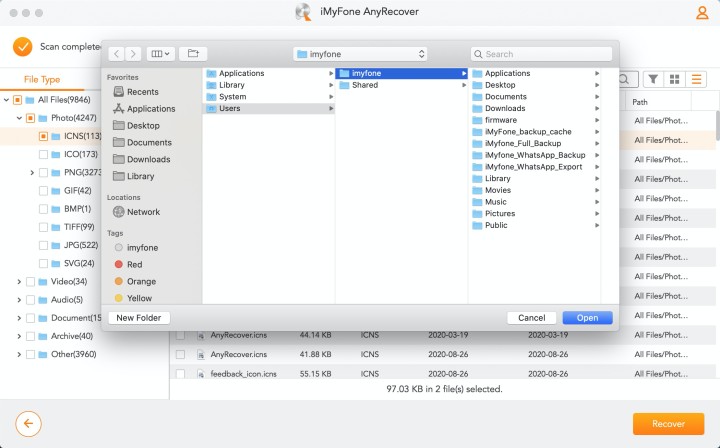 Step 4 In a few minutes, you will be able to recover all your lost files successfully.
Part 2: What Is the Best Data Recovery Software for Mac
Given the discussion above, you might feel confused about which is the best Recuva Mac alternative - are the free built-in programs like iCloud and Time Machine that could help you backup your files, or the third-party data recovery software such as VirtualLab and AnyRecover with expert algorithm? Below we have made the pros and cons of those Recuva Mac alternatives mentioned above into a chart. You can take a look and decide which suits you best.
Recuva Mac Alternatives
Pros
Cons
iCloud

iCloud is extrememly easy to use.

iCloud is 100% secure and won't cause any data loss.

It can automatically backup your data to prevent future data loss as well as save the storage space on your Mac.

Only if you have backuped the files in advance, can you recover them through iCloud.

iCloud charges certain fee for larger storage space.

Time Machine

Time Machine works perfectly even after a system crash.

You can use Time Machine to go back in time and see what a certain file looked like on a certain date in the past.

You cannot use this tool to recover deleted data from an external storage device.

You should have at least one timely backup to restore deleted or lost files on Mac.

VirtualLab

You can recover deleted data from any drive via this tool as long as it is not physically damaged.

VirtualLab offers a special RAID constructor so you can easily recover deleted data from RAID drives.

You cannot save your scanning result.

You cannot search the recoverable files for selective recovery.

The free version of the Recuva Mac alternative only supports the free recovery of only 1MB file.

AnyRecover

AnyRecover is easy to use and of high safety.

AnyRecover has a higher rate of recovery compared to other Recuva Mac alternatives.

It supports recovery of over 1000 file types from any storage device.

You can preview the files before recovery.

AnyRecover is now providing free recovery for 8 files without size limit, but it charges certain fee for more data recovery.
Conclusion
After seeing the pros and cons of these Recuva Mac alternatives, you must have decided what is the best data recovery software for Mac. The built-in software needs preconditions to recover the deleted and lost files, so it might not be the best choice. However, if you are considering using a professional data recovery tool, then AnyRecover is strongly recommended. It really helps, just have a try!