Please I was trying to download the Recuva file recovery tool. In the process, I found the app was developed by Piriform, the same developer of CCleaner. Some years back, CCleaner contained malicious code and in response, the developers told users to restore from a backup. My concern and question now is since both apps – Recuva and CCleaner - are from the same company, wouldn't Recuva also contain a malicious code or virus? Thank you.
We have seen many users asking, "Is Recuva safe or legitimate?" And we understand the concern too. Since there are tons of software on the market promising to help retrieve lost files, which cannot go amiss in view of the importance of the data, it's only natural to be wary of them. But don't worry, this post will solve this issue.
Here we'll offer a full Recuva review involving the major concerns and a premium alternative will be recommended. Without further ado, let's get into the content.
Part 1. A Full Recuva Review
1. What is Recuva?
Recuva is a file recovery program developed by Piriform to recover deleted documents, pictures, videos, music, emails, and many other types of files. It can retrieve lost files from memory cards, hard drives, external hard drives, and more. This recovery tool is only available on the Windows operating system and has been used by a group of people.
2. Can Recuva Recover Permanently Deleted Files?
Yes, Recuva can restore file items that have been permanently deleted. But not in every instance. If new data is generated and Windows OS has overwritten the deleted data you intend to restore, then unfortunately, there's nothing Recuva can do.
Similarly, if you used any PC/Mac cleaner software to delete a file before, Recuva cannot help recover the file. In some other cases, Recuva won't work either if the deleted file is too corrupt to be recovered.
3. How Much Data Can Recuva Recover?
There are no limits to the size of data or the number of files recoverable by Recuva. But you may have to upgrade to the Recuva paid version for a relatively improved recovery rate. The pro version does a better job at recovering lost and deleted files.
4. Is Recuva Really Free?
While Recuva actually offers a free full version capable of scanning and recovering deleted files without any visible limits, the developer also provides a professional paid version.
The major difference between the two versions is the recovery rate. The Recuva paid version has a higher file retrieval rate than the free option.
Another difference between the two Recuva versions is virtual disk support. The free program can't recover files from virtual hard drives, while the pro version can. Besides, automatic updates and premium support are included in the paid edition.
Part 2. Is Recuva Safe to Use?
Yes, Recuva is safe to install and use.
Firstly, the app comes both in free and paid versions. The developer offers the free Recuva version to promote and charge for the Recuva premium; hence, there is no reason to infect the freeware with any malicious codes, or no customers will go further and pay for the premium version.
What's more, a VirusTotal report which periodically updates indicates that Recuva is a legitimate program containing no virus, malware, or any other form of digital threats. There is only advertisement for in-app purchase of its pro version.
Part 3. How to Use Recuva
To get started with the Recuva file recovery program, download Recuva from the official website. Next, install it on your Windows computer and follow the steps below for instructions on how to use the app.
Step 1. Launch Recuva. A directory selection screen will pop up. Then select the type and location of the files you want to recover. Cick the "Next" button.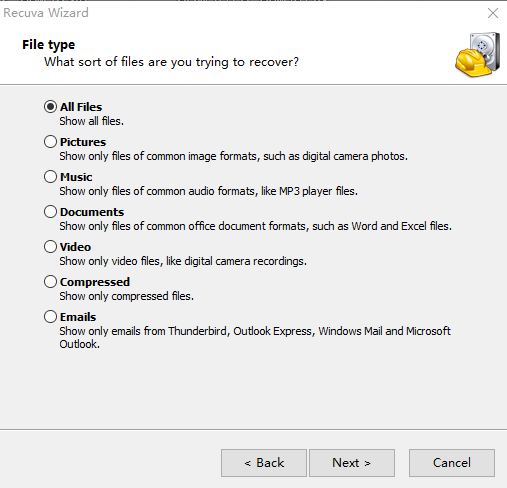 Step 2. Recuva will start scanning your computer for deleted files in the category you selected. This search process can take minutes.
If no files match to the filter you set, confirm the deep scan, which may take longer time.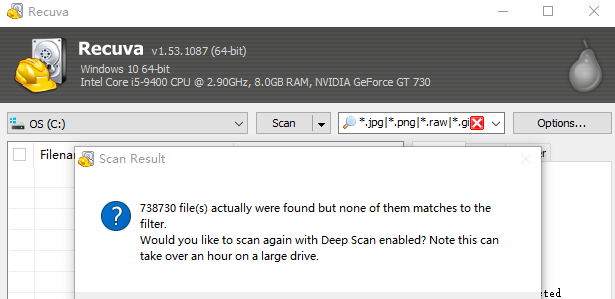 Step 3. From the scanned files list, select all the files you want to recover and click the "Recover..." button at the bottom screen.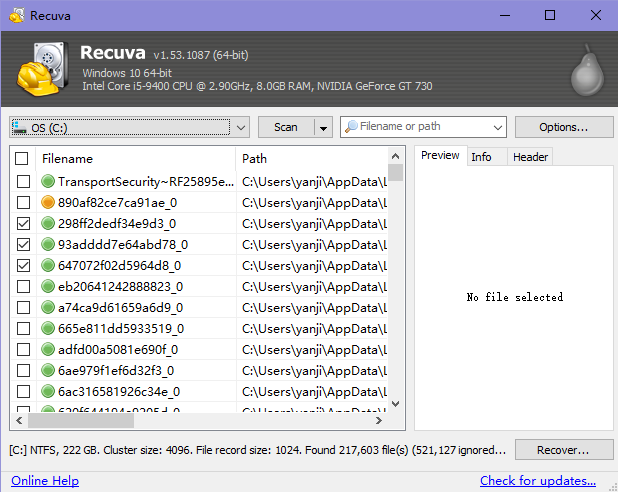 Note
Among the scanned files, the color of the dot next to the file name indicates the chances for a successful recovery. Green stands for excellent recovery possibility, orange for acceptable, and red for poor.
Part 4. The Pros & Cons of Recuva
Below are some upsides and downsides of the Recuva file recovery program. Check the lists carefully and get full knowledge of it.
Pros
The user interface is clear.
The free version offers advanced file recovery.
Advanced deep scan is available for buried files.
Preview function avoids recovering wrong files.
Cons
Only Windows system is supported.
The file recovery rate is not very high.
Recuva may overwrite your files.
The recovery results yielded are not stable enough.
Free Recuva has relatively slow scanning speed.
Free Recuva can't retrieve data from virtual hard drives.
Bonus: What's the Best Alternative to Recuva?
As is shown above, of all the shortcomings of Recuva, one point is that Recuva fails to work all the time. Furthermore, it's impossible to retrieve securely deleted files or overwritten files using the app. Therefore, you may want to look for an alternative to Recuva, and that's exactly what many other users of Recuva have been doing.
However, the tool market is so vast that locating a truly high-quality one can be a long and painful process. Luckily, now you don't need to look far because we've got AnyRecover here. As a professionally designed data recovery tool, AnyRecover provides an ultimate solution to all data loss issues. Having successfully stood the test of market and time, AnyRecover has gained great reputation and is worthy of trust.

2,061,704 Downloads
Address nearly all data loss issues with simple steps and high success rate.

Recover data from various locations and devices: emptied Recycle Bin, formatted SD card, lost partition, damaged hard drive, crashed computer, etc.

Support over 1000 kinds of files: photos, documents, videos, audios, archives, etc.

Scan at a fast rate; provide preview function and selective recovery.

Work smoothly on both Windows and Mac system.
AnyRecover offers free trial for users to scan, preview and recover 3 files. Give it a try now!
Steps to recover lost or deleted files with AnyRecover:
Step 1. Download, install and launch AnyRecover. Select a location you want to recover files from. Click the "Start" button to initiate the process.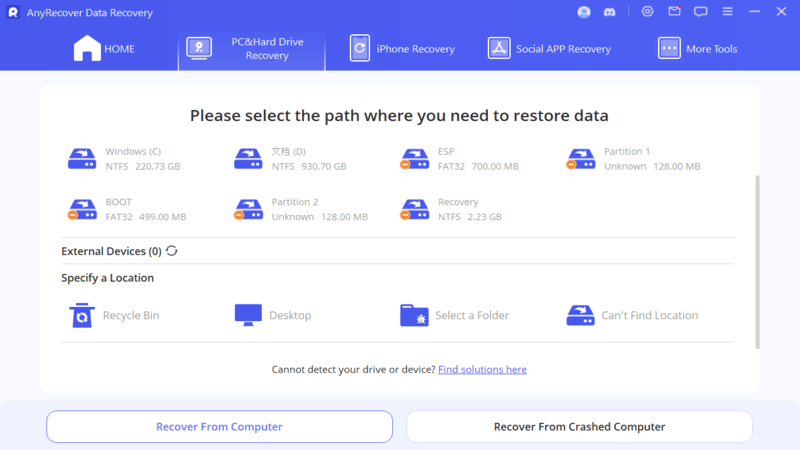 Step 2. AnyRecover will start an all-round and deep scan on the location you selected. It won't take long and you can stop or resume the process anytime you want.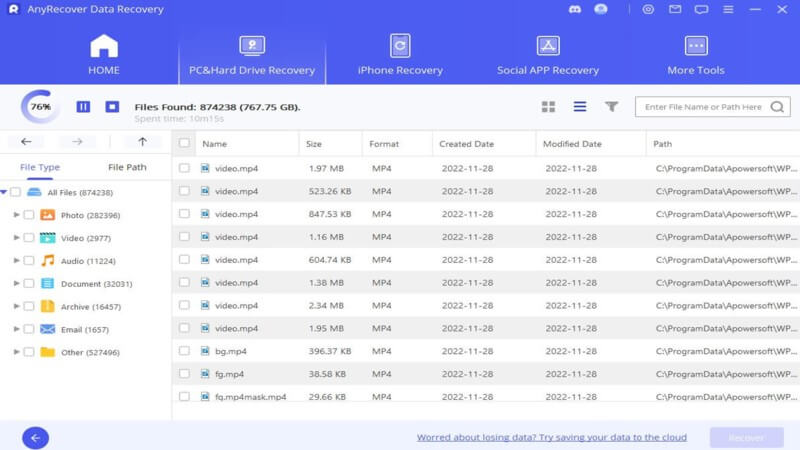 Step 3. All scanned files will be listed for you to preview. Select the files you want to restore and hit the "Recover" button.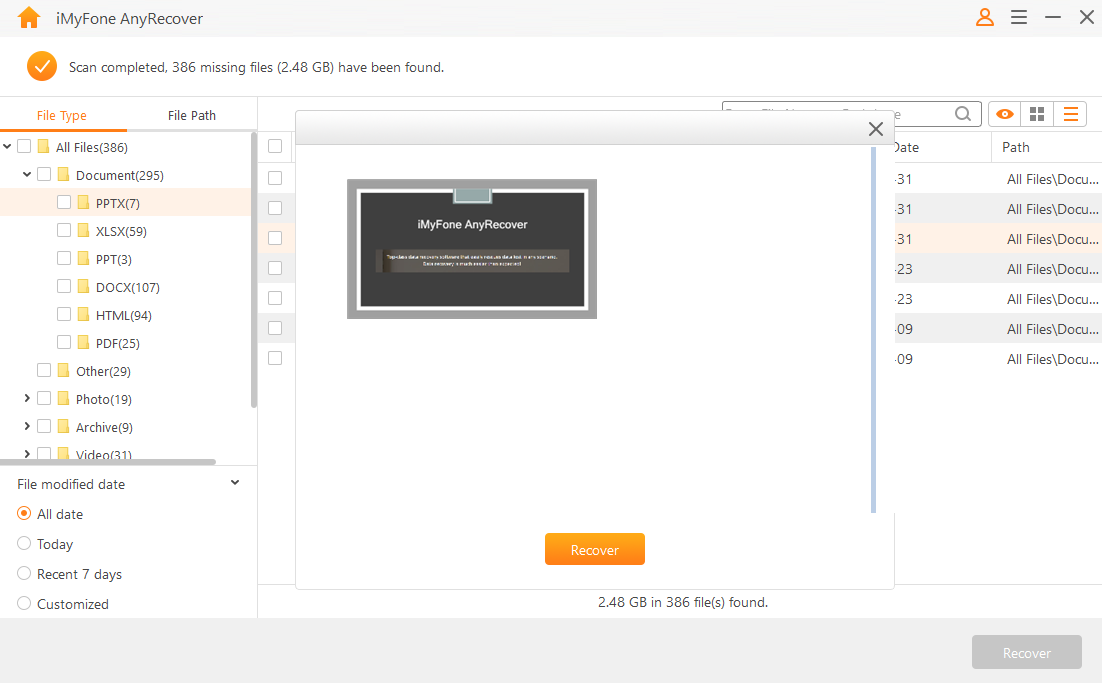 Conclusion
Hopefully, this detailed Recuva review has helped you learned more about the file recovery tool. And you have probably got the answers as for questions like "Is Recuva safe?" or "Is Recuva legitimate?"
For better user experience and improved recovery results though, don't hesitate to try AnyRecover. Capable of doing everything that Recuva can do, AnyRecover perfectly remedies the limitations at the same time. Give it a shot and you won't be disappointed definitely.