If you are a Mac/Windows user who has ever lost some vital files due to crash of device, accidental deletion or virus attack, you must have heard of iMyFone AnyRecover,  a piece of data recovery software that helps you get your lost files back. However, to enjoy all the powerful features AnyRecover, you are asked to input your serial key, which is a string of characters that helps you activate the software, and ensure that the program is safe and original rather than a cracked version.
Without the iMyFone AnyRecover serial key, the software will only run on a trial version, and you may be unable to access the full functionalities of this software. Still have doubts over license key? This post will tell you everything you should know about it.
1
When Do You Need iMyFone AnyRecover
Most computer users are too familiar with data loss and the accompanied upset feelings, which is usual in everyday life. The common reasons for data loss include the following:
Accidentally deleted files: While working on your device, you may accidentally delete the files or even Shift+Delete them, which cannot be retrieved directly from the recycle bin.

Emptied recycle bin: Recycle bin gives you a chance to restore deleted files, but if you have emptied the recycle bin, all files are gone forever.

Formatted devices: At times you have to format the SD card, USB drive, CF card but didn't create a backup, you couldn't find the data stored in these devices anymore.

Computer crash: A computer crash may occur during an update or installation of a new program, leading to loss of vital data.

File system corruption: File system helps you save and edit files. When they get corrupted, the files in them become inaccessible.
In the situations listed above and other scenarios like deleted partition and virus attack, it's hard to restore lost data without outside help, that's when iMyFone AnyRecover is the best rescue. iMyFone AnyRecover is a popular data recovery tool that helps you retrieve files lost in various scenarios. It is one of the most trusted data recovery software with a high recovery rate, and therefore attracts millions of users. AnyRecover is easy to use and requires no technical experience.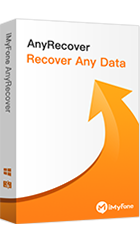 1,000,000 + Downloads
iMyFone AnyRecover Recovers Lost Data Effectively
AnyRecover enables you to recover up to 1000 different data types, including photos, videos, emails, audios, zip files and more.
With this unique software, Mac/Windows users can recover data lost as a result of permament deletion, system crash, partition errors and other reasons.
AnyRecover supports all types of storage devices that include camcorders, memory cards, USB flash drive, SSD, and many more.
This amazing software is 100% safe for use; it does not overwrite or intrude existing data and contains no virus or malware.
2
Why You Should Have a Serial Key to Use iMyFone AnyRecover
First, we should state clearly that there is no free legal serial key. The research and development of software take plenty of time, effort and money. It takes serious dedication to ensure that a company comes up with the best software that meets your needs. Besides, this software must be updated and maintained regularly to ensure that it delivers the best customer experience, and that is why it is worth paying for. There are so many benefits attached to choosing a paid version of iMyFone AnyRecover license key.  Some of which include the following:
100% secure: This serial key ensures that your data and privacy is protected at all times, while crack version may carry virus.
Save Time:  With the paid version, you spend less time searching and testing the free serial key or crack software.
Better performance:  The paid version also offers you full functionalities that lead to better performance.
Reliable customer service: Enjoy 24/7/365 customer support, whenever you have questions about the software, we are here to help. 
30-day money-back guarantee: If you feel dissatisfied with this product, which occurs only in rare cases, the company promises you a 30-day money-back guarantee.
Free lifetime upgrade: Whenever the company launches a latest update of the software, you can enjoy it for free.
3
The Types of iMyFone AnyRecover Serial Key
iMyFone AnyRecover license key has various plans that address the needs of different groups.
1. Basic Version: The Basic Version can be used on a single MacBook or PC. It offers you one year/month access to recover data on your device.

2. AnyRecover Pro Version: This version offers lifetime access to recover data lost on a single, 2-5, 6-10, or unlimited PCs.  It supports bootable media.

3. Business plan: This is perfect for businesses by offering unlimited PCs/Lifetime license to help businesses enhance their recovery rate.
4
Bonus: Coupon Code for iMyFone AnyRecover
iMyFone really appreciates your trust in iMyFone AnyRecover and would like to offer a 20% discount. There is a coupon code through which you can redeem this offer. Here is a detailed step to get started.
Your 20% Off Coupon Code:
ANY-ART-D20
Step 1: Visit AnyRecover official purchase site by clicking here for Win or Mac. Pick the license you want to opt for, then Proceed to Cart.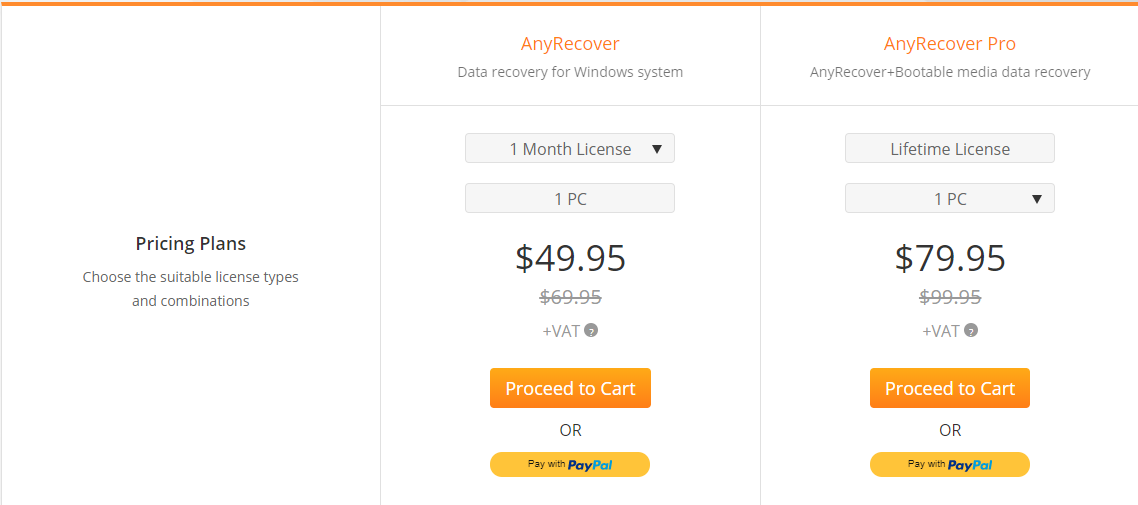 Step 2: Click on Redeem Coupon Code, input the code (ANY-ART-D20) in the box.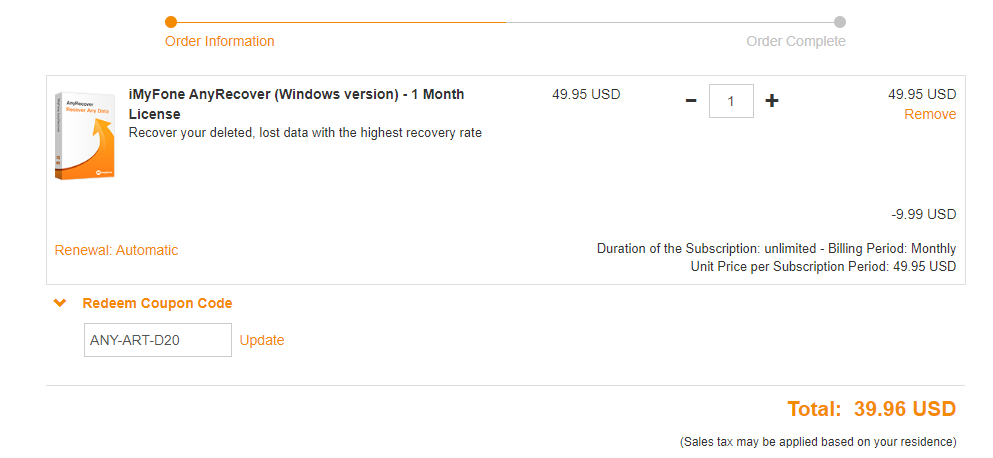 Step 3: Click on Update and wait for the page to reload. Quite simple, you have just saved yourself 20% in buying amazing data recovery software. Just proceed to finish the payment process.
Conclusion
Finally, recovering data from your device doesn't have to be a daunting task. iMyFone AnyRecover offers you an amazing data recovery solution to retrieve your lost files quickly. Opting for an iMyFone AnyRecover serial key implies that you have a reliable and trusted data recovery software with unlimited functionalities.