We never want to face the loss of our important data due to accidental deletion, hardware malfunction, or any other reason. So whenever we are stuck in the situation of data loss, using a data recovery tool to recover the lost data is a smart choice. Among millions of tools out there, Recuva is one of the most popular data recovery tools for getting back deleted data on Windows computers for free.
But does Recuva really work? We've tested the performance of it. Therefore, in this article, we're going to present a thorough Recuva review. You can take a good look at it and then determine whether Recuva is worth trying.
Part 1. Recuva Overview
Recuva from CCleaner (its official website) is a data recovery tool that is designed to recover accidentally deleted files, lost files during a computer crash, or any other files that are marked as deleted. Recuva restores deleted files from Windows PC, SD card, USB drives, MP3 player, and other external storage devices. It is designed specifically for personal use purposes.

1.1 Features - What Can Recuva Do?
It intelligently recovers documents, pictures, videos, emails, music, or any other file type that has been recently deleted.

It can recover files from newly formatted or damaged drives.

It provides an advanced deep scan mode that helps to perform a deep scan for buried files.

It provides a secure approach to delete files that you want to permanently erase without leaving any traces.
1.2 Pricing - Is Recuva Free?
Yes. There are two Recuva software download versions (including the free version), as follow:
Free: Recuva free version provides advanced file recovery.

Professional: Recuva professional version costs $19.95 and provides all the services that are not accessible in the free version, including virtual hard drive support, automatic updates, and premium support.
It's worth mentioning that both the free and professional versions offer access to all features.
1.3 User Feedback of Recuva
Though Recuva offers a free version, it's very limited in the functions based on our test. And so does the professional edition, the success rate of recovery is random.
Here's user feedback from spiceworks community.
Has anyone had any luck with Piriform's Recova program? I'd swear by CCleaner and Defraggler is great, but i have never been able to recover anything with Recuva under any circumstance. Deleted files, emptying recycle bin, and reformatting drives have all been unrecoverable via this tool. I know it is part wishful-thinking, since it is data recovery, but there has been no success here. Am I alone in this one?
Part 2. Our Experience of Using Recuva
In order to help more users to determine whether to use Recuva for the recovery task, we've tested it as follows:
2.1 Ease of Use
The same as most data recovery tools, the operation is pretty easy. Recuva only requires a few simple clicks to complete the whole recovery process. Yet it seems unfriendly to users since it's hard to find where to customize the install location. The following images show how to choose the different hard drive to install Recuva: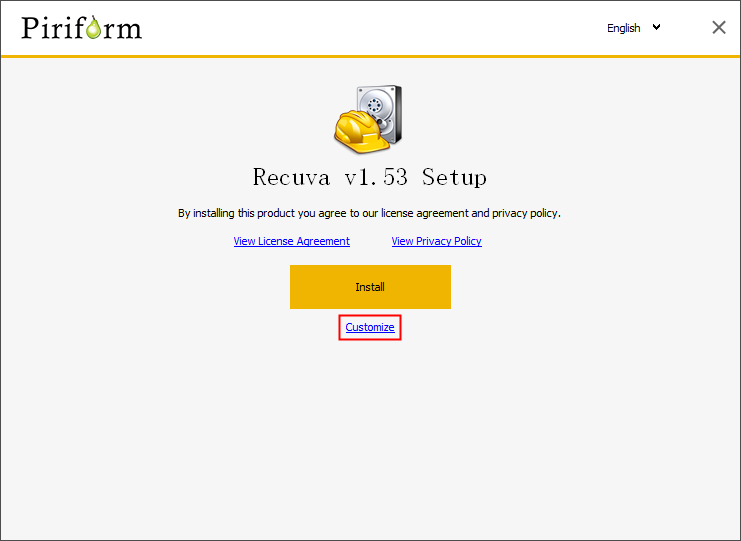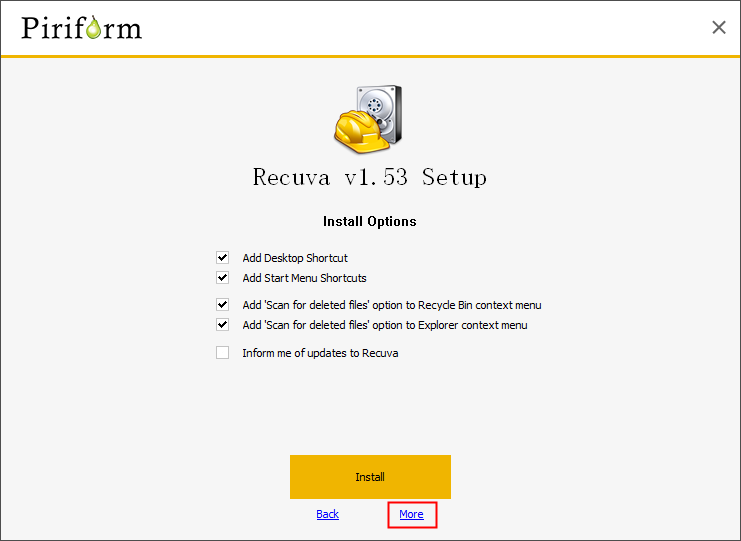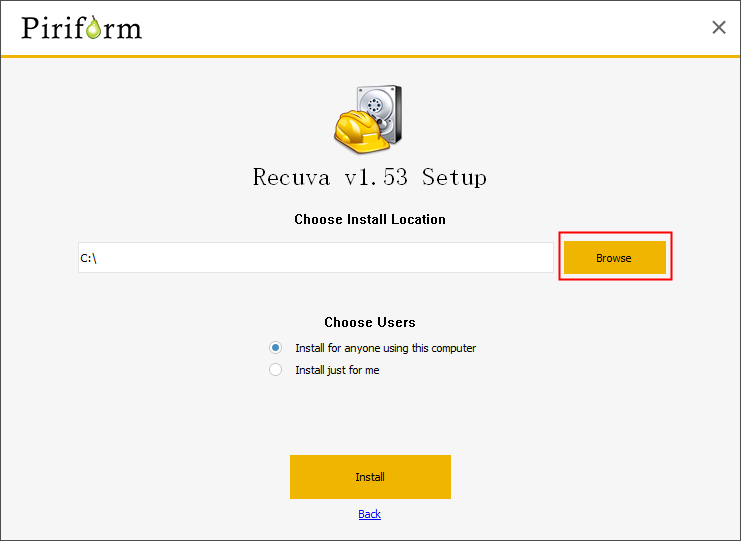 2.2 Performance
During the test, we choose "All Local Disk" to scan, and Recuva finishes the scan rapidly within one minute. Unfortunately, a common error message pops up - "Unable to determine file system type".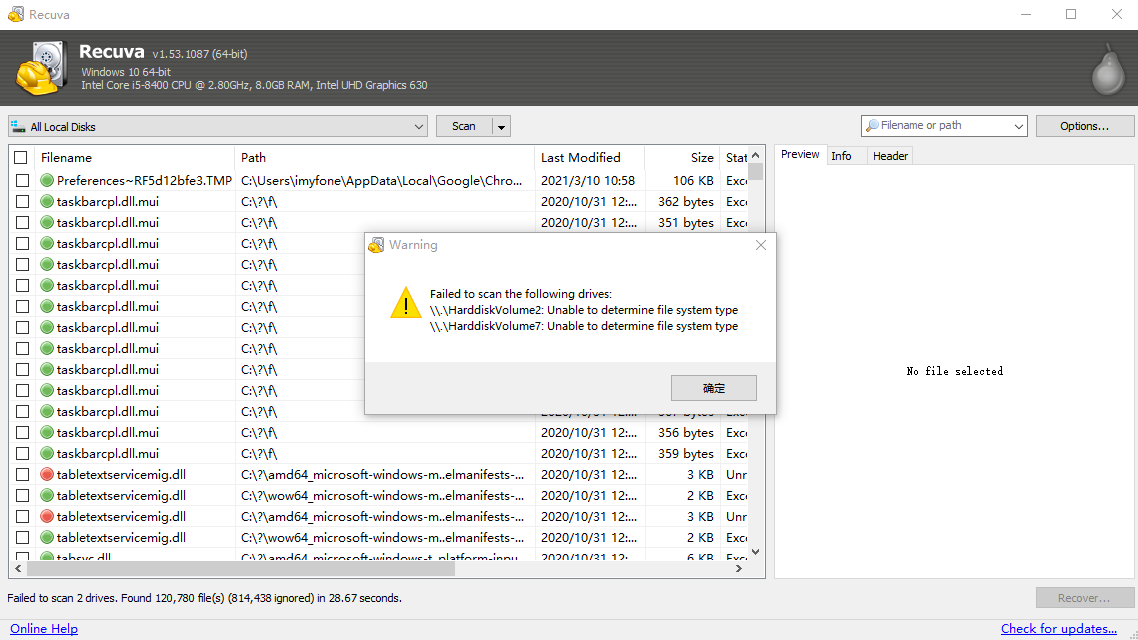 In addition, though 120,541 files are found, few of them are the recently deleted files or photos. So it's meaningless while what we want to recover are the files you just deleted a moment ago.
There are three tabs appearing on the top right corner after the scan, which are the Preview, Info, and Header tabs. It's convenient to check the detailed file information and file state while choosing the Info tab. However, it does not support previewing the images though the state of those images is still recoverable. What's more, the recovered pictures are corrupted.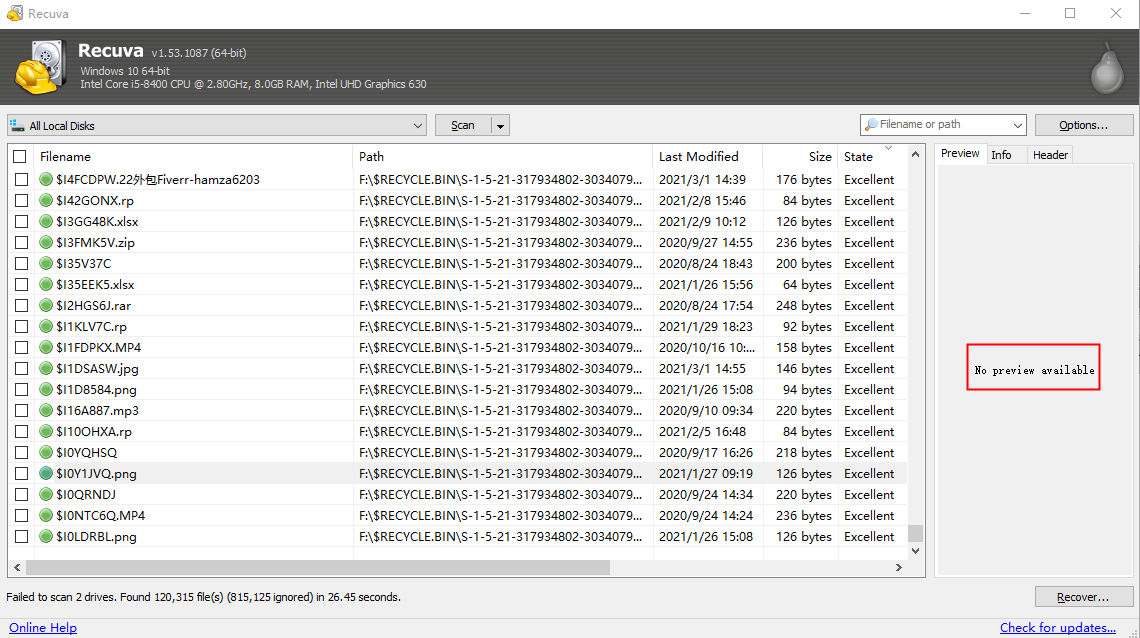 Part 3. The Best Alternative to Recuva
Since Recuva has a major con of not recovering all the files as expected, you may want to find a better recovery tool. AnyRecover presents as a great alternative to it. The same as Recuva, AnyRecover is a professional data recovery tool that can perform in-depth scanning and restore lost, deleted, or corrupted files from any storage device. It supports more than 1000+ file types. (Windows 11 supported)
Key Features of AnyRecover:
High Recovery Rate: It can recover all the deleted or inaccessible data from any rewritable storage device, such as SSD/HDD, external hard drives, USB drives, SD cards, digital cameras, pen drives, etc.
User-Friendly Design: You can even pause/resume the scanning process whenever you want.
File Filtering: The filtering function supports showing the deleted or existing files only. It also supports manually searching for a specific file.
Preview before Recovering: Once the scan is completed, you can preview all the recoverable files before recovering them. This way, you can select the ones you want to recover, while leaving the ones you don't.
Secure Recovery: 100% secure to use since AnyRecover won't keep any of your personal data.
Part 4. The Comparison Between AnyRecover and Recuva
| Features | | Recuva Free | Recuva Professional |
| --- | --- | --- | --- |
| Free or Not | | | |
| Supports Mac or Not | | | |
| Preview Data | | | |
| Deep Scan | | | |
| Supports Multiple PCs/Users | | | |
| Scan Specific Path | | | |
| Preview Specific File Type | | | |
Note
AnyRecover allows you to recover up to 8 files for free without size limit!
Final Verdict
The above Recuva review presents Recuva as a handy tool when simple data recovery is required. It takes a short time to complete a deep scan and can easily find your lost files. But it may fail to recover some files that are recently deleted. If you have lost some important files, then maybe you can give the free version a try. But if it fails to recover your files, or what you're looking for is a data recovery tool for Mac, then AnyRecover can be a great choice.