Have you ever experienced that moment of regret when you wish you had a backup of all your important files and data before you lost them? Well, don't worry, timely help is here.
Microsoft Outlook is a renowned email application used by various computer users globally. Asides from having a good user interface and other interesting features, Outlook makes use of a data file to store emails, messages, contacts, and other data. Quite a several computer users have at one point in time, deleted or lost an Outlook folder that contains emails, appointments, messages, and other important information.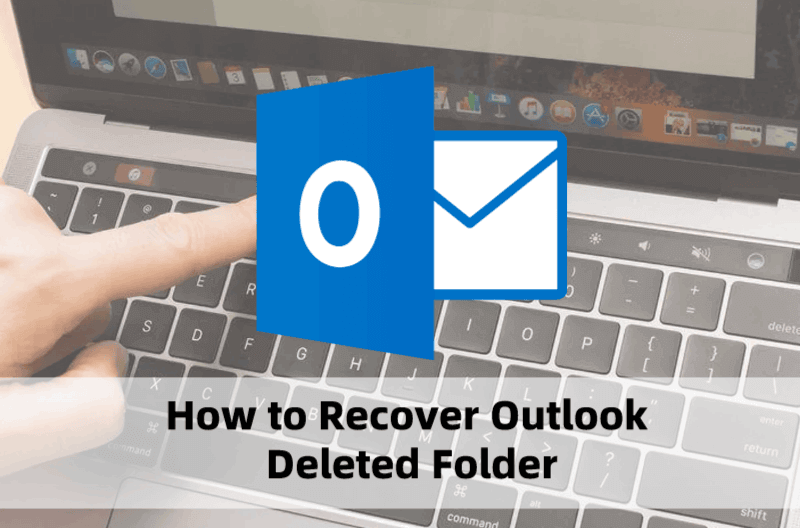 If you have experienced this terrible ordeal, then this article is for you; keep reading to see how you can recover your vital information in Outlook. You can follow our step-by-step guide on how to recover deleted Outlook folders.
Part 1. Can You Retrieve Deleted Folders from Outlook?
Yes! You can retrieve deleted folders from Outlook. Just like every problem has a solution, there various ways of recovering deleted Outlook folder and each method varies with the cause of the problem. Backing up data, using a software recovery tool like AnyRecover, not clearing the "Trash" folder are amongst the various ways to recover deleted files on Outlook.
Outlook Recovery Tool
Restore deleted outlook folder from different situations like corruption, emptied trash, mistaken deletion,formatted drive and more. Quick and Easy!
Part 2. How Do You Recover Permanently Deleted Folders?
Case 1: Not Emptying "Deleted Items" or "Trash" Folders
It's quite easier for computer users who mistakenly delete an Outlook folder, provided you have not emptied the content in the Deleted Items or Trash folder. If you advertently deleted a folder on Outlook, the first thing you should do is check the Trash or Deleted Items folder if the deleted item is still there.
Fix 1: Recover Deleted Folders from Deleted Items or Trash Folders
Follow the steps listed below to restore the deleted Outlook folder to its original location:
Launch Outlook.

Open the Deleted Items or Trash folder.

Right-click on the deleted folder (messages, contacts, tasks, etc.) you wish to recover and select Move from the list of options.

Select Other Folder and choose Inbox from the list of options.

Click OK once you are done.
Note
This method is only effective if the required Outlook folder has not been permanently deleted; you cannot retrieve a folder that has been deleted permanently. However, you can still recover that with AnyRecover.
Case 2: Shift Deleting the Folder
If you cannot find a deleted Outlook folder under Deleted Items or Trash, then you should check the Recoverable Items folder. The Recoverable Items folder is a hidden folder where all deleted items (files, folders, and programs) are moved.
Fix 2: Recover Deleted Folders from Recoverable Items Folder
The Recoverable Items folder is where Outlook keeps. You can follow the steps listed below to recover deleted Outlook items from the Recoverable Items folder:
Launch the Outlook program on your computer.

Navigate to your email folder list and open the Deleted Items folder. If you see a Trash folder instead of a Deleted Items folder, then it means that your Outlook account cannot recover an item that has been permanently deleted.

Select Home from the toolbar in the Window.

Click on Recover Deleted Items from Server.

Select the Outlook folder you wish to recover and click on the Restore Selected Items command.

Click OK once you are done with the process.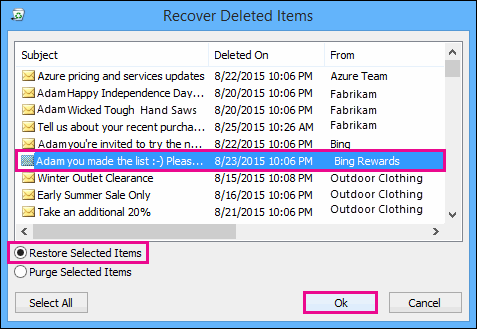 Case 3: Other Cases
A large PST file: Outlook prompts you to archive PST files once they start exceeding their data-limit. If your computer system shuts down while archiving, the process is terminated and you end up with a corrupt PST file. Thus, you end up losing mails, contacts, appointments and other important Outlook files.
Antivirus scans: Some antivirus tools delete a folder if it scans and detects a malware attack in one file.
Fix 3: Recover from Backups or Contact Other People
One effective way to prevent your Outlook folders from missing is to backup all your important data. In events where you mistakenly delete an important folder or the Outlook PST/OST file gets damaged, having a backup would save you from a great deal of stress.
If you cannot access deleted Outlook files after following the methods listed above, you could contact other people with whoever you exchanged the emails. Or if you log in your account on different devices, you can check if they are on those devices.
Case 4: All-Inclusive Cases
As mentioned earlier, there are different reasons for a deleted Outlook folder: It may be because a folder was mistakenly deleted, a damaged folder or Outlook isn't synchronizing with the server etc. Whatever the problem is, there is always a solution for it.
Fix 4: Recover Deleted Folders from Professional Files or Folders Recovery Software -- AnyRecover
AnyRecover is a tested and trusted data recovery software tool that you can use to recover deleted folders on Outlook and repairing corrupt Outlook PST/OST files. One interesting feature about AnyRecover is all-in-one data recovery tool to restore files from windows,Mac and iPhone/iPad devices, regardless of the reason for data loss. If you need to recover every bit of data from deleted Outlook folders, then AnyRecover is the ideal option for you.

AnyRecover Key features include:
Recovers lost Outlook folders from different situations like corruption, emptied trash, mistaken deletion and more.
AnyRecover recovers 1000+ files in Windows and Mac such as folders, emails, office documents, etc.
With the fastest files scan speed and the highest success rate, it can also recover your Outlook folders with 100% safety rate without overwriting the original data.
Each user could perform a deep scan, preview and recover for free with a user-friendly interface and easy-to-operate steps.
Using AnyRecover, you can recover deleted in Outlook by following the steps listed below:
Step 1: Install AnyRecover and launch the program. Locate the location where your Outlook folders or PST/OST files were lost.

Step 2: Click Start to begin the scanning process. AnyRecover would run a quick and thorough scan on your Outlook folders.

Step 3: AnyRecover lists out all deleted Outlook folders once the scanning process is complete. Preview the files and click Recover to restore the deleted folders on Outlook.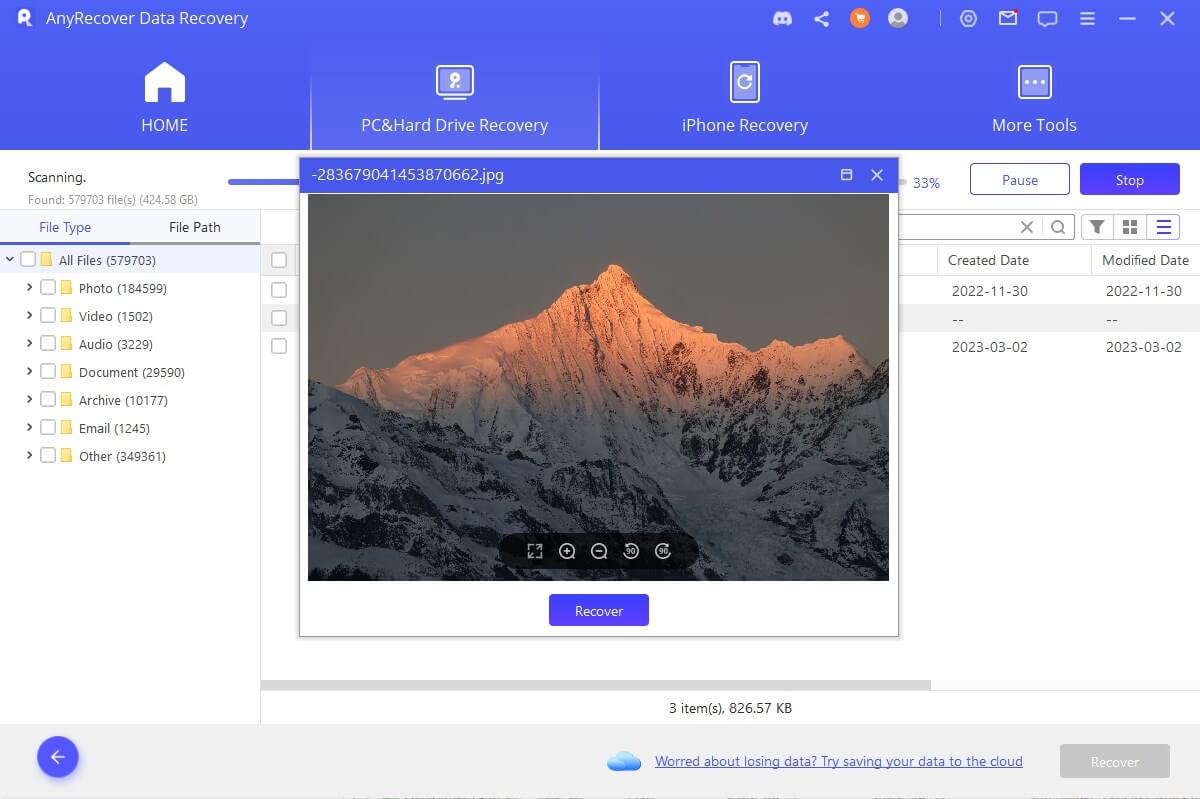 Once you are done with the steps above, AnyRecover should help recover your deleted Outlook folders and restore them to their initial location in the program.
Bonus Tip: How to Fix Missing Outlook Folders
Different things can cause missing Outlook folders on a computer. A thorough diagnosis can reveal any of the following as the reason for this issue:
Hidden folders on your Outlook program.
Deleting folders by mistake.
Outlook isn't synchronizing with the server.
A damaged personal Outlook file.
How to Fix Outlook Folders Missing
Since there are various causes for a missing Outlook folder, you can fix the problem in different ways. The best way to fix missing folders on Outlook is to start with the most basic and common causes and solutions:
Ensure all your Outlook folders are showing. Do not hide any Outlook files. Sometimes, missing folders may be a result of a minimized window so you might not see some files. In events like this, maximizing the folder pane would make other hidden files visible. Outlook also has a folder nesting feature that enables you to expand a folder with a small triangle beside the respective folder. Try expanding folders to see if you would find the missing Outlook folder.

Repairing your Outlook is another resort to fix missing files on the program. If you have issues synchronizing your Outlook, then folders you create on the server may not be available on your computer desktop. Use AnyRecover or the in-built Outlook repair tool to repair Outlook syncing issues.

A damaged Outlook personal folder file (.PST) is another possible reason for a missing Outlook folder. Outlook also has an Inbox repair tool you can use to repair and recover damaged and missing Outlook files.
Conclusion
This article has explained how to recover deleted Outlook folders by yourself. If this step-by-step guide doesn't work, we advise that you use a good professional Outlook recovery tool like AnyRecover. Use the software to recover deleted Outlook folders and accidentally deleted files. We recommend that you backup your Outlook data file regularly to prevent permanent data loss.
Give Anyrecover a try and see if it is right for you!
Your Best Outlook Recovery Tool
AnyRecover makes it easy to restore deleted Outlook folder and repair corrupted Outlook data file in one click.