Most of us have experienced accidentally deleting a photo or video from our smartphone at least once. Is it possible to recover these files? Fortunately, the answer is yes. If you're looking for advanced picture recovery apps to retrieve deleted stuff from Android, it's exactly what this post is going to show.
Top 5 Picture Recovery Apps to Save Your Life
1. Dumpster
Dumpster is a reliable picture recovery app that you can use to recover deleted pictures on your Android device. This app works similarly to Recycle Bin of Windows computers. Once you set this app up, your deleted pictures will be moved to the Dumpster. From there, you can easily restore them if needed. Apart from images, you can restore other files via this app as well. These include music, videos, text messages, documents, and more.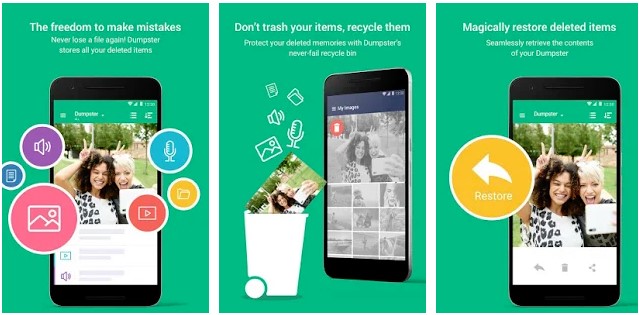 Pros
Recover deleted pictures as well as other types of files easily.
You don't need an internet connection to restore your deleted photos via this app.
Special lock screen which you can use to enter the app and protect your privacy.
Con
To get better performance and results, you need to root your Android device, which may be risky and turn your phone into a useless brick.
2. DiskDigger
DiskDigger Photo Recovery is another popular Android photo recovery app. This app digs through your device, looking for photos that you may have intentionally or accidentally deleted. There are many useful features of this app, and you can use it to recover deleted photos on different storage mediums, such as external USB drives, SD cards, digital cameras, and more.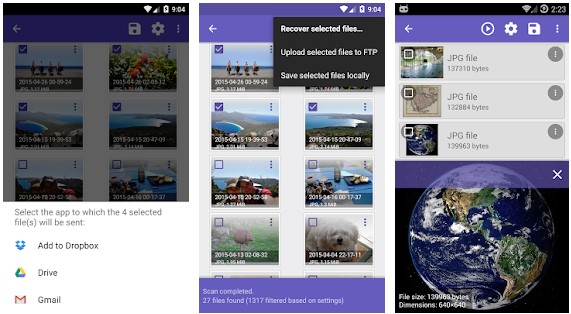 Pros
Recover deleted photos from your Android's internal memory as well as your SD card.
Save the recovered photos on your device or directly upload them to Dropbox or Good Drive.
You can filter the recovered pictures by file type and size.
Rooting is not mandatory for this app to work.
Cons
There aren't enough filter options.
You need to root your device to perform a deeper scan.
3. Photo Recovery
As the name suggests, Photo Recovery is ideal for quickly recovering deleted photos on an Android device. There are two different photo recovery modes or algorithms of this app which you can try one-by-one until your deleted photos are successfully recovered. Not only can this app help you recover your deleted photos quickly, but it also allows you to preview the recoverable photos.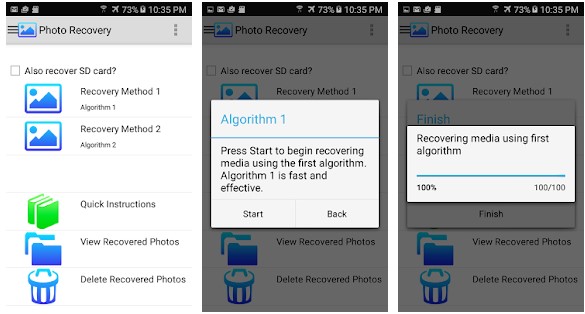 Pros
No root access is required to recover deleted photos via this app.
You can also backup your photos via this app.
Two different data recovery algorithms or modes, increasing the chances of successful photo recovery.
Cons
Data scanning takes too much time.
4. DigDeep
DigDeep is a powerful picture recovery app that allows you to recover a wide variety of deleted pictures on your Android device. The app supports several photo formats, including PNG, JPG, JPEG, and more. DigDeep has a user-friendly interface, and you can use this app to recover deleted photos from your SD card as well.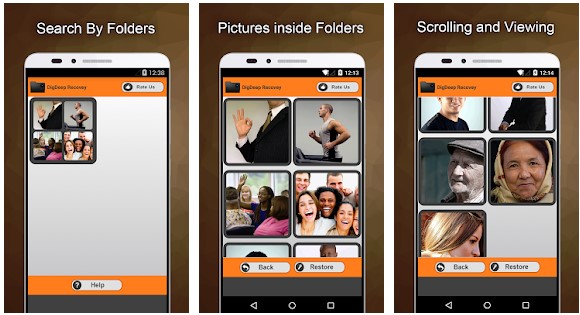 Pros
User-friendly app interface.
Recover various types of photos.
Recover deleted photos from Android's internal memory as well as SD cards.
Cons
The success rate is not very high.
Recovered pictures might get damaged, and some may even be useless after recovery.
5. Restore Image
Developed by AlpacaSoft, Restore Image is a popular picture recovery app for Android that has over 1 million downloads. You can install this app and recover deleted photos from both your device's internal memory and SD card.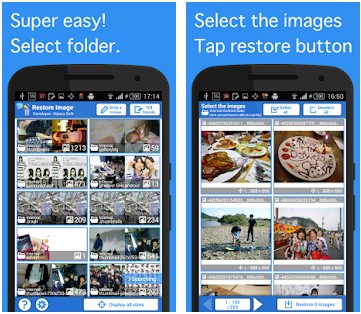 Pros
User-friendly app interface and intuitive UI design.
Scan and recover deleted photos from both internal memory as well as SD card.
You can recover various formats of photos via this app.
Not root required to use Restore Image to recover your deleted photos.
Cons
You cannot use this app to recover photos if you have cleaned cache files on your device.
The scanning speed is quitely slow.
Best Android Picture Recovery Software
If the picture recovery apps above cannot really work, the final solution is to use professional computer software for recovery. AnyRecover is one of the best picture recovery software for computers, smartphones & digital cameras.
AnyRecover enables you to recover deleted photos from SD cards of your device with a high success rate. Apart from photos, you can also use it to recover many other types of files.

2,061,704 Downloads
Features of AnyRecover
Recover more than 1000 file types, including photos, videos, documents, audios, etc.

Retrieve files that were lost from any scenarios: OS crash, virus attack, recycle bin emptied, lost partition, etc

Data can be recovered from any storage media, such as PC, Android smartphone, flash drive, digital camera, music player, and many more.

Ensure a high success rate and 100% security.
Steps to Recover Pictures from Android
Step 1 Download and launch the right version AnyRecover (Windows or macOS) on your computer. Then take out the SD card from your Android device, and connect it to your computer via a card reader. Select the SD card under External Removable Devices.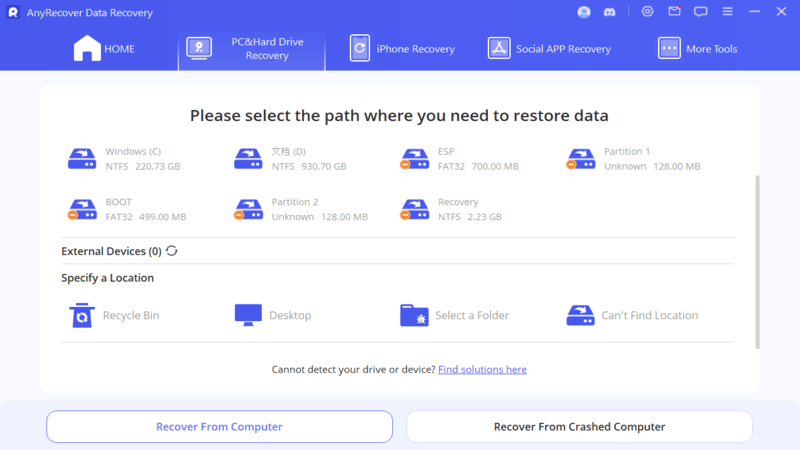 Step 2 After selecting the location, hit the Start button to start scanning.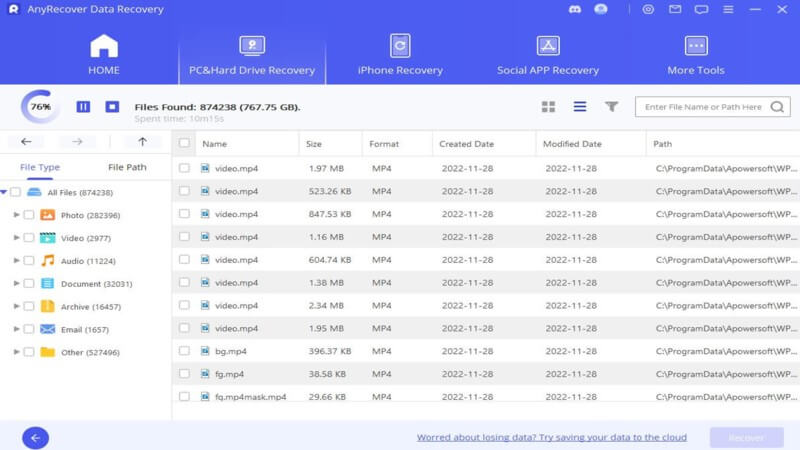 Step 3 After scanning, you'll be allowed to preview your photos, select those you want to recover then click on the Recover button to proceed.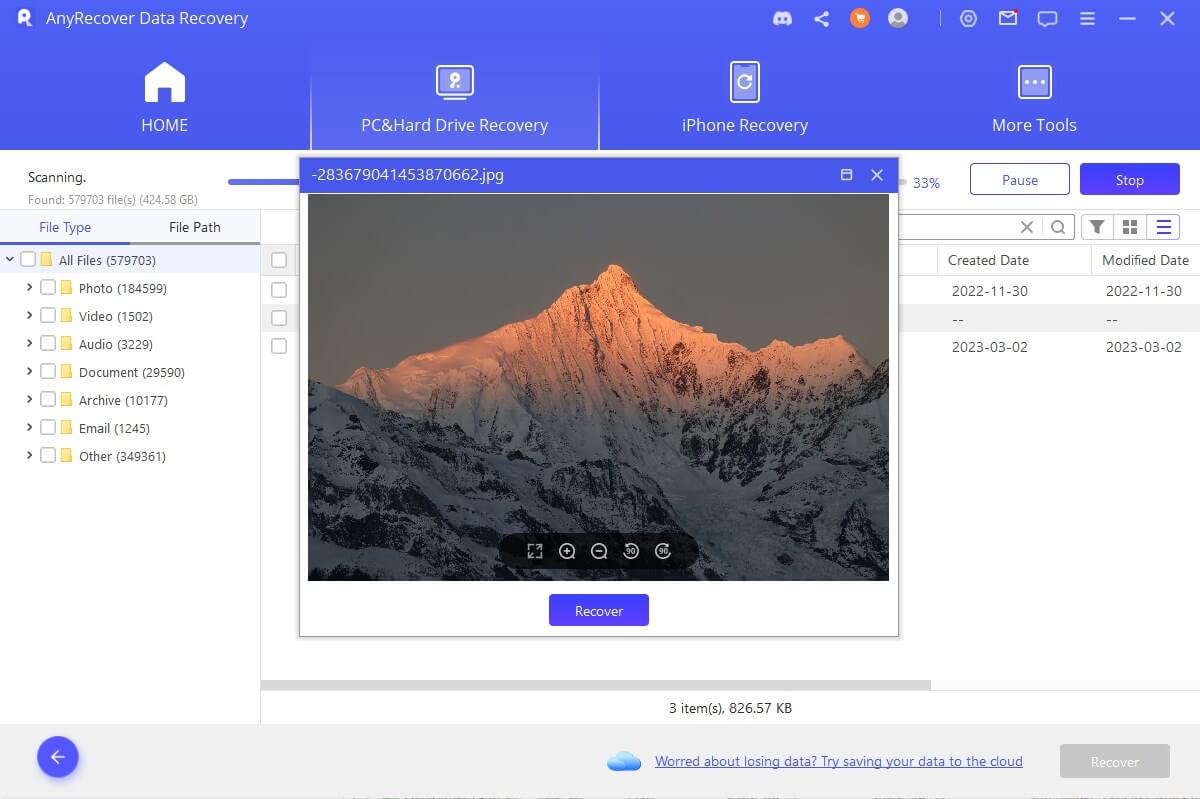 Conclusion
Getting your valuable photos deleted can be a devastating experience. Fortunately, picture recovery apps enable you to easily recover your deleted photos. However, none of these apps can promise absolutely perfect recovery. In case they cannot work for you, it is highly recommended to use AnyRecover. After all, computer-based software is way more powerful than an app. Start your free trial today to retrieve your precious memories!