Removal of all or some of your Android SMS is nothing new. You may find solutions to recover the deleted messages on your device, but sometimes you have trouble connecting your computer to your phone. Therefore, you look at recovering them without a computer. Well, can you achieve that? Please read on and this article intends to explore several ways on how to recover deleted text messages on Android without computer.
Can I Recover Deleted Text Messages on Android?
Of course you can. As deleted data are hidden in a computer's hard drive waiting to be retrieved or replaced, your Android device does the same thing. In many cases, it does not immediately remove a deleted message, mainly SMS or MMS, completely from your phone's system. When you delete a piece of message, your phone will mark it as an inactive file, which makes it invisible and replaceable.
Afetr you remove a message, the area it occupies changes as "unused" and will only overwrite the messages that have been deleted when new data are created while your device goes on. At this time, the best way for you is to put your device in airplane mode and quickly find SMS recovery solutions below that could help you to recover deleted text messages on Android before they get overwritten.
How to Restore Deleted Text Messages on Android Without Computer?
Please look at the 3 options on how to recover deleted text messages on Android without computer.
1. Recover Deleted Text Messages on Android from Google Drive
If you have a backup of your text messages, one of the methods is to retrieve your messages from Google Drive. Related steps are as follows:
Launch the Google Drive app on your Android phone and log in your Google account.

Click the Menu button and Backup option.

Now you could see all of your backups in the Google drive.

Tap the text messages you want to restore and click on Restore.
Con
You are unable to see a piece of text message specifically, and older backups are deleted by placing your latest backups here.
In case you didn't open Google drive backup, follow the steps below to start your backup for messages recovery in the future.
Open Settings app on your Android device.

Find Google and tap on Backup.

Turn on Back up to Google Drive option.

Finally hit Back up Now.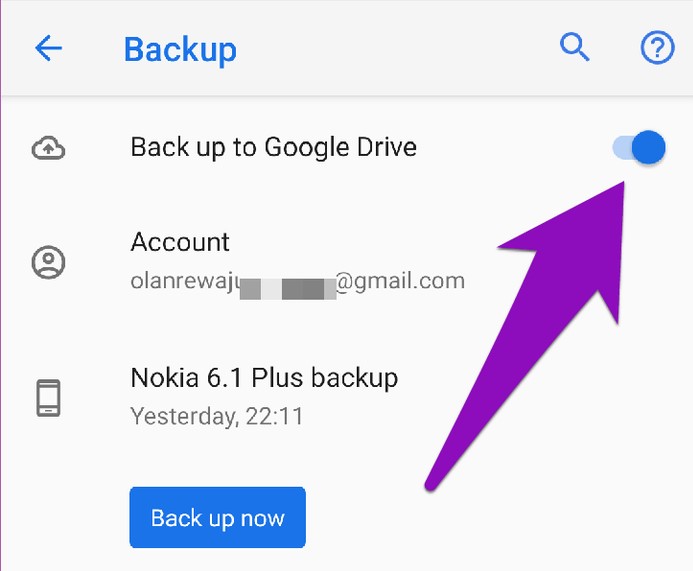 2. Recover Deleted Text Messages on Android with Message Recovery App
You do not want to reset your phone to recover deleted text messages on Android? Then you could try to use message recovery app on your Phone. The GT Recovery app will be mentioned. Here is a step-by-step guide to recover deleted texts on Android using the app.
Install and open the GT Recovery app. Select Recover SMS option.

In case you don't have any recovered files, tap on Start New Scan option. The data scanning process will be started. Wait for a few minutes.

As soon as the scanning process finishes, you are able to choose the messages that you want to recover from the list. Tap on Recover Selected SMS option to restore them.

Now tap View the Result option to check recovered messages on your phone.
You're required to root an Android device to make the app access internal memory.
3. Recover Deleted Text Messages on Android by Contacting the Carrier
This option may only be useful in extreme circumstances (e.g., you need the texts as evidence in court). Your carrier may would like to recover deleted text messages on Android that have been deleted for some time. If the cause for the request is minor, it's unlikely that the carrier will get back the deleted text messages, but it doesn't have any bad effect to enquire if you like to try out.
Bonus: How to Recover Deleted Text Messages on Android with Computer?
Apart from retrieving deleted text messages on Android without computer, you could also do the messages recovery with computer. But this requires that there is no data overwritting and the text messages saved on your SD card of phone. In this way, you could use AnyRecover (Android) to effectively recover any deleted messages from Android phones. If there is no SD card on your Android device while needing a data recovery software to recover them, then AnyRecover is recommended.

2,061,704 Downloads
Features of AnyRecover (Android)
Supports recovering numerous file types, including messages, images,videos, WhatsApp and more.

It recovers text messages lost in various scenarios such as mistaken deletion and system crashes.

Retrieve permanently deleted files from many paths, even if your device is broken.

Recover files quickly with a high recovery rate of up to 99.7%.

It works well on all major Android brands, including Samsung, Huawei, Xiaomi, etc.

Conclusion
We hope you now know what to do if you have accidentally deleted a text on your Android phone without computer. Although the above suggestions should suffice, make sure to take screenshots and keep backups in the cloud or on your Google Drive account to ensure that your messages are preserved in the event of an emergency.