Have you ever encountered such a situation before: You have finished an important presentation that is needed the next day, but unfortunately, the document is gone due to sudden power off or virus!
Data loss is a common issue as we deal with digital data every day. When this happens, it not only wastes your efforts but may also cause financial loss to a company. However, we can avoid all these with proper precautions.
Through today's post, we will guide you on how to prevent data loss and recover lost or accidentally deleted files. Just read till the end!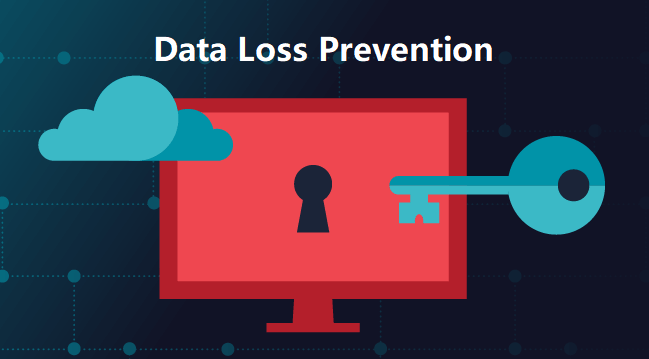 Part 1: What Causes Data Loss on Computers/External Drives
When we talk about data loss, the first step is to understand the reasons behind it, which help us to take preventive measures in the future. Data loss happens due to either physical or logical reasons as explained below.
1. Physical Data Loss
Physical data loss is also called mechanical data loss, and the name implies, it occurs due to physical damage to the drive, including:
You have accidentally dropped the device
Water or fire damage
The hard drive is not spinning or is making a strange noise
A power surge or outrage
When physical damage takes place, the storage media like a computer hard drive or SD card is no longer operational, so the chance of data recovery is not very high. But to get back your lost data due to physical damage, you will need experts to do it correctly.
2. Logical Data Loss
Logical data loss is more of a logical error, and it takes place due to:
Human errors like accidental deletion or formatting
Partition corruption/ deletion
Virus attack
System update or reinstallation
You have accidentally dropped the device
Water or fire damage
The hard drive is not spinning or is making a strange noise
A power surge or outrage
When this type of data loss takes place, the device is in proper condition, though the files inside are not inaccessible. There are fair chances to recover the lost data with a professional data recovery tool. And it is recommended to perform data recovery as soon as possible.
Part 2: How to Prevent Data Loss on Computers
As we understand the data loss causes, below are some of the best ways to prevent data loss on computers or in a company.
Backup Regularly

Prevention is better than cure. So it is vital to create a backup for any important data, which will release you from many troubles, and you may regularly update the backups to save the latest one. You may backup the data through the default Windows backup feature, or using cloud drive and external hard drives.

It is always recommended to diversify your backups for extremely important data, so you have multiple guarantees.

Encrypt Important Data

Encrypting important data is another great way to prevent data loss in a company, as no one can access the data without a password. You can use encryption software or enable full-disk encryption in Windows to protect your valuable data from any sort of malicious activity or data breach.

Have a Battery Backup System

Power failure is a common reason for data loss, and the battery backup system offers a continuous power supply when there is an outage, thus preventing data loss. 

Therefore, having such a system is a smart move as the massive power surges can harm your computer device while wiping off your important data stored on the hard drive.

Use Virus-detection Protection Program

Never forget to use an antivirus program to keep your system safe and sound from viruses. These viruses can cause data loss and therefore, you must always keep your antivirus program updated.

Other preventive measures

Ensure that your computer system and other storage devices are safe and free of dust.

Using an undo feature can help in restoring systems to their original state when there is an issue. So, go on and make the most of this feature.

Lastly, computer theft is another reason for data loss, which is considered more serious than system cash. Therefore, never leave your laptop unattended when you are outside or in a crowded place. Make it a habit to keep your laptop with yourself only to protect the vital data stored in it.
Part 3: How to Recover Accidentally Deleted Files on Computer/Hard Drive
In case you have already lost some important data, the best way to recover accidentally deleted files from your computer or hard drive is by either using a potent data recovery tool or seeking expert help. The detailed explanation for the two methods is as below.
1. Local Data Recovery Service
If your drive is physically damaged, seeking help from local data recovery services is a feasible option to extract lost data from storage devices. The experts will open your drive and inspect the components to replacing the damaged parts. However, such services are costly, ranging from $200 to $700, and your data is not secure.
So, if your data is lost due to logical errors like accidental deletion or formatting, consider recovering lost data by yourself using professional software.
2. Use a Professional Data Recovery Tool
When it comes to choosing a professional data recovery tool that can efficiently recover your data from any storage device and keep it safe, the most prominent choice is no other than AnyRecover data recovery.
Features:
This easy-to-use data recovery tool is compatible with both Windows and Mac systems, so you don't have to worry about its compatibility.
It is capable of recovering data from a wide range of devices be it your computer hard drive, USB drive, external hard drive or SD card. 
Besides, it supports different file types such as audio, videos, images, documents, archives, etc.
Furthermore, this recovery tool can provide lightning-fast recovery speed and keeps your data secure during the process of recovery.
It follows a three-step data recovery procedure to recover any lost data, so you don't need any technical knowledge to perform data recovery.
Detailed steps to recover data using AnyRecover Data Recovery:
Step 1 Select a Location
Download and install AnyRecover from the official website, then launch it. From the clean interface, select the location from which you want to recover data.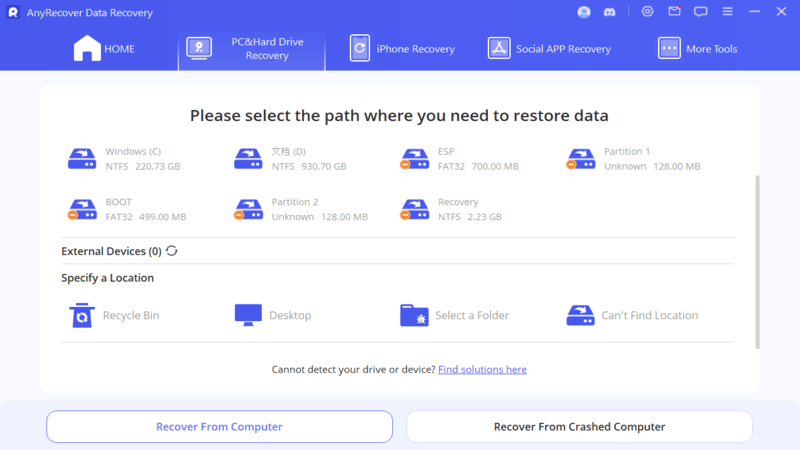 Step 2 Perform In-depth Scanning
Now, this tool will perform an in-depth scanning to search for the lost files and display the outcomes on your screen, so that you can easily monitor the process in real-time.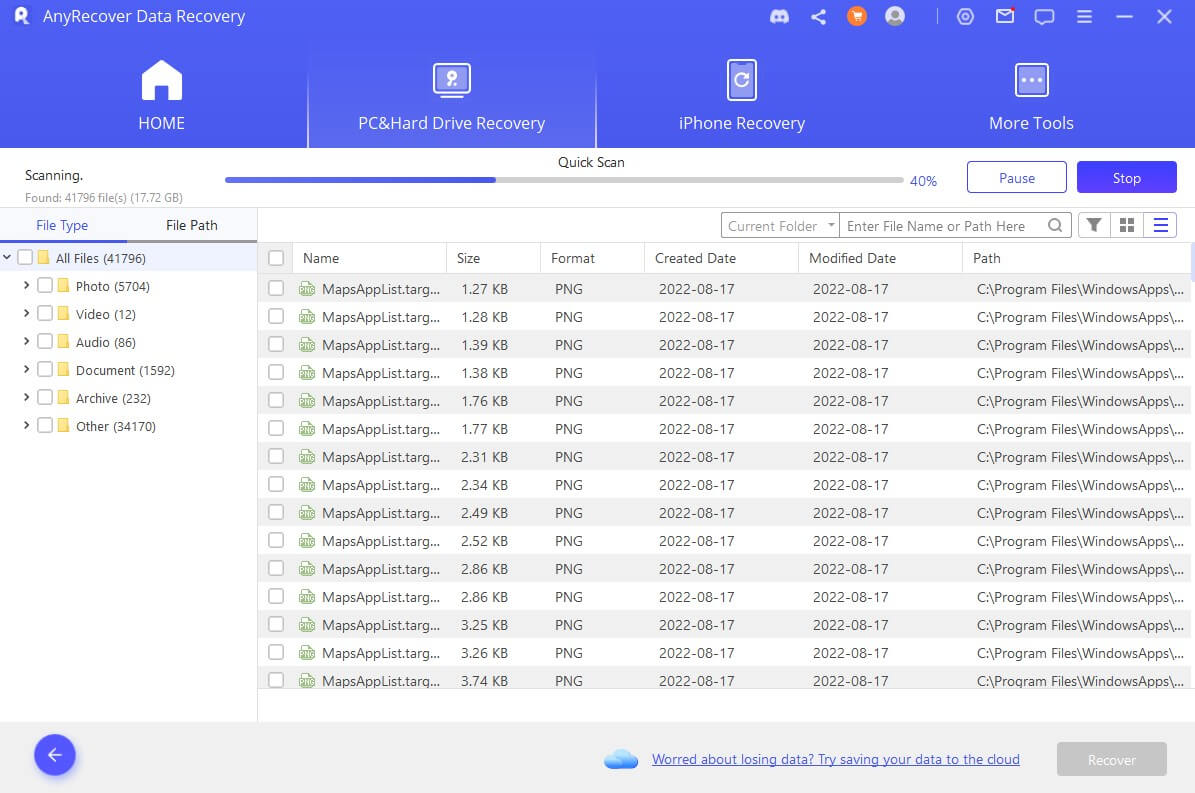 You can choose to pause and resume the scan as you wish. Besides, if you have found the lost files, you can click on Stop to terminate scanning and move towards the recovery directly.
Step 3 Recover Needed Files
After the scanning is done, this tool lists all the files neatly while letting you preview and select all the needed files for recovery.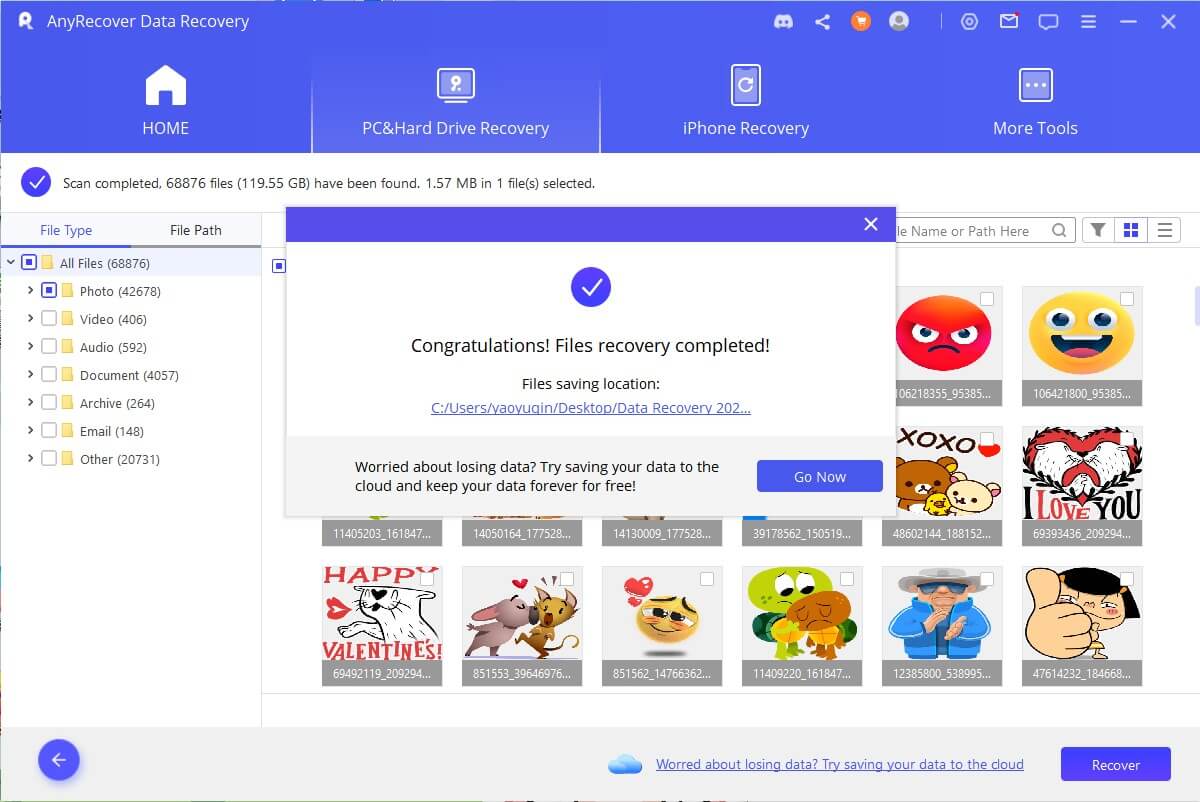 Conclusion
I bet you know how to prevent data loss on computers or in a company now, right? Follow the methods listed in this article and you will be trouble-free.
In case you have accidentally deleted the files or formatted a device, just go for the best solution i.e. to opt for a professional data recovery tool such as AnyRecover to retrieve any sort of data easily and without wasting time.

Brilliant Features of iMyFone AnyRecover:
AnyRecover supports Windows 11/10/8/8.1/7/XP, as well as macOS.
Effortlessly recovers data from just about any storage device, ranging from laptop/PC to external hard drives and USB flash drives.
It supports 1000+ file types, including photos, videos, office documents, and more.
In only three steps, you can recover all lost, deleted and inaccessible data.