Universal Serial Bus (USB) is a portable device used to save information, store data, and transfer files from one computer to another. We generally encrypt the data stored in the USB so that no one else can see our information casually. Correspondingly, we can decrypt it using the password we set.
But what if we forgot the password? Is there any way to recover the encrypted data? Luckily for you, yes, there is! In this article, we will briefly explain how to recover encrypted data from a USB drive. Let's get started.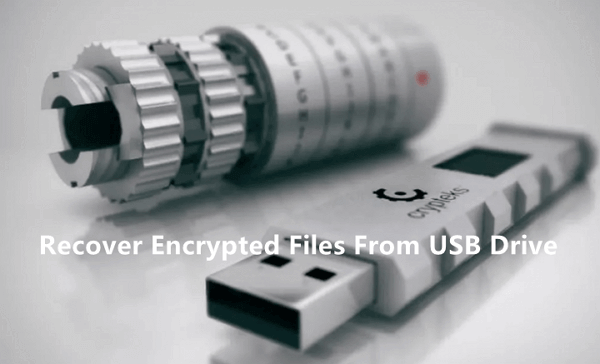 Part 1. Can Encrypted Files Be Recovered?
The simple answer to this question is YES. Encrypted files can be recovered in one way or another. And it starts with decrypting the USB drive.
Usually, people encrypt their USB drive by putting in the password. This means it requires the right password to decrypt the USB drive and recover the data. But what if you don't have the password any longer? Don't worry, you can still decrypt the drive and recover the data, though the method is a bit complex.
Part 2. How to Unlock Encrypted USB Drive
In many cases, people don't need to look far when seeking to encrypt USB flash drives as this can be done with in-built function on Windows and Mac computers. On Windows, you can encrypt the files using Encrypting File System or BitLocker. Similarly, on Mac, you can encrypt files using FileVault.
Below are the methods to unlock encrypt USB flash drives on the two operating system. Besides, if the USB drive is physically locked, we can unlcock it manually without much difficulty.
2.1 Unlock Encrypted USB Drive on Windows
There are multiple ways to recover encrypted files from a USB Drive on Windows. The decryption method depends upon the software used to encrypt or lock the USB drive. Just as we mentioned before, the most commonly used tool to encrypt the USB drive on Windows is BitLocker. So, if you have locked your USB drive using BitLocker, you can use the following methods to recover encrypted files from the USB Drive.
Option 1: Turn Off Bitlocker With Windows Built-in Function
This is the simplest method, but it requires the right password used to encrypt the USB.
Open Control Panel and go to System and Security.

Click on BitLocker Drive Encryption.

Select the encrypted flash drive and click the Unlock drive option.

Enter your password. Once you confirm it, the device will start decrypting your USB drive.
Option 2: What If You Have Forgotten the Password?
It is very likely that you may have forgotten the password. In that case, you can still decrypt the file using the recovery key file. Follow these steps for BitLocker encrypted USB Drives.
Insert USB Drive in the computer. Click the Unlock Drive option in the pop-up message.

A dialog box will open and ask you to enter the password. In this case, now that you cannot recall the password, click on the More options.

Click on the Enter recovery key option. Then BitLocker asks you to Enter the 48-digit recovery key to unlock this drive.

The recovery key file is easy to get, if luckily you have saved it when you activated BitLocker – in a text file, in your Microsoft account or on a printout.

Find, copy and paste the recovery key in the USB drive's BitLocker dialog window, and press Unlock. That's it.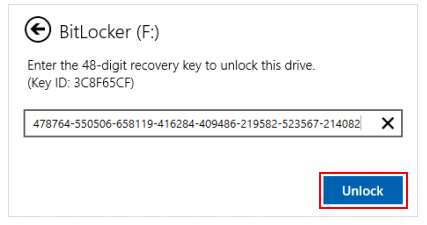 2.2 Unlock Encrypted USB Drive on Mac
Mac comes with a built-in encryption tool called FileVault. To decrypt the data encrypted by FileVault, you need to enter the password to unlock it. Follow the following simple steps to unlock a password-protected USB drive on Mac.
Insert the USB drive into the Mac computer.

Launch Finder and right-click on the decrypted USB Drive.

Then click the Decrypt "USB" option, enter your password and confirm it.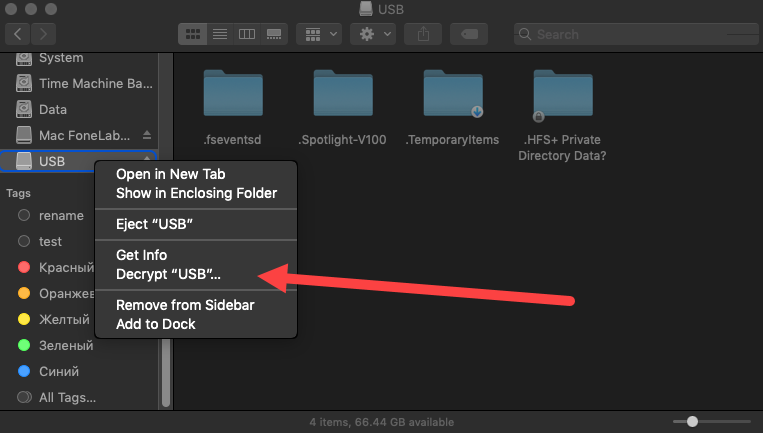 Once you confirm it, the decryption process starts and may take some time. When it's done, you can use your USB drive again.
2.3 Unlock Encrypted USB Drive Manually
Some USB Drive have physical switch that you can used to encrypt the USB. Such switch helps to protect the USB from casual writing on the USB. Moreover, it is also beneficial when it comes to protecting the drive from accidental erasure.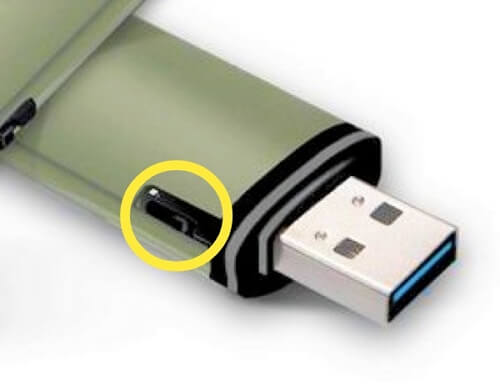 To decrypt the read-only USB drive and disable this switch, you just need to toggle the switch to the off position. It's really simple.
Part 3. How to Recover Encrypted Files From USB Drive
From the above-mentioned methods, we've known clearly how to unlock and decrypt encrypted USB drive. In most cases, you need to have the right password to succeed. But in reality, accidents always happen before we even realize.
For Windows, there's the possibility that you forgot both the password of a USB drive encrypted with BitLocker and it's recovery key. For Mac, chances are that you cannot recall the password to unlock the USB drive decrypted by FileVault. In such cases, unfortunately, the only thing you can do is format that USB drive and use it as new. And naturally, all the data stored in this drive before will get lost.
Since no one can afford to lose the valuable data in the USB drive, you need a professional data recovery tool to recover encrypted files from USB drive. Here we highly recommend AnyRecover.

Features of AnyRecover:
Recover data in all data loss scenarios: emptied trash, accidentally deletion, partition error, system crash, formatted device, etc.
Restore lost data from any storage device: your PC, internal hard drive, SD/SDHC/CF cards, USB flash drive, etc.
Support over 1000 types of files: photos, videos, office documents, archives, and more.
Deep scan ensures that no important files will be left.
Extremely secure and no virus attached.
Only takes 3 easy steps to complete the whole recovering process.
Free trial is offered to recover 8 files without size limitation.
AnyRecover is a powerful tool specially designed to recover data from any storage device. Whatever the situation under which you have lost you data, AnyRecover has you covered and will definitely solve the data loss issues for you. It's super easy to use and only take 3 simple steps.
Step 1. Connect your USB drive to the computer. Launch AnyRecover and choose the right location to recover data from.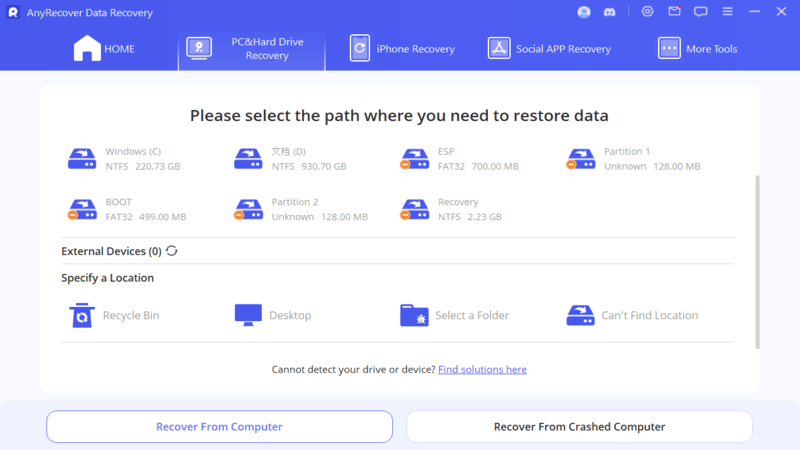 Step 2. Then, the program will start the scanning process. You could pause and stop the process at any time if you find your files.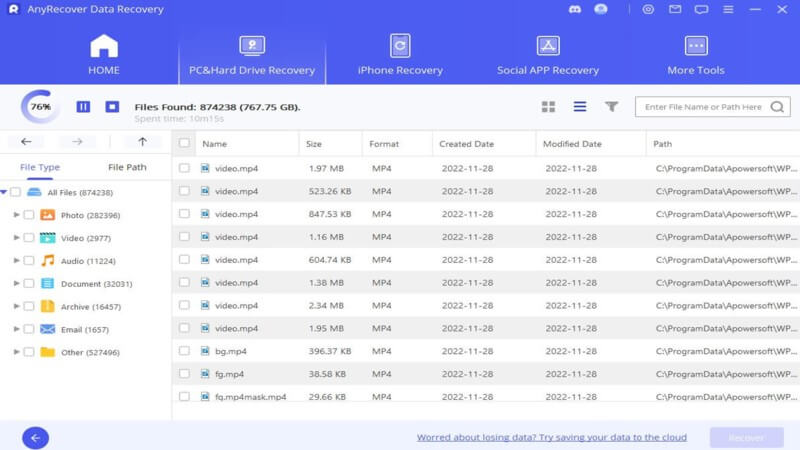 Step 3. From the scanned list, preview the files, select what you want to reclaim and click the Recover button.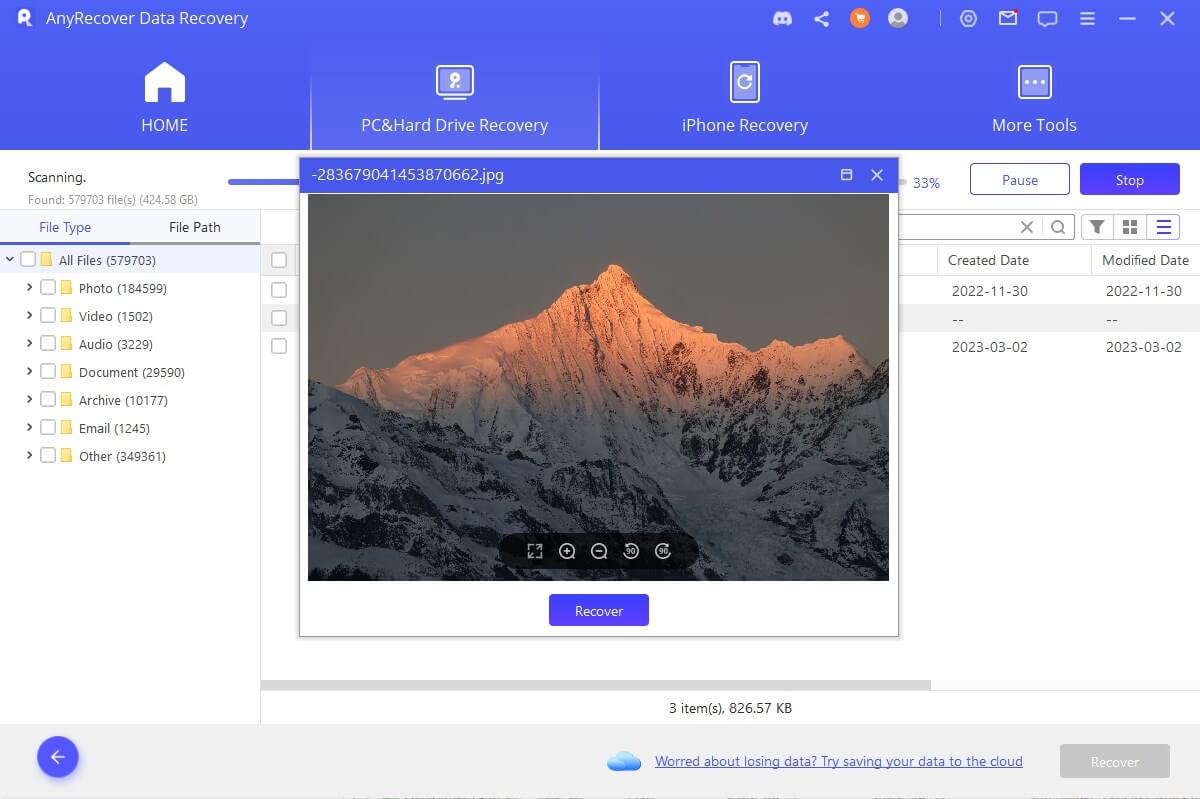 Conclusion
Data encryption is an important strategy to protect your data from unauthorized access and security threats. There is inbuilt software for Windows and Mac users to encrypt and decrypt data. When you have the password or remember the recovery key, you can decrypt the locked USB drive and recover encrypted from the USB drive easily. When you have to format the decrypted USB drive to use it again, don't worry you still have AnyRecover to recover the lost data for you. As a top-notch and trustworthy data recovery tool that can be used to recover the lost data from anywhere, AnyRecover really deserves a try.