In computing, data recovery places an important role as it is the process of retrieving the lost, corrupted, damaged or formatted data from drives of your computer. Sometimes we see that we are not able to access the files from our computer or sometimes we need the deleted files from the computer, then there is only one solution to access the corrupted or deleted files and that is using data recovery software. From the list of genuine data recovery software, 7 Data Recovery is well known to all. Here we will discuss some important aspects regarding it.
1
All You Need to Know about 7 Data Recovery
1

What is 7 Data Recovery?

It is a user-friendly data recovery software used to recover all deleted, damaged, and disappeared files from your computer. This software can fix accidental file deletion, partition errors, corrupt file retrieval, SD card issues, and fix hard drives that stopped booting.
2

7 Data Recovery Review

7 data recovery is a universal software i.e. deals with both desktop and mobiles. There are some recovery cases and recovery modes that are handled during the recovery process. First, the question comes where to download 7 Data Recovery software?

It can be downloaded from the main page of the official website. The latest version is 4.1 at present and is compatible with any version of Windows. Free version is also available. However, there are limitations in the free version. You can also purchase it at $49.95 to enjoy its full benefits.
Recovery Modes
7-Data Recovery Suite includes 5 modes:
Complete Recovery: It should be used if you will not be able to open any partition on the computer.
Deleted Recovery: It covers the recovery for accidental deletion, damaged files or files deleted to recycle bin.
Hard Disk Partition Recovery: If you can't access a hard drive partition, then this mode will be used.
Digital Media Recovery: This mode is used to recover photo and video, music and other audio files.
Android Recovery: It is data recovery on Android phones and tablets.
You can select mode as per your requirement. You can also go for Full Scan mode if confused.
Installation, Interface and Performance
Its installation is easy. After downloading from the official website, you can install it and then you can use it for your recovery. The interface is clean, although a little dated, and it is easy to use with a simple button style menu system. Simply choose the type of recovery you wish i.e. complete recovery, deleted recovery, digital media recovery, lost partition recovery, or Android recovery. After choosing to follow the instructions.
It can support storage devices like DE HDD, SATA HDD, SCSI HDD, Floppy drive, USB flash drive, Compact flash card FireWire HDD, SSD, USB HDD, External HDD, Hardware RAID, Secure Digital card, Memory card/Memory stick, Micro card, Zip drive, etc.
How to Use 7-Data Partition Recovery to Recover Data?
Step 1. Select the drive you want to recover partition from - You can select the drive belongs to your recovery.
Step 2. Start scanning for lost/deleted partitions: After selecting the drive, start scanning.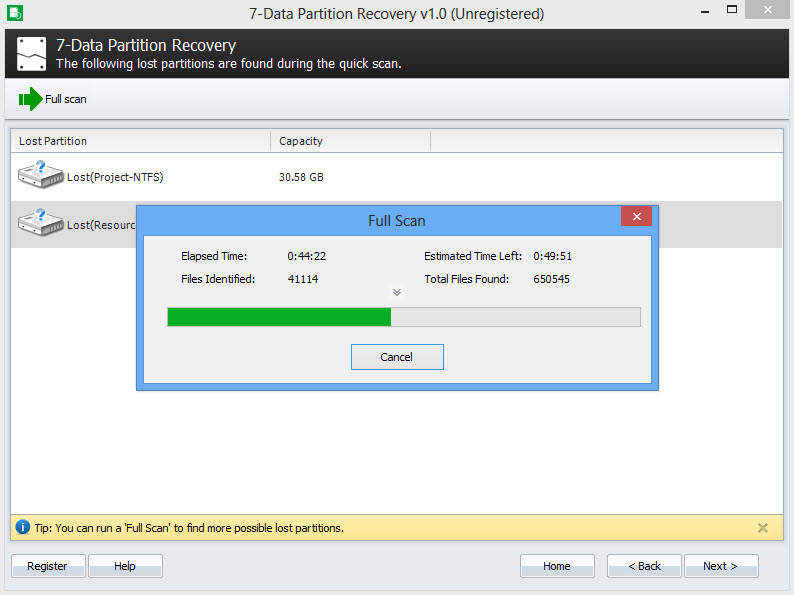 Step 3. Preview recovered data: All the recovered data will be shown in the thumbnails. You can preview the files in it.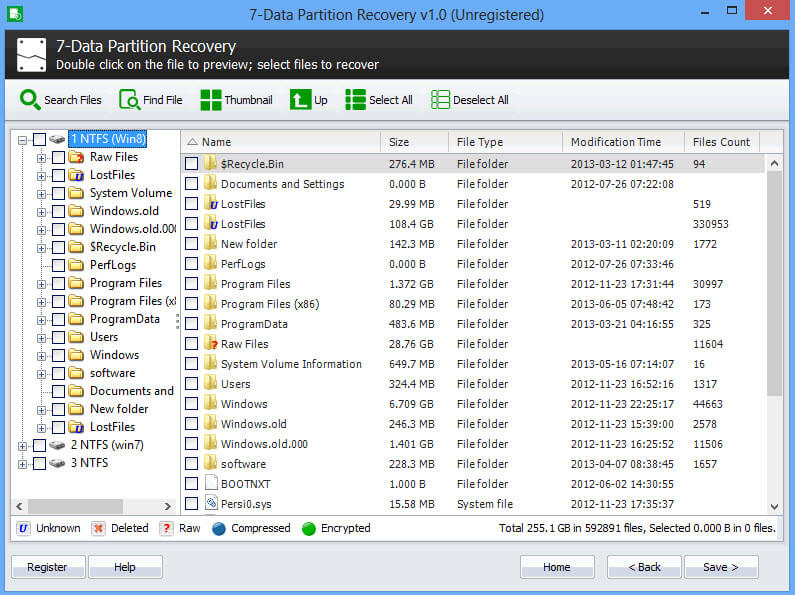 Step 4: Save recovered data: After all, the recovered data can be saved by the user.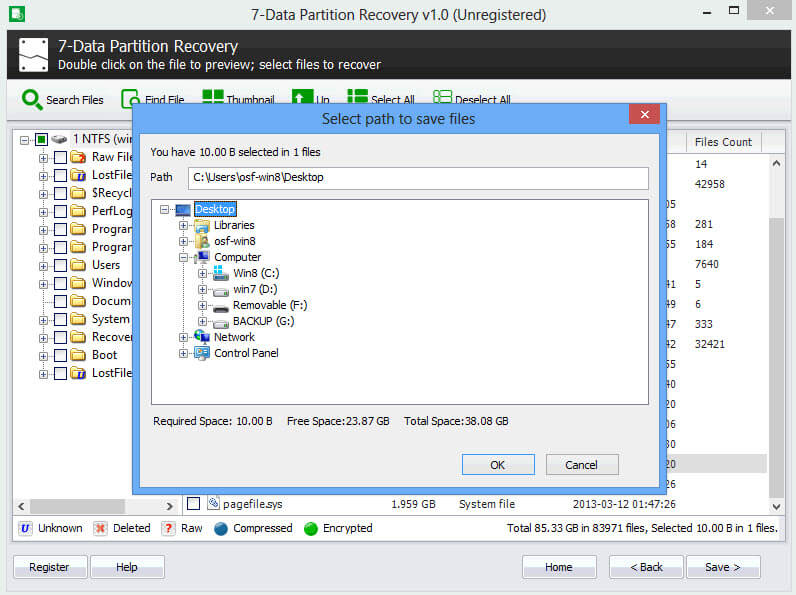 Pros and Cons
Pros

Cons

Intuitive interface: The interface is clean, although a little dated, and it is easy to use with a simple button style menu system.

Comes with tutorials and videos: You can take the help from the tutorials.

Provides multiple languages.

It can support storage devices like Secure Digital card, Memory card/Memory stick, Micro card, Zip drive, etc.

Its Free Version has some limitations like recovering files up to 1GB.

Sometimes it fails to display the preview of the recovered data.

It is not always reliable.
2
An Alternative to 7 Data Recovery
If you are searching for an alternative to the above recovery software, then we will recommend you the software named "AnyRecover". It also ensures that any type of lost data can be recovered. You can recover data due to lost partition, system crash, trash emptied, hardware failure, virus attack, accidental deletion and others.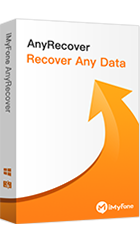 1,000,000 + Downloads
Features of iMyFone AnyRecover:        
Data can be restored for all hard drives, memory cards, digital camcorders, USB flash drives, smartphones, Virtual Disk, MP4/MP3, digital camera, External Disk, and more.
This data recovery tool promises to completely get back all your lost files from any device, with a guaranteed 98% recovery rate.
AnyRecover helps recover lost files 100% safely without overwriting original data. The recovered files can only be accessed by you.
The process for the recovery is fast.
User-friendly interface.
3
Bonus: AnyRecover 20% Off Coupon Code
AnyRecover official website is providing the 20% Off Coupon Code if you choose to buy the software. So, never miss the chance to take benefit.
The process of applying the coupon code only includes a few simple steps as below:
STEP 1: Copy the coupon code "ANY-ART-D20".
STEP 2: Go to AnyRecover official purchase page (for Win or for Mac), select the license you want to purchase, then "Add to Cart".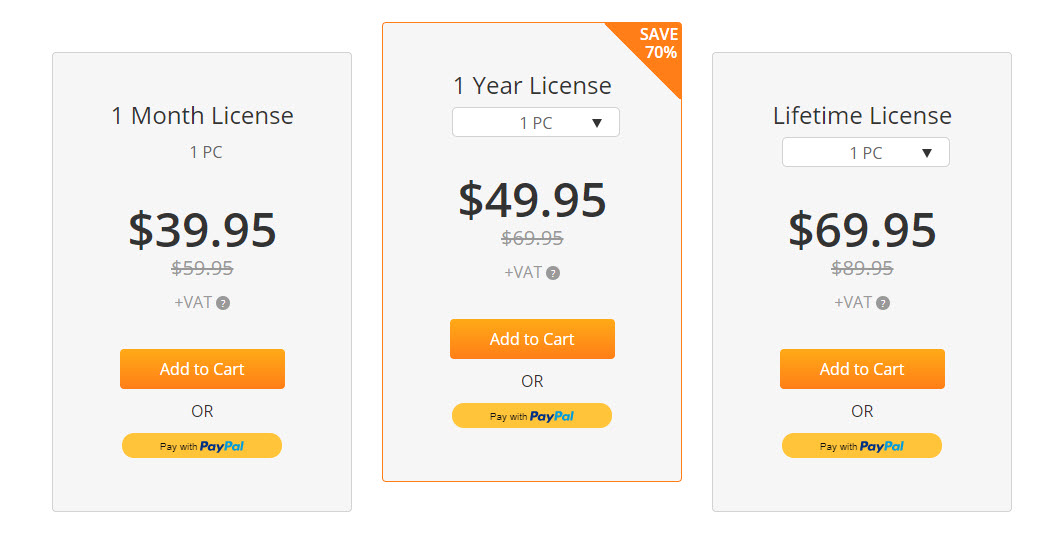 STEP 3: Click on "Check to enter coupon code" then paste the code into the box, hit "Apply".

You'll see you saved 20% on purchasing the AnyRecover data recovery tool.

Conclusion
As we live in the technology world, the use of computer is a need of every person. Data deletion accidents can be seen in almost every computer. So, come out of the issue and use the data recovery software to recover your data. You can use 7-data recovery software or the alternative - iMyFone AnyRecover. We have mentioned the pros and cons of the 7-data recovery software, just select as per your choice.