It can be a major hassle when your Xbox One won't read discs. Many of us just want to pop in our favorite game or movie and relax after a long day. However, if your Xbox One disc drive is not working, or you encounter some other problem with your hardware, this can make it harder to enjoy what you love doing.
Really, there are many reasons for your Xbox one not reading discs and we'll talk about how you can solve this issue as well as how you can get your console to work.
Part 1: Why Won't Your Xbox Read Discs?
So, why exactly is your Xbox One not reading discs? There are a few reasons why this could happen, but most likely this is due to a malfunction with your disc or a hardware issue.
With the disc, maybe it got damaged or there is an error on the disc. For instance, you need to check that your disc is from the right region and is compatible with your console. Also, if your disc is dirty, it might not be able to be read right by your console.
Another explanation for this issue could be that your Xbox hardware is defective. If your Xbox was dropped or it is on the older side, it could malfunction and not read discs. And, if your disc drive is damaged this could also lead to this problem.
Part 2: How Do You Fix Your Xbox One Not Reading Discs?
There are tons of ways you can fix your console when your Xbox is not reading discs. We'll discuss exactly how you can fix your Xbox One throughout the rest of this post.
Scenario 1: Some Discs Get an Error While Others Do Not
If you get an error message on a particular disc, but not other discs, try out these fixes.
1. Check the Disc
The first thing you want to do is check over the disc that is not working. Look for any scratches, dents, dirt, or other issues that could prevent your disc from being read. If your disk is dirty or a little scratched, try to clean the disk. We recommend using a soft cloth with a little bit of water. Do not use alcohol to clean it though.
2. Try the Disc on Another Console
If you still aren't sure whether the disc is damaged, check it on another console. Ask a friend to borrow his console or use a spare console in your home. Put the disk in and see if it reads. If it is read on another console, this means that your console is having hardware issues. If the disc won't read on other consoles, you might have to replace it with a new disc.
3. Check the Installation of the Blu-ray App
If your Xbox Blu-ray app is not properly installed, this could also cause the disc, especially the CDs and DVDs to not be read properly. Check the installation status of your app. You can find this on your home screen. Look and see if you have the Blu-ray app installed. If you don't, go to the app store and download, then see if your disc will be read.
4. Check the Xbox Game Generation
If you are putting older discs in your Xbox, you want to check if they are compatible. Some Xbox 360 and older Xbox games can be read on your newer console. But not all games are usable. So, you want to check the Xbox disc game generation. Look through the list of games that are backward compatible and see if your game will work.
5. Check the DVD/Blu-ray Region
Games on Xbox One are not region locked. So this shouldn't be an issue with game discs. However, if you have Blu-ray discs or DVDs, they could be region-locked. Check if your disc is compatible with your console and your region. This could be causing the problem.
Scenario 2: The Disc Isn't Recognized
What if your disc is not recognized at all when you put it in your Xbox? We'll talk about ways you can fix this issue here.
1. Change Power Modes and Power Cycle Console
You might have to modify the power settings on your console. If something called Instant-on is enabled, your discs might not be read right. So, go to your home screen first.
Go into your Settings then look for something that says General.

Scroll down to your Power & startup settings, then click on Power mode. You want to select something that says Energy-saving.

After you switch the power mode, power cycle your console. All you have to do is press down the Xbox button on your console for ten seconds.

Press the Xbox button to turn on the console again and then try inserting your disc to see if it works.
2. Reposition the Console
This can seem like an odd fix. But your Xbox might be able to read the disc better in an upright position. Carefully lift your Xbox up, then place it on a sturdy surface so it is upright and standing. Check to see if your disc can be read with this fix. Put it in the console and watch if your Xbox will read it.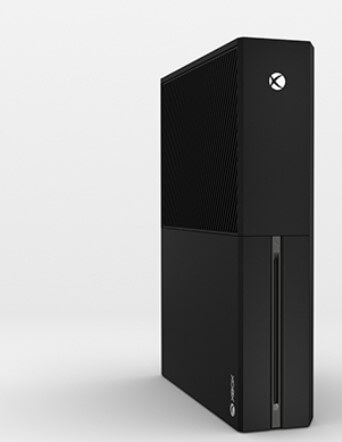 Scenario 3: The Disc Is Stuck/DVD Won't Play on Xbox Console
If your disc is stuck in the console and just won't play the DVD or game you want it to, try out these next methods.
1. Manually Eject a Disc from the Xbox Console
If your disc won't eject even when you hit the eject button, you can try ejecting your disc with a paperclip manually. Unbend your paper clip, and you'll see a hole on the left side of your Xbox One. It is right to the left side of the disc slot. Push the paper clip in and the disc should come out.
For Xbox Series X/S, the hole is on the bottom of the console. For original Xbox One, the hole is below the grill, which is on the left side.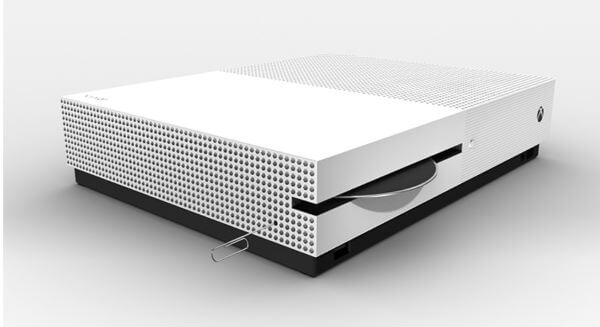 2. Restart Console
If your disc is still not ejecting or reading, try to restart your console. You can press the Xbox button on your controller and power it off this way. Or you can press the Power button on your console for ten seconds and let it power down. Turn your console back on and see if the disc is not stuck and read now.
Scenario 4: Xbox One Won't Read the Disc and Makes Noise
If your console is making a noise, these fixes might be able to help you.
1. Update Console
Sometimes, it just reminds you to update the console when the problem happens. This will fix various Xbox issues including the one discussed here.
Press down the Xbox button on the controller.

Click Profile & system > Settings > System > Updates.

Follow the on-screen instructions.
2. Request a Repair
In some cases, it could be a hardware issue that is causing your Xbox to malfunction. You'll need to get your console repaired by Microsoft or a local servicer. If you still have a warranty, Microsoft might repair it for you. You can check if you can get a repair. Otherwise, talk to local console repair professionals to see if they can fix it for you.
Scenario 5: The Game Disc Loads but Won't Install
In this final scenario, your game disc might load and even be read, but maybe it won't install. Look through these final fixes to get your game to work on your Xbox.
1. Clear Local Saved Games
Hit your Xbox button and go into your Profile & system. Hit Settings and System.

Choose Storage devices and click Clear local saved games.

Click Yes. Finally, restart your console and install the game to see if it can be installed.
2. Take the Console Offline and Install the Game
For this final fix, go into offline mode to install your game.
Hit the Xbox button on your controller. From here, go to your Settings. Scroll till you find General settings then click on it.

Once in General settings, look for the words Network settings. In network settings, you will see something that says Go offline.

Now you will need to cancel the download and restart your console. To do this press the Xbox button again. Then go to something that says My Games & Apps. You will need to choose See all.

Press the Manage button next, then highlight the game you want to cancel the download for. Click the button with three bars on your controller and then hit Cancel.

Restart your Xbox and then try to insert the disc and try to reinstall the game. Use the same steps to get back into network settings and click Go online. Your game should reinstall now.
Conclusion
If your Xbox One is not reading discs properly, you might not know what to do. Luckily, in this post, we went over the best ways to deal with this Xbox problem. Go back and read through our instructions carefully, and choose a method that will help you with your specific Xbox disc reading issue. We have listed detailed instructions that are easy to follow and read through.