The Xbox One system, a vastly popular device with millions of units sold, relies heavily on HDMI connection to run properly. For the most part, Xbox HDMI connectivity is reliable, as is the system, though even newer consoles experience occasional problems. Many people have experienced the frustration that can occur when you console suddenly stops working. If your Xbox One HDMI is not working correctly, there are many things you can try to get the system back to normal. The goal of this article is to explain how to solve the problems that can occur with HDMI connections so that you can get back to playing the games you love.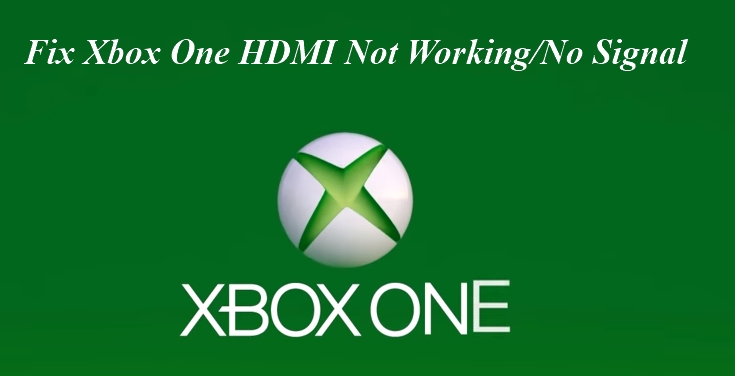 Symptoms of Your Xbox One HDMI Not Working/No Signal
Sometimes the HDMI connection from your Xbox One may fail. There are a few symptoms that will alert you to this problem.
First, if you turn on your Xbox but your television shows a black screen, it is likely an HDMI issue.

Likewise, if you turn on your Xbox and you see the game, but you do not hear any audio, it is probably a malfunction with your HDMI connection as well.
HDMI transmits sound and picture to your television from your Xbox, so if you are experiencing problems with either of those things you should immediately suspect that your Xbox One has no signal from the HDMI.
How to Fix Your Xbox One HDMI Issues
Once you have identified that there is a problem with your HDMI connection, there are many things you can do to resolve the situation. The following is a comprehensive list of all the solutions you can try to fix your problem.
1. Check Your HDMI Connection
If you suspect that your Xbox One is with HDMI problems, the first thing you should do is to check the connection. Check your HDMI cord and make sure it is correctly plugged in to both the Xbox and your television. Unplug the cord from both ports and plug it back in.
Hopefully, this will solve your problem. Oftentimes, the simplest solution is most effective. If your Xbox One HDMI is not working even after you check your connection, you will have to try other techniques to solve the problem.
2. Try a Different/New HDMI Cord
After you have checked your HDMI connection, you should try to use a different HDMI cord. Make sure you use one that you know will work correctly. If you do not have access to an HDMI cord that you know will function properly, you might want to purchase a new one.
This will allow you to be sure that the problem is originating from you Xbox rather than your cords. Again, hopefully a different HDMI cord will solve the issues that you are having with your console. If not, however, there are still plenty of other things that you can do to get your system back to normal.
3. Connect with HDMI Out
You may have been connecting your devices through HDMI In. If that is that case, you can attempt to connect through HDMI Out. This is a simple solution and works often. Simply switch where you have the cords plugged in. Your tv and Xbox will have the ports clearly labeled for you so that you can be sure you are not making a mistake.
When you switch your HDMI cord position, turn on your Xbox like normal and see what happens. If you can hear the game and see it on your tv, then the problem is solved! If not, it could also be the port on your Xbox, so if it looks as though it has seen better days, it might be a good idea to consider replacing it. Otherwise, you will still have to try a few more things to get the console back to its previous state.
4. Check AVR Connection
So far, the solutions to your HDMI issues have been centered around your Xbox and your cord. There could be other issues, however, that are not part of your console. Your AVR, which controls the audio and video reception for your device, might need checking. Check your AVR to make sure that all your audio and video are working correctly.
You can unplug everything and plug it back in like you did with your HDMI cord. Your AVR may have been the cause of the issue, which would mean you can continue to use your HDMI cords. If the problem persists, you should keep trying to fix your system.
5. Power Cycle Your Xbox One
You can attempt to solve the problem of your Xbox One HDMI not working by power cycling your console. One way to do this is to hold down the Power button on your console for five to ten seconds. The system will shut down, and after thirty seconds you can turn it back on. This will effectively reset the console and hopefully allow it to revolve its own problems during the time it is off.
6. Turn on Low-Resolution Mode
Your Xbox One has a low-resolution setting that can help games and the system itself run better and fix current issues. To do this, you must start by doing the same thing you did to power cycle your console.
Hold the Power button for five to ten seconds and then wait until the console is completely off.

Once it is, hold the Power and Eject buttons at the same time until you hear two beeps, which will take about twenty seconds.

When you have done this, your console should be running in low-resolution.
If the issue is not fixed, there is no need to worry. There are still a couple more things you can try.
7. Turn off 24Hz on Your Console
Your Xbox One might have 24Hz enable, which could be causing problems with your connection to your television. To turn off this setting:
You should go to Profile & System > Settings.

Choose General > TV & display options.

Once you are there, you should click on Video modes and uncheck "Allow 24Hz".

Turn off the Xbox One and then turn it back on.
8. Contact Xbox Support
It is time to let the professionals deal with the problem. If you have yet to be able to solve the issue, it might be a malfunction with the internal workings of your console. Xbox support is helpful and quick to work, and Microsoft prides themselves on proper customer service. Reaching out can ensure that your console will be back to running like normal soon if all else that you have tried has failed.
Video Tutorial to fix HDMI Port Not Working on Laptop.
Frequently Asked Questions About Xbox One HDMI/No Signal
1. Why Does My TV Say That the HDMI Has No Signal?
Your television might say the HDMI has no signal for a multitude of reasons.
The connection might simply be bad and removing and plugging the cord back in might solve the problem.

It could also be an issue with the AVR to your tv, your HDMI cable, the ports you are using, or your console's power and resolution settings.

While the most likely issue is that there is a problem with you HDMI cord, it could be something more difficult to figure out.
2. How Do I Reset My Xbox One HDMI?
You can do many things to reset your console. First, you could try power cycling your console, which simply involves holding down the "Power" button and then turning the system back on.
You can also try unplugging your HDMI and plugging it back in or switching the output ports you are using.
If those things fail, you can get a new cord and see if that resolves the problem. If the issue continues, see the above writing to learn more about how to solve the discrepancy.
Conclusion
None of us are strangers to the fact that technology often succumbs to issues, sometimes simple and sometimes complicated. Many people have, at one time or another, had problems with their Xbox One HDMI. If your Xbox One HDMI is not working, these tips should get your system back on track. With a little dedication and troubleshooting, you can be back to playing your favorite games in no time! Complicated problems do not always have complicated solutions, and the chances are that you will be able to fix your console with ease and be back to the gaming routine so many of us know and love.