Many users have mistakenly changed the file system within their hard drive when wanting to create Windows media creation tools. With a few clicks of your mouse, you may have accidentally just made your NTFS hard drive into an ESD-USB format. ESD stands for Electronic Software Delivery - it is a type of format for storage devices typically used to install Windows operating system on a machine.
However, if you accidentally convert a drive into ESD-USB, it will format your entire drive and allocate a 32GB partition, which means you could not make full use of the drive as a data storage solution, and you may not be able to locate allocated partitions and what's worse, you'll lose your data. But don't panic! There are concrete solutions to help you undo ESD-USB to convert your external hard drive back to normal, and recover the lost data!
Part 1: How to Undo ESD-USB and Restore it Back to Normal
Solution 1: Check Errors and Fix
If you're not familiar with the term Command Prompt/cmd, you'll want to get to know it well because this Windows built-in tool is pretty useful when you need the computer to execute certain commands. And it will help us check out errors in the external hard drive and fix them automatically.
Step 1 Connect an external hard drive to your Windows computer. See if it shows up in the Disk Management window. If it doesn't, click the "Action" tab and select "Rescan Disks".
Step 2 Click the Start button and type "cmd" into the search box. Right-click the Command Prompt result and choose "Run as Administrator" to open the command window.
Step 3 Type the command: chkdsk g: /f while replacing the "g" character with the letter corresponding to your external hard drive (your'll find this letter under the Disk Management window).
Step 4 Press the"Enter: key. This will allow your computer to go into your external hard drive, check the errors, and fix them automatically.
Once you have followed these steps, take the time to check again if you can see your external hard drive's full capacity, not just 32GB. If you can't, that means we should be trying something else. So, let's talk about the next method.
Solution 2: Create a New Volume
You've tried method number one, and it failed. You will need to create a new partition while still conserving the Windows restoration partition. A partition is a part of a storage device, like a hard disk drive or solid-state drive. It is considered as a separate volume by Windows, which makes it function like a separate device.
Make sure you back up your data first before you attempt to create a new partition because this could lead to partial or total data loss.
Step 1 Open Disk Management window. You can do this by right-click on the Windows Start button and there you'll see the result.
Step 2 Then right-click the unallocated disk space and click "New Simple Volume" option, and then select Next.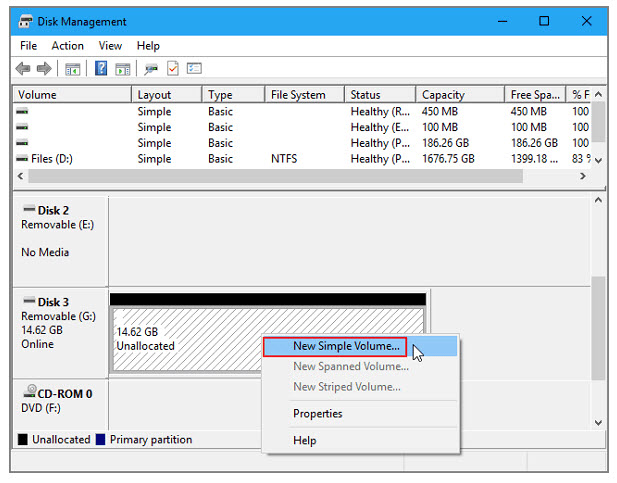 Step 3 Enter the amount of volume in MB (megabytes) you are going to use from unallocated disk space to create the new partition. We recommend entering the maximum disk space possible. Once that's done, click Next.
Step 4 Now, choose a drive letter for the new partition and click Next.
Step 5 Enable the Perform a Quick Format option.
These steps should have led you to go back to the original format of your hard drive.
Solution 3: Format an External Hard Drive
For this method of undoing ESD-USB, it is important that you back up your drive's data first because it will erase the data stored when returning to the original format (NTFS).
Step 1 Open File Explorer on your Windows device.
Step 2 Locate the external hard drive.
Step 3 Right-click on the desired hard drive and select the Format tab.
Step 4 Set the file system to NTFS and the allocation unit size to 2048 bytes.
Step 5 Select the "Quick Format" option.
Step 6 Click "Start" and watch as your hard drive reverts to an NTFS format!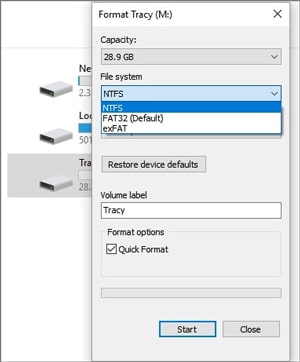 Once this has finished, you will be able to use your hard drive as a storage device once again.
Part 2: How to Recover Lost Data from ESD-USB [Video Guide]
If you've made it this far, then congratulations! You have successfully undone ESD-USB on your external hard drive and have restored the partition back to normal. So what's next? Oh yes, you'd have to get your lost data back.
Is it possible, though? Of course! But you're gonna have to act fast and perform the data recovery on your device if you want to increase the success rate of recovering all the lost files. At this urgent moment, you'll need a professional external hard drive recovery tool to get the job done nice and quick. Meet AnyRecover, a powerful and reliable data recovery software that allows you to recover the lost files on your hard drives at home in just 3 simple steps.
Check out this video about how AnyRecover can help you restore the lost data on your external hard drives:

Note
To avoid the lost data being overwritten, make sure you don't do any data transfering with your external hard drive before the recovery.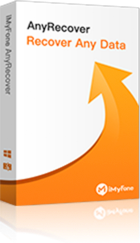 AnyRecover's Key Features:
Specially designed to recover over 1000 different file formats of photos, videos, documents and emails, etc.
Blazing fast file scanning process with advanced data scanning algorithms.
User-friendly software interface which is suitable for beginners. Help you recover deleted data easily.
FREE Trial with 8 files for free recovery with no size limit. Preview your files before recovering them.
Supports Windows 11/10/8/7/XP and all macOS versions.
It's very convenient to recover lost files from ESD-USB situation using AnyRecover. Simply follow these 3 steps:
Step 1 Connect your external storage device to a computer. Launch AnyRecover, and choose your device under "External Removal Devices". Then, click on the "Start" button.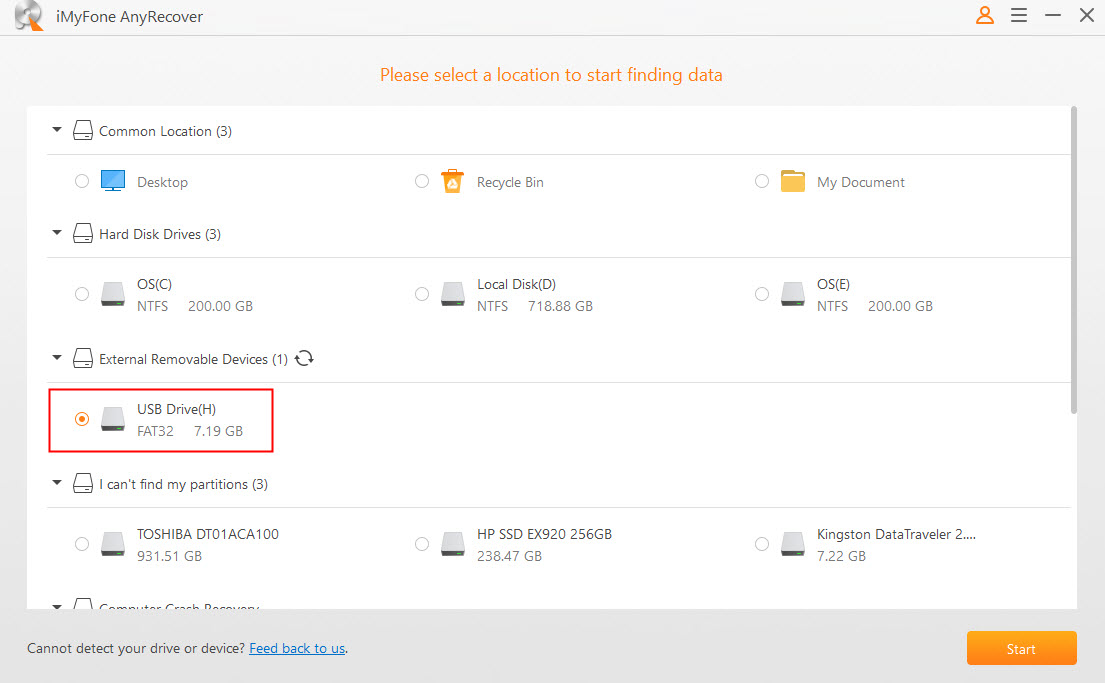 Step 2 Scan completed! All of the files found (deleted or available) from your external hard drive will be displayed. Preview these files and select the ones you would like to recover.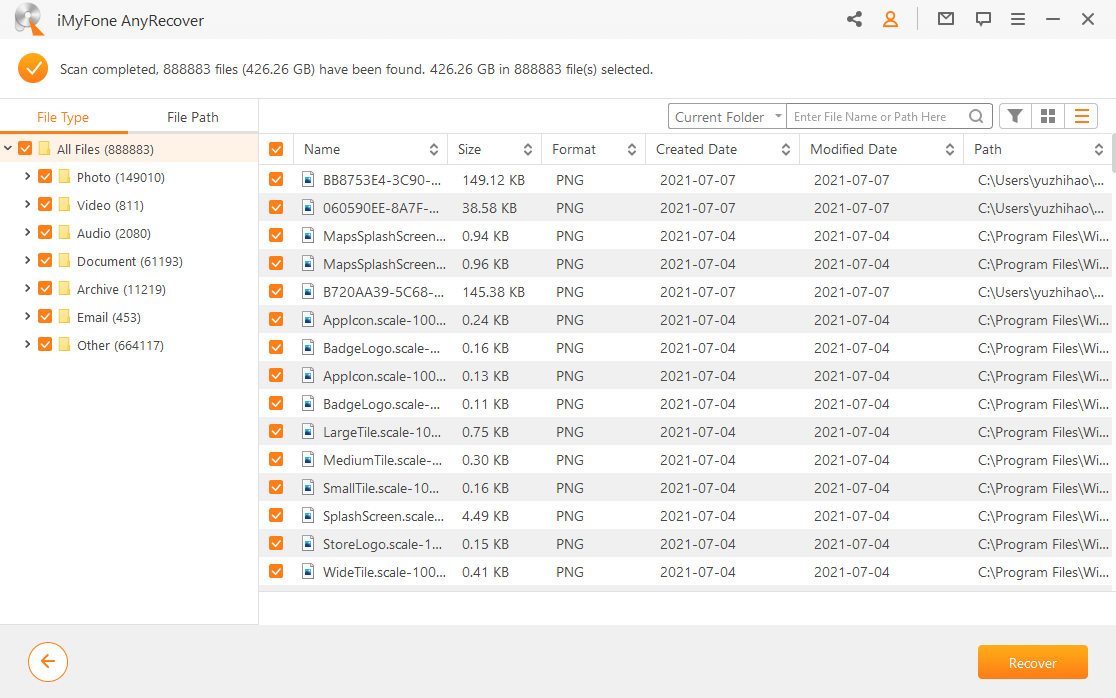 Step 3 Click "Recover" and there you go, you've got your files back!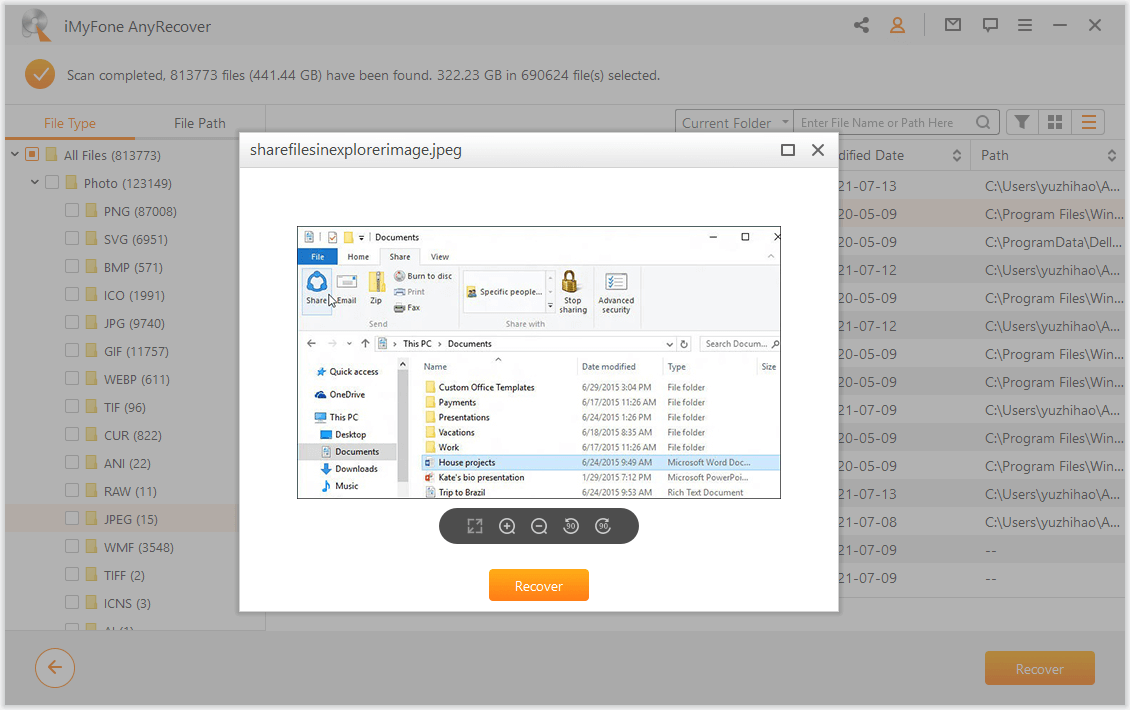 Bonus Tips on Data Loss Prevention
If you've made it this far, congratulations! You've successfully resolved the ESD-USB problem. We can always learn from our mistakes and make sure they don't happen again in the future and there are also concrete solutions to prevent future data loss cases such as ESD-USB mistakes. Here are a few more tips to keep your external storage devices and the data safe:
Regularly back up your data. This is the best way to protect against data loss.

Make sure you are using a good firewall and anti-virus software to protect against viruses and malware attacks, and keep the software updated!

Protect equipment with important data stored on it from water damage, excessive dust, physical damage, and static electricity. All of these could lead to damage that causes data loss.

Protect your equipment from power surges. You can use a battery backup system or a generator.

Use software that detects problems with hard drives. You can take care of any problems that are detected before data loss occurs.

Conclusion

When dealing with external storage technology, it's easy to accidentally convert the your external hard drive into ESD-USB format. Losing data can be a scary feeling and could potentially put you behind on personal and work projects or cause you to lose important pieces of information that you had saved on the USB. We hope this article helped you learn some practical mehtods to undo ESD-USB and prevent future data loss.