I've apparently lost a bunch of '.pages' files on a 16GB Lexar flash drive that were present yesterday. I am at a total lose as to where the files have gone to. Any suggestions on a program or procedure to try to recover files from flash drive?
If you encounter the similar situation, you are in the right place. Absolutely, you can restore these files using a third-party software. In this article, we will take a look at how you can recover deleted or lost data from your USB flash drive on Mac and why data becomes lost on flash drives.
Why Does Data Get Lost On Mac USB Flash Drive?
Corruption Via Sharing: because USB devices are plugged into many different computers and devices, they have a very high chance of becoming corrupted due to frequent data transfers.

File System Corruption: if your USB files have too much damage done to them, that damage can corrupt your RAW file, which is the file that lets you access the USB drive.

A Nasty Virus: if you use an unsafe computer and get a malware script or virus placed onto your USB drive, this can result in corruption of the files. The virus will slowly infect each file and delete them.

Unplugging Without Ejecting: when you just yank the USB drive out of your Mac without using the eject button, this can cause formatting issues which can result in data loss.
SD card is prone to data loss, too. If you often store important photos or other files in SD card, you can learn how to prevent data loss and recover deleted files from an SD card on Mac.
How to Recover Files from USB Flash Drive on Mac?
Simply download AnyRecover, a recovery software for Mac that can recover all kinds of files. It comes with a free trial, 100% security, and has one of the highest recovery rates out of all recovery software available online.

1,000,000 + Downloads
Key Features
Restore deleted/lost pictures, videos, documents, e-mails, audio files, and other files from your Mac.

Recover lost data from Mac emptied trash, USB flash drives, pen drives, etc.

Rescue your files without overwriting any other files from PC or Mac computers, keeping all files safe during the entire process.

Support macOS 11.0/10.15/10.14/10.13/10.12, and Mac OS X 10.11 ~ 10.10.
Steps to recover deleted files from Mac USB Drive with AnyRecover:
Step 1. Open up AnyRecover, connect your USB flash drive to your mac computer so that the recovery process can commence. Choose the USB Flash Drive and hit the Start button.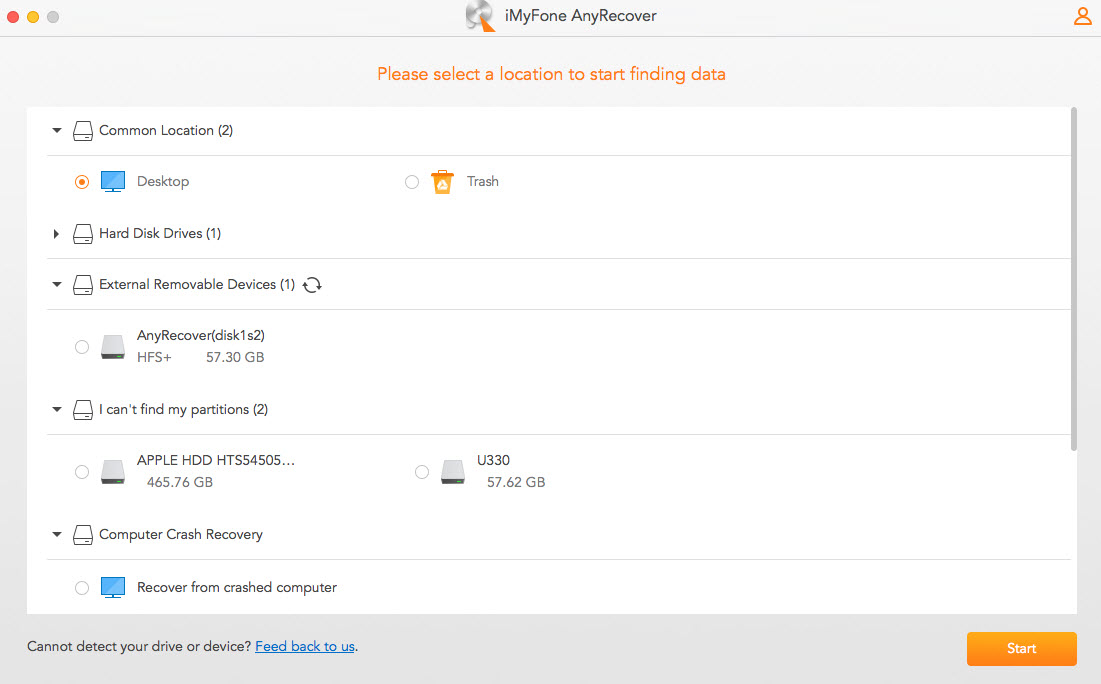 Step 2. It will start to do an all-round scan on your selected USB Flash Drive.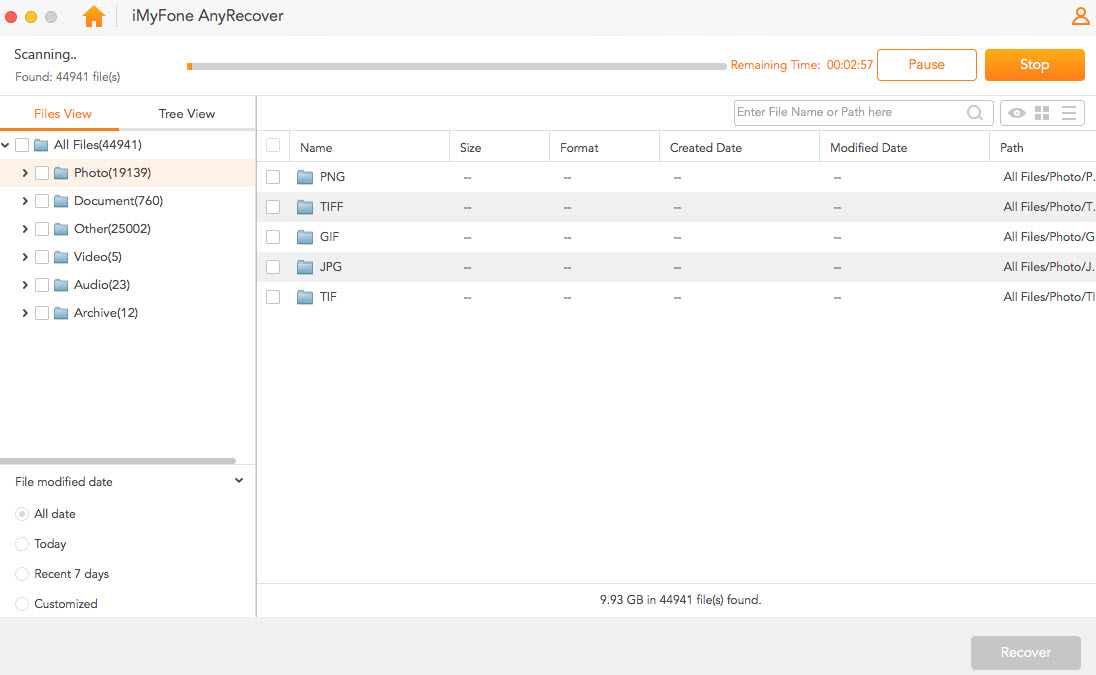 Step 3. Wait for AnyRecover to get back to you with your lost files. Once the scanning process is finished, it will list the files out to you based on type. Select which ones you want to recover. Hit the Recover button once you've selected all your files.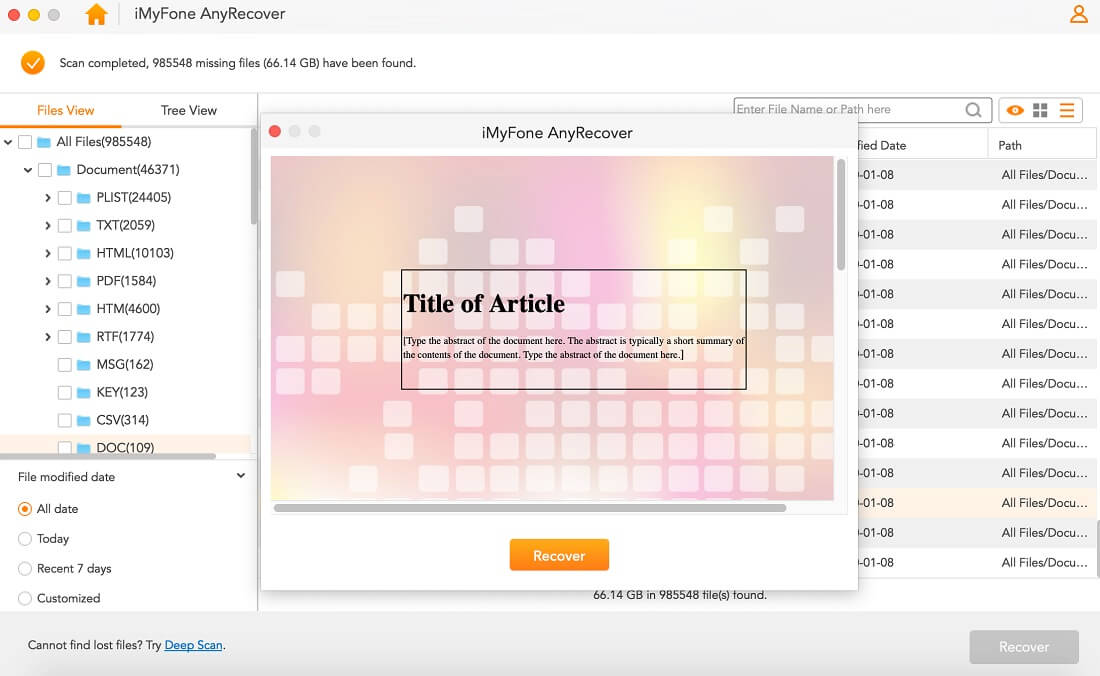 Note
Move the recovered files to your computer; somewhere safe but definitely not the USB flash drive you just got them from.
Tips For Recovering Deleted Files from a Flash Drive
Learning how to recover deleted files from USB Flash drive on Mac can help you. It is also essential to learn how to prevent data loss on USB devices.
Always remember that your files are never actually deleted but get marked for reuse, meaning that they will become overwritten by other files in the computer. All files are available to be retrieved prior to be overwritten on.

Safely remove your USB drive from your computer every time to avoid any damage to it.

A soon as you realize that your files are gone from your USB flash drive, stop using it immediately! You want to make sure that you don't overwrite the files through continued use.

Always use recovery software that can pull a large library of files types, as this gives you the most potential for recovery success.
Flash Drive Recovery Related Questions
Some users may encounter the following problems. Read on to solve your problems easily.
How to restore deleted files from USB flash drive on Mac?
1. Launch AnyRecover for Mac, make sure your USB flash drive is connected to your computer successfully.

2. Select the connected USB drive and click the Start button to search lost files on the USB flash drive.

3. Double-click to preview the found files and select the exact ones you want.

4. Click Recover button to get lost files back.
Can you retrieve deleted files from flash drive without software?
You can restore deleted files from flash drive without software by CMD or from a previous version.
How to fix a corrupted USB flash drive without losing data?
1. Plug in the drive to your computer.

2. In the search bar, type "CMD" and press "Enter".

3. Type "chkdsk USB drive letter: /f" or "chkdsk /X /f USB drive letter", replace "USB drive letter"...Full Guide to USB Drive Repair.
You can use the USB Flash Recovery Software for Mac - AnyRecover to recover data from flash drive on Mac. AnyRecover comes highly recommended as it has one of the highest recovery ratings available, it can recover 1,000 of file types, and it comes with a free trial. Plus, it doesn't matter how those files were lost, because this tool can get them back regardless.