If you have ever accidentally deleted an important email, you must know how frustrating this situation can be. Sometimes, we want to delete selected messages from Gmail but end up deleting all messages from inbox. Most of the people think we cannot retrieve deleted emails Gmail but we can surely do so.
This article covers the most effective methods about how to retrieve deleted emails from Gmail. All of the mentioned methods work fine for any kind of emails that have been deleted from Gmail inbox.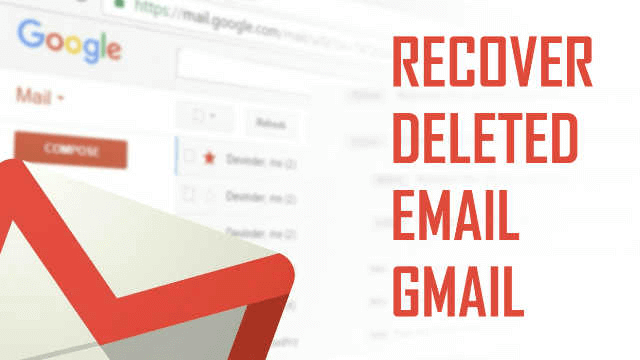 Part 1: Recover Permanently Deleted Emails Gmail with AnyRecover
Most of the users use Gmail application to manage their emails and messages. If you ever face a situation where you want to recover deleted emails from Gmail, AnyRecover deleted files recovery tool can do the perfect job for you. This gmail message recovery tool can be used to recover any type of deleted messages, data, files and attachments involved in Gmail application. Recovering emails from trash are not that hard but if you have also deleted files from trash, you need a professional email recovery tool like AnyRecover to retrieve all the deleted emails without complex technical skills.

1,000,000 + Downloads
Key features of AnyRecover
Follow easy instructions for email recovery without spending hours understating the tool.

Easily get back all deleted emails ,as well as documents, photo, audio and other files from by yourself, no tech skills required.

Your recovered emails are 100% safe and secure as we don't keep any backup of your recovered files.

If you want to try the tool before upgrading to premium, try scanning missing or deleted emails for free.
How to Retrieve Deleted Emails from Gmail via AnyRecover:
This gmail message recovery tool is compatible with both mac and Windows operating system (Windows 11 supported). Here are some simple steps that you need to follow to get back your deleted Gmails.
Step 1: After downloading and launching AnyRecover, select the location where your Gmail application data are stored.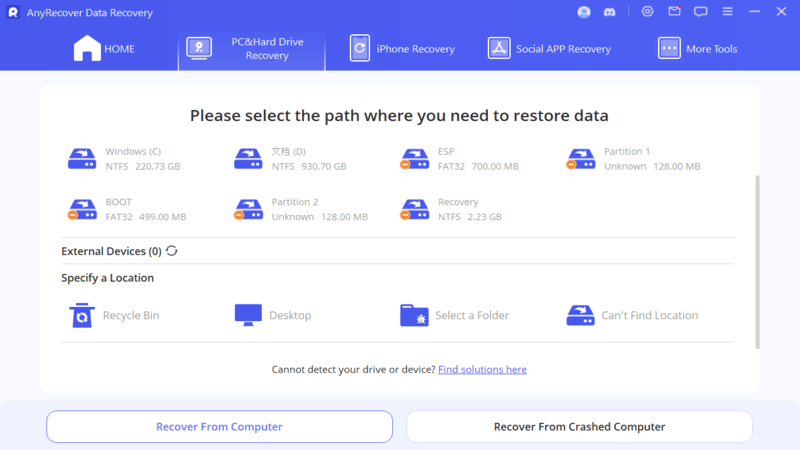 Step 2: After selecting the location, hit "Start" button to start scanning.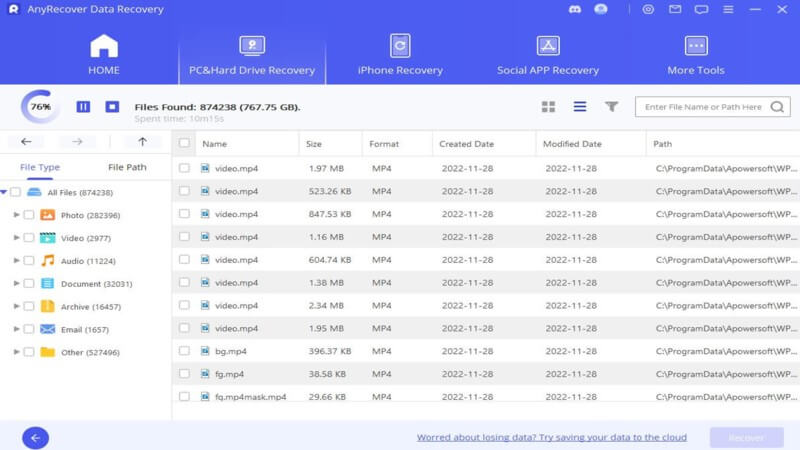 Step 3: Before starting the recovery process, preview the files and emails that are going to be recovered in File View or Tree View. You can find the recovered Gmail emails in the "Others" folder. Once you know that your required emails appear in the scanning results, click the "Recover" button and the deleted files in the format you selected will be recovered in a few minutes.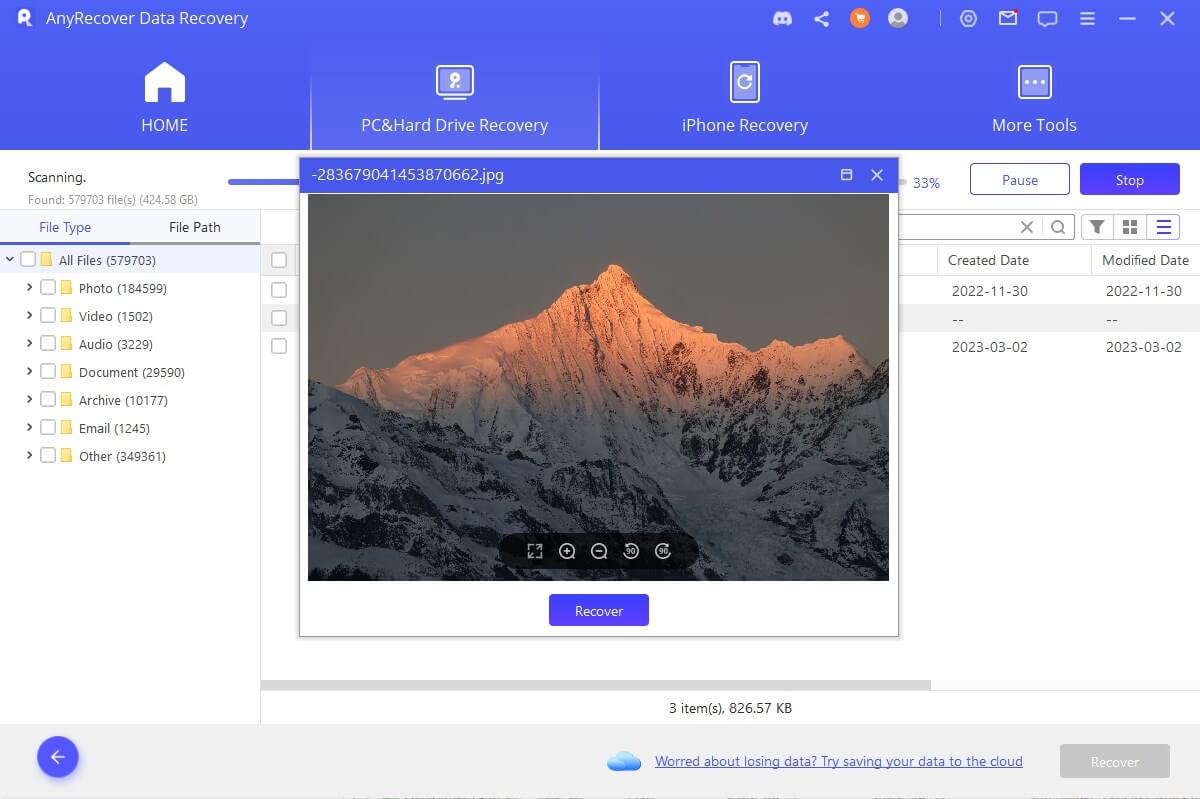 NOTE:
Please do not save the restored Gmails emails and relevant files to the partition where you deleted or lost the data before.
Part 2: Recover Deleted Gmail Emails from the Trash
When you delete an email in Gmail inbox, that deleted message is moved to the Trash folder. This folder will store the deleted emails for 30 days after you have deleted the messages. This folder contains all the emails that you have deleted in the duration of the last 30 days.
How to Retrieve Deleted Emails from Gmail via Trash Folder
Step 1. Go to the side menu of your Gmail account and choose "Trash Folder" from "More".
Step 2. You will see your deleted messages in the Trash folder. Select the Gmail emails and messages that you want to recover.
Step 3. Click the "Move to" icon and choose where you want to move the message to. You can move these messages to Inbox or any other folder.

NOTE:
After 30 days, emails are permanently deleted from Trash folder too. When the trash folder has been cleaned, you cannot recover emails easily without using any professional recovery tool like AnyRecover.
Part 3: Recover Permanently Deleted Emails Gmail from Google's Server
Online hacking is a common thing these days. Many Gmail users are missing their messages because of unauthorized access. If you ever face such hacking attack, you can file an investigation request to Google and they will look for every possible solution to bring back your compromised Gmail account and emails. Here are a few things that you can do to retrieve deleted emails Gmail from the server.
Step 1. Sign in your Gmail account in a browser.
Step 2. Go to the Missing Gmail Page and give your email address that has been compromised.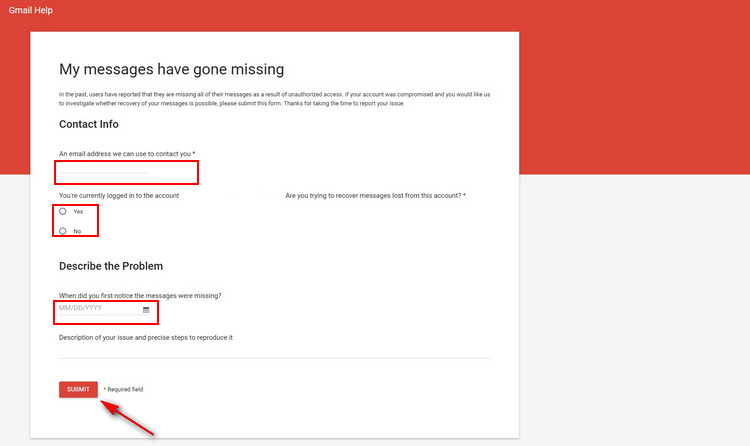 Step 3. Enter the date that you first notice your messages were missing and describe the whole issue. Click the "Submit" button to send your request to Google mail support team.
NOTE:
There is no 100% guarantee of email recovery using the missing page. Google will send you a email from mail-support@google.com to tell you the request result. The missing or deleted emails will appear in your inbox in they are successfully recovered. Otherwise, the email content would be "unable to recover".
Part 4: How to Clean up Gmail Inbox without Deleting Your Emails?
Most of the users describe different sites and newsletters from so many sites can be really annoying. These emails can take a large portion of your inbox so you must know a better way to clean up your Gmail inbox without deleting the messages. There are two main methods to do so. These two methods will keep your inbox clean and you will be receiving the emails too.
Archive Messages
You can archive messages and these messages will not be deleted. As soon as someone replies to the archived messages, messages will appear in your inbox.
When you point at any message, you will see "Archive" icon on the right. Click this icon to move messages to the archive folder. If keyboard shortcuts are turned on, you can also press "E" to archive an email you're looking at.

Mute Messages
Any replies of a muted message will stay out of your inbocx. You can search for conversion when you need to find it later.
To mute or ignore a message, open or select any conversation in Gmail, and then Click "More" > "Mute" at the top.

Conclusion
These were the most effective methods to recover deleted emails Gmail. If you value your emails and want to avoid any risk, AnyRecover email recovery tool can be a perfect pick. If you are not sure about your decision, you can try the free trial to scan the deleted Gmail emails. If you find the results satisfying, get this professionals recovery tool for your system to use more advanced features. Test AnyRecover now and see if it is right for you!