Have you ever experienced the computer crash and worried about the files stored on it? That's why you need Easy Recovery Essentials, also known as EasyRE, a tool that can repair your unbootable Windows Computer and restore the files on it safely. Many users think highly of it for getting crashed computer back to normal and saving all important files. However, there is no perfect tool in the world. The EasyRE has its shortage. So today this ariticle will show you the full Easy Recovery Essentials review and one of the best alternatives to it.
Part 1: Easy Recovery Essentials Free Reviews
1. What Is Easy Recovery Essentials Free
Easy Recovery Essentials is a file and system recovery program designed to understand the problems of your crashed computer, and then fixes them. With advanced technology applied, EasyRE can handle all issues that prevent your computer from working normally. And your computer will boot up with no data loss in most cases.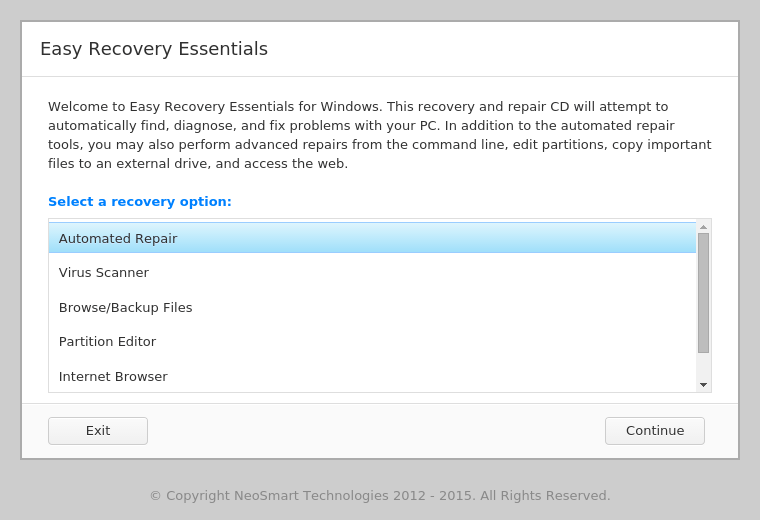 Some of the notable features of EasyRe include the following:
It keeps your files safe and secure by backing up all your data before performing any repair or fixes.

It provides complete diagnostics and repair to your computer.

It claims to provide a scientific approach to computer system recovery, which causes no harm to it.

It's easy to use and bootable in a crashed computer that needs repair.
Supported system:
Easy Recovery Essentials is compatible with all Windows systems. 
Besides, It natively supports UEFI, and the latest update features full support for Windows 10 September 2019 Update (1909), as well as Windows XP, Vista, 7, 8, and 8.1. (EasyRE Server Edition can also repair Windows Server 2003 through 2019).
2. How to Use Easy Recovery Essentials Free for Windows
If you choose to use Easy Recovery Essentials to help you recover lost or corrupted files, here are the steps you need to take:
Step 1. Get a copy of the program by downloading it on a blank CD or copying it to a USB. You can use a Mac or PC computer to do this.
Step 2. Either connect the USB or insert the CD in the computer that needs to be repaired.
Step 3. Restart the computer or turn it off then turn it on again.
Step 4. Right after your computer boots and just before the Windows starts, either go to the boot selection menu or BIOS setup. Depending on the model of your computer, this can be accomplished by pressing Esc, Del, Enter, Space, F2, F8, F10, or F12.
Step 5. Once you're in, you can set up your BIOS to boot using CD/DVD/USB or if you're in the boot selection menu, choose the appropriate CD/DVD/USB option.
To know more instructions on using the actual EasyRE software, you can also view an introduction and tutorial video of EasyRE on YouTube.
User Reviews for Easy Recovery Essentials
If you want to learn more about Easy Recover Essentials Free to have a critical opinion about it, here are some actual reviews from real users. The quotes below are cited from https://neosmart.net/EasyRE/Reviews/.
"Definitely not plug and play. Although I created a disc to have a more critical opinion about it as "told" I never did get the "help" screens that the website video said would come up. It may work for some folks but was a waste of money on my part."
-Kenneth L, February 2019
"I was trying to fix Service Pak1 not installing on Windows 7. I followed instructions on a MS Windows support community to change the partition to active and it never would reboot after that. BOOTMGR missing was all I got - control alt delete to reboot. Three days wasted trying everything to repair this problem. Gave in and downloaded EasyRE and in less than 5 minutes it was fixed and repaired. Thank you!"
-R Day, March 2019
"After experiencing a winload.exe issue on startup I decided to give Easy Essentials a try. It brought back my system but deleted eight years of bookmarks and also deleted all my saved Restore points. When I contacted Support they said "Yeah, that can happen"
-Steve Redston, March 2019
Part 2: Excellent Alternative to Easy Recovery Essentials Free
1. What Is AnyRecover Data Recovery Software
Easy Recovery Essentials is such a powerful tool that you can tell from the reviews above. However, it requires some technical knowledge to operate, and many beginners will get lost after purchasing EasyRE. Besides, some people may only want to restore the files stored on the crashed computer, thus the EasyRE is not cost-effective at this time. 
So here I'd like to introduce one of the best alternatives to Easy Recover Essentials in terms of recovering files from crashed computer:AnyRecover data recovery software. It can not only recover files from crashed computer, but also restore lost, deleted, corrupted, or formatted files from your hard drive or any storage device. Besides, what makes it surpasses the Easy Recovery Essentials is the compatibility of Mac.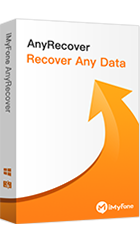 1,000,000 + Downloads
Features of AnyRecover
Supports over  1,000 media files and formats, such as AVI, MOV, MP4, M4V, WMV, 3GP, 3G2, MKV, ASF, FLV, SWF, MPG, RM/RMVB, MPEG, etc.

Recover your files from any storage device, whether it's your computer's hard drive, USB, flash drive, external HDD, SD card, or even your digital camera!

Very simple to use - no technical knowledge or experience is required.

Great compatibility with both Windows and Mac computers. Mac users can also experience the powerful functions, saving their important files stored on the crashed computer.
2. How to Use AnyRecover
If you are a beginner in this field who know little about how to use Easy Recovery Essentials properly, and your only problem is to recover the files, then forget about Easy Recover Essentials Free. The AnyRecover tool is the one you really need.
Prepare another working computer and a blank USB drive or CD/DVD and begin the recovery by following the steps below.
Step 1. Launch AnyRecover on the working computer, then choose "Recover from Crashed Computer". Click on "Start" to proceed.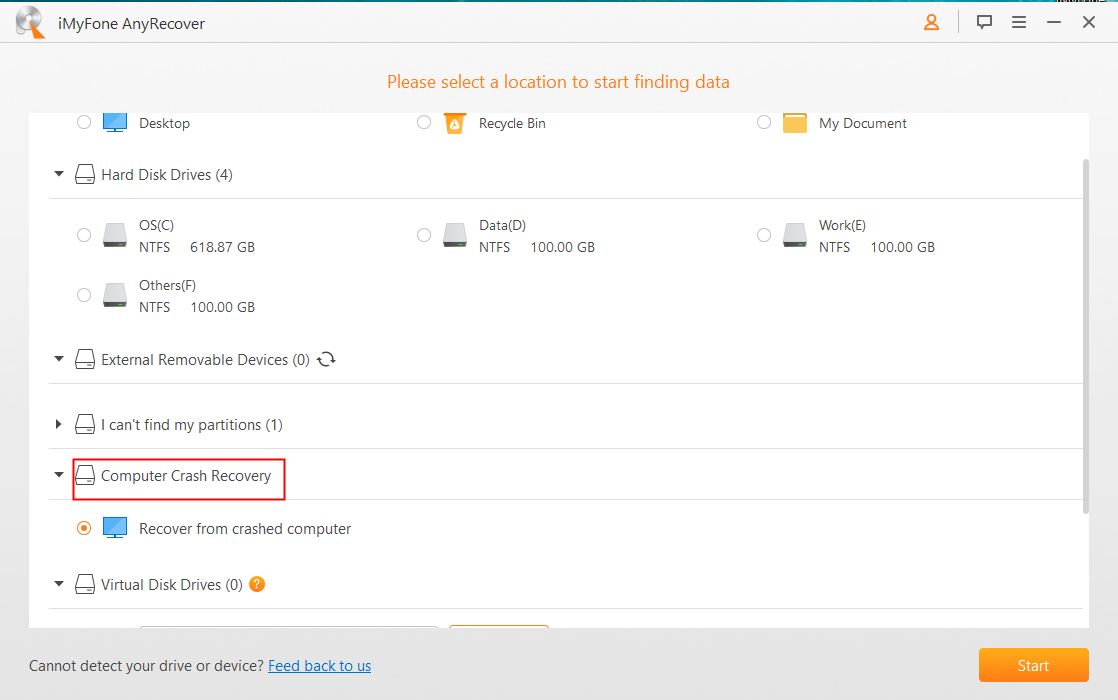 Step 2. Select the drive you want to use to create a bootable drive, then click "Create" to begin.Select the drive you want to use to create a bootable drive, then click "Create" to begin.A message will pop up alerting you that this operation will format your drive. Make sure that you've backed up your important data, then click "Format".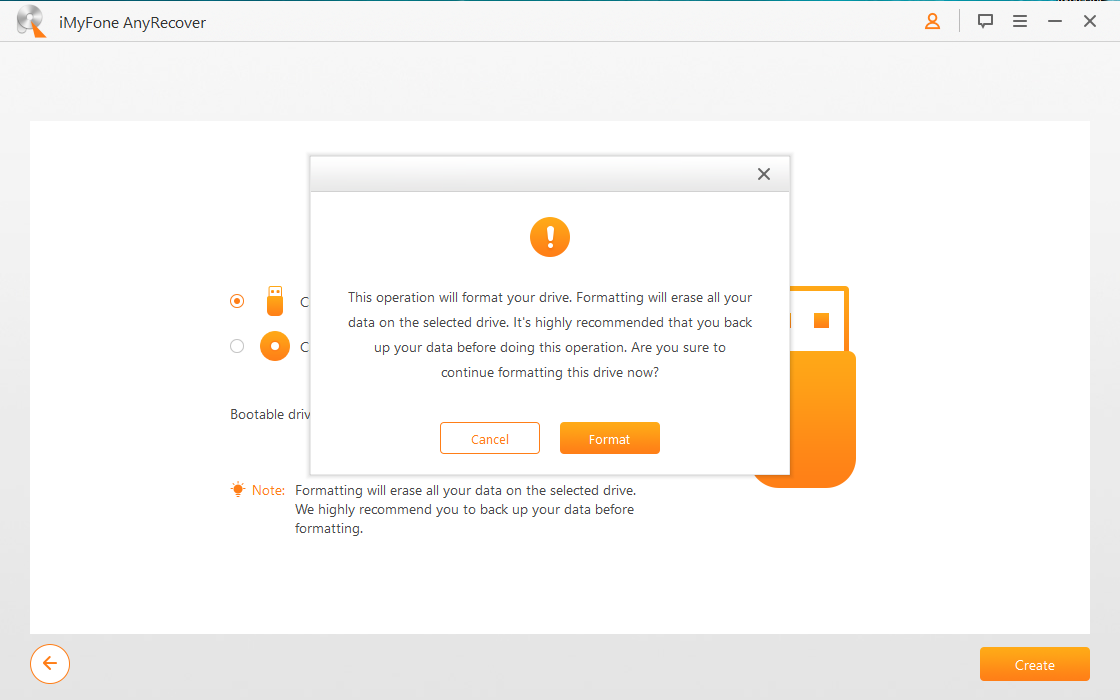 The program will start to download firmware. Once done, it will begin to format the USB drive or CD/DVD and create a bootable drive after that.
Step 3. Once the bootable drive has been successfully created, follow the steps below to restart your crashed computer.
Adjust BIOS to boot from USB flash drive or CD/DVD.

Connect USB flash drive or CD/DVD to your crashed computer.

Restart your computer.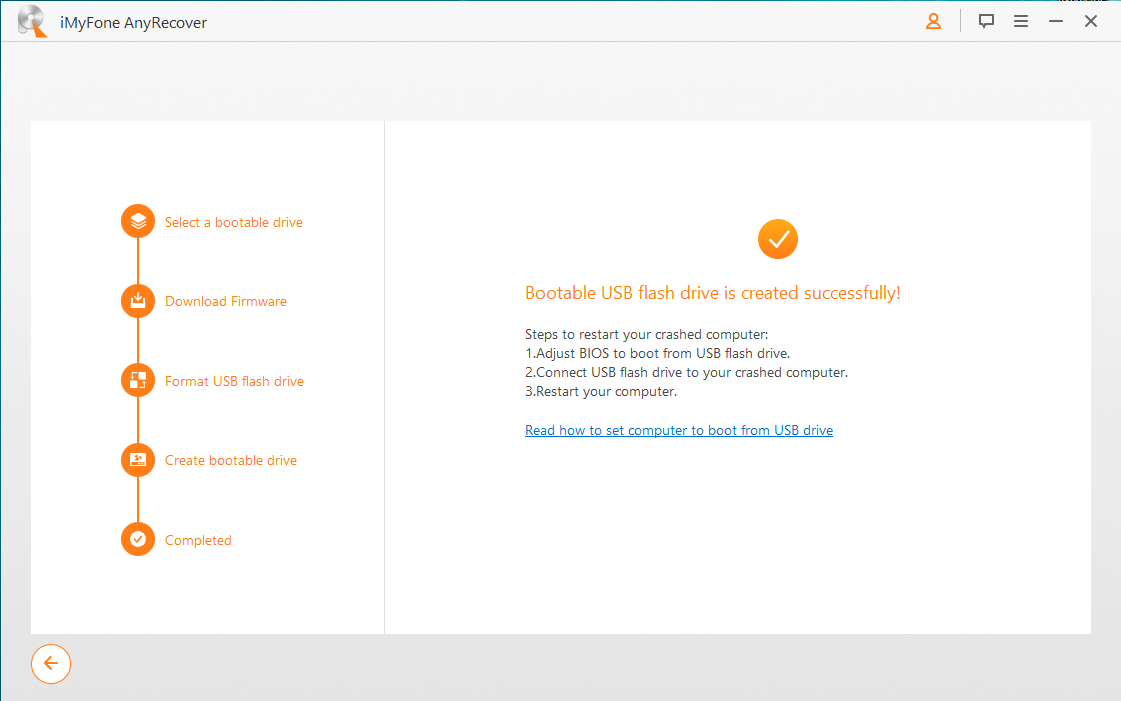 Step 4. By following the steps above, your crashed computer will become bootable again. You can then recover files from computer by following the steps of that part.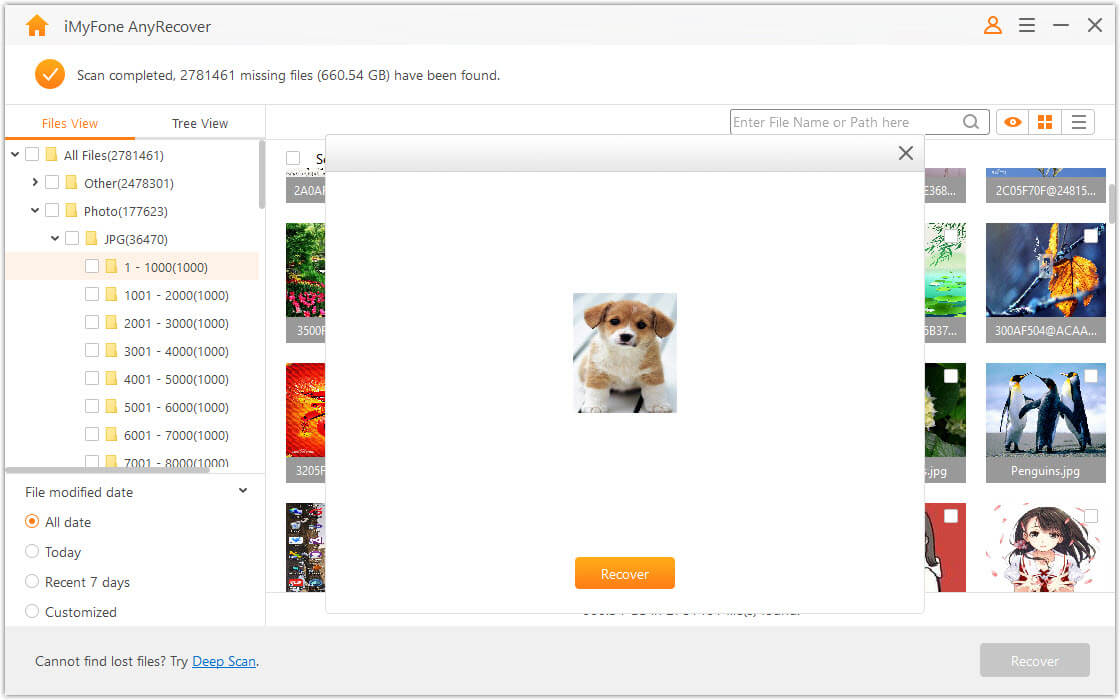 NOTE:
Please do not save the restored files to the partition where you deleted or lost the data before.
Part 3: Comparison of AnyRecover and Easy Recovery Essentials Free
| Features | | |
| --- | --- | --- |
| Deep Scan | | |
| Trash/Recycle Bin Recovery | | |
| Preview Data | | |
| Multiple Files Recovery | | |
| External Devices Recovery | | |
| Scan Specific Path | | |
| Scan Specific File Type | | |
| Easy-to-Use | | |
| Additional Tool Required | | |
| Support Mac or not | | |
Conclusion
That's it! That's how simple you can recover your files using AnyRecover. Unlike EasyRE, AnyRecover is fast, simple, and requires no technical skills or knowledge. Most importantly, it can work well with Mac computer. If all you want is to bring back your files that you have accidentally deleted or from a crashed computer, then AnyRecover is the easiest recover essential you need! Download and give it a try!