You just lost some really important files on your PC or external hard drive, searched the web for a reliable data recovery software and you got a few results like "iMyFone AnyRecover - cracked version free" and get excited since it's readily available and free, right? Sadly, that's a misconception. Using a cracked version of the software will only cause you more harm than you may know. In this article, we'll let you know the risks of using a AnyRecover cracked version and why you should go for the official iMyFone AnyRecover software.
Part 1. What Can iMyFone AnyRecover Do for You
iMyFone AnyRecover is a highly sophisticated, top-level software that helps recover deleted, lost or corrupted data from virtually any storage device. Besides, you can use it conveniently on almost any Windows OS (even the latest Windows 11) and Mac OS. Want to get back your lost files from your PC or external storage media? Then AnyRecover is surely the software to go for.

AnyRecover Key features include:
Ensure the data security and your exclusive access to the recovered files.
Recover data lost in any scenario ranging from accidentally deletion, formatting, corruption, system crash, virus attack, and so on.
Recover over 1000 formats of file from any storage media including USB flash drive, external hard drive, digital camera, music/video player, SD card, etc.
User-friendly interface makes data recovery possible for even green hand.
Extremely high recovery rate among other competitors.
Trial version enables you to recover up to 8 files for free.
Part 2. 5 Risks of AnyRecover Cracked Version
AnyRecover cracked version is quite common on the internet these days. It is a reshaped version of the software which removes copy protection features and some other features of the original version. Using a cracked version may lead to a series of problems ranging from reducing your system performance to the prospect of exposing your personal information to hackers. Below are five main risks you are exposed to by using a pirated or cracked version of AnyRecover.
Prone to be attacked by the virus and malware. When downloading the cracked version, invisible viruses and malware are also installed on your system secretly. These can potentially lead to PC crash, poor system performance, or in even worse cases, it can gain access to all your personal information even the credit card related.

Harassed by malicious content. You are very likely to be exposed to harmful webs which can infect your system with adware, bots and other harmful contents.

Unable to enjoy full functionalities. By using a cracked version, you miss out on regular updates that contain fixes, security updates and new features.

Consequence caused by illegal behavior. Also, there could be legal implications, as your unlicensed copy can be blocked and the legal action may be taken against you.

Risks brought by manually edition of the software. If you download the iMyFone AnyRecover crack version from unsecure website, it's very likely to be edited by the malicious group, and your antiviruses may not discover the change. In this way, privacy leakage is a must.
Part 3. Why You Should Choose Official iMyFone AnyRecover
Besides the risks mentioned above, using a cracked version of AnyRecover always means some features of the official version are forever removed. Check them below:
No customer service: If you meet a technical issue on your cracked version, you'll have nobody to seek help from and can only deal with it yourself.

No data security: When using the official iMyFone AnyRecover, you are sure your files are secure, unlike the cracked version that exposes your system to malware and viruses that can damage your system, steal your data or lead to third-party access to your essential information.

No free updates: iMyFone AnyRecover always has updates to improve user experience; you get to miss out on these updates when using the cracked version.
Contrary to popular opinion, cracked versions are more expensive than the original version as you may pay much for the potential consequences. What's worse, some of them are forever and can not be repaired. Why gamble with hard-earned cash for a cracked version when you can get the official version for less? Besides that, you can be sued as purchasing software that does not have legal permission of the original developers is unlawful. We are making every effort to eliminate cracked versions online and will carry out legal actions to fight against those malicious people.
Part 4. What You Should Know about Official iMyFone AnyRecover Serial Key and Keygen
To gain full user access to the official iMyFone AnyRecover software, you'll need to purchase a serial key.
Note
There are no free iMyFone AnyRecover registration codes, using a crack code is potentially disastrous.
The official iMyFone AnyRecover serial key comes in three types:
1-Month Plan: It gives you full access for one month, free technical support, and lifetime free updates on one PC.
1-Year Plan: It allows you to use the software for one year on one PC. It also comes with free technical support and lifetime free updates.
Lifetime Plan: It gives you a lifetime license on one PC, also provides free technical support and lifetime free updates.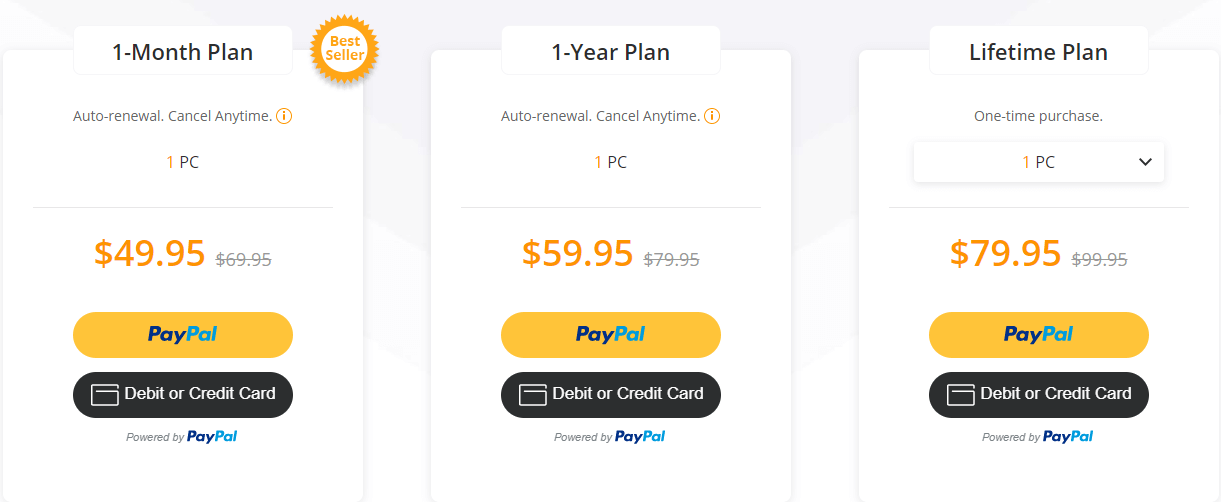 Conclusion
Using the official iMyFone AnyRecover is, of course, the best choice because using the cracked version will only leave you wishing you hadn't. If you are pondering on the idea of using the cracked version, why not buy the official AnyRecover and enjoy simple, secure and efficient data recovery process. We hope you find this piece helpful.