While many of us don't anticipate on losing important files, data loss is actually quite a frequent occurrence due to hard drive failures, formatting failures, and data corruption. If you, like me, have lost critical and important files before a big day at work or before a major project at school, you can understand how scary it can be to think you won't ever get these files back. Let's take a look at IObit Undelete and what it offers.
Part 1. Our Review of IObit Undelete: Pros and Cons!
IObit Undelete is free and powerful recovery software that is easy to use and free to download for both Windows computers. It allows you to safely restore deleted and lost documents such as videos, graphics, music, and more. It does not require advanced knowledge and the software is supported by a trustworthy company, IObit.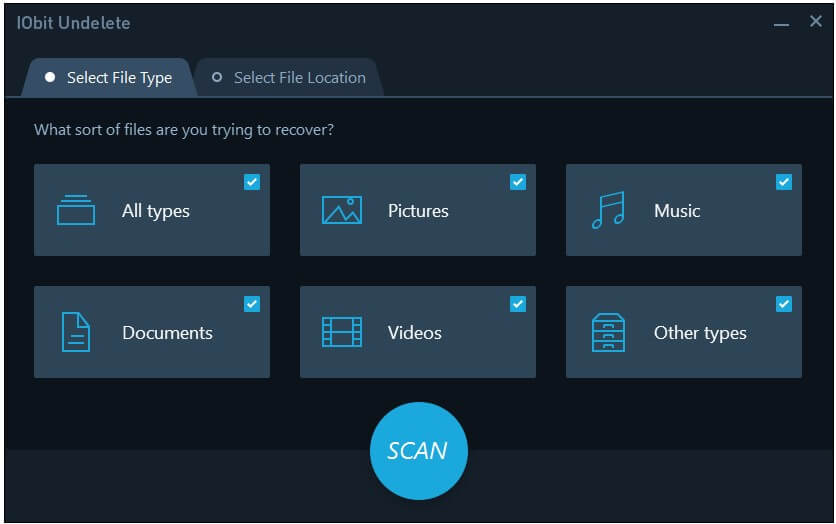 1

Positives & Negatives of IObit Undelete
Features

Disadvantages

Offers a complete target scan for those who don't know what disk or drive the lost files belong too. Using this feature automatically retrieves inaccessible or hidden files.

Provides you with an excellent, good, or poor rating to show you whether a file can be restored normally or if it has been overwritten.

The software works on lightly-formatted hard drives.

The interface is very simple and straightforward to use.

It does not consume very much memory and the recovery process is fast.

Unfortunately, IObit is still in its beta phase meaning that it has very few additional features when compared to competitors on the market.

Not every single file type may actually be recoverable.

The algorithm that IObit Undelete uses cannot always determine which files can be undeleted.

Upgrading costs extra money. Getting rid of ads also costs extra.

It isn't effective at recovering filenames. This means you have to spend time reviewing each file individually and reassigning filenames.
2

Is IObit Undelete Safe to Use?

Yes, the program is safe to use and will come back with a clean scan from any anti-virus program you use on it. It comes with no malicious coding, no viruses, and not spyware. The program is supported by IObit, a recognized industry leader in personal computer optimization. They are well-known for their Advanced SystemCare product and is trusted by 250 million users worldwide.
Part 2 .What is the Best Alternative to IObit Undelete?
AnyRecover is another data recovery program that helps individuals retrieve lost files that have either been corrupted, deleted completely, or lost in hidden places around your computer's hard drives (Windows 11 supported). The program allows you to restore all types of files from a massive amount of storage devices. Plus, it comes with the capacity to restore a large amount of file types at once.
| Features | AnyRecover | Stellar |
| --- | --- | --- |
| Preview Files | | |
| Supported OS | Win & Mac | Win |
| Deep Scan | | |
| Specific File Type Recovery | | |
| Specific Path Scan | | |
| Recovery Rate | 98% | 75% |
| Recycle Bin Recovery | | |

Features of AnyRecover
Supports over 1,000 different files types. This means you can recovery audio, text, documents, emails, archives, pictures, and more.
There is a 100% safe guarantee on file recovery. Meaning, no existing files are overwritten when you recover a lost file.
Supports all data loss situations, such as hard drive crashes, power surges, power-outages, deleted files, or issues with disk formatting.
You can recover files from USB drives, micro-cards, music players, camcorders, digital cameras, laptops, memory cards, and more!
AnyRecover has the highest success rate on the market for recoverability: up to 98%.
How To Recover a File with AnyRecover?
Step 1. Download and launch the program on your computer.
Step 2. Choose which mode you would like to use. With deleted files, you want the Deleted Files Recovery mode.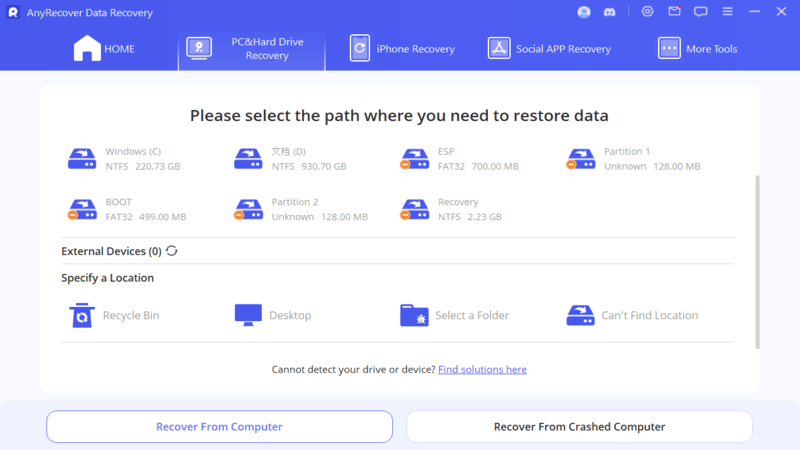 Step 3. Choose which location you would like the program to search for your lost files. If you are unsure of where the lost files are, you can use the all-round recovery mode to do a deep scan of your computer.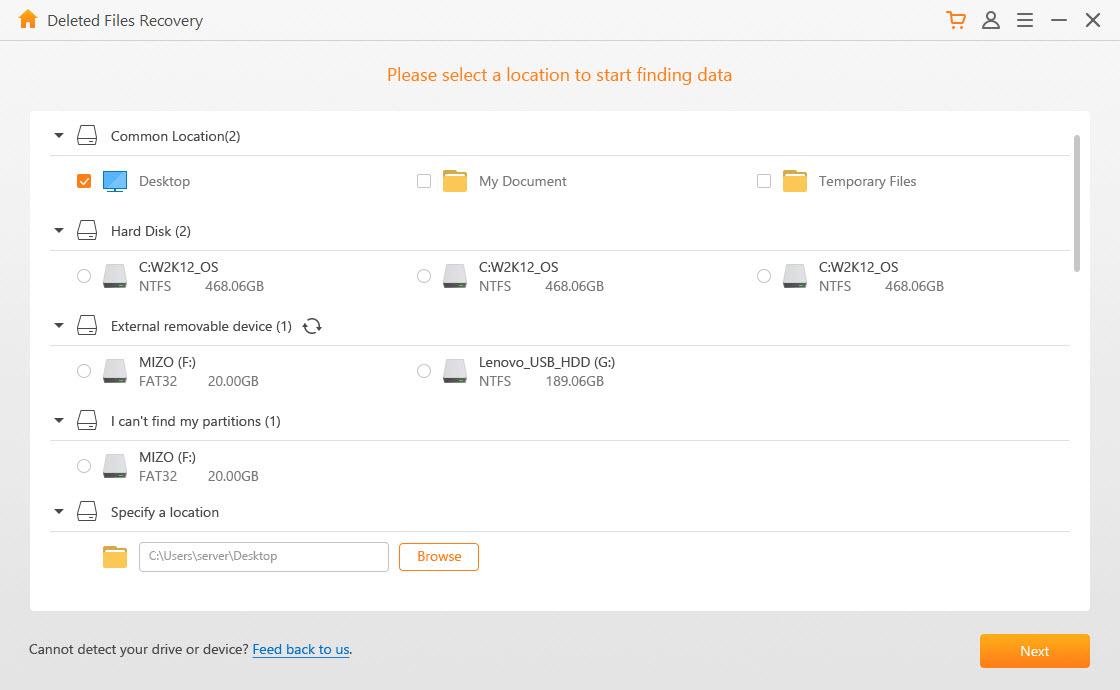 Step 4. Choose which type of file you want to recovery or choose multiple files. Hit scan!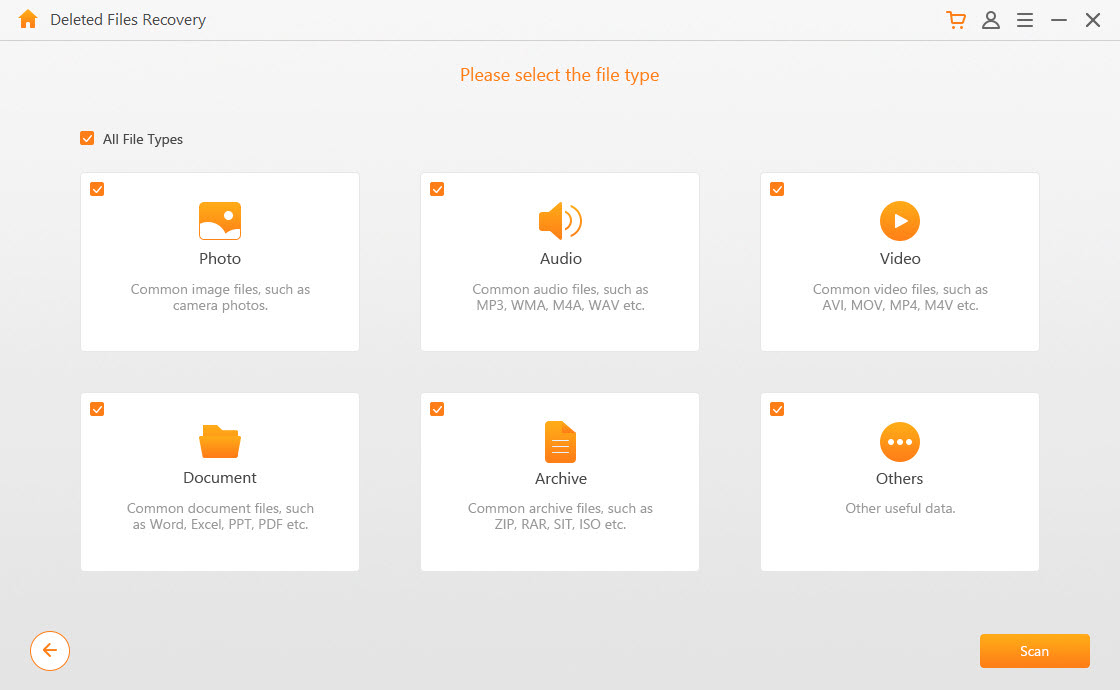 Step 5. Wait until the scan is done and then preview your files from the compiled list. Choose which ones you want to recover on a file-by-file basis or in bulk.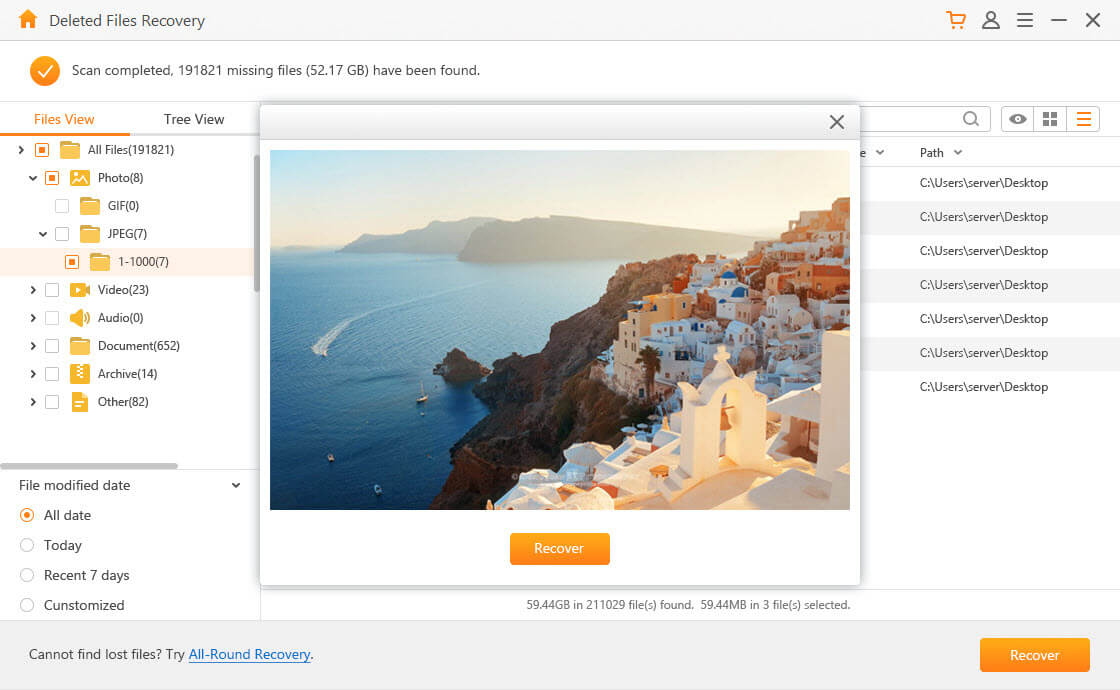 Always make sure to save your recovered files in a new place; separate from the location where they were deleted or lost from.
Conclusion
If you are looking for a program that has a few more bells and whistles than IObit Undelete but still want to be able to recover lost and deleted files, consider using a program like AnyRecover. The program is similar to IObit in function but offers a whole lot more in terms of features and file recovery options.