Data recovery tools are attractive when users accidentally delete files on their computer, flash drives, or SD cards. Knowing that you were responsible for losing important files (as opposed to a system crash or data corruption) can eat away at you. That's where FreeUndelete comes in - this data recovery tool will be the focus of our review.
1
FreeUndelete Review: Is It Worth Trying?
FreeUndelete isn't the first program that people think of when they desperately need a data recovery solution. Even though it's free, effective, and easy to use, it isn't the most popular option. That said, we shouldn't dismiss FreeUndelete just because it hasn't had a lot of attention; it's among the best solutions which is why we chose it for this FreeUndelete review.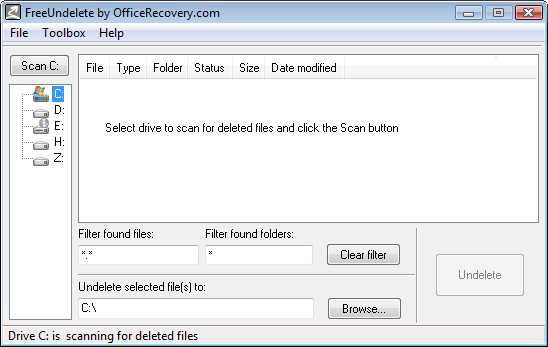 An older interface design can be misleading, especially in this case. FreeUndelete is suitable for recovering any Microsoft Office file, virtually any other type of file, and even repairing corrupt Windows Registries. Without a professional by your side, you can recover files that were corrupt, deleted, or lost in a system crash.
1

Pros & Cons of FreeUndelete
Features

Disadvantages

A simplistic user interface making it easy to use

Files are shown in a readable layout

Individual files can be restored as can entire folders

Completely free to use for personal use

Doesn't have ads all over the interface to counter being free

For business use, FreeUndelete requires a license ($69+)

Outdated interface design
2

Is it Safe to Use?

Overall it is very safe to use FreeUndelete. As part of our FreeUndelete review, we ran some basic security checks on the software. We found that there is:
no adware or spyware

no viruses encrypted in the code, nor malware

nothing dangerous detected by AVG or Malwarebytes

no data sent via internet connection
These findings alone give us good reason to declare that FreeUndelete will not cause any harm to you or your computer.
3

How to Use FreeUndelete

Follow this quick step-by-step guide to get a better understanding of how to use FreeUndelete.

Step 1. Download FreeUndelete on your computer and install it.

Step 2. Open the program and click on whichever storage devices you want to restore files from.

Step 3. Click "Scan" and wait whilst FreeUndelete completes the scan.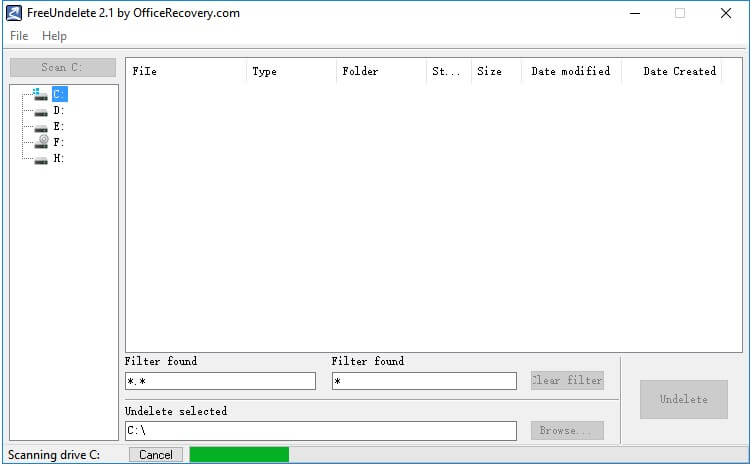 Step 4. After the scan finishes, select the files to restore and click "Undelete" to finish.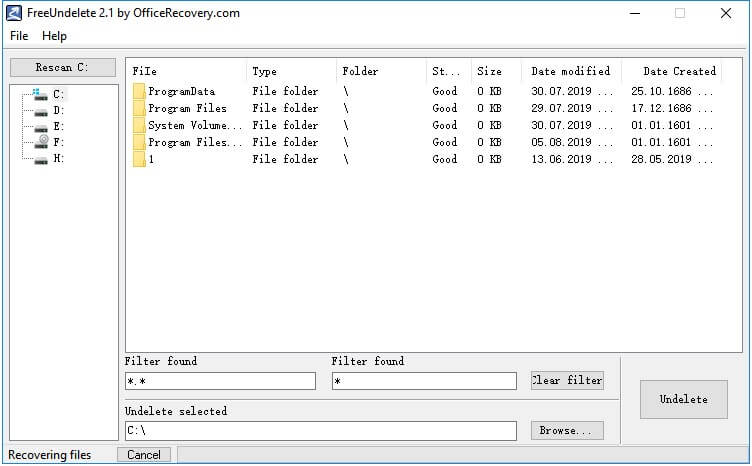 At the bottom of the program, you'll also be able to filter the scan results and change the directory that you want to save the restored files to.
2
Best FreeUndelete Alternative - AnyRecover
Instead of using FreeUndelete, you might want to consider AnyRecover. This alternative includes all of the features that we discussed in the FreeUndelete review above and many more.

AnyRecover's Key Features:
AnyRecover is specially designed to recover over 1000 different file formats of photos, videos, documents and emails, etc.
Advanced data scanning algorithms. Data scanning speed of AnyRecover is blazing fast, allowing you to scan and look for hidden files quickly.
User-friendly software interface which is suitable for beginners. Help you recover deleted data easily.
AnyRecover offers a FREE Trial with 8 files for free recovery with no size limit. You could also preview your data before recovering it. You could also preview your data before recovering it.
Supports Windows 11/10/8/7/XP and MacOS.
We've shown you how to use FreeUndelete, now we'll be showing you how to use AnyRecover. Simply follow the steps below to quickly recover your files.
Step 1. Download and install AnyRecover, then launch it. On the main menu select the appropriate recovery feature. We'll be using "Deleted Files Recovery" in this example.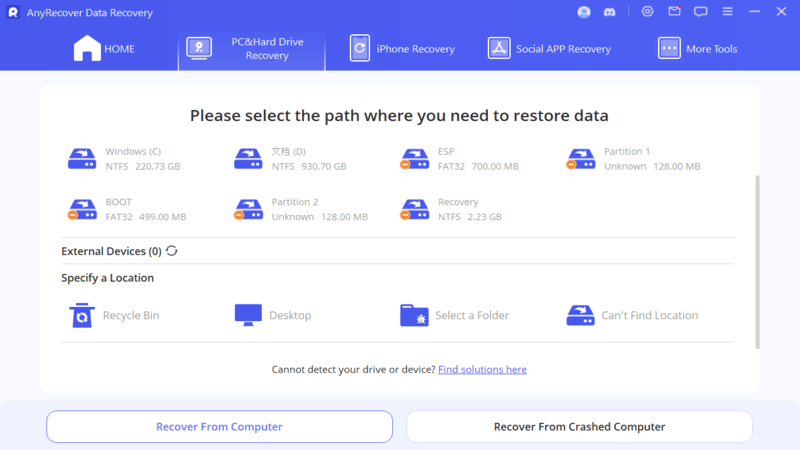 Step 2. Select the folder or drive where you want to recover data from. Press "Next" after doing so.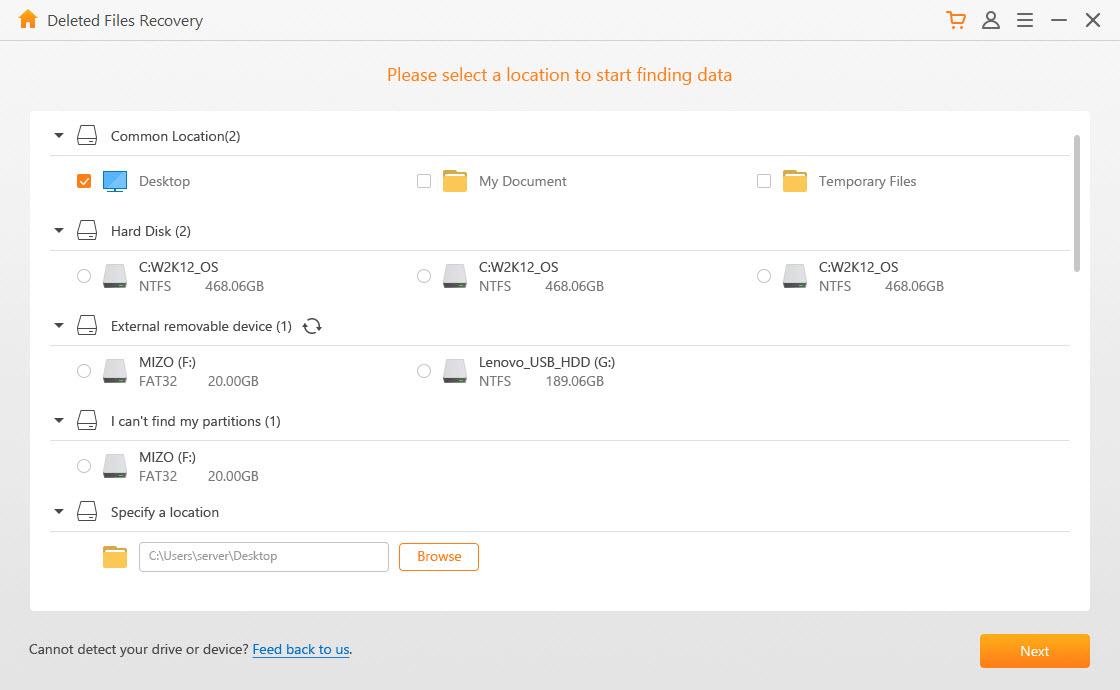 Step 3. Next, select whichever file type you are attempting to recover. If you're unsure then check the box next to "All File Types", then click "Scan". Depending on the directory you are scanning, the scan can take anywhere between a few minutes and an hour. Wait while the scan finishes.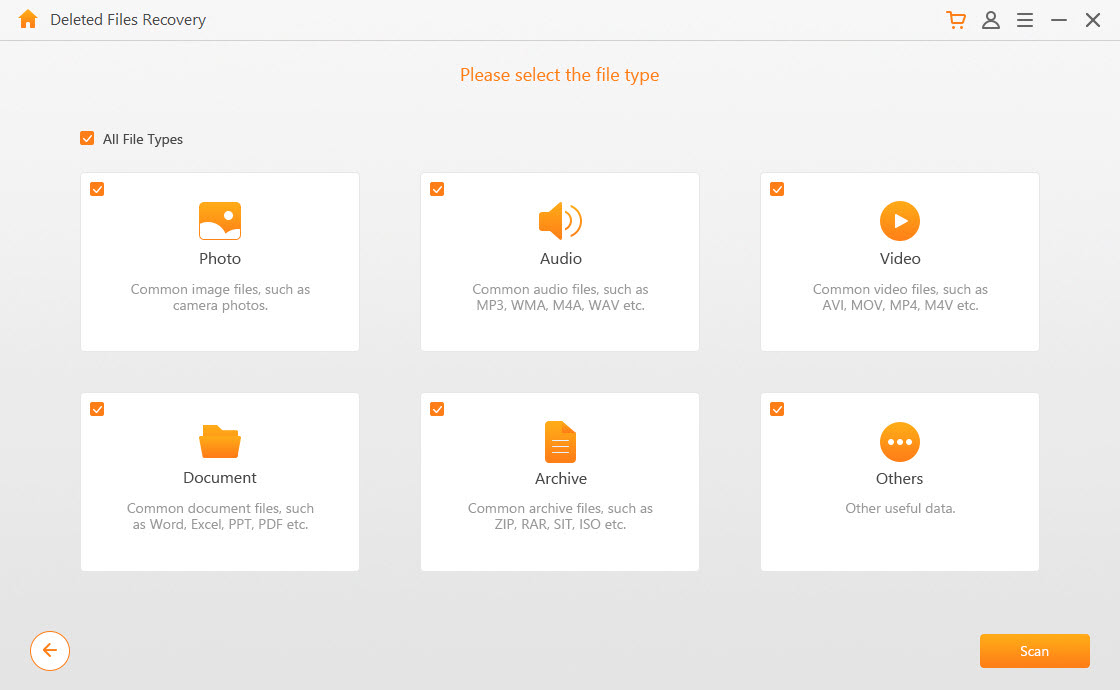 Step 4. After the scan is complete simply use the directory lists on the left to locate files for recovery. You can also preview files before recovering them.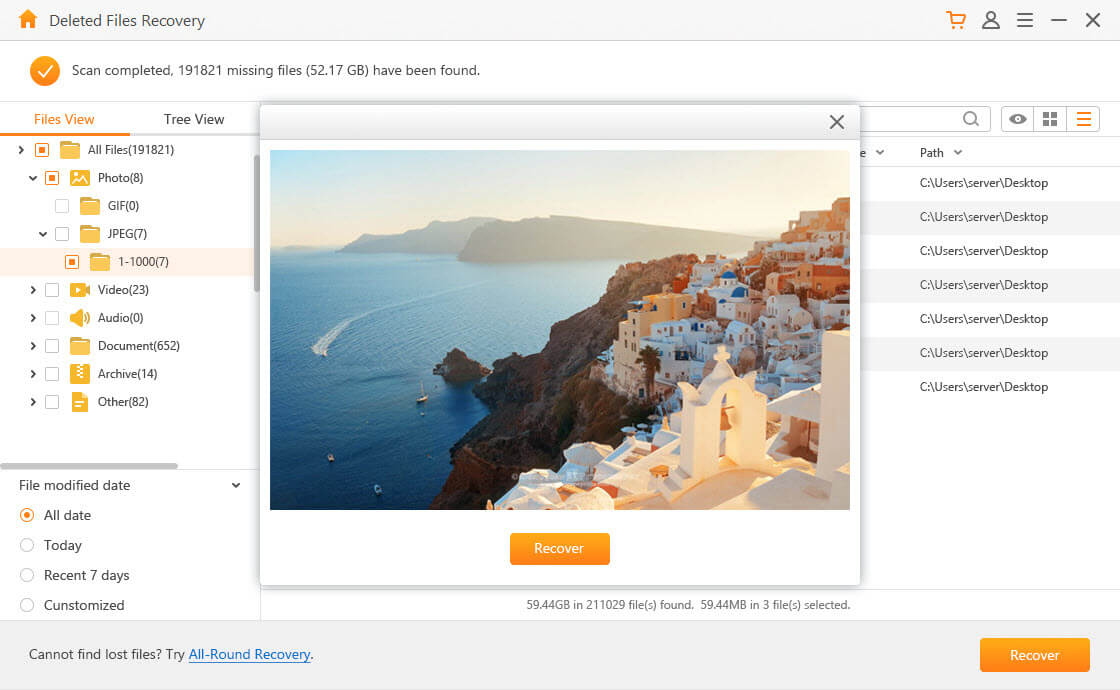 Step 5.  Lastly, click "Recover" at the bottom-right to recover the accidentally deleted files.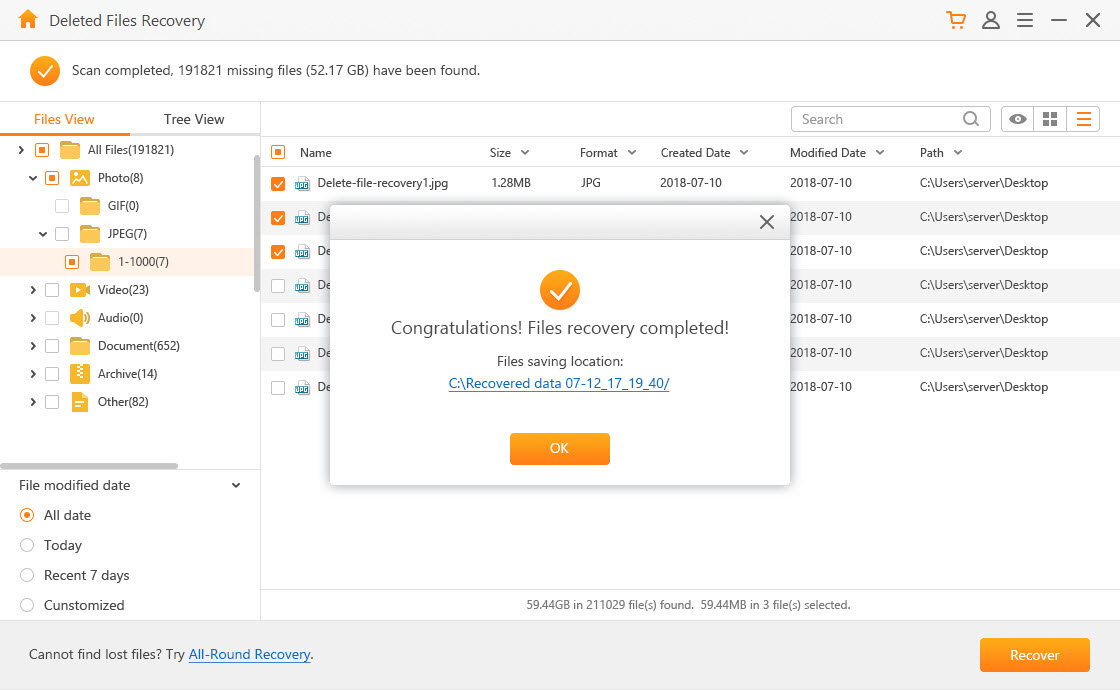 It's clear that this is a simple process and equally as effective as using FreeUndelete. If this scan doesn't detect your lost files then don't worry. Try using the "All-Round Recovery" feature instead, which runs a deeper and more thorough scan.
3
Comparison of AnyRecover and FreeUndelete
| Features | AnyRecover | FreeUndelete |
| --- | --- | --- |
| Success Rate | 98% | 75% |
| Scanning Speed | 1TB/hr | 356GB/hr |
| Deep Scan | | |
| Recycle Bin Recovery | | |
| Preview Files | | |
| External Devices Recovery | | |
| Scan Specific Path | | |
| Scan Specific File Type | | |
| Price | $39.95 | $69.95 |
Conclusion
As we reach the end of this FreeUndelete review, you'll now fully understand how to recover your data using FreeUndelete and AnyRecover. Even though these are both fantastic solutions, we recommend AnyRecover due to it being a smoother and more up-to-date data recovery program.