Whether you lost Microsoft Office documents, photos, or videos, DiskGetor Data Recovery is one of the programs you can use to get your files back. There are a lot of situations where this is an appropriate solution and we're going to discuss why, and why not, you should consider DiskGetor.
Part 1. DiskGetor Data Recovery Full Review
DiskGetor brands itself as one of the most powerful solutions for data recovery. If you accidentally delete an important file, a virus infects a folder of documents, or your hard drive is formatted before you can back up sentimental photos, DiskGetor Data Recovery is potentially the solution you've been looking for.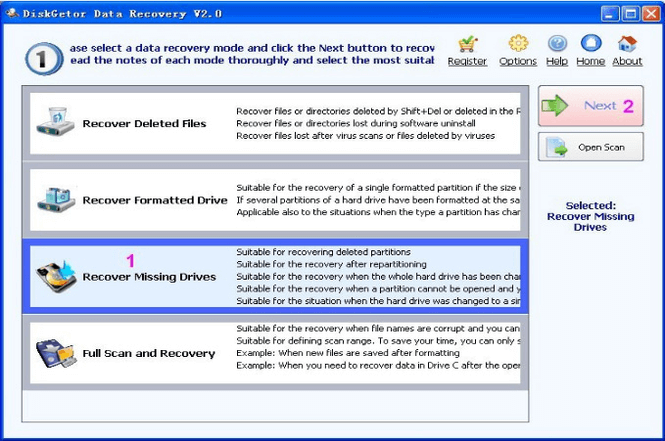 As a multi-situational recovery tool you can expect a lot from DiskGetor. While the outdated interface can definitely be dissuading, try to look past this and you'll see that it's an effective solution to consider. Fortunately, even with the old design, it's very easy to recover data and get the most out of the features which DiskGetor provides its users with.
1

Pros of DiskGetor
Has multiple data recovery modes that are designed for precise situations

Capable of recovering data lost after formatting a drive

Recovers files that were damaged by a virus or malware

Capable of extracting files from irreparable partition tables

Compatible with Microsoft Office files, media files, and several other formats

Easy to use and provides detailed guides on their official website

Available as a free trial version
Note
Even though there's a free trial you can use, don't get your hopes up. In order to actually recover data with DiskGetor Data Recovery, you must buy a license. This is one of the biggest downsides there are to using this program.
That aside, you can recover virtually all files with DiskGetor such as your music, videos, photos, documents, or just generic files.
2

Cons of DiskGetor
The free trial version of DiskGetor heavily limits what features you can access

It takes very long for the disk scanning process to finish

To avoid data corruption you must install DiskGetor on a different storage device than the one you'll be scanning

Unless you purchase a license, you cannot recover any data

According to reviews, restoring data using "Recover Formatted Drive" results in some files being unopenable

Only available to Windows users, not Mac
3

Is DiskGetor Data Recovery Safe to Use?

To make sure that there wasn't a virus or any malware in DiskGetor Data Recovery, we scanned it several times.

First, we used AVG and Norton to scan the program. Neither antivirus protection discovered anything suspicious to be concerned about. Afterwards, we put Malwarebytes into action. Again, nothing was found that would indicate the recovery solution to be harmful.

Yes. DiskGetor is safe to use without worrying that your computer is at risk.
4

Is DiskGetor Data Recovery Free?

Yes and no. You can download DiskGetor without purchasing a license and it is usable to an extent. However, if you want limitless access to the program's features, you need to buy one of the 3 different licenses.

Licenses range between $69 and $199, so it's a steep price to pay if you intend on using it.
Part 2. Best Alternative to DiskGetor Data Recovery
Instead of using DiskGetor Data Recovery to restore lost files, consider downloading AnyRecover. This is another reputable program that Windows 11/10/8/7 and Mac users can install to get back lost files, whatever the reason for losing them is.
| Features | AnyRecover | DiskGetor |
| --- | --- | --- |
| Scanning Speed | 1 TB/hr | 355 GB/hr |
| Supported OS | Win & Mac | Win |
| Deep Scan | | |
| Specific File Type Recovery | | |
| Specific Path Scan | | |
| Recovery Rate | 98% | 73% |
| Recycle Bin Recovery | | |
Any file can be recovered. Regardless of the file type, how the file was lost, and what storage device the file is stored on, AnyRecover is considerably more effective at recovering files than any other program can be.

Features of AnyRecover
Support over 1000 file formats recovery. Including documents, images, videos, audio, emails, archives, and more.
100% safe to use. No existing files are overwritten during the recovery process.
No matter how you lost your files, it can always get them back without any hassle.
Nearly all storage devices supported. This include hard drive, USB drives, sd cards, music players, digital cameras, and more!
Unlike other data recovery programs, this software doesn't overwrite the original data while restoring it. Since doing this can result in the original data being unintentionally deleted, AnyRecover creates a new version. Download it for yourself, try it out, and you'll quickly realise how much better AnyRecover is.
Conclusion
With the assistance of DiskGetor Data Recovery, you'll eventually have your lost data back again. If you think that AnyRecover is the better choice, we recommend that you use the coupon code above and buy a full copy. Let's give it a try!