I was running out of space on my computer and decided to compress all my important data into RAR file format. I did that and saved some space but later accidentally my younger brother deleted these RAR files. Now I can't find them anywhere not even in the recycle bin. I don't know anything about recovering RAR files. Please let me know if there is any solution to this. Thank you!
Such questions are common in the data recovery forum, as people are desperately looking for solutions. RAR file format is widely used in our daily life because of its algorithm that reduces the file size without affecting the original quality. A RAR archive may contain any compressed data such as audio, video, images, documents, PDF, databases, etc., which makes the loss of RAR files even more unbearable.
If you are facing the same problem, don't get worried. I will teach you everything on how to recover deleted RAR files, let's get started.
1
Scenarios that Cause RAR File Deletion
Before you learn how to recover deleted RAR files, I would like to describe some scenarios where RAR files are get deleted, so, you can be careful in the future.
If you delete RAR files from the computer and later empty the recycle bin, the records are permanently deleted.
Shift+Delete key can permanently delete RAR files from your computer, as they won't go to the recycle bin.
Converting partition from MBR to GPT will remove all your data on the hard drive, including RAR files, if you don't have a backup.
A hardware crash or corrupt external hard drive can cause damage not only to RAR files but also other precious data.
Anti-malware programs mark some RAR files as virus-infected and immediately remove them from your computer. Some examples are cracks and patching files in the RAR archive.
Incomplete file system conversion, such as NTFS5 to NTFS, can also cause data loss.
Is it Still Possible to Recover Deleted RAR Files?
If you are wondering can I still get my deleted RAR files back, then the answer is yes, it's possible.
Our computer stores data on hard disk drives into different sectors. Once we delete the data from a sector, it still remains on the hard drive, but cannot be used normally. Meanwhile, the space becomes free and available for other files to be saved. So if you want to recover RAR files successfully, make sure that no new data is written in that sector. Later we can use a professional data recovery tool to search for and recover lost RAR files.
2
How to Recover Permanently Deleted RAR Files
If your RAR files have been deleted previously, a piece of professional software is what you need. When it comes to the RAR file recovery tool, I always recommend AnyRecover. It has been recommended by prestigious media such as Softpedia, PCMag, Macworld, SoftwareWorld, and many others. It has a high recovery rate and advanced algorithms when we compare it to other data recovery tools.

AnyRecover Key features include:
The software recovers not only RAR archive but also other archive file formats, such as SIT, ISO and

ZIP

.
AnyRecover is specially designed to recover over 1000 different file formats of photos, videos, documents and emails, etc.
AnyRecover offers a FREE Trial that enables user to perform a deep scan, preview and recover.
This software is developed to recover all the data in its original form without overwriting it.
It is 100% safe and easy to use.
Supports Windows 11/10/8/7/XP and MacOS.
Easy steps to recover deleted RAR files
Step 1. Download and install AnyRecover
AnyRecover data recovery software is available to download on its official website. Download a compatible version according to your operating system and install it on your computer. There is also a free trial version.Launching the software, and you will see the main screen displaying different locations, now select the location where RAR files are lost and click on Start to being the scanning.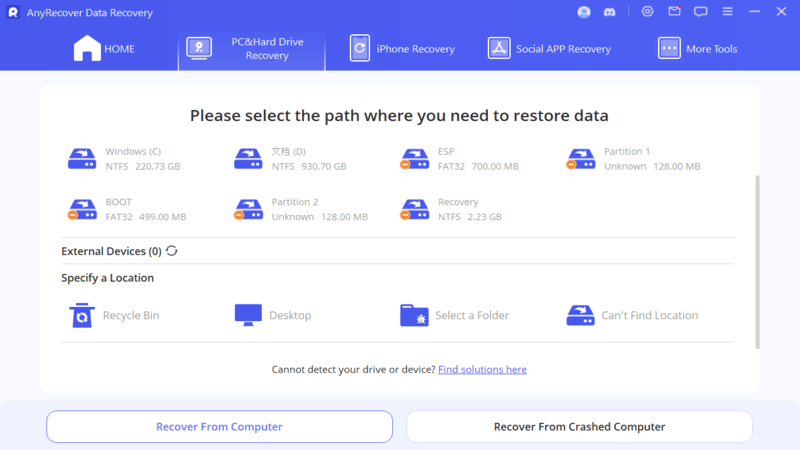 Step 2. Scanning the Location
AnyRecover will start scanning the location to find out all the deleted files including the RAR archive. In the meantime, you can pause or stop the scanning process.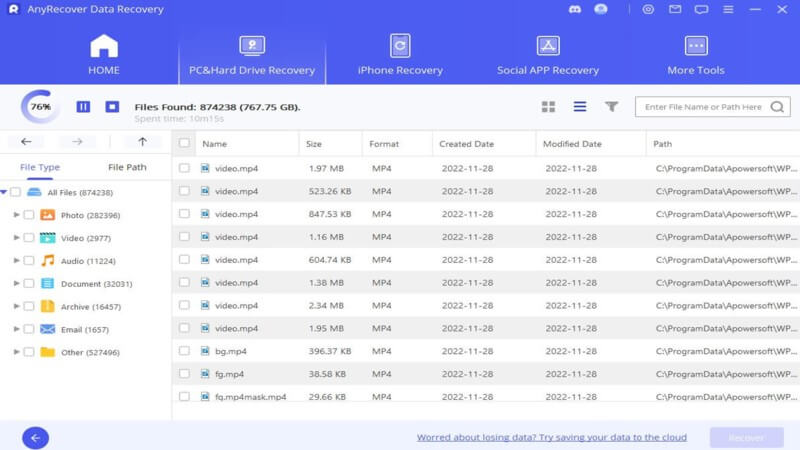 Step 3. Preview and Recover Data
On completing the scan, the software will display all recoverable files into their respective categories. I am looking to recover my RAR files so that I will choose this category. Then Preview to check and files, and lastly click Recover.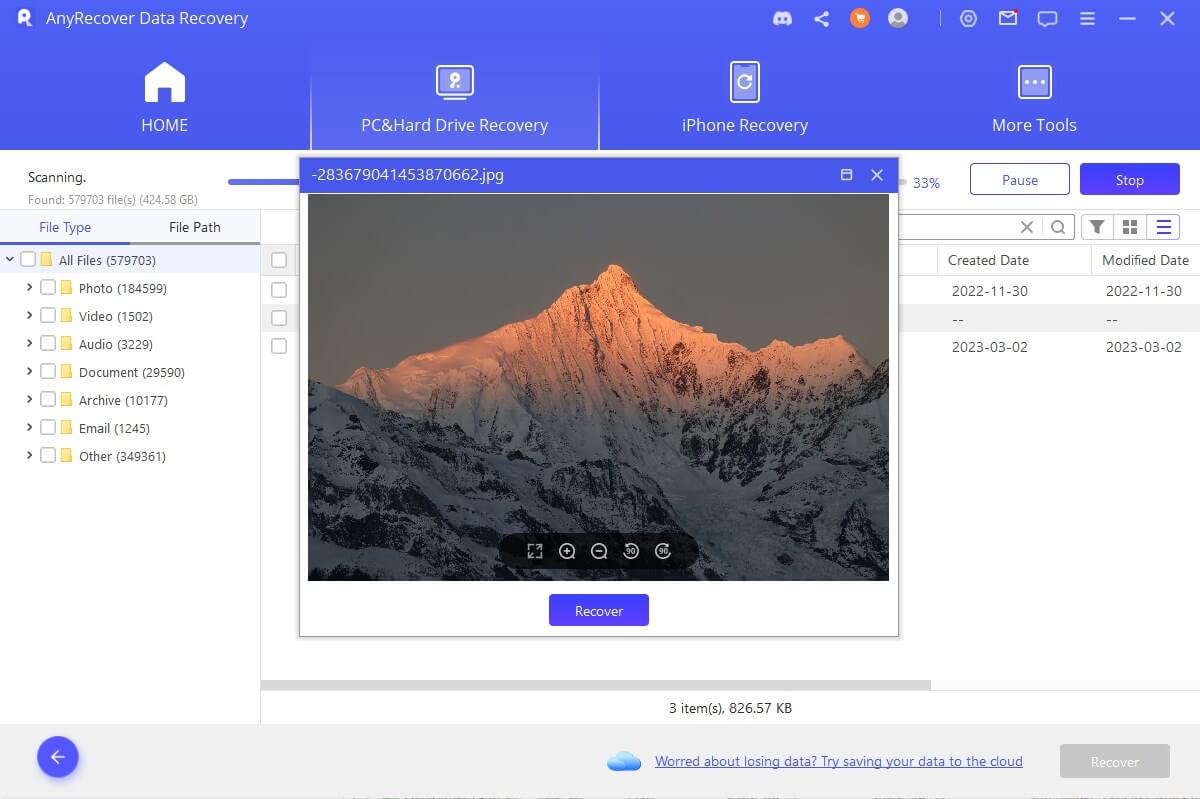 3
Things You Must Know About RAR Archive
1

How to Compress and Extract RAR Files

RAR files are easy to open. You can extract RAR files with a variety of tools that are available over the internet. Some of these tools are free, and some are paid. You can open RAR files on any operating systems such as Mac, Windows, Linux, etc.

WinRAR is famous among other RAR tools because it's official and supports all operating systems.

The Unarchive is a famous RAR file tool that is only compatible with Apple Mac computers and it can do all things such as extracting and compressing RAR archives.

Badizip supports Windows and Mac computers. It has convenient features and an ultrafast process for extracting RAR files.

Zipware is a simple, fast, and stable tool designed for Microsoft Windows it includes the support for new RAR5 format as well.

Hamster Zip Archive has a stylish interface that lets you open and compresses RAR files in few steps. Currently, it supports only Windows computers.

Many other tools are used to open RAR files such as WinZip, PeaZip, 7-Zip, iZip, etc.
2

Precautionary Measures to Prevent RAR File Deletion

There is an old saying, "Care is better the cure." Before you start regretting and searching on Google "how to recover RAR files", read the safety tips given below to prevent RAR files deletion. The deletion of RAR files can be prevented by following precautionary measures listed below.
Always install the latest version of a good anti-virus program on your computer system and update it regularly.

Backup and save all your data regularly on different storage devices such as external hard drive, flash drive, SD card, and cloud storage as well.

Don't open suspicious emails and attachments it can contain viruses that further can harm your data such as deletion and damage.

Make sure before deleting a file that it's not useful anymore.

Never try to install pirated software from suspicious websites.

Excessive use of PC/Laptop can cause data loss because overhearing the hardware will get affected.

Use only official RAR extraction and compression tools to prevent from damaging the RAR files.
Conclusion
If you have lost an important RAR archive and now you are searching on the internet about "how to recover deleted RAR files". Then, you don't need to panic or be depressed. The only RAR file recovery tool you need is AnyRecover, which is a top-class RAR file recovery tool that helps to recover deleted data in any scenario. It's a perfect RAR recovery solution and highly rated by users all around the world.
Start a deep scan for free right now!