Do you need a free or cheap data recovery solution? You can search online and see free AnyRecover registration code, know that it is fake. The software is the standout best of all data recovery software. Learn how and where to get yourself an AnyRecover registration license, and check the big deal.
When Will You Need AnyRecover?
AnyRecover is versatile and can recover data in every format from all kinds of storages. This powerful application lets you retrieve files lost in any scenario, such as the following:
Accidentally deleted data

Data lost to a virus attack

Operating system crashes

Lost partitions

Formatted storage media

Damaged storage

RAW drives or partitions

Emptied Recycle Bin
If you search on Google for a data recovery software, you will see tons of them, and selecting the best one is tedious. AnyRecover is the best out now; it can also be one of the most affordable if you use an AnyRecover registration code.

AnyRecover Key features include:
Recovers from all external storage devices: flash drive, SSD, memory card, digital camera, etc.
Recovery for all kinds of data loss: accidentally deleted, damaged hard, drive, lost partition, OS crash and so on.
Supports more than 1000 file formats: documents, emails, videos, photos and more.
98% data recovery rate and 100% secure.
Facts about AnyRecover Registration Code You Should Know
Having established the fact that AnyRecover is the most recommended application, you may head over to its page and see the pricing. Well, if the price is too high for you, don't lose hope just yet. The app is well worth the money. AnyRecover registration codes for free registration online are all fake, also.
AnyRecover is available at three kinds of licenses and per price are as shown below:
1 Month License ($59.99): You can use it for one month on 2 PC and 3 phone devices to retrieve unlimited data back.
1 Year License ($79.99): You can use it for up to one year to recover any lost data.
Lifetime License ($99.99): There is no expiration data on this license, which means you can use it anytime you want.
FAQ about AnyRecover Registration Code
Do you have any questions about the software? Or are you having trouble getting it to work? We love to help you out. You can contact the support team at any time for a support issue, but first see if your question has already been treated on these frequently asked questions.
1. Can Windows registration code work on Mac version?
Windows and Mac operating systems use quite different architectures. Also, the software and services are not compatible with each other. Please get a Mac AnyRecover registration code if you want to use it for your Mac.
2. What's the difference between the free trial and the full version?
The free trial version was just made available for you to try out the application without needing to commit to it financially first. This version lets you scan and preview recoverable data but allows you to recover only three files. However, the full version lets you carry out any recovery operation as many times as needed.
3. What's the registration license policy?
There are three licenses - 1-month, 1-year, and the lifetime licenses available. No matter the license you purchase, you are allowed all the features and modes of AnyRecover; the licenses are only categorized based on the duration of AnyRecover registration code. The 1-month license is valid for a month; the 1-year license is valid for a year, and the lifetime license, as the name suggests, never expires.
Bonus: A Gift for You
AnyRecover is now offering a 10% discount on its all series license to show gratitude to its loyal and prospective customers. You can get an all-inclusive recovery solution at the lowest price on the market by seizing this great opportunity.
Your 10% Off Coupon Code for AnyRecover:
GETBACK2
Follow the instructions below to enjoy the deal:
Step 1: Copy the discount code "GETBACK2".
Step 2: Go to AnyRecover purchase page: for 3-for-1 Deal, choose the license you want to get then "Proceed to Checkout".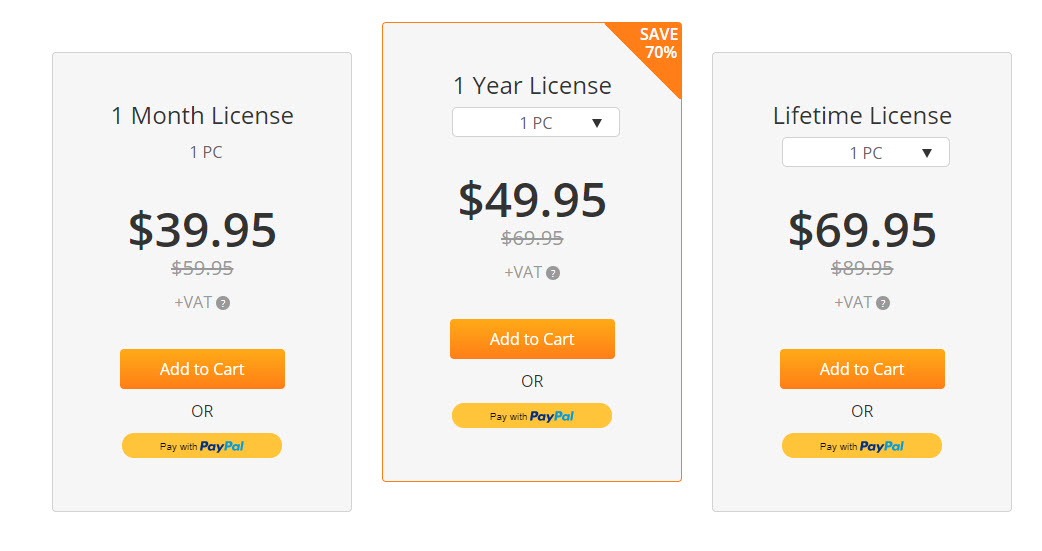 Step 3: Click on "Check to enter coupon code".

Step 4: Paste the code you copied in step 1 to the box then click "Apply".

Step 5: You can now enjoy 10% off on purchasing AnyRecover. Fill out your personal information to complete the process.

Conclusion
Since there are no free AnyRecover registration codes, you should consider purchasing one. AnyRecover is all you need for different kinds of recovery. You might not need it right away, but these files don't alert you when they are about to get lost. Get an AnyRecover license code and enjoy all these benefits.