TikTok might be a video platform, but videos without sound are no fun at all. Although there are some videos that are just as amusing in silence, most need sound, whether that's to help deliver the punchline, or just create the right ambience. Most people simply don't realize how important sound is to video until it's missing, so if you find that you have no audio accompanying your videos, the TikTok experience will quickly suffer.
If you find that there's no sound when you watch TikTok, either from your phones or your headphones (and make sure you've checked them, in case you didn't realize they were connected), there are some quick and easy ways to help when TikTok audio is not working. Quickly running through this checklist, from the obvious to the not-so-obvious solutions, should quickly get you back to the full, immersive, TikTok experience in no time.
Part 1. 8 Quick Fix to "No Sound on TikTok" Issue
Fix 1. Turn up the Volume
This might seem obvious, but check your volume settings. These are often altered without thinking about it, when you go somewhere you need to be quiet, for example, or even because the button has been pressed in a pocket or bag.
Fix 2. Check Mute Button to Turn off Silent Mode
Again, check your mute switch. This might have been accidentally toggled, or you might have forgotten that you had turned it on earlier.
Fix 3. Allow Permissions to Access Microphone
Your settings might not allow TikTok to access your microphone, meaning that videos you record do not have sound.
Open Settings on your phone.

Tap Apps & notifications.

Tap the option to see all installed apps, then open TikTok.

Select the Permissions tab and ensure these have all been correctly set.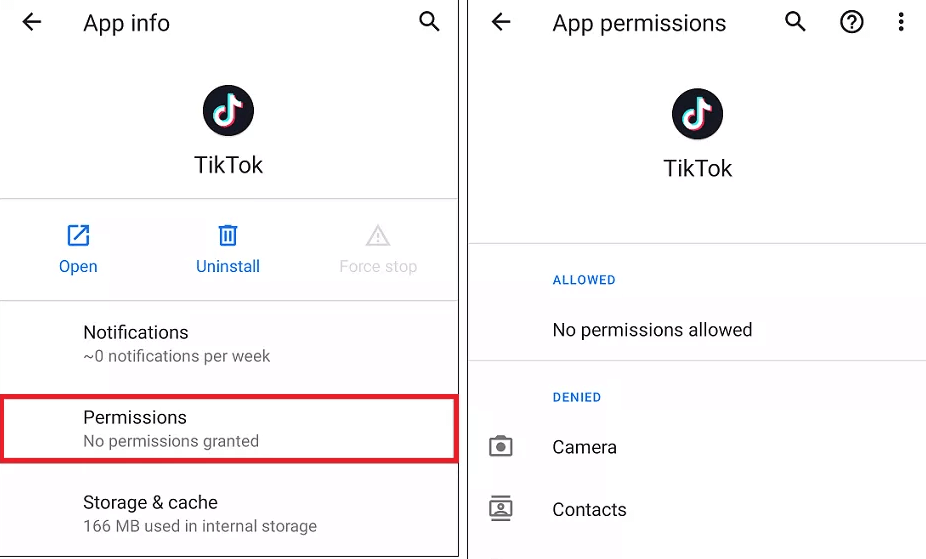 Fix 4. Restart Your Android Device
Restarting your device will often help to fix problems you are experiencing that might be caused by glitches within the OS you are using. The OS does a lot of work in keeping all the apps working, and does this with various components that are shared. Occasionally, a problem created by one app can affect others, so rebooting helps clear this out.
Fix 5. Test the Device Hardware (For Android Users)
Most phones have "secret" codes for testing, and Android devices are no exception. Simply dial *#7353# to access this menu, then press the speaker button. You should hear a short melody from your device speakers, which will confirm it's not a hardware problem.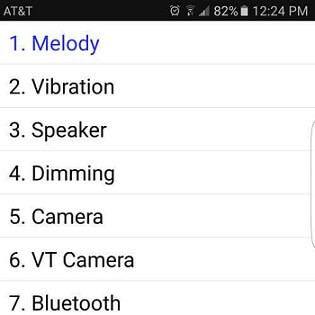 Fix 6. Check and Wipe Cache Partition
Wiping the cache partition sometimes clear problems that might have been caused by a fault when writing data to it. To do this, you will need to access your phone's recovery mode. You will navigate the recovery menu with your volume buttons, highlight "wipe cache partition" and then press the Power button, then reboot your phone.
Fix 7. Update TikTok
If TikTok has been updated since you installed it, it's possible that an update might resolve the issue. Check on the Google Play Store to see if an update is available and, if it is, install it.
Fix 8. Reinstall TikTok
If nothing else has worked, then deleting and reinstalling TikTok might solve the problem. This process will delete all the data associated with TikTok from your phone, but not your account, which will remain safe. This means that any problems that might have occurred with your installation, perhaps some corrupted settings, will be removed.
Once reinstalled, you will need to log in with your usual account credentials, and you will hopefully find that your videos now have sound again.
Part 2. No Sound on TikTok: TikTok Muted Your Video
You might find that everything else works, but a video you have uploaded has no sound. This is because TikTok will mute videos if they believe there's a copyright infringement. The process is automatic and essentially means TikTok listen for what their AI believes is music. This isn't always correct, it might not be music, or you might hold the rights for it. There is, however, a way around it by re-uploading your video and editing it in TikTok itself.
Re-upload your video by tapping the + icon, then the Upload button. You will be presented with the trimming screen. If needed, trim the video, then press Next.

On the editing screen, tap on Sounds. Because they are licensed, adding a sound from the TikTok library will prevent TikTok from being muted. Just add any sound, then tap on Volume.

There will be two sliders. Original sound is the volume of the sound that was on your video will be played. Added sound is the sound you just added. Change this to 0. This will mean that although a sound has been added, it will be inaudible.

Complete any other edits you want to make to your video, and then publish as normal.
Your video will now be posted on TikTok, and you should not face the problem of having your audio muted or the video set to private.
Note
However, the sounds feature is only available on personal TikTok accounts. If you have a business account, then you won't, unfortunately, be able to use this technique.
Wrapping Up
TikTok has a duty to ensure that copyrights aren't infringed, however, the volume of videos uploaded means that they have to automate this process and will often get it wrong. Its system can mistake other noises for music, and even if it is music, it cannot tell if it's a fair use or if you have rights to post it.
However, this quick workaround — adding a sound and then setting the added volume to zero — will help ensure that your video gets uploaded, and anyone watching can listen to it exactly as you intended: with its original sound.