Unlike other social media platforms, TikTok is not a platform meant for messaging. It is a platform that is empowering millions of TikTokers to create creative videos and entertain the world. Still, TikTok is offering messaging feature so that TikTokers can communicate with each other within the platform. But somethings TikTokers complain about TikTok messages not working, as either they are unable to send or receive messages. So, if you are also facing a similar scenario, this guide will let you find the root cause and resolve the problem in no time.
Part 1. TikTok Messages Not Working/Get Freezing: Reasons & Solutions
There are multiple reasons that can trigger TikTok messenger not working issue. Here we have listed down the 7 most common reasons and the possible fixes for them:
Reason 1. A Glitch or Bug in TikTok App
One of the most common reasons why your TikTok inbox not working is some glitch or bug in the app. Such bugs are for a temporary period and get fixed shortly.
Solution
If you think there is a bug in the TikTok app, then you can utilize some basic recovery steps, as follow:
Reason 2. TikTok Server Issue
If there is no glitch or bug in the TikTok app, then the next likely reason is that the TikTok server is malfunctioning at the time when you are trying to use TikTok messenger. Usually the error message Unable to Send appears when there is a server problem.
Solution
If there is a problem in the TikTok server, then you just have to wait till it gets resolved. But you must ensure whether it is the TikTok server issue or some other problem. To know the TikTok server status, visit the Downdetector website that informs about the current status of TikTok by following the responses from fellow users.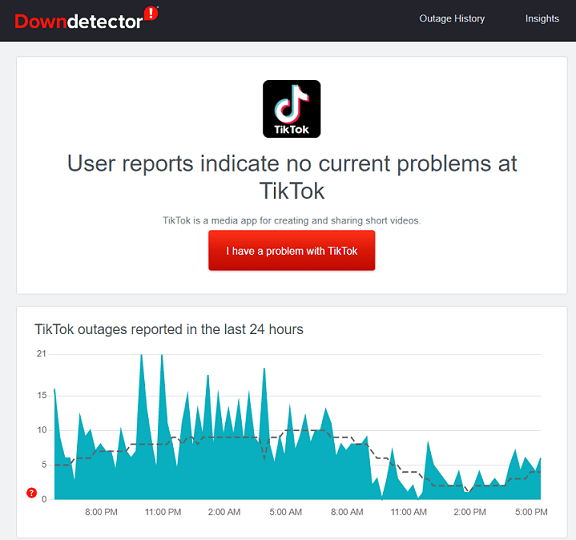 Reason 3. Your Age Is Under 16
Initially, when TikTok was launched, there was no age restriction on who can use the platform. But later, TikTok removed private messaging options for those users that were under 16 for the safety of everyone. So, if your age is below 16, then that's the reason you are facing the TikTok inbox not working issue.
Solution
Most of the TikTokers have linked their Instagram accounts with TikTok, so you can go to their Instagram account and text them from there, or take out the contact details provided in their Instagram profile bio.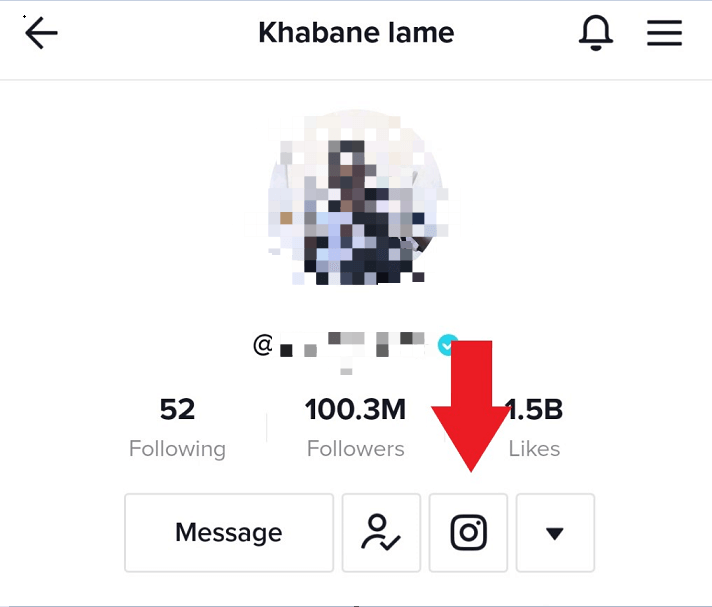 Reason 4. You Are Texting a TikToker That Isn't Your Friend
Another requirement for messaging someone in TikTok is that you and the other person are both following each other. In case one of you isn't following the other person, you will face TikTok messenger not working issue.
Solution
Make sure that both you and the recipient are following each other. To reconfirm it, go to the TikTok profile page of the recipient. If you see the option Unfollow, then that means you are following that person.
Reason 5. Restrictive Privacy Settings
TikTok lets its users customize their privacy settings so that they can control who can send them DMs. Every user can choose between Everyone, Friends, and No one. If you or the recipient have set the setting to No one, then you and the recipient won't receive messages from anyone.
Solution
Follow the below steps to change your privacy settings to Everyone or Friends:
Click on the Me icon from the bottom menu bar and then click the 3 vertical lines icon from the top right corner.

Click Privacy and then click Direct messages.

Select either Friends or Everyone.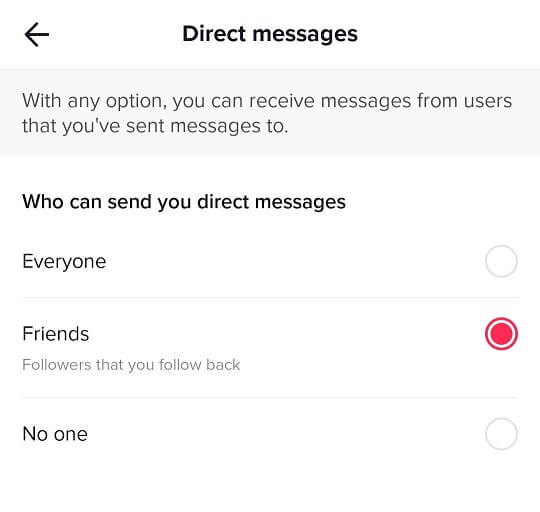 Reason 6. You Are Using Tiktok Without Phone Number Verification
TikTok can only allow you to send messages if you have verified your phone number. This measure is enforced to avoid spam messaging and keep the platform clean. Like many users, you might have signed up with TikTok using your email instead of your phone number.
Solution
Follow the below steps to verify your phone number with TikTok:
Click on the Me icon from the bottom menu bar and then click the 3 vertical lines icon from the top right corner.

Click Manage account and then click Phone number.

Enter the number and then click Send code.

Enter the 4-digit code and complete the verification process. There is a possibility that when you enter the number and click Send code, you might see a red message that This number is already registered.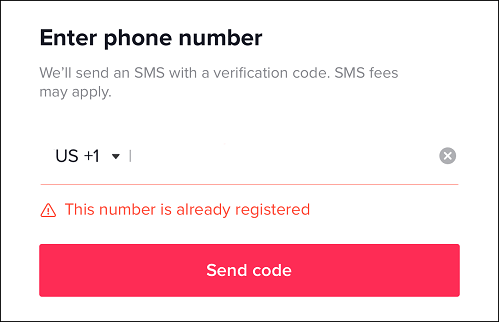 It shows up because you might have previously used this number for another TikTok account. The best way out is to try logging into TikTok using your phone number.
You can also report this matter to TikTok customer support. Click Report a problem from TikTok app settings and then go to Account and profile > Email and phone number > This phone number/email is already registered. Afterward, follow the mentioned instructions and then report the issue accordingly.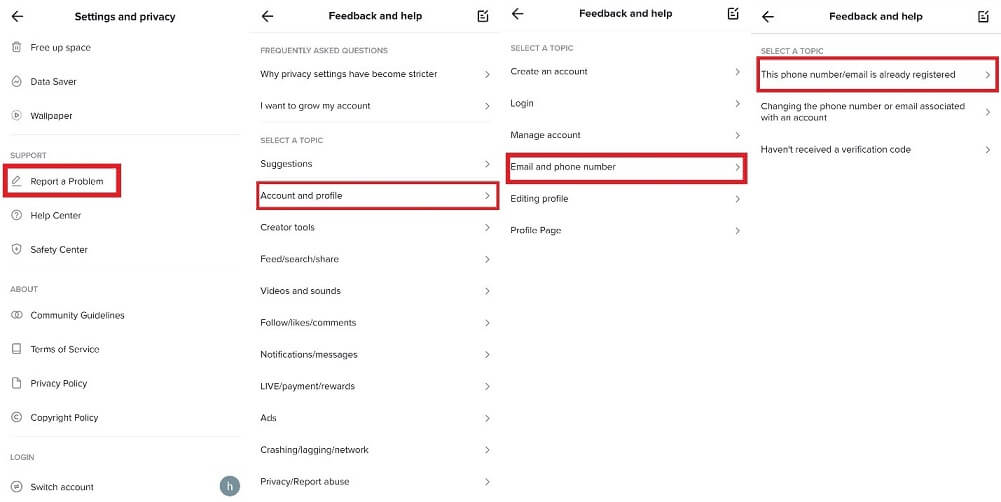 Reason 7. An Issue in Your Tiktok Account
Although rare, still it is possible that there is some issue with your TikTok account. If none of the above 6 reasons justify why TikTok messages not working, then the last thing you have to do is contact TikTok support and ask them to review your account.
Solution
You can contact the TikTok support team from the TikTok app settings. Follow the below steps:
Click on the Me icon from the bottom menu bar and then click the 3 vertical lines icon from the top right corner.

Click Report a problem > Notifications/messages > Direct message. Afterward, select the appropriate option and proceed with the complaint.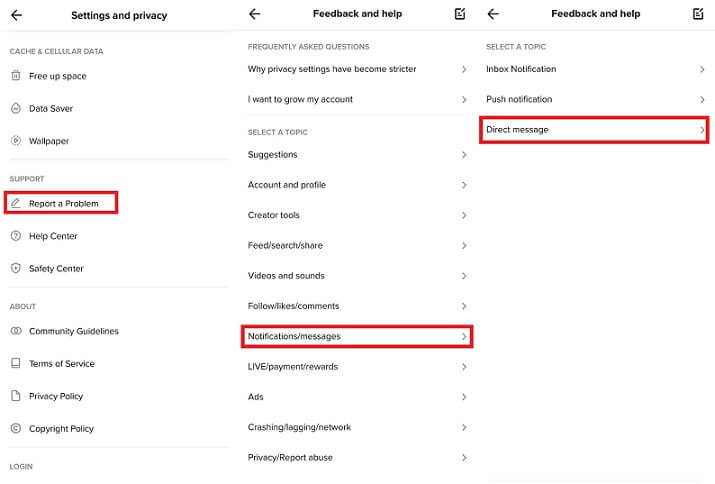 The only issue with this approach is that TikTok has millions of active users, so it might take some extra time for the support team to address your issue. So, you have to remain patient.
Extra Tip: Can You DM Photos on TikTok?
There is no official way to DM photos on TikTok like you can do on other social media platforms. But there is one way that you can use to send photos, i.e., via the Green Screen effect. Follow the below steps to do it:
Open the TikTok app and click the + icon from the bottom menu bar.

Click Effects and then go to the Green Screen effect by swiping the bar towards the left.

Select the green photo icon with downward arrow. Click the + button and select the photo that you want to DM.

Click the Photo button located near to record button and then hit the record button.

Click Next and then post the photo.

Go to that post from your TikTok profile, click the 3 dots horizontal icon and click the red color Message icon of TikTok.

Lastly, select the friend to whom you want to send.
This way, you can DM photos on TikTok. It is a lengthy and time-consuming process, so it is suggested that you rather DM photos to that person via other social media platforms.
Wrapping Up
TikTok isn't the best platform for messaging, still it lets TikTokers get in touch with each other within the platform. Facing TikTok messages not working issue is a common issue, so you shouldn't panic. The different possible reasons and solutions mentioned in this guide will most probably resolve the issue and let you chat with fellow TikTokers smoothly.