Oops! The windows error 0xc000000f just occurred! Surprised? You do not have to be as it is not much of a problem. You may start to wonder: how did I get to this end! The error 0xc000000f is an error that occurs as a result of the windows being unable to complete its startup or after an operating system update or the installation of a new operating system. Whatever way it occurs, the error 0xc000000f is something you can deal with. How? Read on please.

Part 1: How Do You Fix Error Code 0xc000000f?
I know your big question is simply how to get this error off your computer screen. Right. This is what we are going to outline for you right now. There are many ways to remove errors and they include:
1. Remove External Device Connected
The very first way to try and fix this error is by ensuring that all external devices connected to the computer are removed. This is essential because a broken charger cord can be the cause of this error. Hence, all external devices must be removed to guide against it.
First, switch off the Windows device.

Remove and inspect the power cord. If it is defective, repair or replaces it before plugging back in. But if it is perfect, move-in on to the next steps.

Disconnect all connected devices like webcams, USB devices, microphones, and many more.

Switchback on to start the system.
2. Check Faulty Cables
Apart from the charging cord, other connected devices may have faulty cords. Hence:
Switch off the computer. Inspect all external devices connected and identify the defective cords.

Replace them and turn the computer back for changes.
3. Force Reboot Computer
Maybe all the computer needs at the moment is a shutdown stronger than the normal shutdown. To perform a force Reboot, hold down the Power button for up to 20 seconds till the window icon flashes. After a while, hold the button to turn it on. That's all.
4. Refresh or Reset Your PC
Have you tried the first three steps and nothing seems to change, then maybe what you need is to refresh your PC or simply reset it.
To refresh your PC:
Locate the Advanced Startup Options Menu on the screen.

Select Troubleshoot. Then click on Refresh this PC.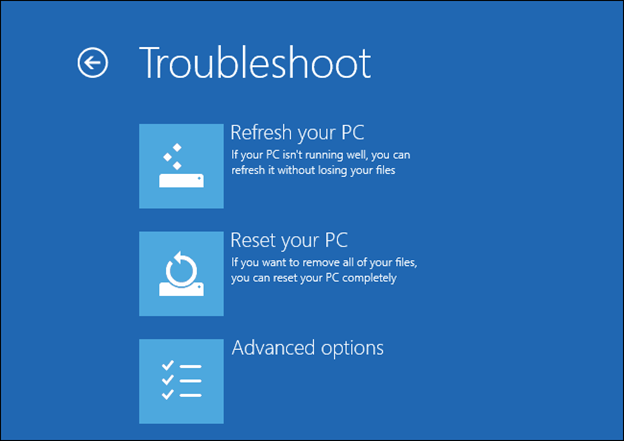 To reset your PC:
The procedure is the same with the refresh your PC option, just a little tweak at the end.
5. Run Startup Repair
When Windows is having startup issues, the Windows startup repair tool is one vital tool that can help you fix the bug in no time. Ever heard of the Windows Startup tool? Well if no, here is how to go about it:
At the Window sign-in screen, hold down the Shift key while also pressing the Power button.

Keep on holding the Shift key. Click Restart.

The screen will show options once it has restarted.

Click Troubleshooting, select Advanced options. In this menu, choose Startup Repair.

In the Startup Repair menu, you will have to log in to your administrator account.

Enter log in details. Click on Continue.

Then wait as the Startup Repair runs. Once it is done, you can restart the PC.
6. Check BIOS
Clearing the BIOS is a good way to have your error cleared. You can do this by:
Shut down your computer and power back on.

Press the F2 or Delete keys to take you to the BIOS menu.

Locate the key labeled Default Values.

Press this key and affirm that you want to delete BIOS.

Press the F10 button and reboot the computer.
7. Run CHKDSK
Of course the built-in Windows Chdsk can be used to correct the startup problem and the performance of this is quite easy.
Boot from Windows installer disk and choose right information.

Click Repair your Computer, select the installation drive. This is "C:\".

Click on Next. Choose Command prompt.

Input "chkdsk C:/f" and press Enter.
8. Run Bootrec.exe Utility
The next option is to make use of Bootrec.exe. This can be done with a USB or DVD at all.
Firstly, reboot computer and insert the USB or DVD.

A message of "Press any key to boot" will pop up, and you could press any key..

Then click Repair your computer on the screen.

Choose Troubleshoot and Command Prompt.

Type the commands, "bootrec /FixMbr" when the screen comes on.

Press Enter after each command to move to the next.

Type Exit or select Enter once the process is done.

Do not forget to remove the drive connected.
9. Rebuild BCD
This is another way to get the startup issue treated.
Start the Advanced Startup Options in Win 11/10/8 or start System Recovery Options in Win 7.

Select Troubleshoot > Advanced options.

Select the Command Prompt button to start.

At the prompt, type the command "bootrec /rebuildbcd" and press Enter.

At the prompt, enter the bcdedit command '"bcdedit /export c:\bcdbackup".

Next, Adjust file attributes with the command "attrib c:\boot\bcd -h -r -s".

Next, rename the BCD by inputting the command "ren c:\boot\bcd bcd.old".

Retry rebuilding the BCD by this command "bootrec /rebuildbcd".

There'd be a question of add installation to boost list, type "Y" for yes and then press the Enter button.

Restart the computer.
10. Contact Customer Support
Of course, when all other methods of solving the issue fail, the customer service option comes in handy as your case may just be very unique. Visit them and be sure to get the help you deserve.
Bonus: How to Recover Files Lost from Windows Error Code 0xc000000f
Are you already scared that vital information and data have been lost? I am sure you're searching for all your backups already. However, there is no need to panic because every file lost to this error can be recovered and you just need a professional data recovery tool such as iMyFone AnyRecover.
What can AnyRecover help you?
Firstly, it is a wonderful solution to data loss problem resulted from the error 0xc000000f, virus attack and other scenarios.
Secondly, it can help you recover different types of files including photos, videos and emails.
Thirdly, better from data recovery from common ways, AnyRecover could help you recover files from various devices like internal disk drive, external devices and camera.
If you encounter data loss, it's truly suggested that you use the software and you could recover 8 files with no size limited for free.
Come and give it a try!
Step 1 Install and launch Anyrecover on the computer. Choose your desired location where data is lost and click on Start.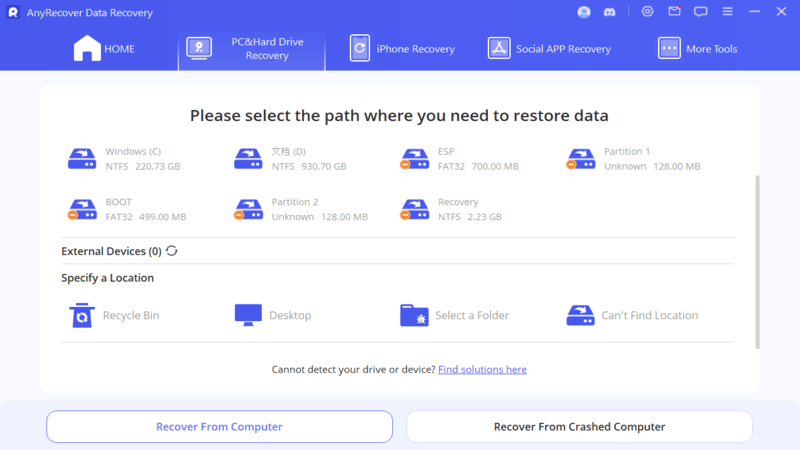 Step 2 It would start the files scanning on the location, you could pause or stop it at any time.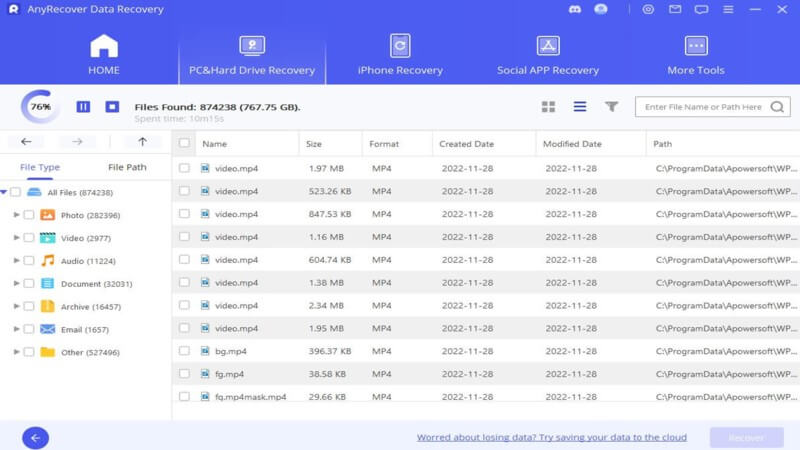 Step 3 You can preview the files shown on the screen and hit Recover button.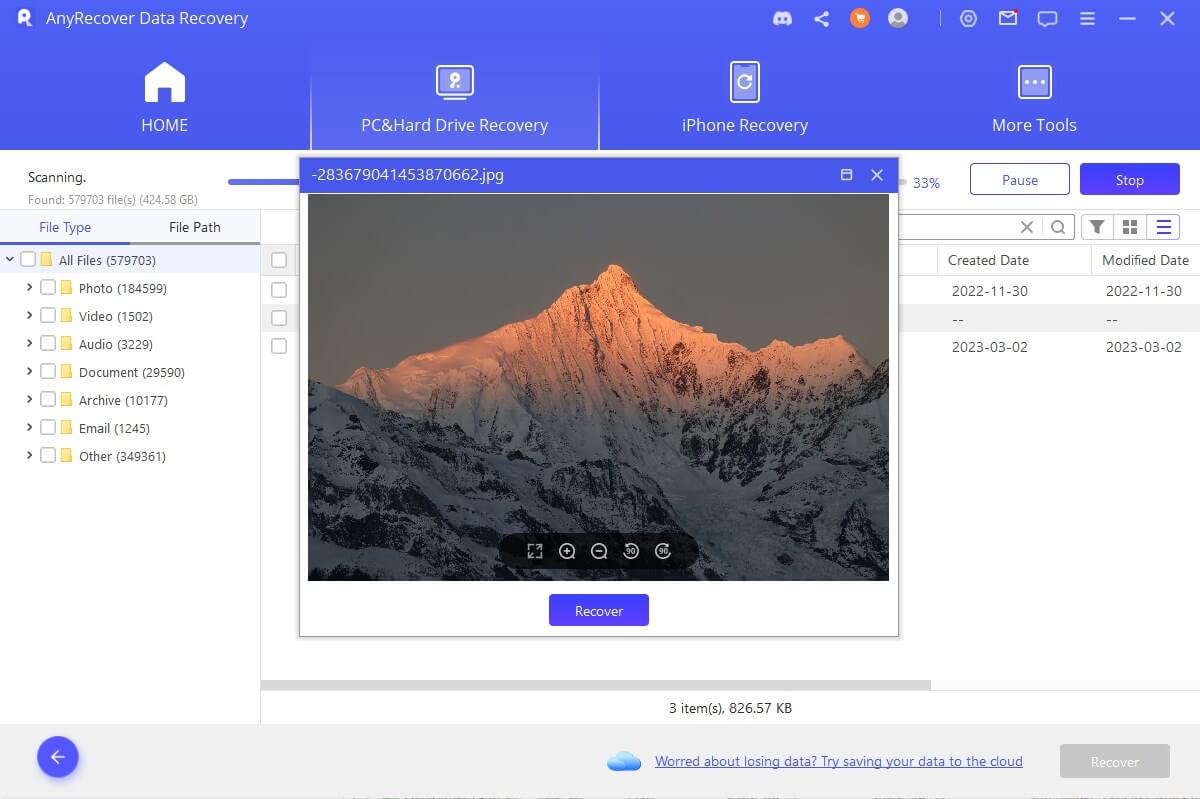 FAQ: What Causes Error Code 0xc000000f?
You may be wondering what exactly is the cause of this error. Well, there are many explanations for how this error came about on your laptop's screen. The causes of this error code include the following:
Conclusion
The error code 0xc000000f happens quite often but when you're well equipped will the requisite knowledge, there would be no need for panic. The knowledge this article has given you will surely save you from undue pressure and unwarranted panic and you know just what to do when the error comes knocking.