The old tech mantra – "Did you try to turn it on and off" is a good fix for most issues. Similarly, when your Xbox one has some software glitches or bugs, you could try to perform a power cycle that restarts it. This operation doesn't remove your games and data, while resolving your problems. But do you know how to power cycle Xbox one? Well, that's what we are gonna talk about in this article.
Part 1: What Does Power Cycling Your Xbox Do?
As with any technically innovative device, the Xbox One occasionally experiences lag, freezing, or other glitches. These issues can be triggered or exacerbated by the installation of new software or prolonged use. Fortunately, most of such problems can be resolved with a simple restart or reset. And that's the magic of power cycling Xbox one.
Part 2: How to Power Cycle Xbox One?
The most frequent way to solve a problem is simply closing down what you did and reopening it. In this way, you could learn how to power recycle Xbox one with 4 different methods.
Way 1: Physically Power Cycle the Console
You can reset the Xbox One console, perform a full power cycle, or you can physically reboot it completely and resolve a lot of common problems. No games or data are deleted from this process.
Turning your console off will take around 10 seconds to hold the Xbox button on the front of the console. It turns off the console.

Turn your console back on by pressing the console's Xbox button or the controller's Xbox button.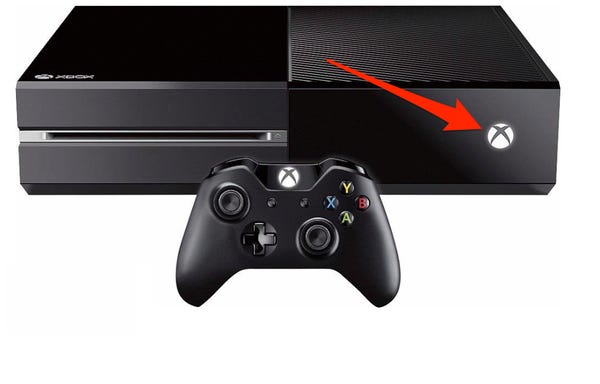 Note
When console restarts, repeat the above-mentioned steps if you see no green boot-up animation. Make sure you hold down the power button till the console shuts down completely. The above steps will shut down the console completely if your console is in Instant-On power mode. Instant mode or switching your console on when you say "Xbox enable" will not be enabled until the console is restarted.
Way 2: Reconnect the Console's Power Cable
If you do not have power from your power supply unit on your original Xbox One console, the unit may need to be reset with the following steps:
Switch off the Xbox One console for about 10 seconds by pressing the Xbox button on the console front until it completely shut down.

Unplug the power cable of the console. Wait ten seconds.

Make sure 10 seconds are waiting. This step restores the electricity supply.

Connect the power cable to the console.

To activate the Xbox One, press Xbox on your console.
Way 3: Restart Xbox One from Power Center
If you want to shut down your Xbox One completely or restart procedures above do not work, it will be better to shut down fully, especially when the system appears frozen.
Press and hold Xbox button on your Xbox controller till Power Center menu appears.

Now choose Restart Console option and after that Restart.

If there continue to be any problems, do the same manual shutdown as above but disconnect the power cable of your system this time when it is disabled. Do not reconnect the cable for at least 10 seconds because the cable can be reset more fully.
Way 4: Restart Xbox One from the Guide
To restart the Xbox one using the guide, please follow the following steps:
Press the Xbox button on right side of your Xbox console.

After that use your controller to navigate through the guideline that appears.

Now Select Profile & System option, after that select Settings, then select General option and Power & Startup.

Click Restart now.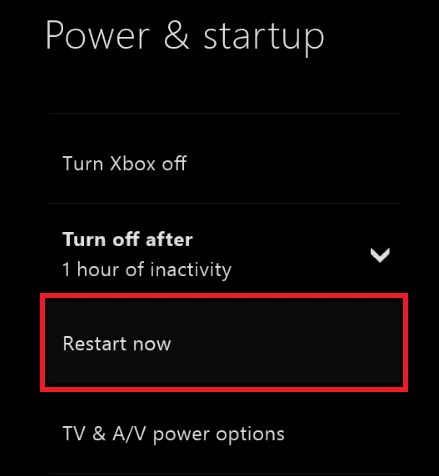 Part 3: FAQs About Reset Xbox One
1. How to Hard Reset Xbox One?
A hard reset also called a master reset is restored to the device's status when the facilities were left. Here is how to hard reset Xbox one.
Hold the Power button on for 10 seconds to perform a hard restart. The system is disabled. Once the button is hit again, the green startup screen will start and display. All your data are preserved, but the cache is cleared, and some configurations are reverted. Moreover, the problems with log-in or game start are resolved.
2. How to Factory Reset Xbox One?
In case resets as well as other troubleshooting tricks do not have the Xbox One functioning again, it's the right time to perform a factory reset that will clear all the data but might just restore your Xbox itself.
Here is how to factory reset xbox one:
Hold down the Home button on the controller when the console is on.

Click the gear-shaped icon to manage the settings.

Tap the System link and then head to Console Info.

Select Reset Console.

Click Reset and Remove Everything.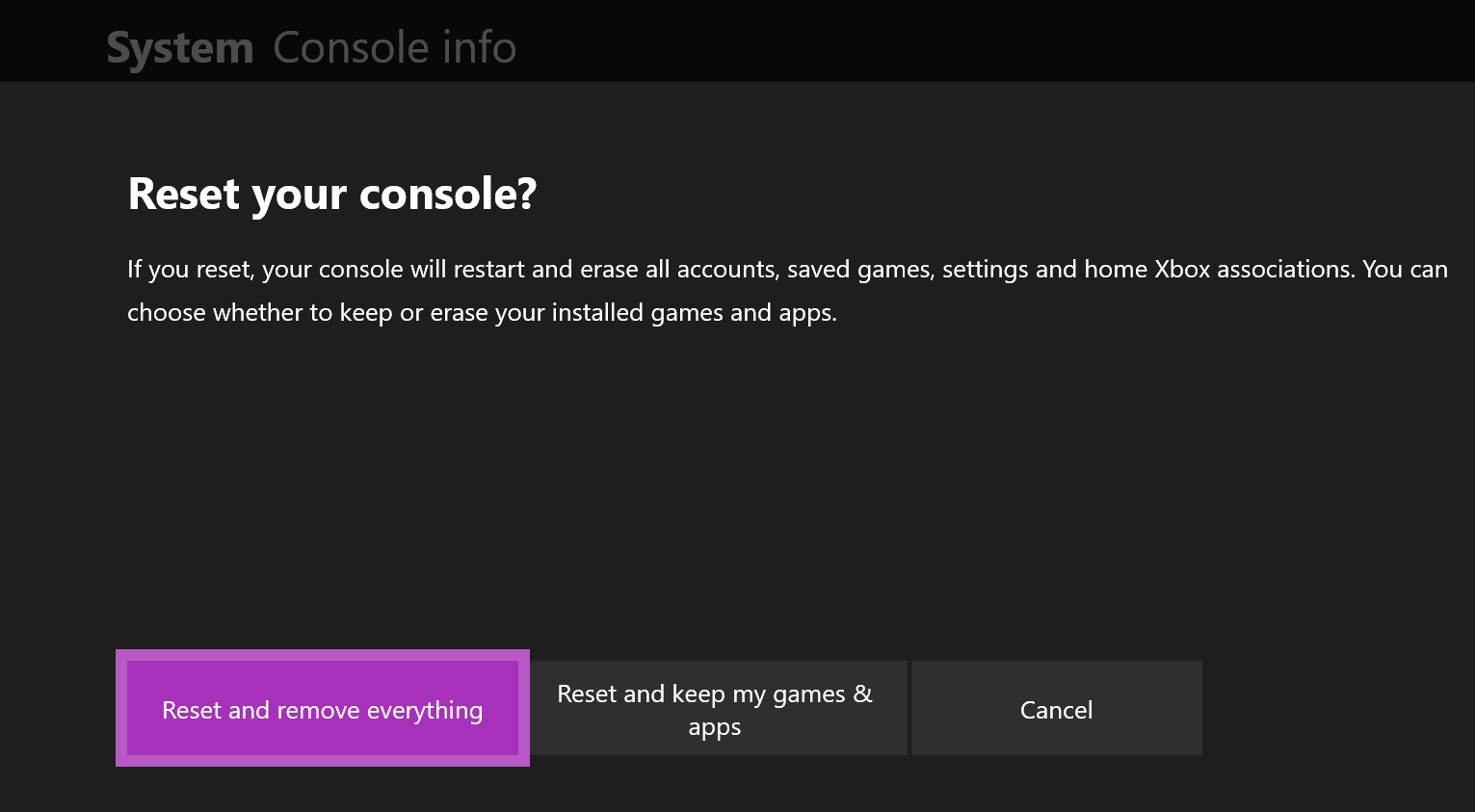 Conclusion
From the above discussion, we can conclude the result that nowadays devices are so advanced, but they need to be reset after some time. So, if we can handle our Xbox one with a bit of care, we might get rid of such troubleshooting problems and play games with proper attention and relaxation.