One of the worst experiences for a Mac user is mistakenly deleting files and thinking that they are gone for good. This is especially true if you have deleted a Pages document on Mac that contains a variety of advanced features, including style checks, grammar checks, and spelling checks.  However, this experience shouldn't be a thing because it is possible to recover such documents. If you accidentally deleted Pages document on Mac, there are several recovery options. This article takes a look at the various tips on how to recover deleted Pages documents. 
How to Recover Pages Documents on Mac
In this part, you'll find 9 effective methods to retrieve deleted Pages documents on mac, just try them one by one!
Try to Open Recent Files to Recover Pages Document on Mac
If you didn't save a Pages document and no longer have access to it, you could search for it from the recent files. This is a good method to recover deleted Pages documents. To do this, follow these steps. 
On launching Pages, click on File. From the file menu, click Open Recent. The names of the recent documents you've worked on will be listed. 

If you see the target file, you can now open it and save a different version of it. This option is bound to work to help you recover Pages documents.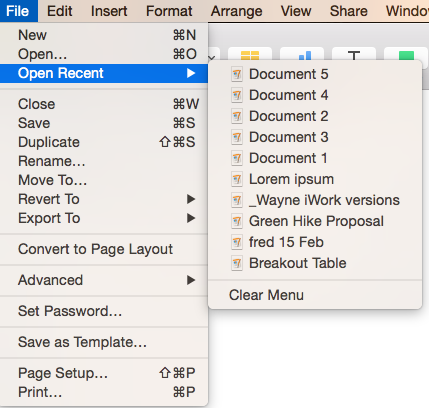 Try the Revert to Function to Recover Deleted Pages Documents
Every time you save a Pages document, a new version is created. This detail can be effectively applied in recovering files. If you lost a file without saving, getting an older version via Revert to function could be the way forward, whereas this method requires you to enable the auto-save feature in advance. Here is a detailed process to use the Revert to function to get your deleted Pages document back. 
To get the older version of the file, start by opening the available version of the file. Then, go to File Menu and click Revert To. 

Choose the Previous Save, or Last Opened to get an older version of the file. Also, you can choose the Browse All Versions option. With this option, you get to choose from all of the available versions of the file. 

When you find your desired version of the Pages file, restore and save it.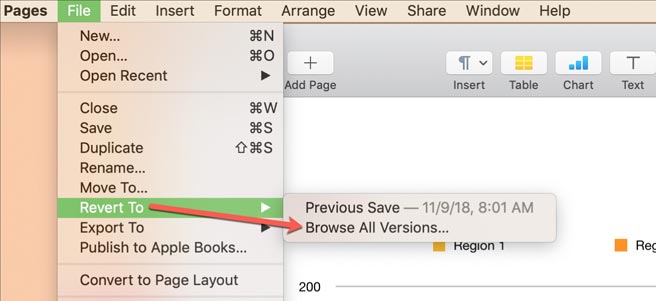 Retrieve Pages from Recycle Bin
If you had mistakenly deleted Pages or had the application crashed before you saved the document, it is possible to find the document in your recycle bin. In this case, this tool is not set to automatic empty. Here is a detailed process on how to retrieve the file from the recycle bin
Go to the dock of the application and find the trash icon. Then open it by clicking on it. After you open the trash, look for the title of the document. 

When you find the document, right-click and choose the Put Back option. At this point, the document will be recovered, and you are good to continue working on it or just save it.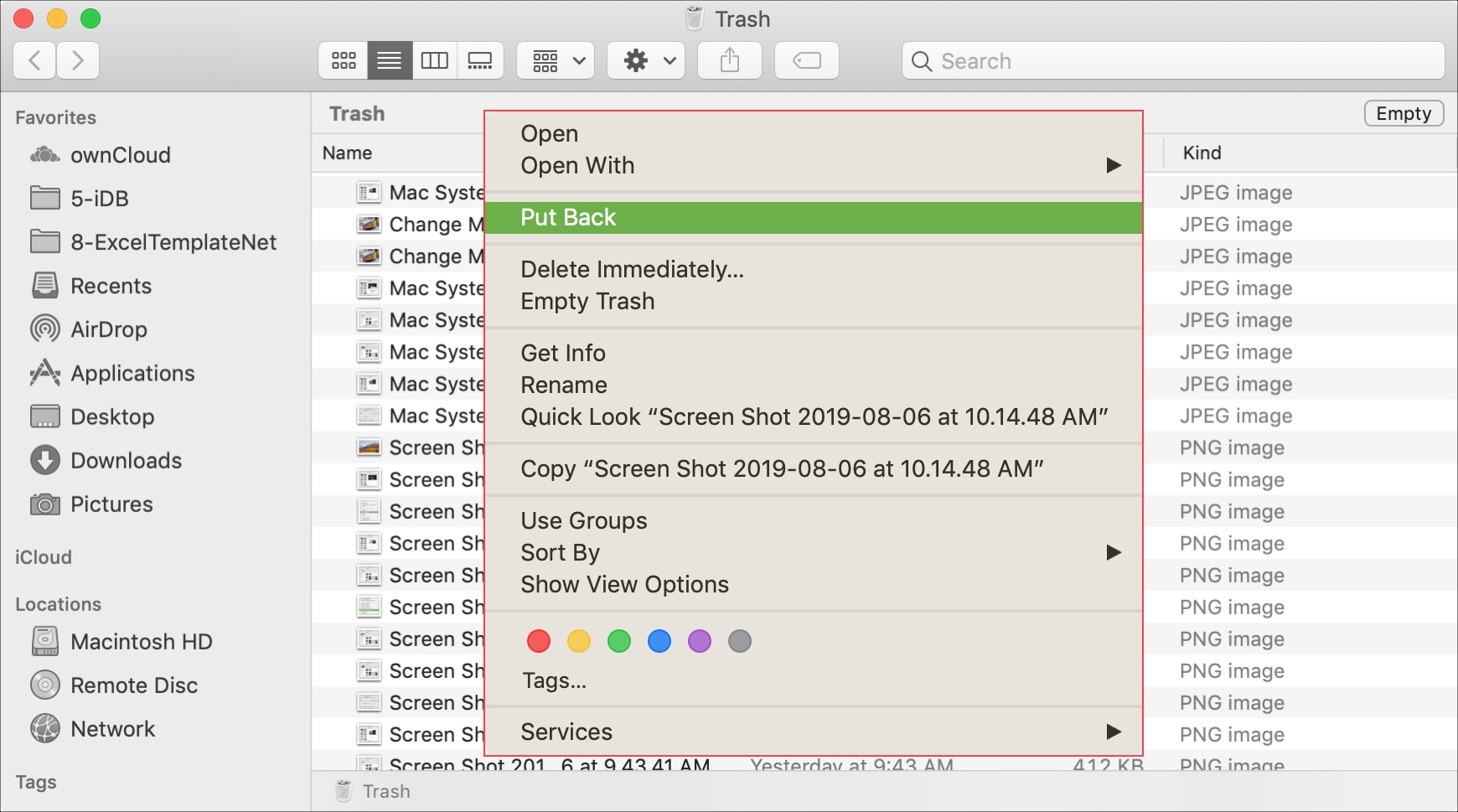 Recover Deleted Pages Documents via Time Machine
If you fail to recover deleted Pages documents with the methods above, you need the Time Machine. The Time Machine is a tool pre-installed on Mac computers. It is a backup and recovery option from Apple. This tool works for the recovery of all kinds of files, including the deleted or unsaved Pages documents. Generally speaking, Time Machine will store hourly backups of your data for the past day, daily backups of the past month's data, and weekly backups for all the past months. That's why you can recover lost data from here. To use the Time Machine in recovering deleted Pages documents, follow these steps: 
Open Time Machine directly if it is on the top menu bar. If not, just go to System Preferences > Time Machine > check to confirm Show Time Machine in menu bar > menu bar > Enter Time Machine.

You can now go through the snapshots and backups to find the missing Pages documents. On the right side, an arrow icon as well as the timeline will appear, you can select certain time point with them.

Choose the document you want and click on Restore. At this point, the file will be back to where it was originally created in Pages.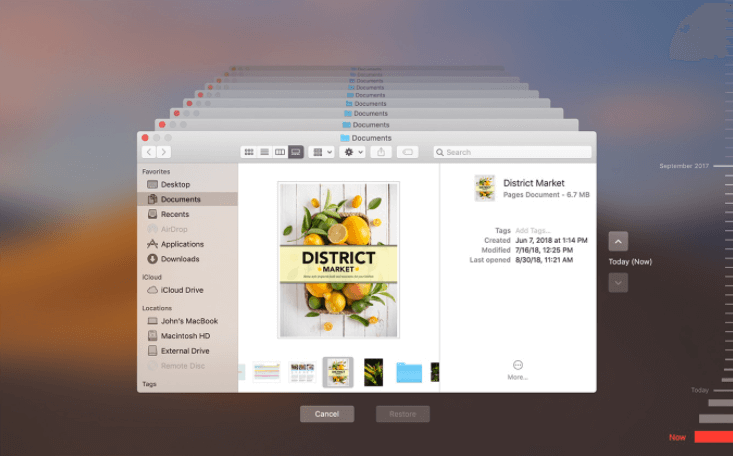 Tip
If you can not find the deleted Pages with this way and you have backed up your Mac with an external storage devices, then you can restore the lost Pages file from there.
Recover Pages Documents from Finder
The Finder application comes with a Mac and can be used to recover Pages documents on Mac. To use the Finder application to recover Pages documents, here is a detailed step to follow: 
Launch Finder on your Mac and click on the File option. Under the File menu, choose Find. In the search bar, click on This Mac. Then, set Kind as Document.   

Go on to choose As List and Date Modified, which are available in the View menu. A list will pop up, and you can choose the missing Pages documents. After you find the deleted document, you can then drag and drop the file onto the Pages icon. In this way, it will open as a normal Pages document. If the file does not open on the Pages application, drag and drop it onto the TextEdit icon. You can also drag it to the desktop and open it with Pages or TextEdit.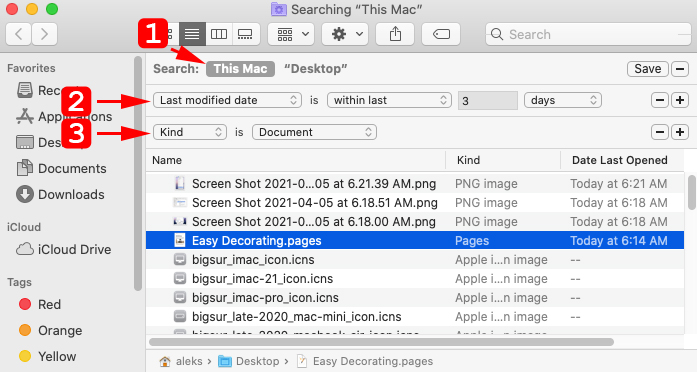 Recover Pages Documents from Temporary Folders
The temporary folder method for recovering Pages documents is similar to autosave. Here are the detailed steps to recover deleted Pages documents from temporary folders.
From Applications, go to Utilities. Then, double click Terminal to open it. After that, type open $TMPDIR. This action will send you to the TMP folder, a place where files are stored temporarily.   

Locate a folder called TemporaryItems. All the unsaved documents will be in the folder. 

Choose the document you want, right-click on it, and use the Pages application to open the file. You can then save the file in another location.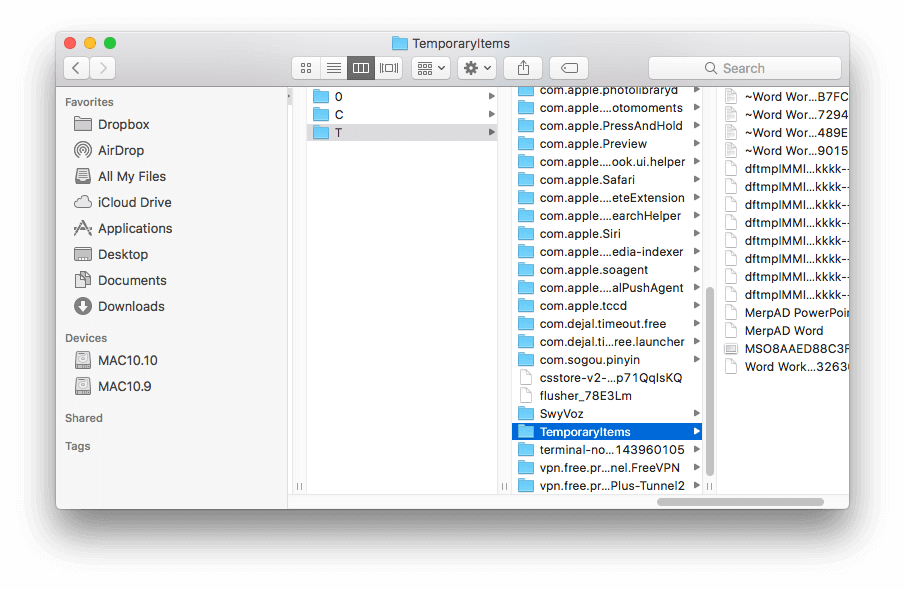 Recover Deleted Pages Documents from iCloud
Recovering unsaved or deleted files with iCloud is an efficient option to look into. This method works because every file that is stored on iCloud Drive is backed up. Saving Pages to the drive makes it available in the cloud to restore when files are lost. Here are the steps for restoring Pages files from the cloud: 
Use your Apple ID to log on to your iCloud account. Go to the profile dropdown and choose Account Settings. Then, tap Restore Files. 

Choose the Pages files you want to restore. You may see a No Files to Restore notification. If this is the case, you have to log on to this website with your Apple ID.   

On logging in, choose Recently Deleted. You will find it in the bottom area to the right. You can now choose the files you want to restore by clicking Recover. It is noteworthy that the files will only be available to be restored for 30 days after they have been deleted.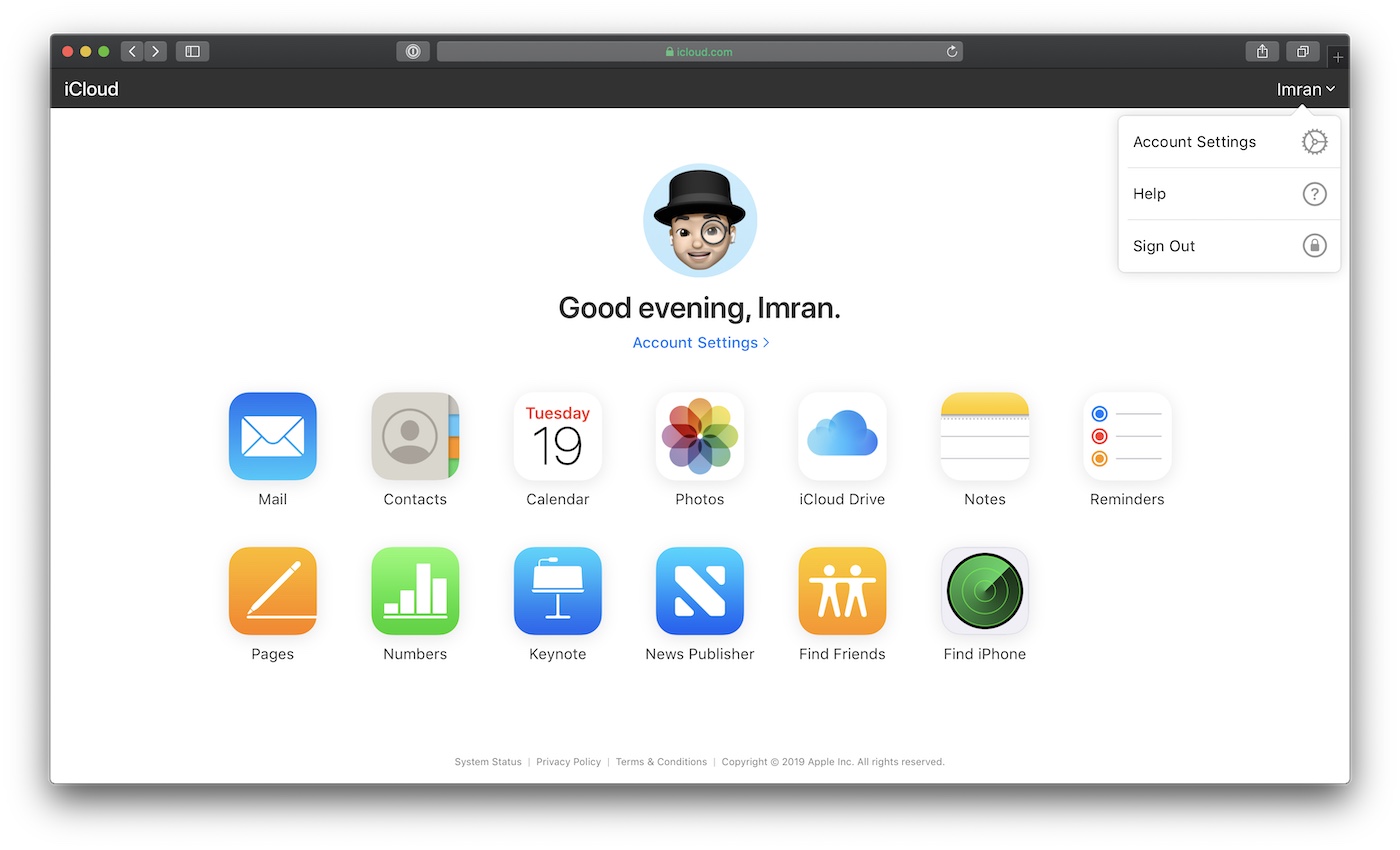 Use the Data Recovery Software AnyRecover for Pages Recovery
Data recovery tools are proven solutions for recovering all kinds of data. And if you want to recover deleted/lost/unsaved Pages documents, AnyRecover is the right one for you. It is the professional software to recover data in very few and straightforward steps. AnyRecover has helped millions of users and received countless positive feedback. Here are some of its prominent features.

2,061,704 Downloads
Features of AnyRecover
Work well with Mac and Windows computers.

Support data recovery from various devices like memory cards, internal hard drives, external hard drives, and even crashed computers.

Super user-friendly interface and a extremely high success rate.

Recover over 1000+ file formats like photos, videos, office documents, archives, and more.
Here are the steps for using AnyRecover to recover Pages documents: 
Download and install AnyRecover. Then, choose a location from all of the available options and click on Start.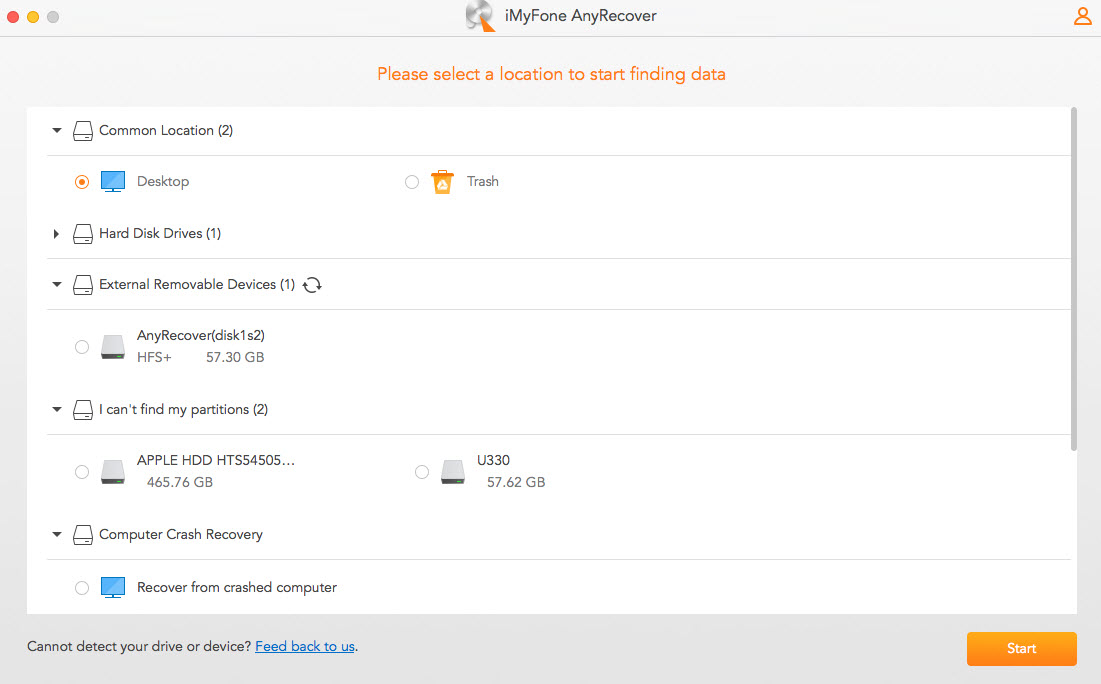 On choosing the location, AnyRecover will carry out a deep scan and produce a list of files. If you find the target file during this process, click on Pause or Stop to control.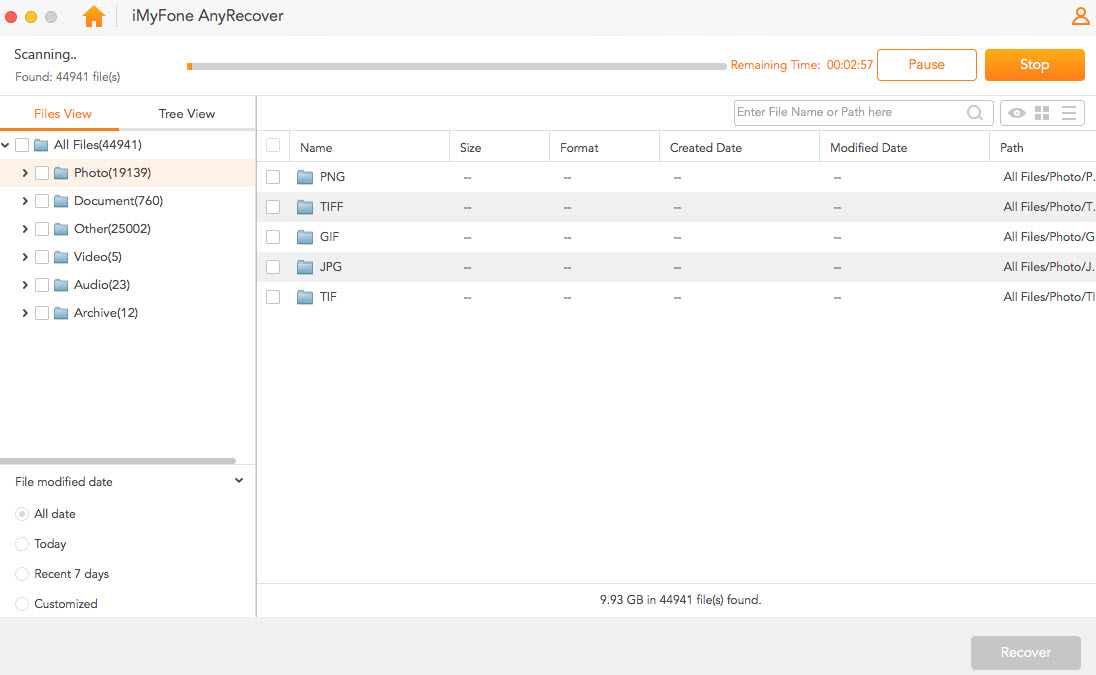 After the scan completes, double-click the file you want to preview it. Select Restore after ensuring it is the right one.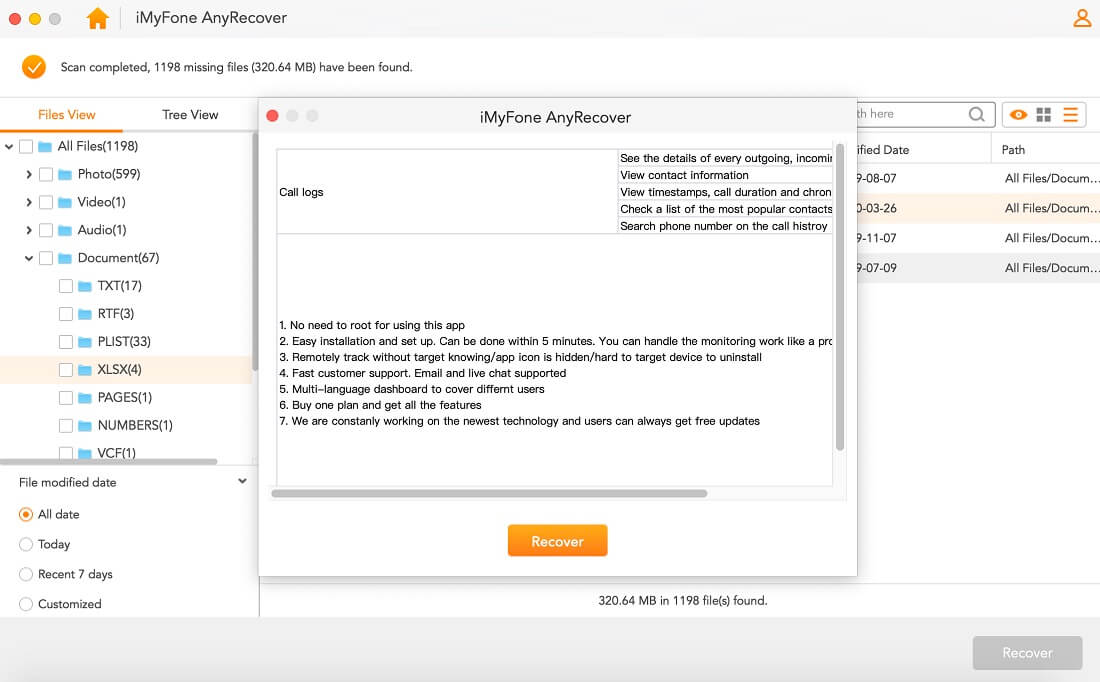 Conclusion
Losing Pages documents can be quite frustrating, especially when you have lost hope on how to recover your files. However, it is very much possible to restore your lost files using all the methods listed above. Most importantly, opt for AnyRecover, which is a professional tool that requires no technical expertise and secure your existing data without overwriting them.