iMessage is Apple's own messaging app available on devices like iPhones, iPads, and Macs, making it a popular option for Apple users. However, just like other messaging apps, it is possible to mistakenly delete iMessages in some scenarios. If this is your case, calm down, you can recover deleted iMessages on Mac just in seconds. This article takes a look at various methods for recovering the deleted iMessages. Read on to find more.
FAQ About Deleted iMessages Recovery
Here we collect some of the frequently asked questions about recovering deleted iMessages on Mac.
Can You Recover Deleted iMessages on Mac?
Yes, you can recover deleted iMessages on Mac due to the availability of in-built features such as the Time Machine. Besides, iCloud backup is another location from which the messages can be recovered. Even in the worst situation, the expert data recovery tool can be a way forward in proffering a solution to this problem. 
Where Are Deleted iMessages Stored on Mac?
iMessages are stored on the computer. You can find the deleted iMessages in the messages folder in chat.db files. So, if you can find a way to access these files, you can get to your messages. 
How to Recover Deleted iMessages on Mac
Here are four unique methods of recovering deleted iMessages on Mac. Choose the best method for you or try them one by one!
Recover Deleted iMessages on Mac from Another Apple Device
Smart Apple devices are synced with each other under the same account. That's why you can use another Apple device with the same Apple ID to recover deleted iMessages on Mac. You can use your iPhone/iPad to get back your deleted iMessages on Mac with the following steps.
Direct Recovery
Disconnect iPhone or iPad from network as soon as possible in case of syncing with Mac.

Open the iMessage application and search for the messages deleted on Mac.

Copy or save it to local or another location. Then you can upload it to Mac again.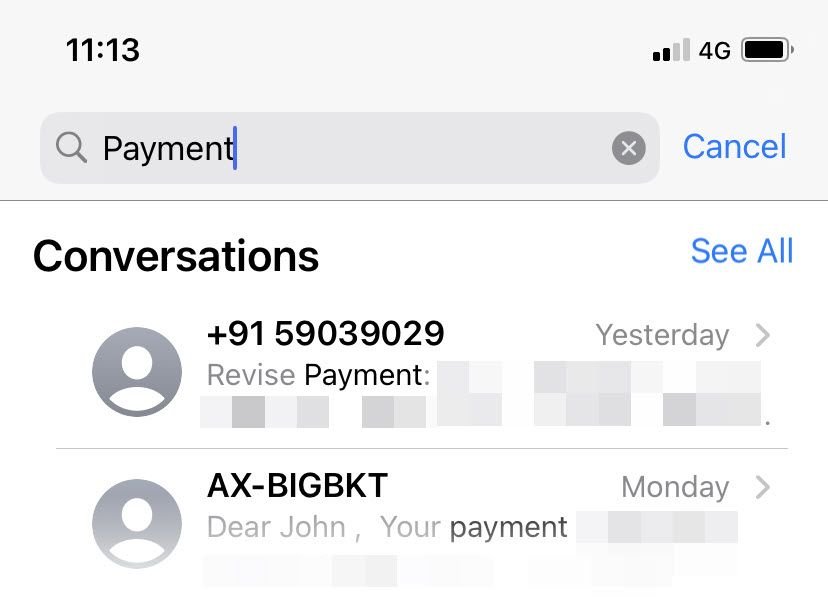 Backup Recovery
Unfortunately, if you can not find the deleted iMessage on your iPhone or iPad, it means the record has been synced. However, if you have enabled your iPhone/iPad to backup the device with iCloud, then you are likely to resotre the deleted iMessages on Mac.
Factory reset the phone by going through Settings > General > Reset > Erase All Content and Settings. After the factory reset is completed, a setup page will pops up on the screen. 

On the setup page, choose the Restore from an iCloud backup option. Now, look for the backup file that was created close to when you received or had the message. When the file is restored, you will get back all your messages, including the deleted ones.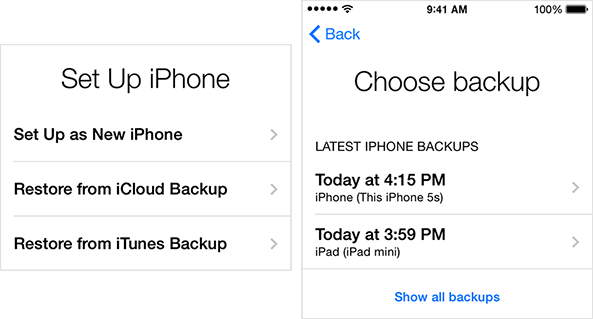 Recover Deleted iMessages on Mac via Time Machine
If you want to recover deleted iMessages on Mac, then the Time Machine is another option. The Time Machine is Apple's backup assistant that comes with every Mac. It can be a source of the recovery of lost iMessages. And you can recover them via local snapshot or previous backup if you have backed Mac up with an external drive using Time Machine. You will also need to have turned on the Time Machine feature for it to work. If the Time Machine feature of your Mac is not active, you could activate it now and use it the next time you need to recover iMessages. Now, here are the steps for using Time Machine for recovering deleted iMessages on Mac. 
Without A Backup Disk
Open Time Machine by clicking it on the menu bar. Or you can go to System preferences > Time Machine > check to confirm Show Time Machine in menu bar > menu bar > Enter Time Machine.

Click the arrow icon on the right side to look through the previous snapshots of your Mac. Once you find the deleted iMessage, select it and then click Restore.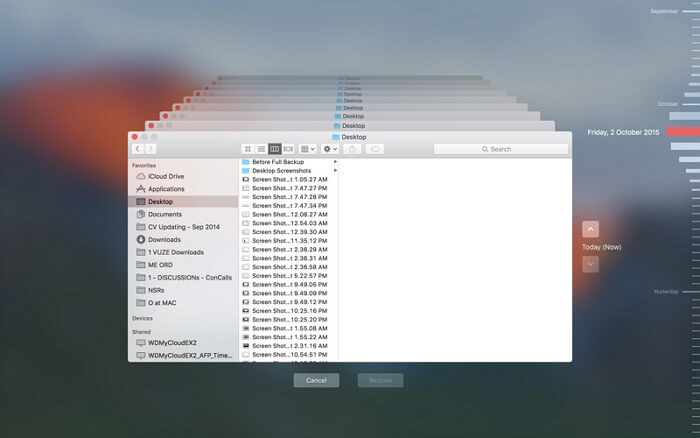 With A Backup Disk
Connect the external drive containing Time Machine backup and launch Migration Assistant. 

Choose From a Mac, Time Machine backup, or Startup disk on the interface and then Continue.

Then choose your Time Machine backup to proceed. Find the backup that has the missing iMessages, select the related category and then click Contiune. After that, all the messages on that day will be fully recovered.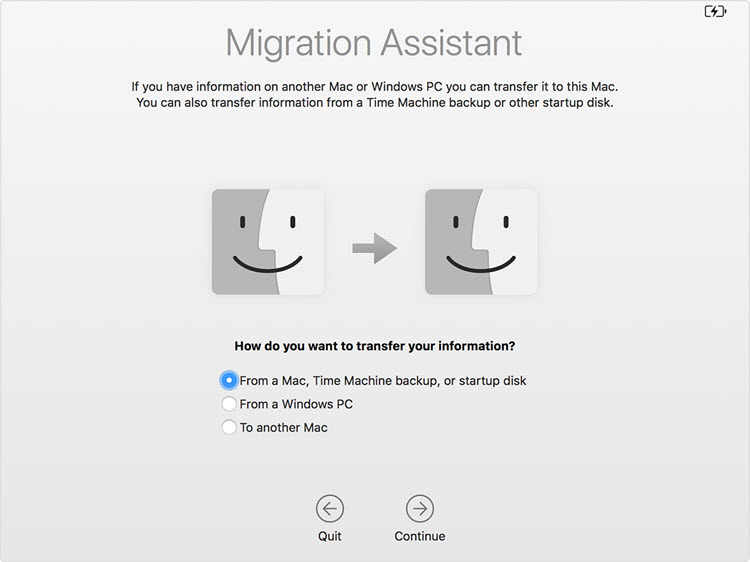 Recover Deleted iMessages on Mac from the iCloud 
If the messages were saved in iCloud, it is possible to recover deleted iMessages on Mac using iCloud. iCloud is a backup solution like Time Machine and it doesn't require the use of physical backup devices. We should also mention that the method is most appropriate when the first method that was mentioned earlier failed. Using iCloud to recover deleted iMessages requires the following important steps, as shared below:
Firstly, close iMessages and launch Finder. On launching Finder, click Go, which is available on the Finder menu, and go to your library. In the library, you will find the iCloud backup files. Go for a backup file that was made in the period before the mistakenly deleted messages were still available. And the name should be Messages.

Open your preferred messages file, and choose Restore. The messages will be restored now, and you will be good to go.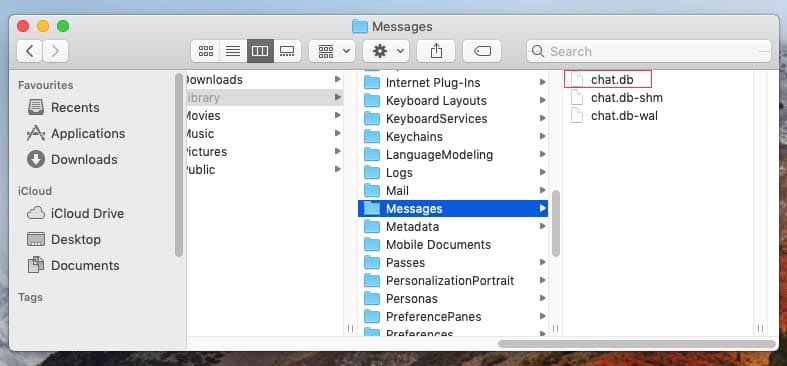 Recover Deleted iMessages on Mac with AnyRecover
Professional data recovery tools like AnyRecover are essential when trying to recover deleted iMessages on Mac. The beauty of AnyRecover is that it is dependable for the recovery of any kind of lost data. We have already mentioned three options before highlighting AnyRecover but would like to mention that AnyRecover, the fourth method is the only fully dependable method on the list for all kinds of data recovery. Here are some prominent features of Anyrecover: 

2,061,704 Downloads
Features of AnyRecover
Work well on both Mac and Windows (including Windows 11) operating system.

Recover over 1000+ formats of files like messages, photos, videos, office documents, archives, and more.

Recover data from a full range of devices: hard drives, USB flash drives, SD cards, SSDs, cameras, etc.

Retrieve unlimited data in three simple steps, anyone can restore lost files on their own.
Follow the steps below to recover deleted iMessages with AnyRecover: 
First of all, start by downloading and installing AnyRecover on your Mac. When you launch AnyRecover, the list of the possible locations to be searched will be highlighted. Choose the local storage, and a deep scan will begin.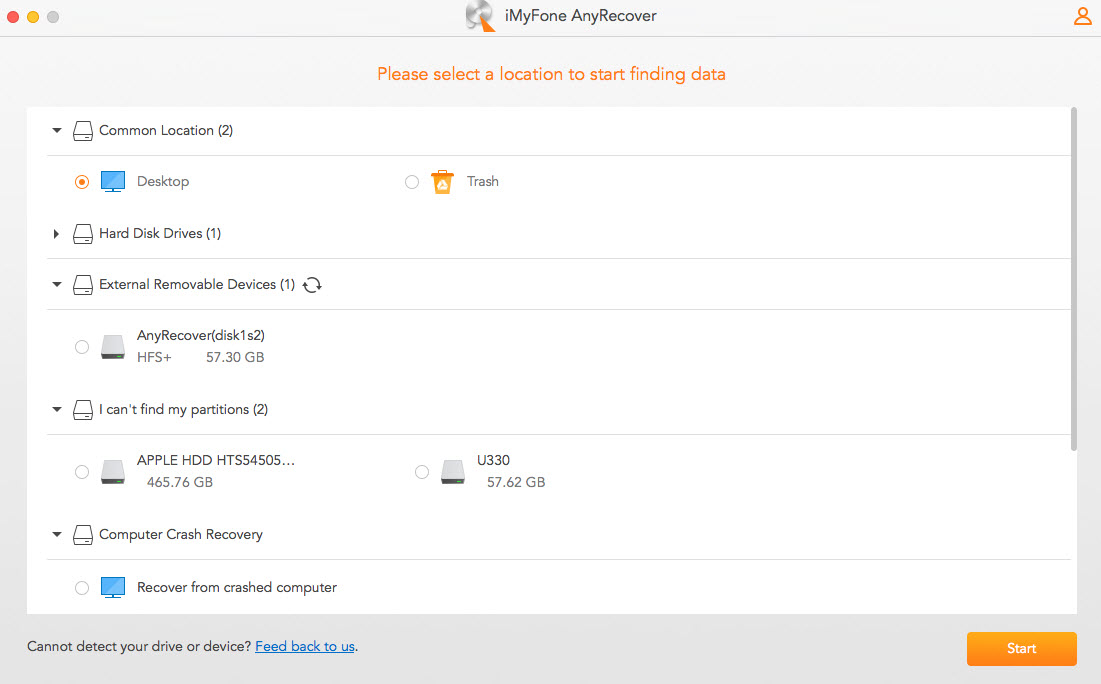 The deep scan will show results from the chosen location of the different file types. Look out for the file results and file types. Remember, you can pause or stop the scan at any point. You can also highlight and preview documents at any point.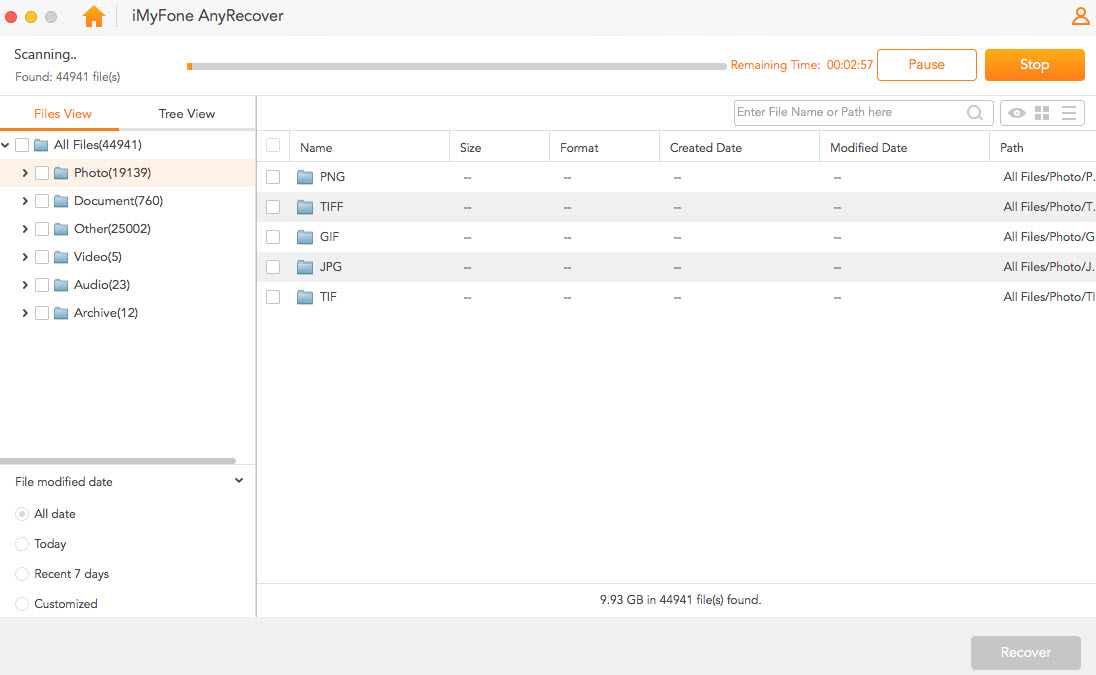 After scanning, choose your desired iMessage file, double-click to preview and click on Recover to save your deleted iMessages.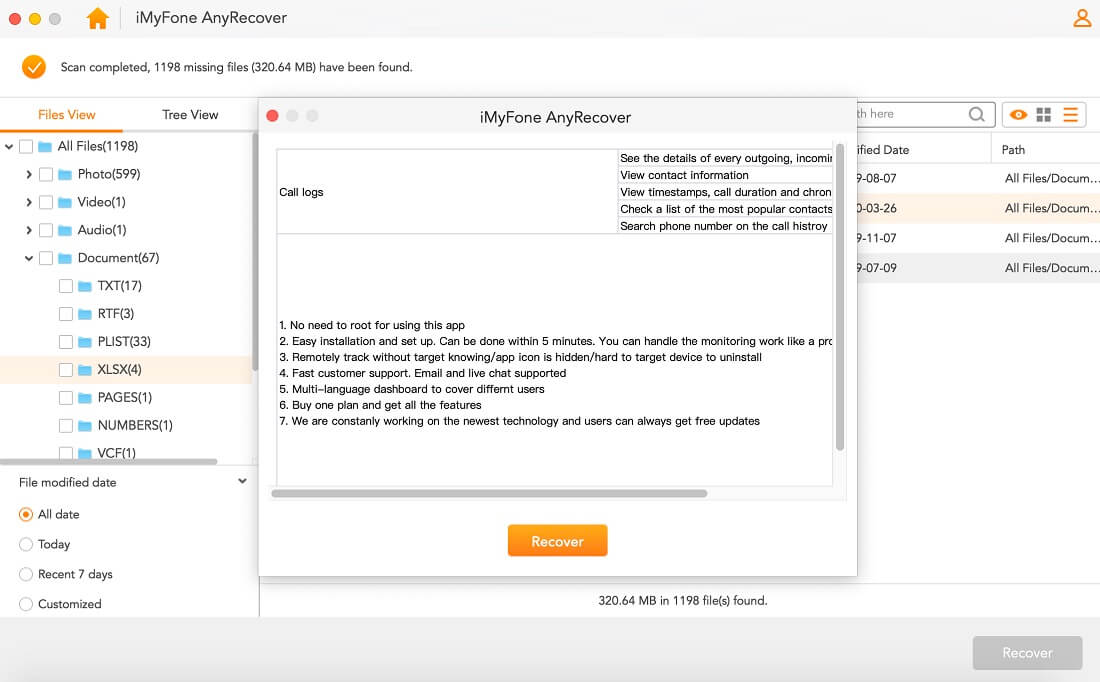 Conclusion
As a Mac user, it is vital to note that you can quickly recover deleted iMessage on Mac using the steps listed above. This article has also pointed out the superiority of AnyRecover over the other highlighted methods of how to recover deleted messages on Mac. The professional data recovery tool helps to recover data with no data loss or malware attack.