If you use a computer every day, you would have learned either by warning or experience that you would need to always have your data backed up to avoid being in a situation that would make you lose all your data and files on your computer. And if you are a Mac user and want to restore your Mac to previous date, then you are at the right place. Various reasons could lead you to restore your Mac to a previous date. It could be that your computer is now running slow, so you want to get it back to previous state, or you want to find some lost data from previous file system.
No matter the reason, you can restore the Mac to a previous date with the Time Machine backup. This macOS function allows its users to revoke changes to the system that trouble the computer, bring the initial settings back, and then regain the Mac's lost user data and files. 
Can I Restore Mac to Earlier Date Without Time Machine?
Yes. Apart from the Time Machine software that would enable you to keep an up-to-date backup of your Mac, you can make an entire copy of your storage drive on an external hard drive. The external hard drive keeps a copy of the macOS setting and all the files at the time when you copied them. So if your run into any problems with your computer along the line, you could restore your Mac to that previous date you copied the files with the external storage device. 
You can also make use of a professional data recovery software that will mentioned in the last part of this article in the worst-case scenarios. 
How to Restore Mac to Previous Date
We have already mentioned Time Machine as the in-built tool in a Mac with which you can back it up. Time Machine stores hourly backups of your data for the past day, daily backups of the past month's data, and weekly backups for all the past months. A large external hard drive is required for the storage if you want to have a detailed and frequent backup, as mentioned above. Time machine, however, removes the older backups when the storage device is full. So if you have a Time Machine backup, restoring Mac to previous date will be as easy as pie. The steps involved for you to restore your Mac to a previous date include:
Configure a Time Capsule
For you to restore your Mac to previous date, you will need to first configure a Time Capsule before doing anything else. Creating the Time Capsule means that your Mac will be restored to the state when you created the backup. The Time Capsule can be set up manually or automatically, and you will need an external hard drive with enough space to contain the data on your Mac. 
Connect the external drive to your Mac via a USB cable. Once it is connected, you should get a confirmation window that says, "Do you want to use the drive to back up with the Time Machine?"

Select Use a Backup Disk to begin the process, and after a while, the Time Capsule would have been configured, and you can then restore your Mac.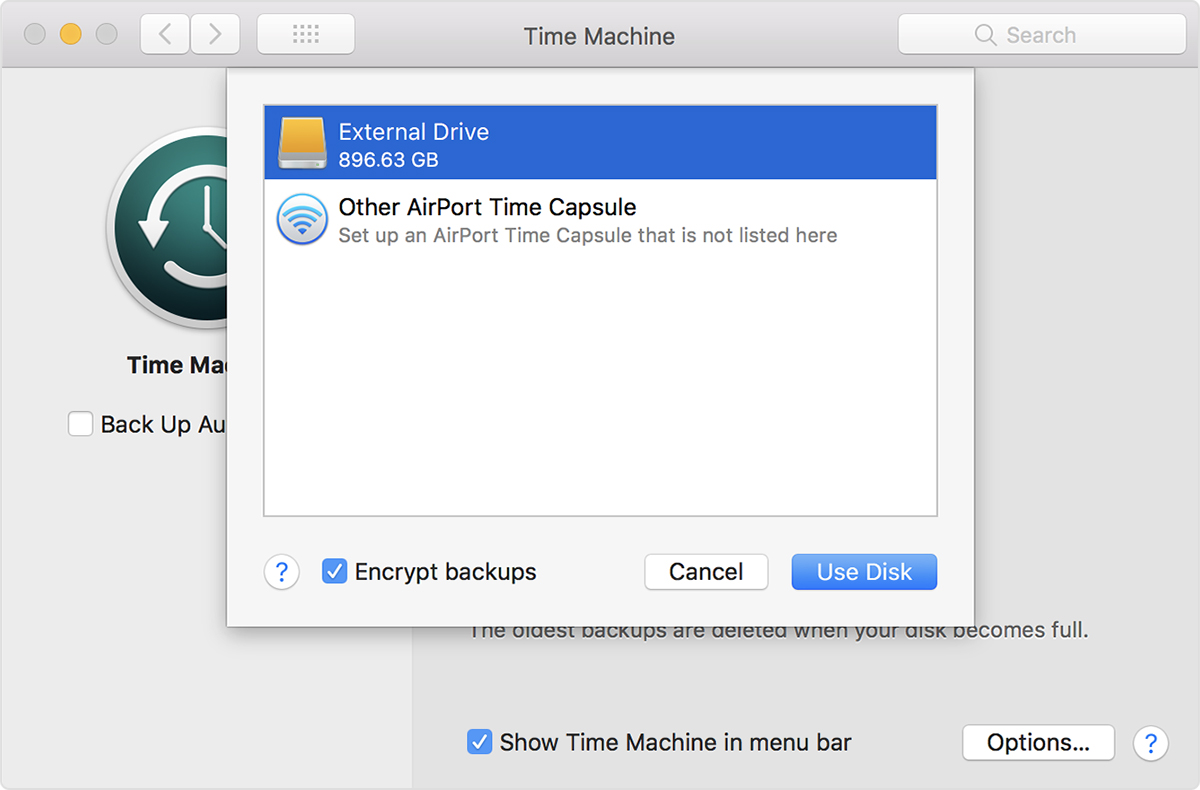 In some cases, the confirmation window does not come up, and you won't automatically set up the Time Capsule. To manually set it up:
Open the Apple menu and then go to System preferences and select Time Machine.

Then click on the option which says Select Backup Disk.

Finally choose the external hard drive from the list of disks and then click on Use Disk.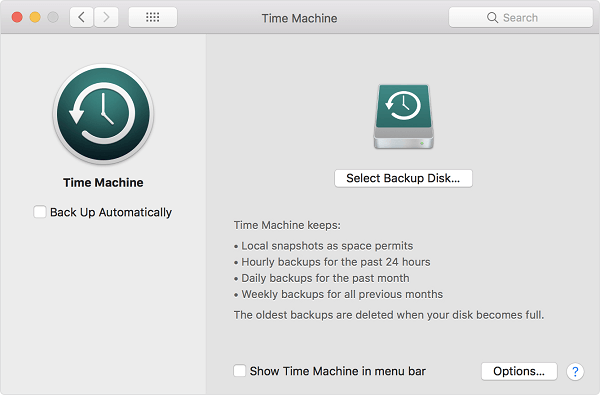 Backup your Data with Time Machine 
Once the Time Capsule has been set up, go to the Time Machine menu and from there choose Back Up Now. Then, choose the disk that you want to fully back your Mac up to continue the process. 

Restore your Mac to Previous Date
Once you are done with enabling the Time Capsule and creating backups with Time Machine, you can restore your Mac to a previous date now. The steps include: 
Restart Mac, and while it is restarting, hold down the Command + R keys simultaneously to launch the OS X Recovery Tool.

Select the option that says Restore from Time Machine Backup.

If the backups you have are more than one, choose the one created before your Mac ran into errors or got slow. Then just wait for the process to be completed.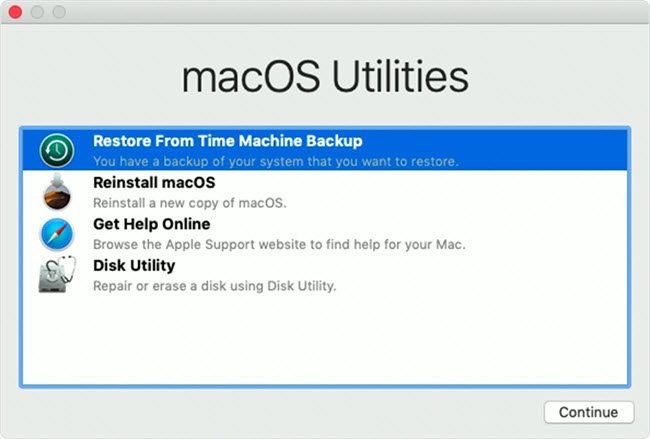 If you do not have any valid Time Capsules or your Mac is experiencing some severe errors, and you can't create backups, the only two options available would be either to repair the hard drive or reinstall the OS. However, bear in mind that these two options are likely to result in data loss.
How to Restore All Your Data Without Time Machine
Although the Time machine backup can help you restore the Mac to previous data, some people may not have the external storage device or the proper baukup. What's worse, people may fail to find the target files even after restoring Mac to a certain date. For this option, you will need to make use of a professional data recovery software known as AnyRecover. With the AnyRecover software, you can recover lost and deleted files in 3 simple steps. And it promises a high success rate and requires no technical knowledge. So everyone can recover data with it quickly and easily. Let's check some of the features of this amazing software.

2,061,704 Downloads
Features of AnyRecover
Support more than 1000 file types, including images, PDF documents, videos, archives, office documents, emails, etc.

Retrieve permanently deleted files from any device like computer hard drive, external drive, USB flash drive, SD card, SSD, camera, etc.

Secure your original data without overwriting them.

Compatible with both Mac and Windows.
To recover your files without time machine, the steps are: 
After launching the AnyRecover software on your Mac, choose a location you want to restore data from, then click Start.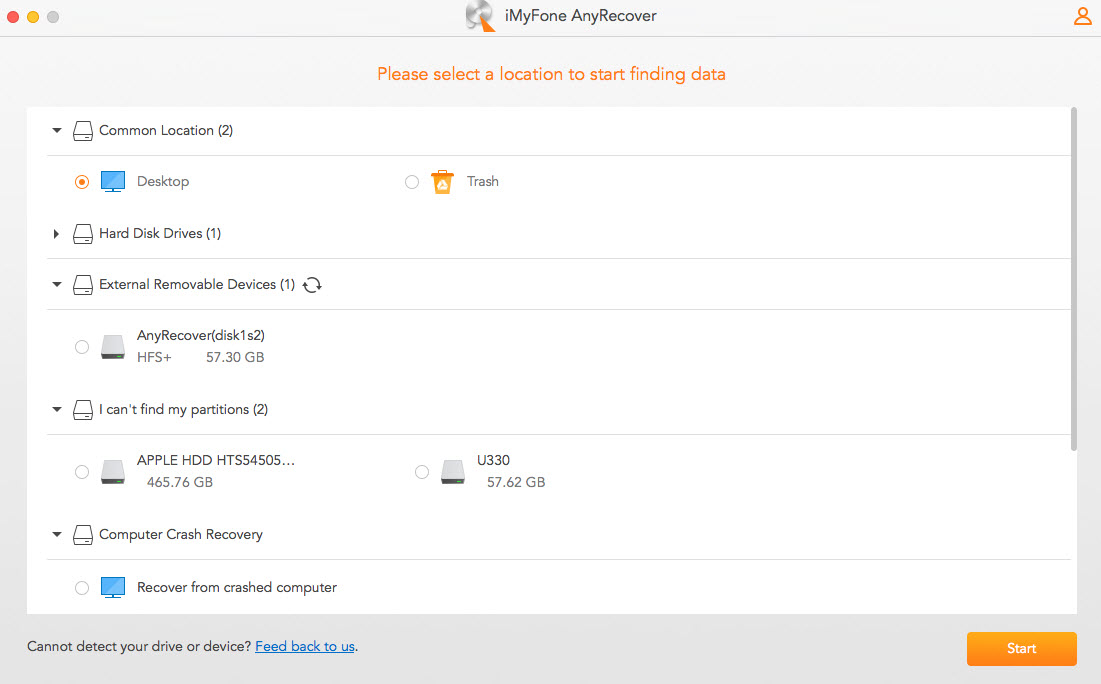 AnyRecover software will give the selected location a deep scan, and the progress bar and real-time scanning results will be displayed on the interface for you to check the results easily. Besides, you can click on Pause or Stop on the top right corner to halt the scanning process.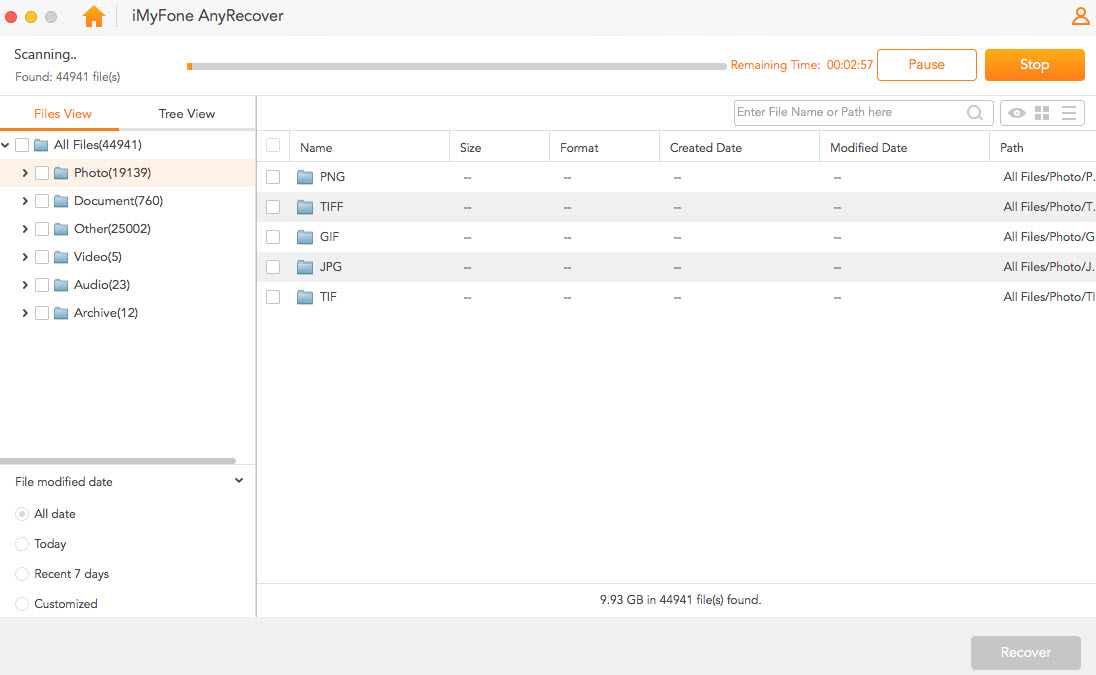 Upon completing the scanning, double-clicking on the file you want to preview. Then you can click Recover if the file you previewed is the one you need.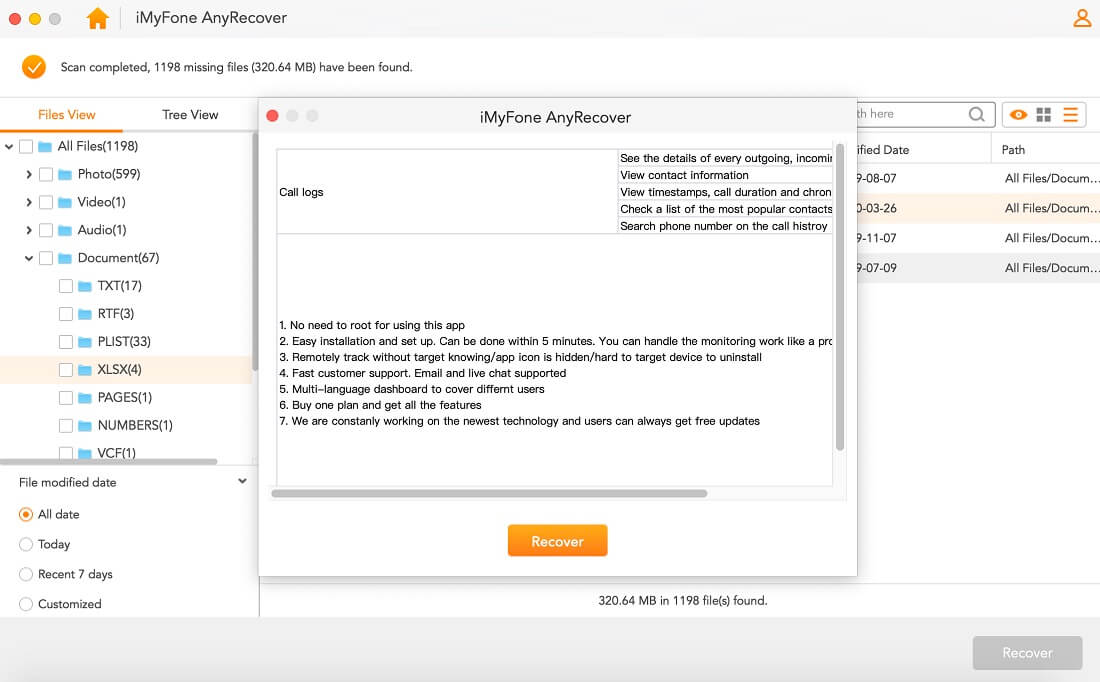 Conclusion
You can now easily restore your Mac to a previous date with or without Time Machine after going through this article if you just adhere to the steps that have been stated above. And if you have no Time Machine backup or want to recover files lost, AnyRecover is the best option for you. Now the software have a free trial version for you to recover up to 8 files for free! Why not download and give it a try?