Due to the fact that the most popular email app around the world is Outlook, many people are familiar with PST files or Personal Storage Table. This data is used by the Outlook app to store mailbox data and with the aid of the PST file users can access such data on any other system.
Yet there can be the case in which someone needs to open and view a PST file without Outlook. If you are in a similar situation, read on to learn whether Kernel Outlook PST Viewer is the right tool for you.
1
Kernel Outlook PST Viewer Review: Does It Work?
1

What is Kernel Outlook PST Viewer?

Kernel Outlook PST Viewer tool is designed to open PST files without the Outlook app. Also, it permits its users to access emails, contacts, calendar, deleted data or any other type of data related to the PST mailbox. Simply put, with the Kernel Outlook PST Viewer tool you can view any data related to your Outlook app.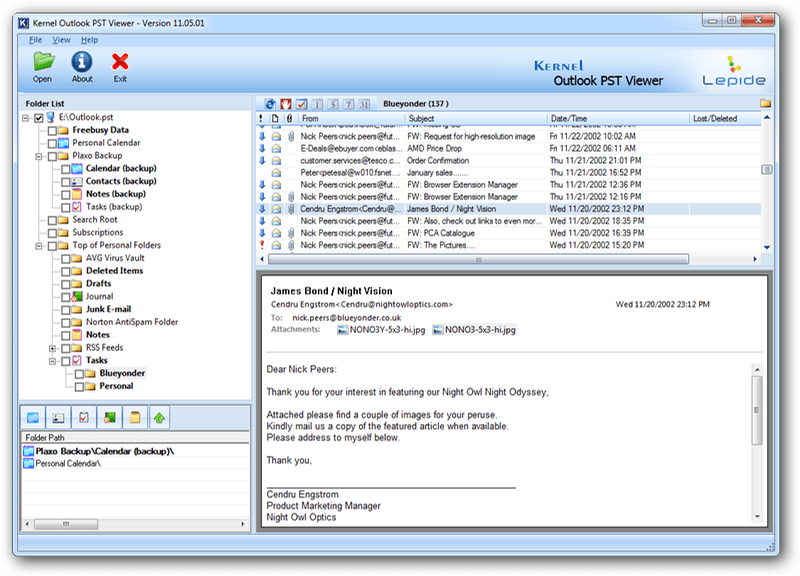 2

Pros & Cons of Kernel Outlook PST Viewer

To help you learn it better, we list the pros and cons of this tool:
Features

Disadvantages

Permits access to both healthy and corrupted PST files;

Allows to view the entire content of the Outlook mailbox;

Establishes a file analysis report to offer a broad view of the PST file data;

Works  for almost all PST files created in all Outlook versions, including Outlook 2016;

Offers access to password-protected data, too.

It does not allow the user to save the Outlook PST file;

It requires a vast amount of time to preview PST files if those exceed 1GB of data.
2
The Best Alternative to Kernel Outlook PST Viewer
Well, it is true that the Kernel tool is somehow great for quickly viewing PST Files, but we recommend you an alternative, that will provide extra benefits and security to your data. iMyFone ScanOutlook permits its users to re-access Outlook PST/OST files, with the option of repairing such data and saving it for future usage. In addition, you can use this tool to recover lost Outlook Data.
The main features of iMyFone ScanOutlook are as follows: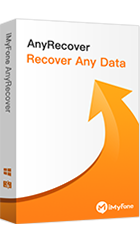 233,000+ Downloads
Features
Totally free to view all the items in Outlook data files (PST & OST)

Allows you to view your existing & deleted items in PST file

Preview and save any type of Outlook items, including emails, calendars, contacts, attachments, etc.

No matter how large the size of PST file is, ScanOutlook can always load the items in it within seconds.

Quick search enables you to locate the specific item without any hassle

Allows you to  convert Outlook data file to a desired format, such as EML, MSG, RTF, HTML or PDF;
View PST/OST Files with iMyFone ScanOutlook
iMyFone ScanOutlook has been proved the best tool for PST Viewer. Follow the guidelines mentioned below to easily identify, access and save your PST/OST files in a matter of minutes.
Step 1. Repairing and recovering Outlook data with iMyFone ScanOutlook
After installing this professional Outlook recovery tool, launch it on your computer. You will be asked to identify the files you seek to repair or recover, based on the following options:
Select Default PST/OST, which will preview the data present in default Outlook locations;

Select PST/OST Manually, which is great if you are aware of the location of a specific Outlook file. You will simply have to use the "Browse" button to identify it and open the said files manually;

Search PST/OST, which will aid you when you are not aware of the exact location of your data. With the help of the "Search" button, you will be able to search for all Outlook data files in a specific folder or volume.
Step 2. Initiate the repairing process
As soon as the tool identified your Outlook data files, you will have to click on the Repair button to start the repairing process. Also, you will have to choose between two modes:
Quick repair mode, which is fast and quickly repairs damaged PST/OST files;

Deep repair mode, which is recommended when you cannot find the PST/OST files in quick repair or simply those files are corrupted and need in-depth repairing.
Step 3. Preview the repaired or recovered Outlook data
As soon as the tool finishes recovering Outlook data files, the content will be displayed on the left panel of the tool. You will simply have to click a specific folder to preview and check the files.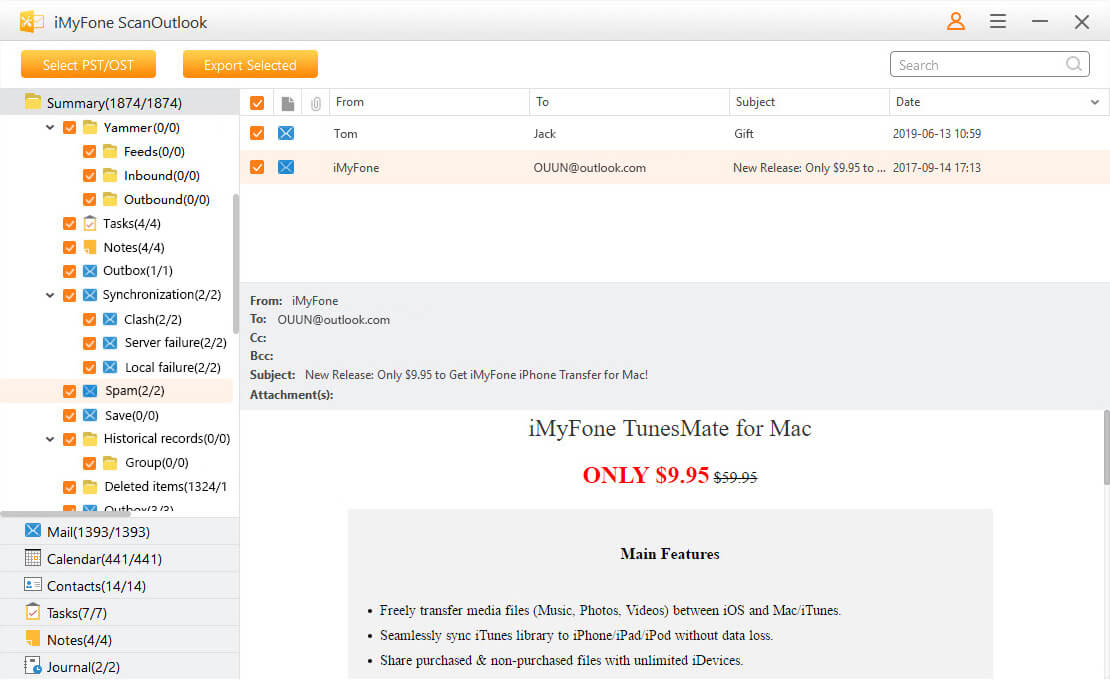 What makes iMyFone OutlookScan better than Kernel Outlook OST viewer is the fact that at this stage you can opt for downloading the attachments from a repaired or recovered data file.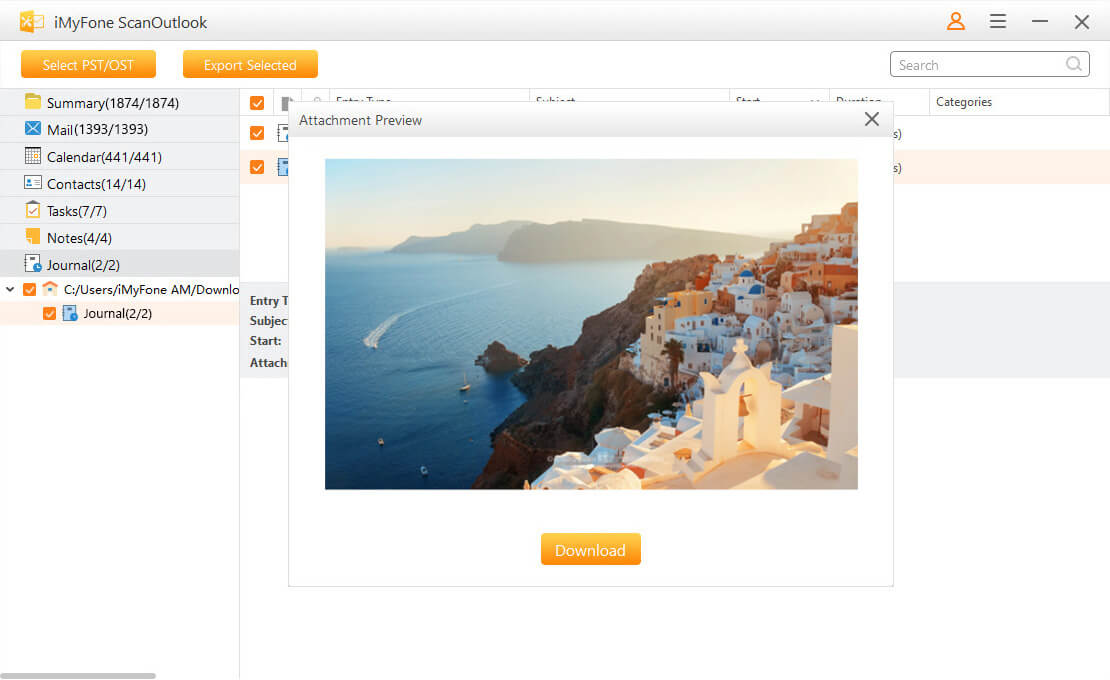 Step 4. Export the repaired or recovered data
To export and save your data, you will have to select the folders or files containing it and click on the "Export Selected" button. After selecting the format you want your data to be saved in, you will have to wait a couple of minutes before the export will be allocated in the selected location.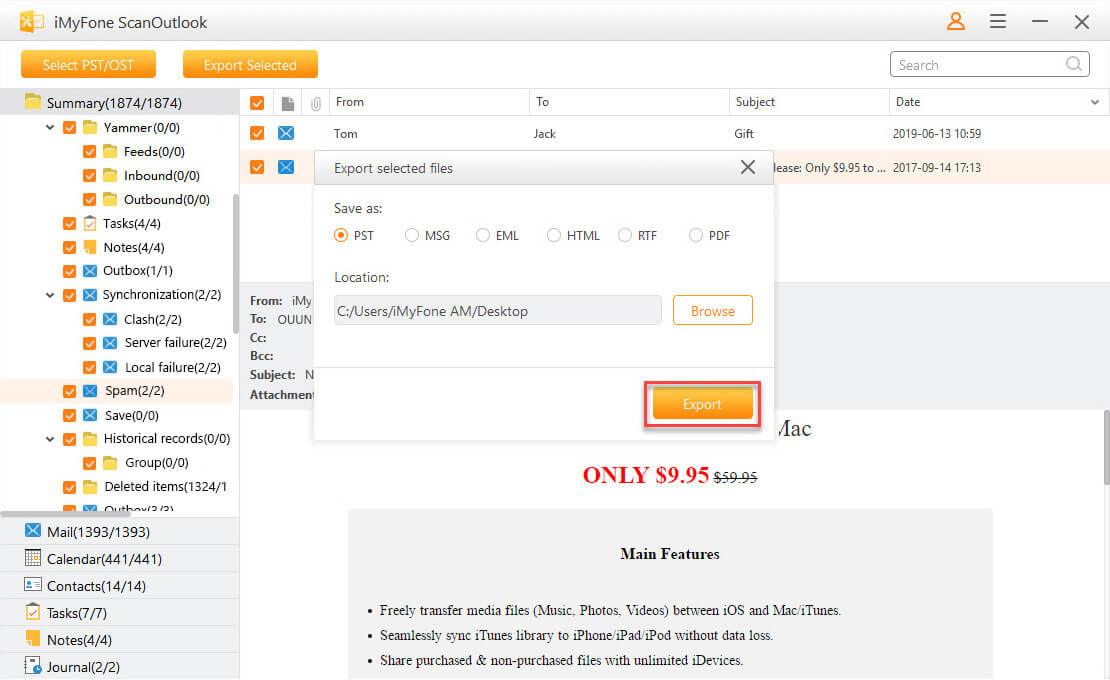 Conclusion
Bottom line, if you are looking to safely preview Outlook data and benefit from additional features such as repairing damaged files or saving the recovered data, iMyFone ScanOutlook will be your best choice. Besides being user-friendly, it is a fast tool that can deal with any type of issue you might encounter when looking for Outlook data files.